Little Current, June 29 - July 1
The Canada Day celebration in Little Current was very low key. The main street was blocked off for pedestrians only with a "Farmers" market, more crafts than fresh produce and local merchants (massage, used books, crafts, hot dog/sausage stands).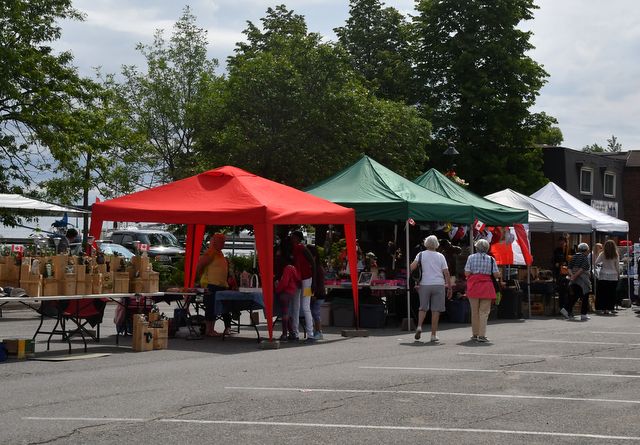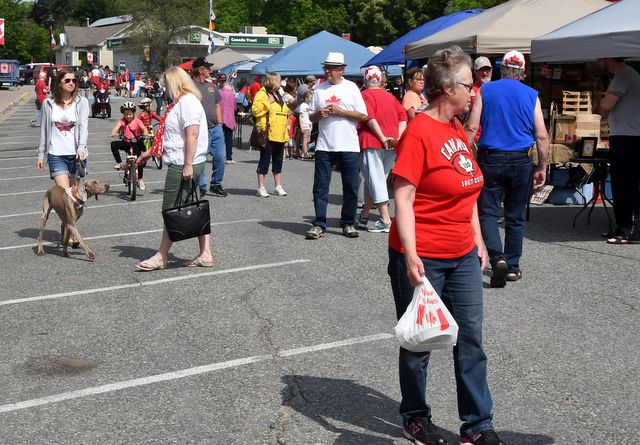 Canada Day in Little Current … shopping, shopping … shopping
There was some live entertainment in the main park. We enjoyed Faquhar's ice cream cones, which I remember from my first cruise to Little Current in 1960. It threatened rain all day. There was not a fireworks display that we could see. We left Little Current Sunday morning after a rain shower and easily scooted under the malfunctioning swing bridge. We also felt a bit more comfortable with a new anchor rode, 200 feet of braided nylon.
Heywood Island, Shoal Island anchorage: July 2-3
It rained during much of the 2 hour trip from Little Current to Heywood Island, but stopped just long enough for us to anchor. The wind was light and variable, spinning us around our anchor several times before the NW 30-knot wind front hit us. The anchor dragged about 30 feet before getting a very good bite. We shared the anchorage with 4 other boats, but did not feel crowded.
Sunday/Monday morning there was a major mayfly hatching. The mayflies tried to find shelter in the white cedar trees lining the shore, but around 50 ring-bill gulls did fly-bys snatching mayflies off the cedars and as they ascended from the water. It was quite a frenzy. Tuglet was covered with mayflies as well. We had our anchor light on Sunday night, which is just 10 feet above the deck. The light attracts bugs to our deck.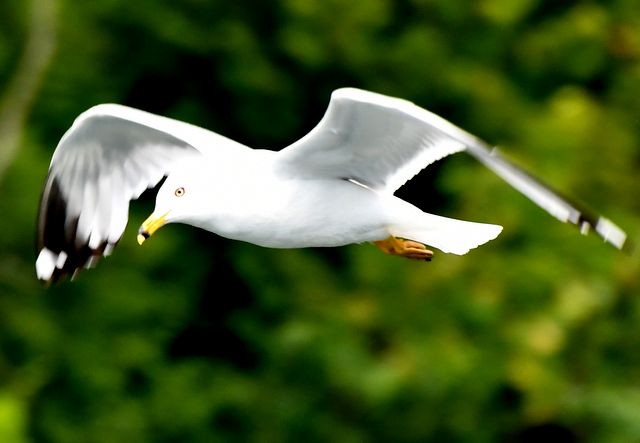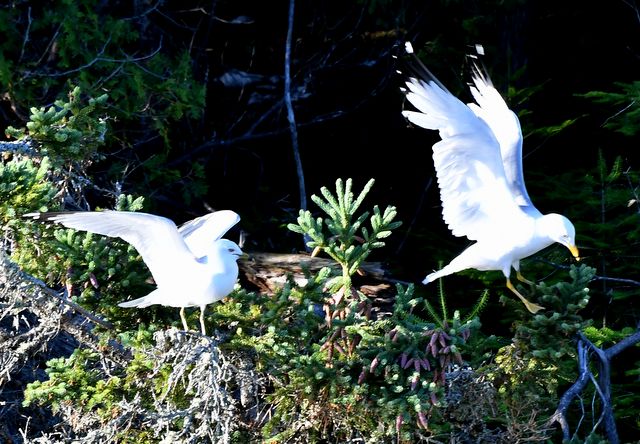 Seagulls harvesting the Mayfly hatch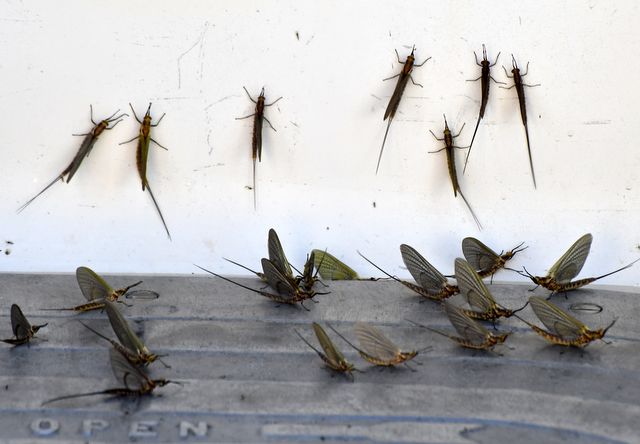 Mayflies
Brian caught 2 bass. I rowed, Brian fished, as we followed the shoreline for the entire anchorage. I am on a quest to identify as much of the common flora (trees, shrubs, wildflowers, aquatic plants, ferns, mosses) in the North Channel.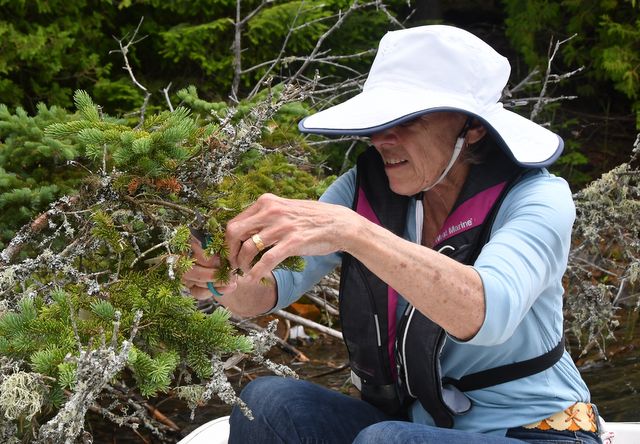 Jane collecting her samples
As we returned to the marshy area near Tuglet, we noticed the large black bear foraging in the marsh. S/he noticed us and scrutinized us for a long time. Then went back to foraging once it became obvious we were not a threat.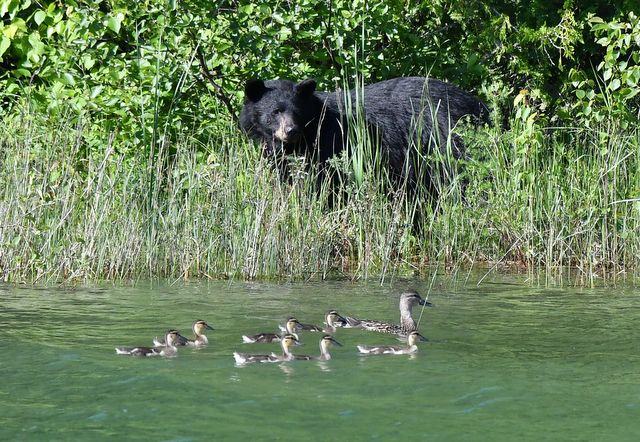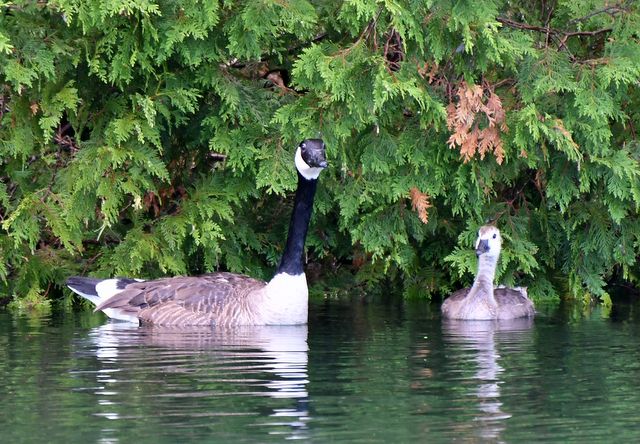 The bear looking for a yummy treat … one mom not worried
The bear re-appeared several times working the shoreline. We also saw one the the largest Great Blue Herons, geese, mallard and merganser families.
Blueberry Island, July 4
Jane had never sailed in the east end of Frazer Bay, so we decided to anchor east of Blueberry Island for a night. There is a cottage on the private island, but currently it is vacant and boarded up with a dock partially submerged and 2 overturned runabouts on shore.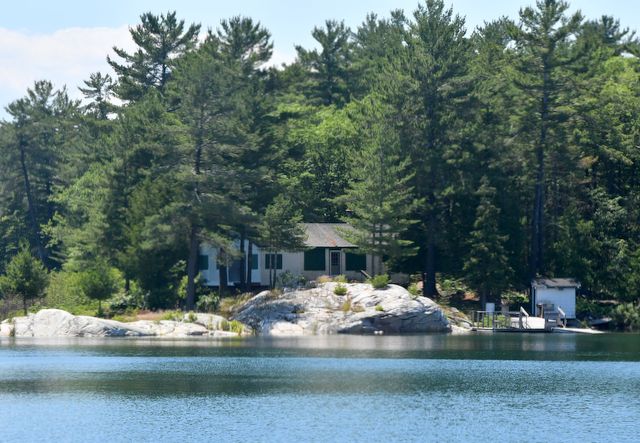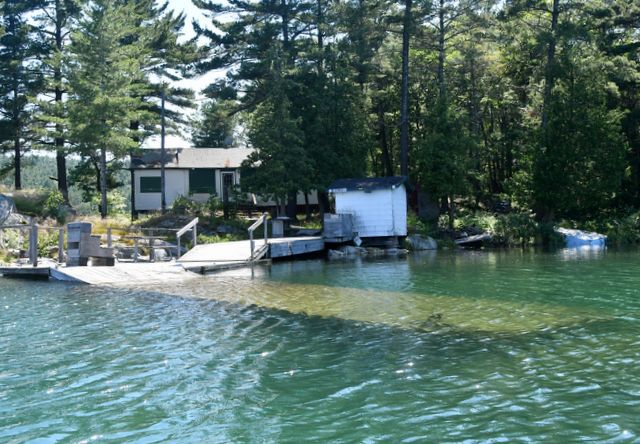 Seemingly abandoned cottage
There is a HUGE brown cottage on island north of Blueberry, but otherwise the anchorage is quite secluded. We rowed to Rat Portage and hiked to the first of two ponds that are part of the portage from Lansdowne Channel to Frazer Bay. During our hike, we sang "The Bear Came Over the Mountain" to ensure we frightened away any wildlife. We were puzzled by 3 apparently abandoned boats on shore, a runabout with 25HP Johnson engine, a canoe and another runabout on shore without an engine but a $10,000 price tag. There was also a sign posted:
"Emergency sleigh in Killarney"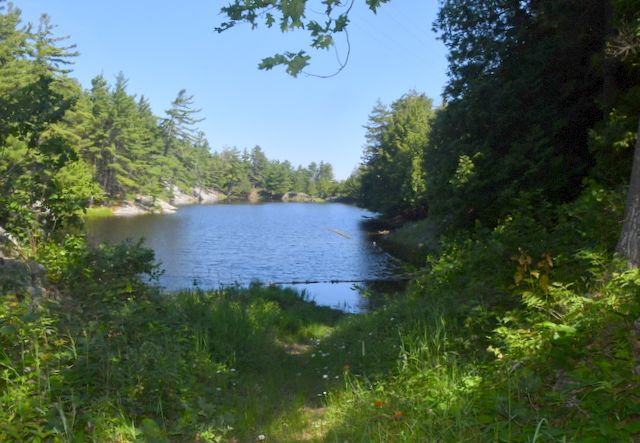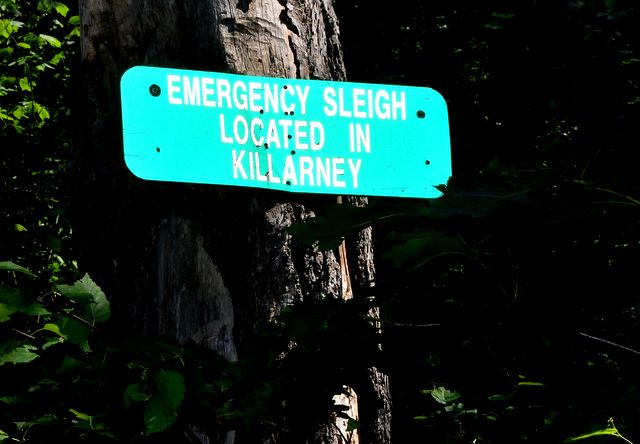 Entry to RAT Portage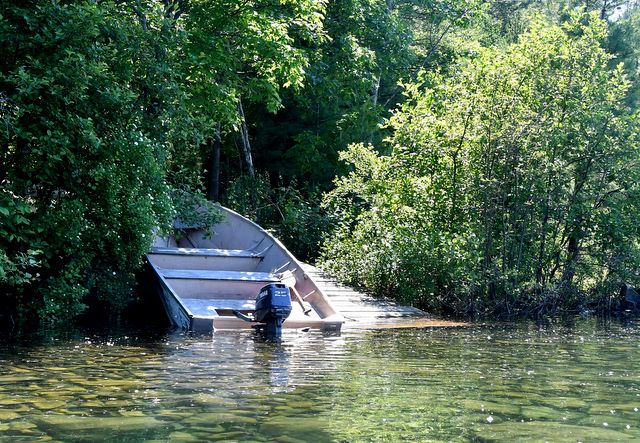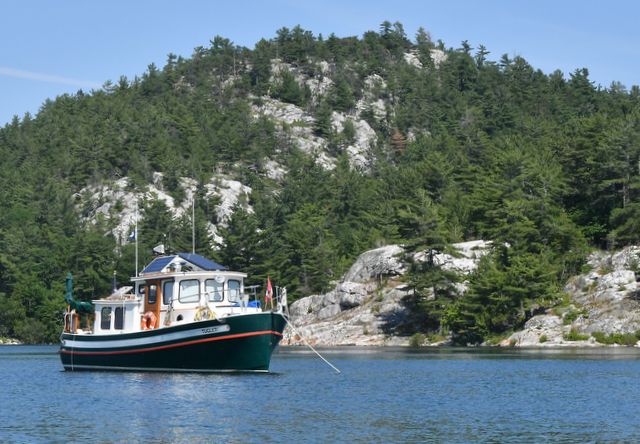 Dreamer's Peninsula. July 5
Our next anchorage was another new one for both of us and surprisingly empty of other cruisers. Boat Passage, the entrance to Dreamer's Peninsula, is a bit tricky. As we entered the narrow passage our depth sounder read 11 feet, and in less than a boat length, 85 feet!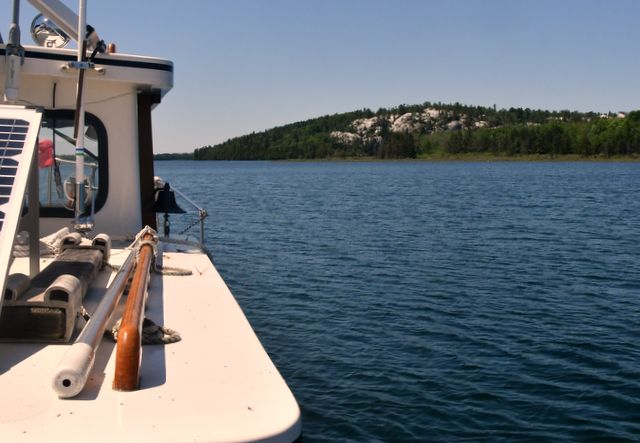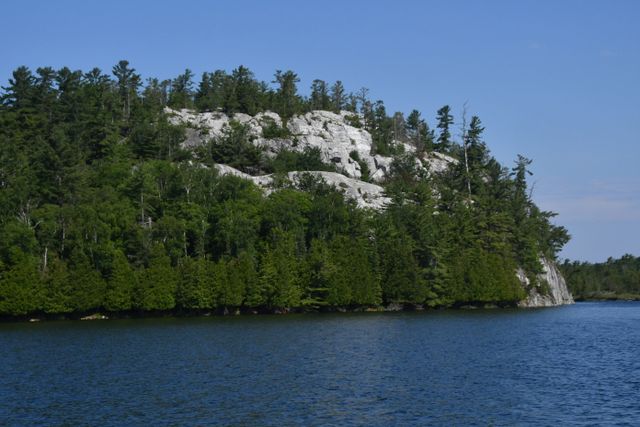 Seemingly easy but very tricky entry into the Dreamers Rock anchorage
The quartzite hill (over 125 feet high) is where First Nations youth were supposed to spend a week fasting and dreaming about the future. It is sacred land, and permission must be given by the Whitefish River First Nations Band to hike on the peninsula. The band office is not easily accessible by boat, so we simply rowed around the harbour. The water is very clear and there was no wind to ripple the water surface, so we could watch small mouth bass in shallows. There was one loon and at dusk we saw a beaver swimming, but there was no evidence of any beaver houses. The beaver gave the water a hearty slap with its tail for us.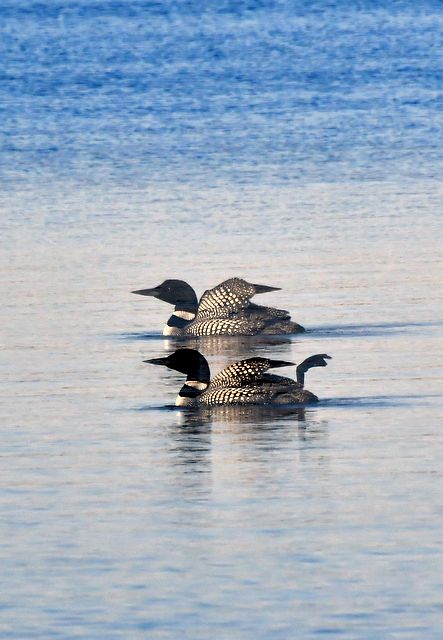 Beaver saying goodbye Loons giving us the finger?
East West Channel, McGregor Bay, July 6-10
In 1997 McGregor Bay was finally charted much to the displeasure of the many cottagers on the bay. The chart opened the way for cruisers to explore, which sometimes invades the privacy of cottagers. However, at the east end of McGregor Bay is the Killarney Provincial Park, which is relatively free of private cottages, and this is where most cruisers anchor. The bay is very large, but even the areas that appear to have open water have rocks lurking just inches below the surface (and with water levels 3 feet over datum, they are impossible to see)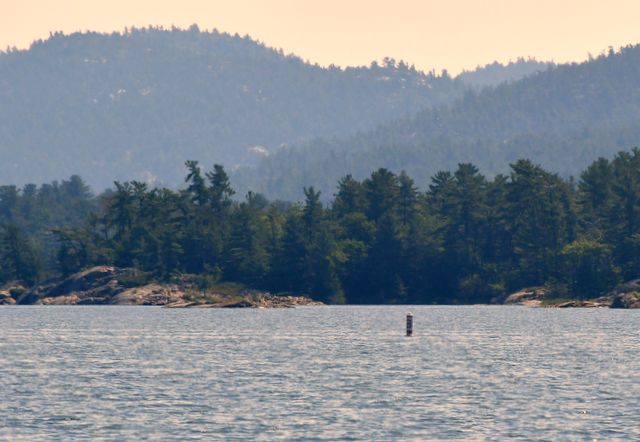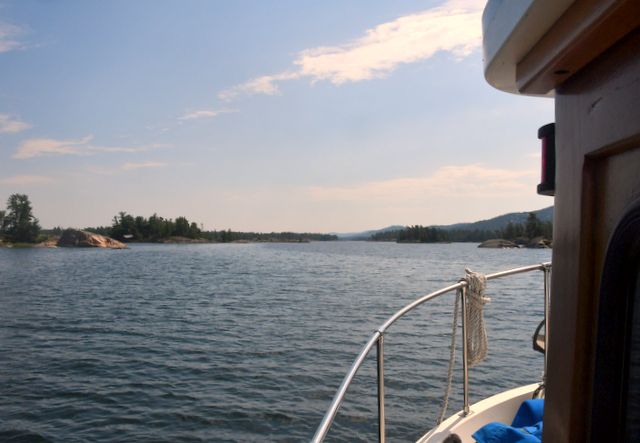 The only marker in the rock strewn area … labled "SLOW"
We passed many cottages, some very large with large boathouses. One cottage had an Ohio State Football flag flying above and "I am Canadian" flag (Molson beer flag resembling our ensign) This is not the first cottage owned by a US resident that shows little regard for the Canadian flag.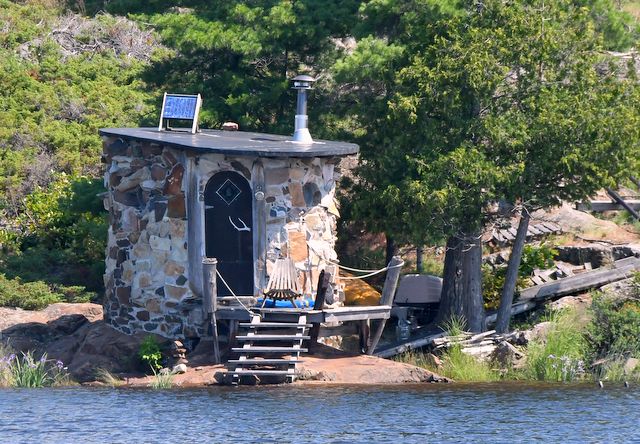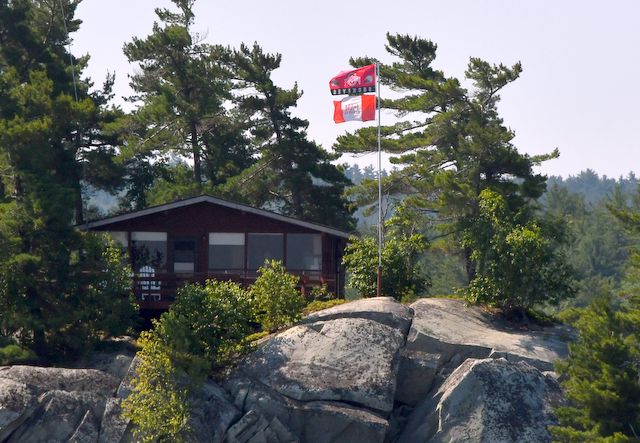 Sauna? Typical US ensign priority … Football first
We anchored in the East Channel for 5 nights. There was always 2 or 3 other boats nearby. We encountered our first loon chick being educated by its two parents. We also saw 2 fawns and 2 adult deer and a large snapping turtle.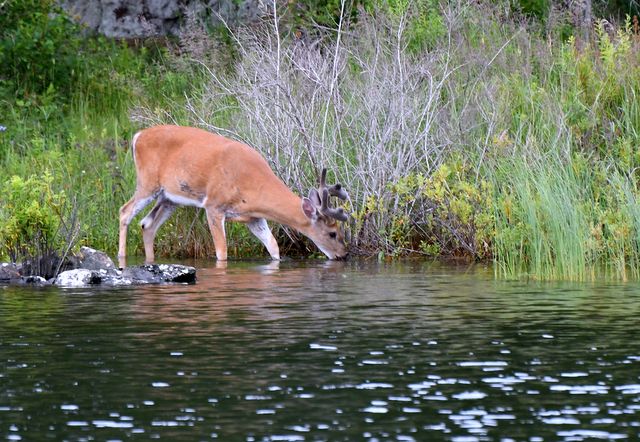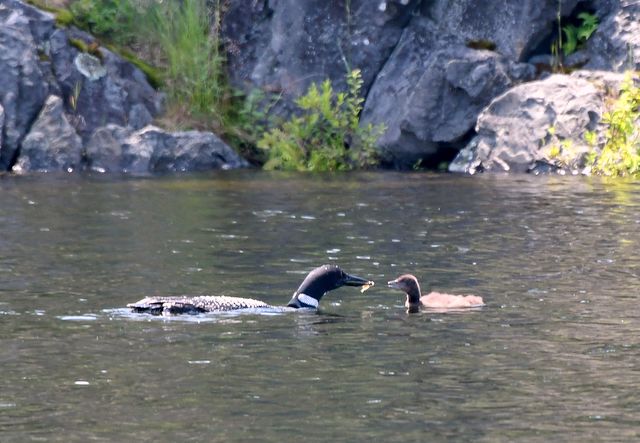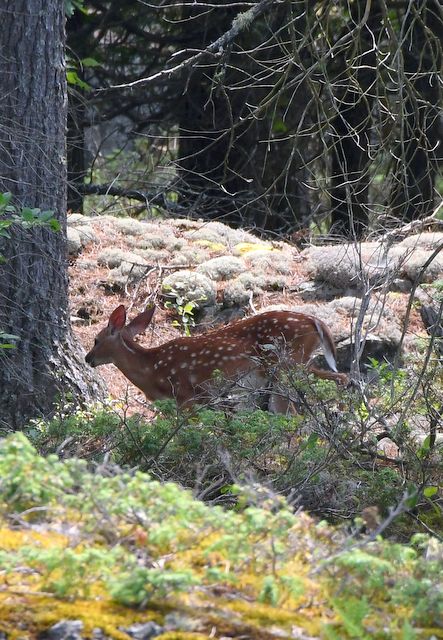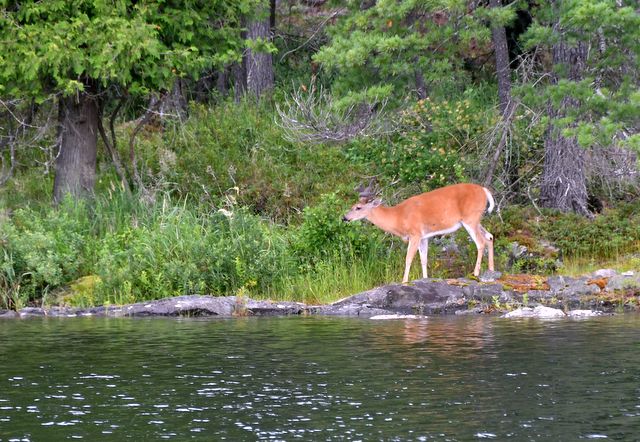 The fishing was great. Brian caught more pike than we could eat / keep. It was the first time he released a 4-pounder. There were also bass and perch.
We took the dinghy on long side trips, finding several blueberry patches with ripe berries.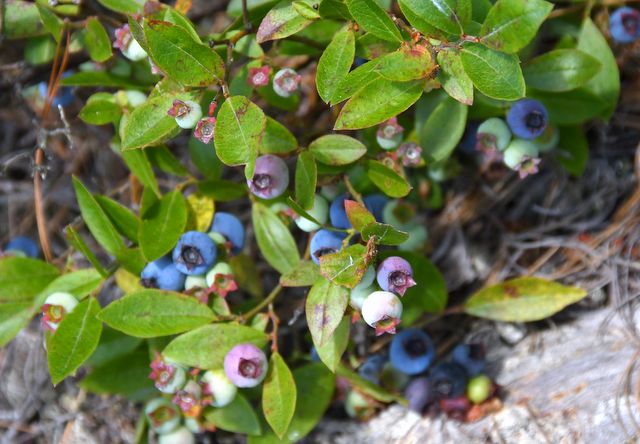 Ripe for the picking
The water was the warmest ever … over 70 degrees F, but the water was quite brown (tannin?) and became somewhat questionable when Jane's skin itched after being in the water.
We could have stayed in this anchorage longer except drinking water was getting low and with no cell phone service we were feeling a bit out of touch. We decided to head for Killarney, with an intermediate stop at Snug Harbour.
Snug Harbour July 11-12
We were amazed that there were no boats anchored in this beautiful anchorage when we arrived. Two sailboats came in after us, but that was all that showed up. This is the height of the cruising season, and a popular anchorage, but perhaps not as popular as Baie Fine and Covered Portage Cove. We finally had rain, the first since July 2. We talked with the folks on one of the sailboats kept at Bayfield on Lake Huron. They were in Snug Harbour last summer when a small forest fire broke out on the NE shoreline. All the anchored boats had to move to the east end as a water bomber swooped down, just clearing their masts and dumping water on the fire. Evidently the fire smoldered for 5 days, and there is a patch of brown trees to show where the fire was. With the raging forest fires (over 200) in British Columbia during July, and the memory of the big fire in Fort McMurray last year, it is fortunate that more fires have not destroyed the white pine and white cedar forests in this area.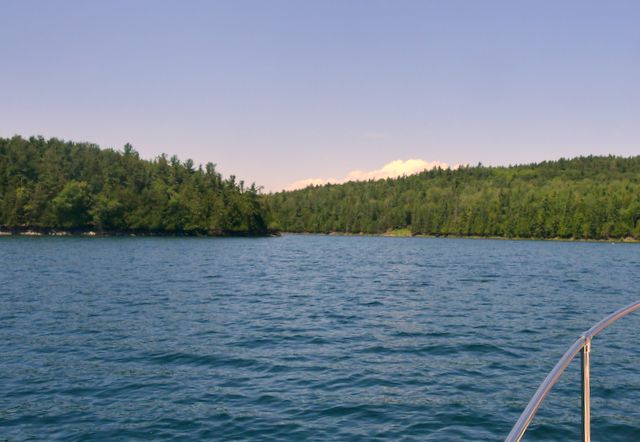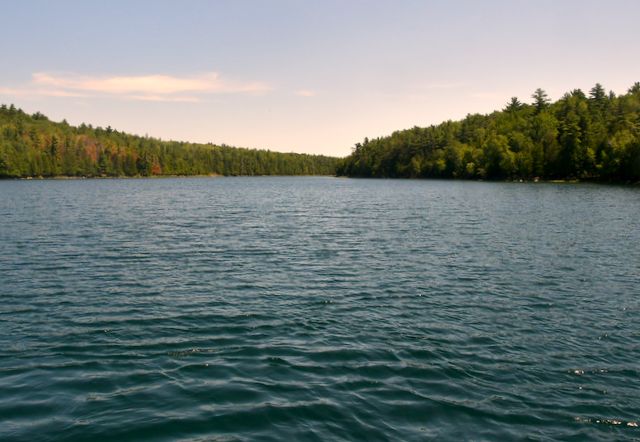 Entry into Snug In Snug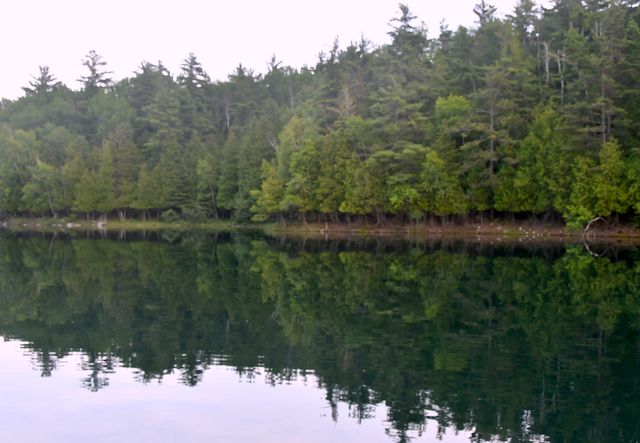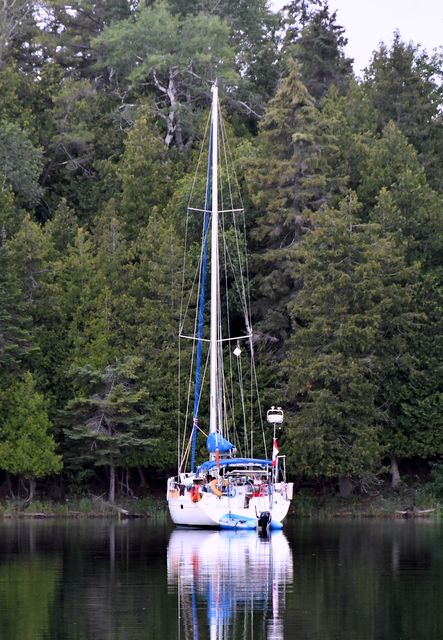 Quiet inside while windy outside One of our two neighbours