Boat Traffic in mid 2017
Boat traffic during the first two weeks of July, when the Season swings into gear, was down this year. Roy Eaton runs a Cruisers' Net out of Little Current during July and August and reported fewer boats checked in this year compared with last. The weather probably played a role in the decrease since June was cool and wet. We began to encounter a few more boats in mid-July than we did in June and early July, but none of the harbours was crowded.
Killarney, July 14- 15
In 1960 when Jane cruised on the Perkin's schooner Allegro and stopped in Killarney, the town was small and had few commercial establishments: the Sportsman's Inn and marina, Pittfield's general store and Herbert Fisheries selling fresh and smoked local fish.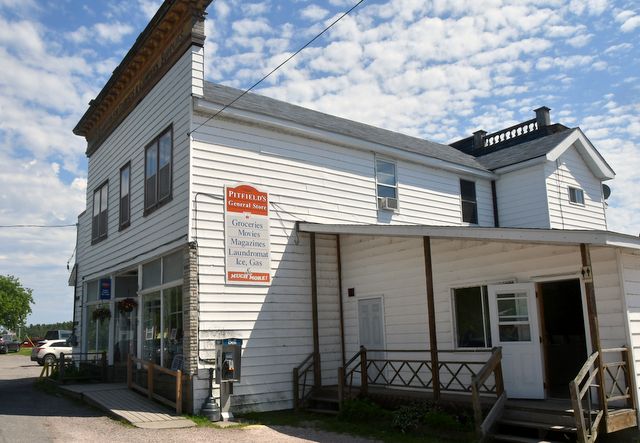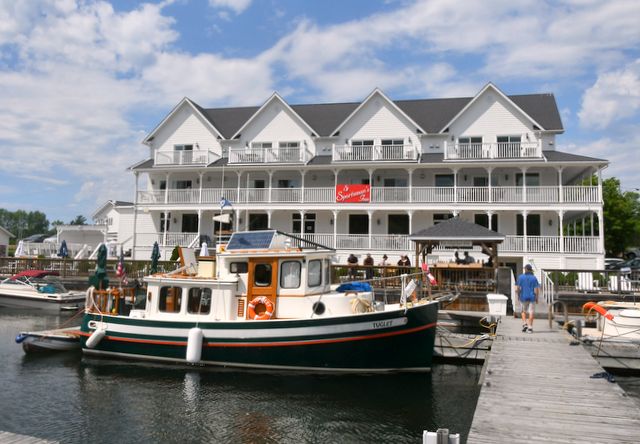 Pittfield's general store Sportsman's Inn and marina
In 2017 little has changed. However, half of the commercial establishments have "for sale" signs up and a ragged signboard solicited donations to improve the runway at the airport.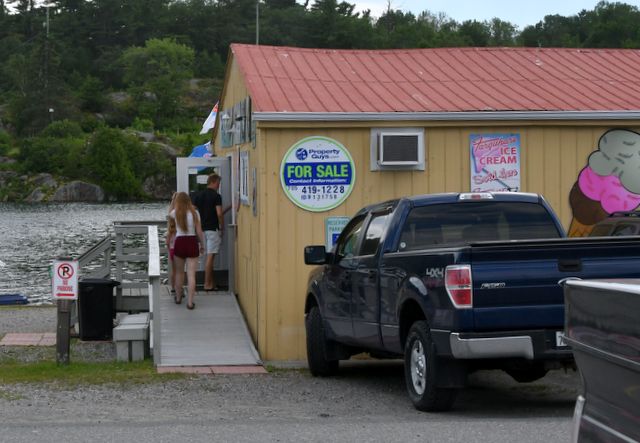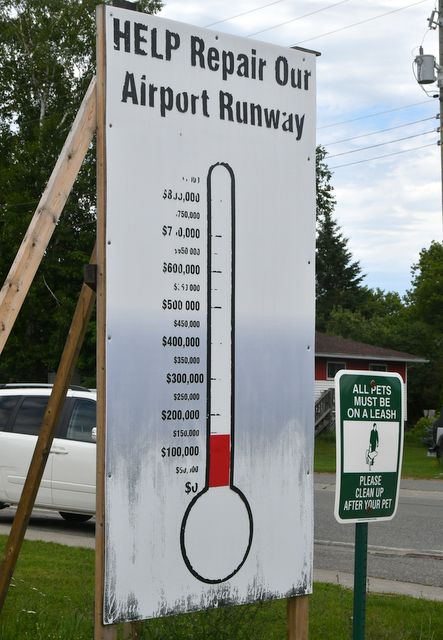 The two major marina / hotels had recently put in new docks, but that was the only sign of development. The main drag was clogged with parked cars on Saturday. We are not sure from where they came. There are several companies that offer day-tripping or camping in kayaks or canoes that attracted some of the folks. Perhaps nearby cottagers came for the "famous" fish and chips.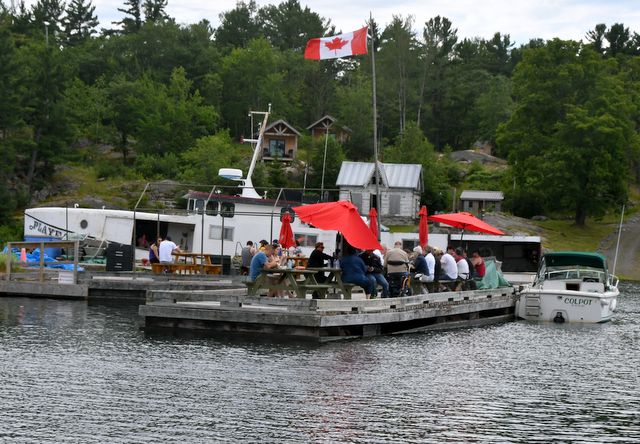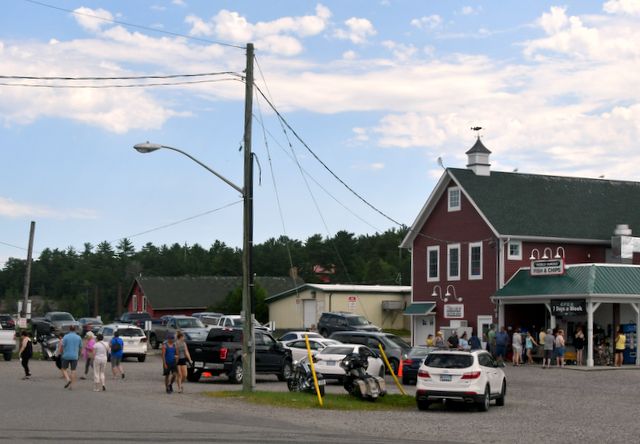 Herbert Fisheries
However, we learned that a man who grew up in Killarney, left, became a lawyer with a computer start-up, made oodles of money, sold the business and rather than pay lots of taxes, bought Killarney Mountain Lodge and Sportsman's Inn and started pouring his profits into them. He has plans to make the Killarney Mountain Lodge into a convention centre. His plan is to make Killarney a destination for high-end clientele. "We are seeing many more high-end cars in Killarney," said one local. We saw 3 float planes and one low-flying OPP helicopter (making a passenger delivery?) during our 2 days. Boats at the docks and transiting the channel were pretty large for the most part. The prices at Sportsman's reflect the new owner's plans: $2. / foot / night for dockage PLUS $20 / night for 30 amp electricity, and potable water was available only on the fuel dock. The highest prices in the North Channel. Killarney will get a pass on our next trip.
Thomas Bay, July 16 – 17
This was our first visit to this lovely bay just 5 miles east of Killarney. It has the same look and feel of the Benjamin Island anchorages, but is smaller. An island protects the harbour from south winds and waves, but it opens up on Georgian Bay so the water is cool and clear.
We shared the space with 7 other cruisers each night. There is a private dock with runabout for the one cottage which has posted "Private" signs. There is also one cottage on North Benjamin Island and we assume these two families must feel overrun with cruisers.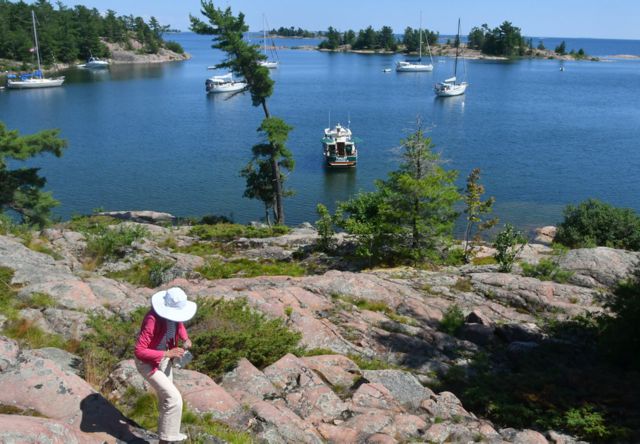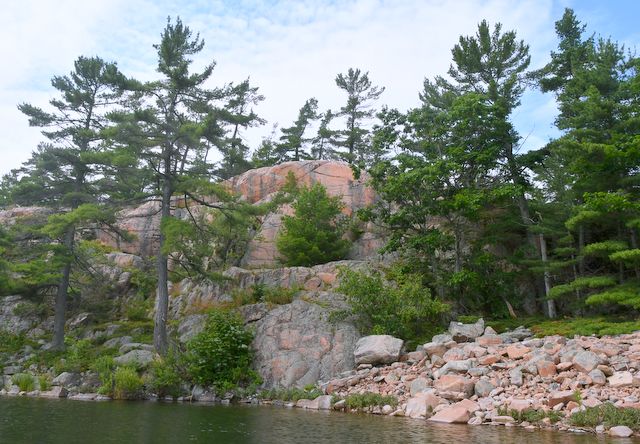 There were plenty of blueberries, but also lots of mosquitoes. Virtually all the sailboats and power cruisers carry inflatable dinghies with outboards. Our tender is a rowboat. Therefore to get to the fishing bays 1/2+ mile to the east took some exercise, but it was worth the row. We enjoyed watching the flitting Kingfisher back in the anchorage.
Collins Inlet, Mile 58 anchorage. July 18
In previous seasons in the North Channel we have been in sailboats and therefore Collins Inlet with its very limited ability to sail, was never appealing. In a tugboat we were keen to explore this new waterway. It has one challenging shallow channel for boats that require 6+ feet to float. This year we heard that many sailors ALWAYS go through the inlet even though it requires motoring. Therefore we were not surprised that there were a dozen boats anchored at the western end of the inlet at Mile 58. We were surprised at the size of some of the boats, namely Nirvana, a 58-foot sport fisher that looked like it would be more at home in Florida than the North Channel.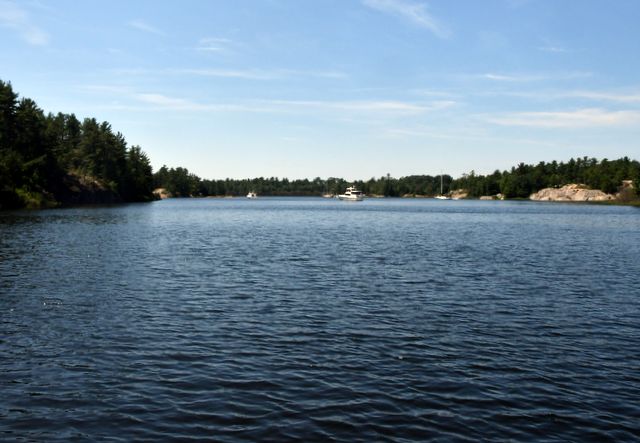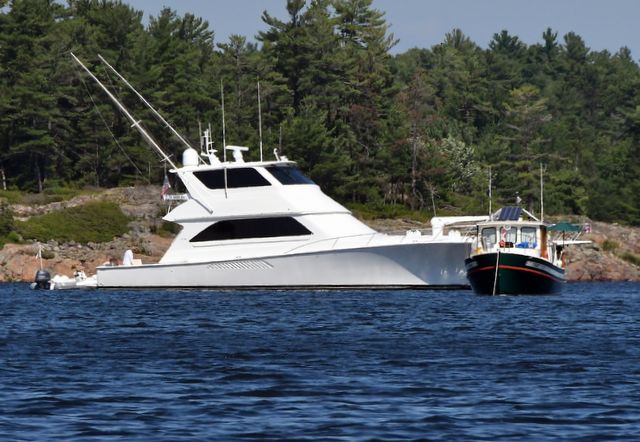 Mile 58 anchorage big and little … 58 vs 26 feet
Collins Inlet, Mill Lake, Green Island, July 19
There were very few cottages along inlet. Club St. Philippe, and less than 5 small "hunting lodges" or cottages. We only encountered two cruising boats making the transit between Beaverstone Bay on the east Mile 58 anchorage. There were some local runabouts / fishing boats. A small fleet of Personal Watercraft passed in the inlet after we anchored. We thought there would be more traffic.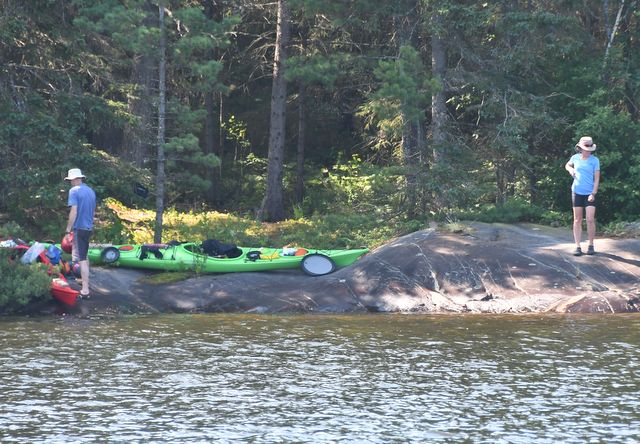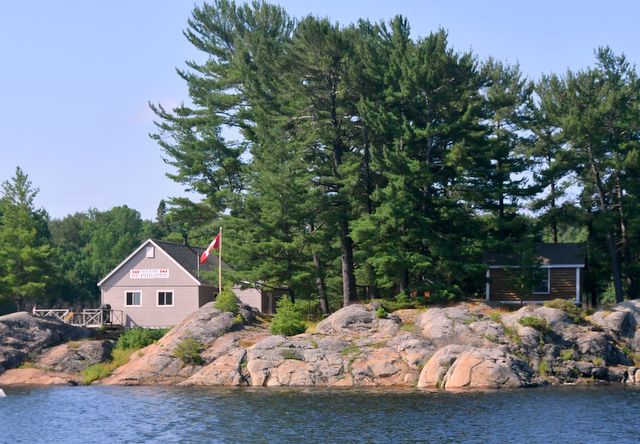 Camps for the adventurers and for the pampered
There is not room to anchor in either of the two "arms" of the inlet (Mile 58 anchorage to Mill Lake and Mill Lake to Beaverstone Bay) so we anticipated there would be a number of cruisers anchored in Mill Lake, but we were the only one. The lake gets shallow in the south and north ends and cruisers are warned that weeds can "strangle" propellers, so perhaps that is way no one stops in Mill Lake. We anchored in 12 feet of water with weeds visible near the surface of the water, but did not have any issue with a tangled propeller shaft, perhaps due to the cutter installed on the shaft this year. Our anchorage was quiet. One cottage was still boarded up and the other only had one inhabitant. In the morning the water reflected the land perfectly in ripple-less water.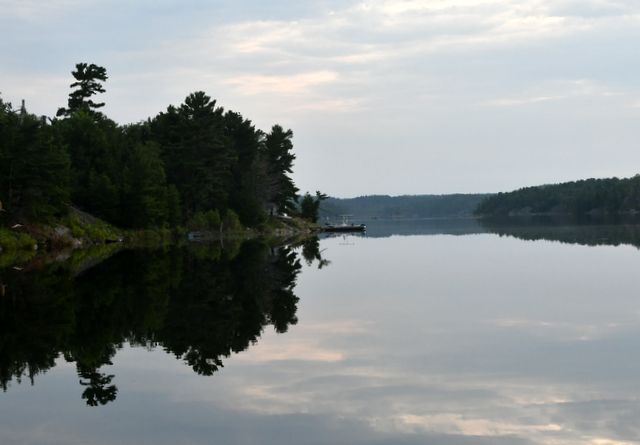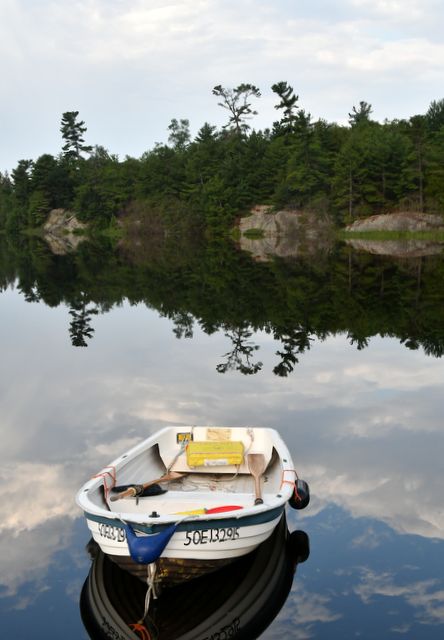 Quiet centre
The inlet is picturesque with some very steep high granite cliffs rising vertically from the water. Huge pictograph canvasses, but our untrained eyes could not detect any images on the lichen defaced cliffs. There is one fishing lodge in operation selling ice and fishing gear, but no other facilities.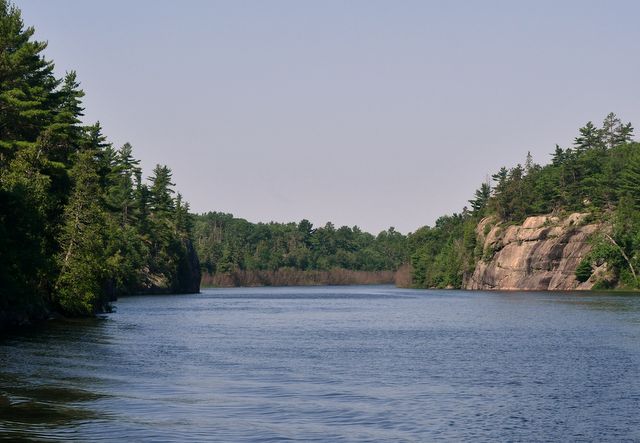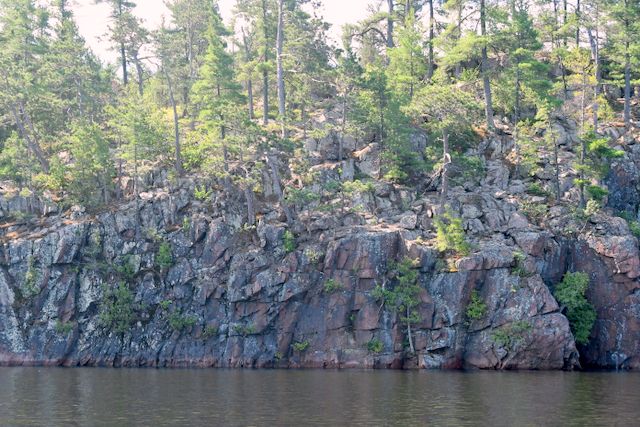 Little traffic
Burnt Island, Beaverstone Bay, July 20
The tight channel at the east end of the inlet has 5 feet of charted water (8 feet with higher water this year) and one green buoy must have been off station since there was barely room for Tuglet to squeeze between the red and green navigation aids.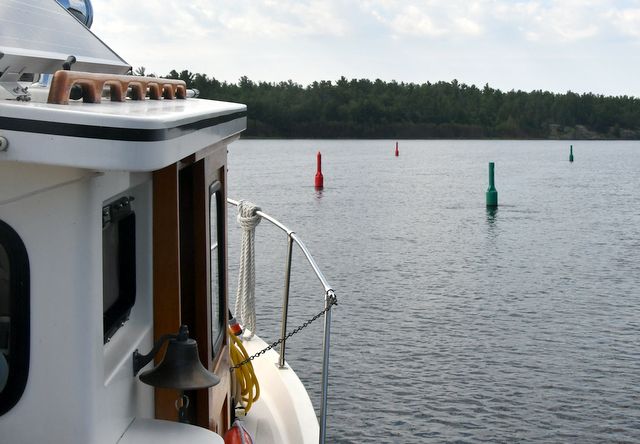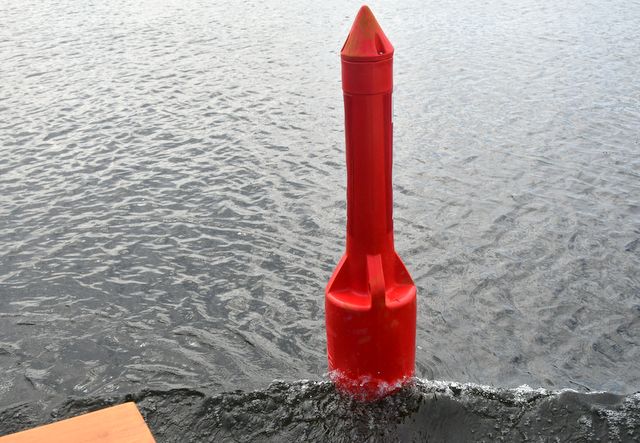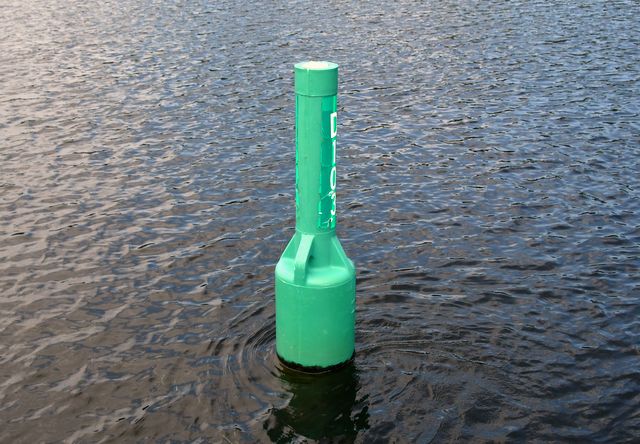 We anchored west of Burnt Island with a strong SW wind. Two other power cruisers were just leaving the anchorage as we arrived, and one boat anchored quite a distance from us later in the afternoon, so we were alone for a second night during the height of the cruising season. Amazing. We each had an invigorating row / kayaking jaunt around the rocky islets.
Bad River, French River Outlet, July 21-22
We still act more like sailors than power-boaters even though we do not have any sail on Tuglet. We had a moderate west breeze on the trip from Beaverstone Bay to French River and enjoyed surfing down the waves. We encountered 4 sailboats and a motor vessel heading west. They must have had schedules to keep.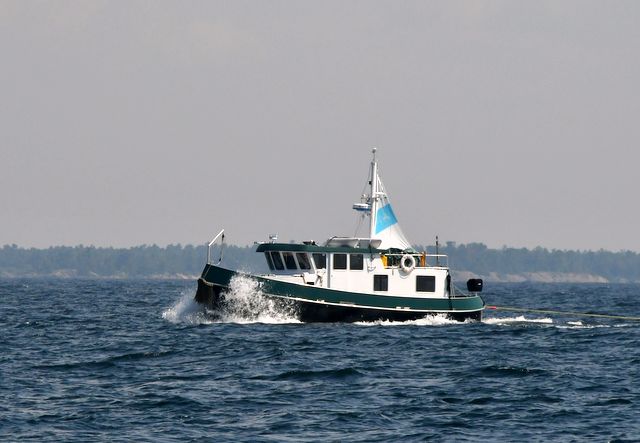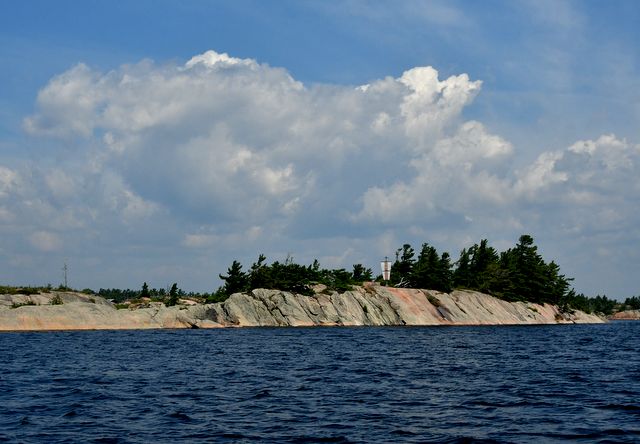 MV Hoot Bad River entry
The entrance up the Bad River is a bit tricky but well marked and easy with an accurate chart plotter. The anchorage just before you get to the rapids and chutes is quite large, but even with eight other boats there was plenty of space.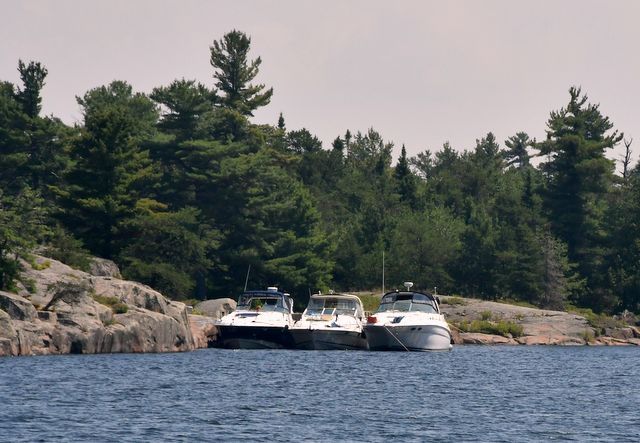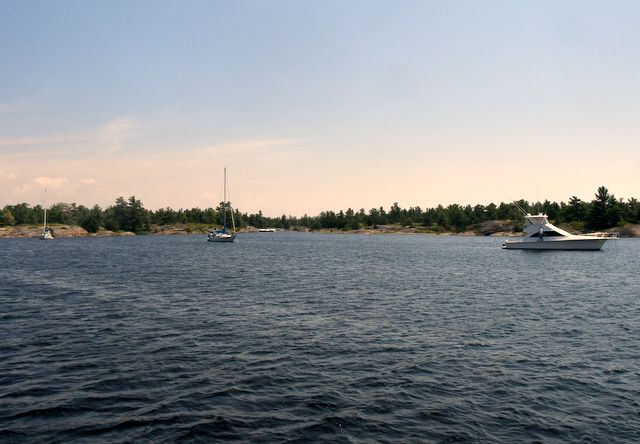 limited space on the rocks but lots of free wheel room
We were limited in our dinghy exploring since we do not have an outboard motor for Li' Toot, our rowing dinghy. Inflatables with 10+ HP motors can zip around the various channels and ride the rapids going downstream or even upstream. Instead, we had a slow row through the pools and dead-end channels and discovered pike, bass and even a grass pickerel. We love to eat fish, but are finally feeling a yen to sink our teeth into a steak.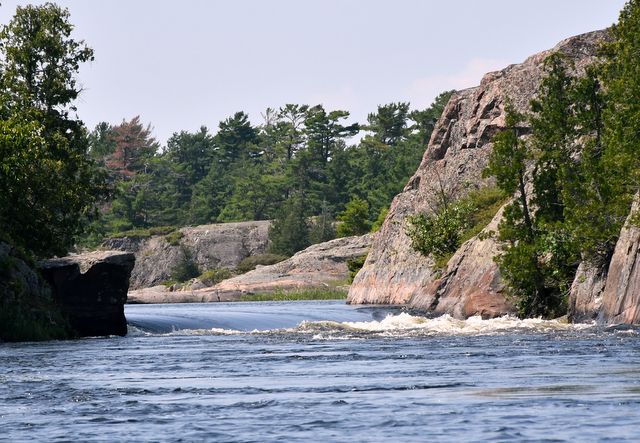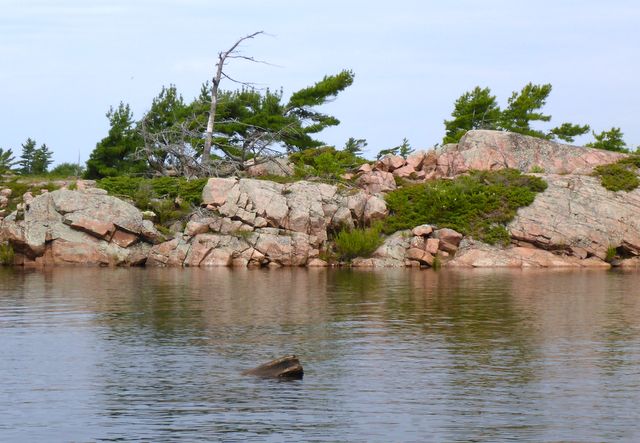 Devil Door Rapids Deadhead
At dusk we spotted a very large bird trying to balance itself on the top branches of a white pine. On close inspection we realized it was a juvenile eagle.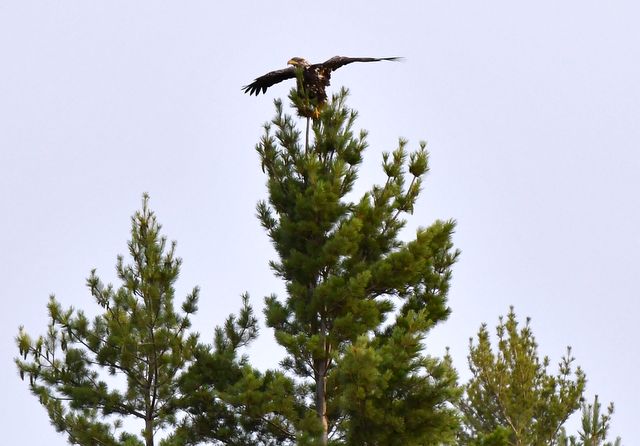 Eaglet watching Tuglet
Nobles Island, Beaverstone Bay, July 23-24
Strong wind from the NE and the threat of thunderstorms helped us decide to make the run west back to Beaverstone Bay. The waves had built to 2.5 to 3 feet and the wind was 15+ knots from the NE. Without a deep keel, tall mast and sails, it was challenging to keep Tuglet on track as we surfed down the waves and hit a speed of 9.2 knots. The cozy anchorage east of Nobles Island was welcome as the rain began. Rain or shine, Brian got out our smoker and smoked up the catch from French River.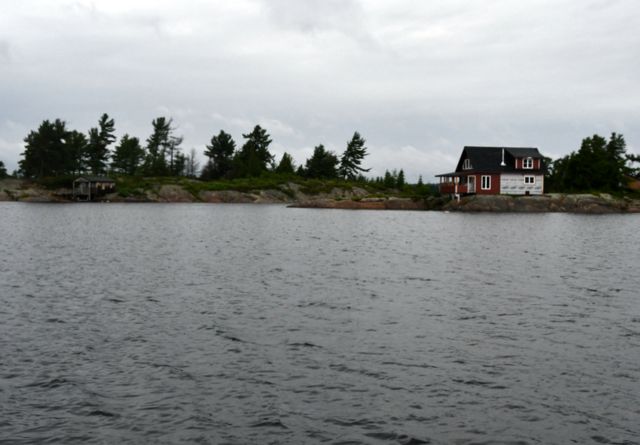 Nobles Island anchorage and a new cottage
We waited out a heavy downpour that lasted 24 hours in Beaverstone Bay and discovered how tightly the hatch and portholes must be dogged down in heavy rain when a drip landed on Brian's left ear. There were three cottages in this anchorage. One was under construction and had an elaborate water tower. The other two cottages were visited during the day, but no one stayed overnight.
Shoal Island Anchorage, Heywood Island, July 25
We spotted our first adult eagle in several weeks shortly after anchoring, but did not see the bear that was prowling the shoreline earlier in July. There were only 3 other boats in this eastern anchorage down a narrow but deep channel from Browning Cove, where there were about a dozen boats.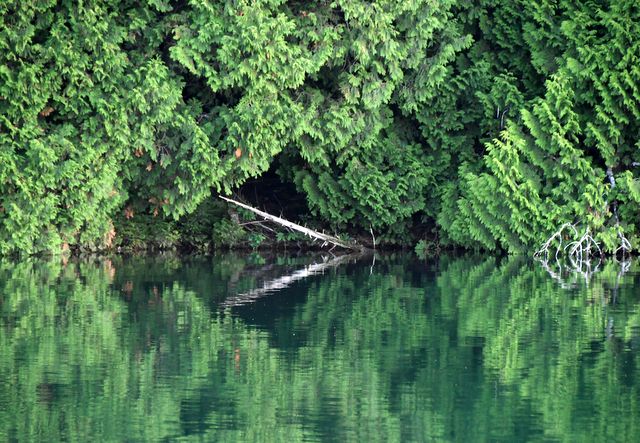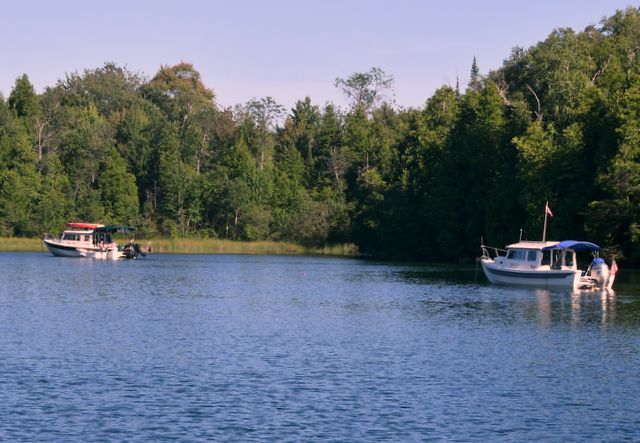 Calm waters and a couple of smaller power boats anchored in the weeds
Little Current, Spider Bay, July 26 – 27
With full laundry and trash bags and depleted drinking water, we went back to Little Current and Spider Bay Marina. We can be out for 12 - 14 days, but then must stop for supplies and also to allow our electronic devices to download updates.
Cruisers are invited to join Roy Eaton at the Anchor Inn while he conducts the daily Cruisers' Net, and so we got to meet and thank Roy personally for the dedicated service he provides the boating community in the North Channel.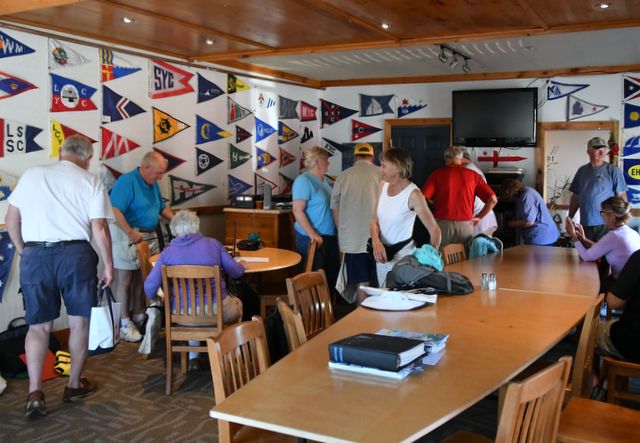 Cruisers net headquarters
McGregor Bay, Pathfinder Bay, July 28
We enjoyed the eastern area of McGregor Bay so much that we that we decided to go back and attempt the northern bays. The Great Lakes Cruising Club (GLCC) has provided notes that are essential for any cruising boat that wants to explore these waters. With the prospect of light wind and the GLCC notes in hand, we decided to venture north in McGregor Bay. We had an easy trip to Pathfinder Bay. There are many cottages in McGregor Bay. Most are on privately-owned islands, but there were quite a few on the western mainland which is Indian Reserve territory. Cottagers and cruisers often have a strained relationship. Since McGregor Bay was not fully charted until 1997, cottagers did not have much cruiser traffic, but in the last 20 years, cruisers have increased. Most of the cottages are in the western and central areas of McGregor Bay, so cruisers tend to go to the less-populated eastern area. There were 4 cottages within sight of Tuglet in Pathfinder Bay, 3 on them on the mainland and we think owned by First Nations people.

Route from Little Current to Pathfinder Bay
McGregor Bay, Breen Bay off Iroquois Bay, July 29
The route from Pathfinder Bay north to Iroquois Bay is torturous through unmarked channels and through 2 cuts that charts indicated were too shallow for us. The first shallow cut was marked with yellow propane cylinders, but were confusing since the GLCC notes indicated they had been painted red and green, but were now all yellow. There were 4 cylinders instead of the 3 mentioned in the GLCC notes which added to our confusion.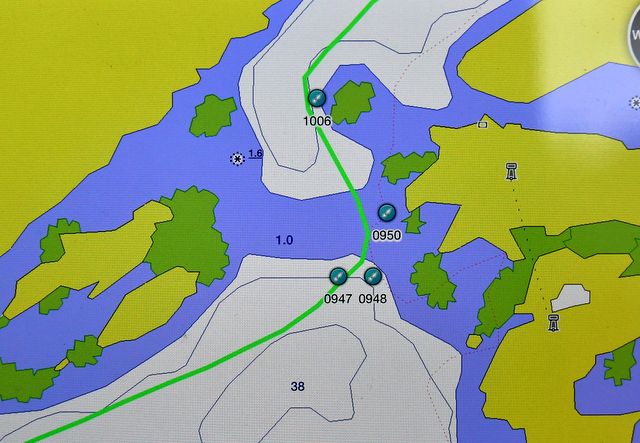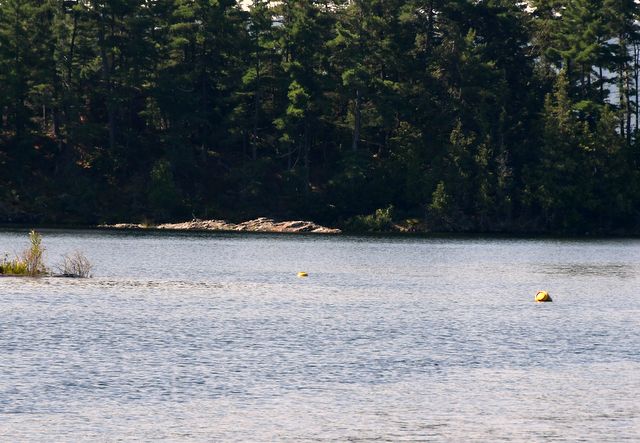 Choke point
The blasted cut (dynamited in the 1940's to allow access to the North Channel and Iroquois Bay north of Lunge Bay) was frightening going northbound since you cannot see any oncoming traffic due to a dogleg at the very southern end of the cut. Thankfully there was no wind and no current. We would never attempt this route without a good chart plotter and calm weather.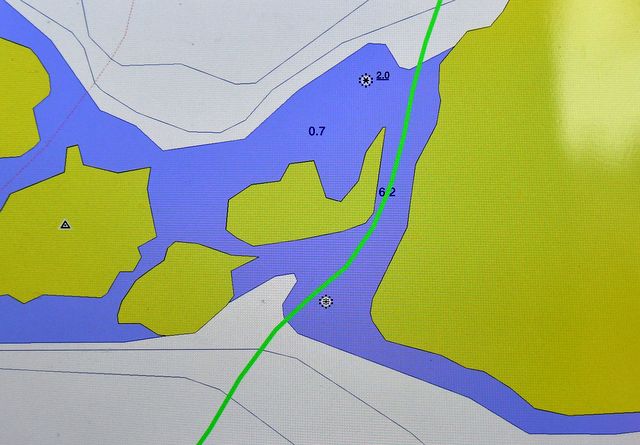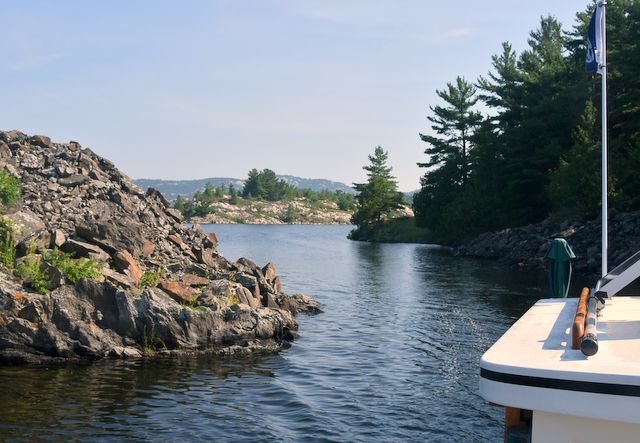 Blasted Cut
We toured the west end of Iroquois Bay to the Potholes (3 deep pools at the western-most part of the bay). There were no more than a dozen cottages on the bay plus a dock / parking lot on the north shore. We found 3 Nonesuches (sailboats) rafted / bow anchor, tie to shore. We went into Breem Bay, the southern-most bay on Iroquois Bay and anchored in 22 feet of water.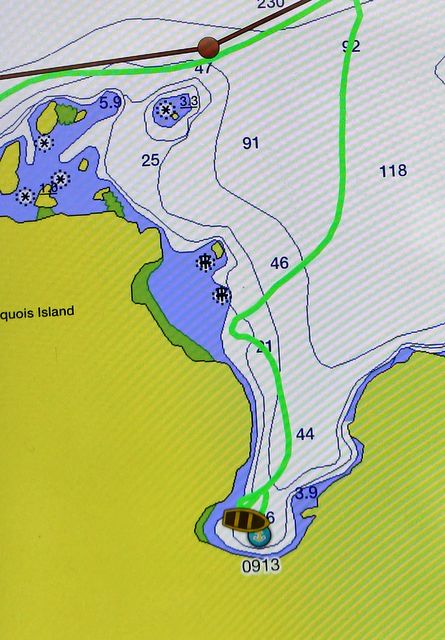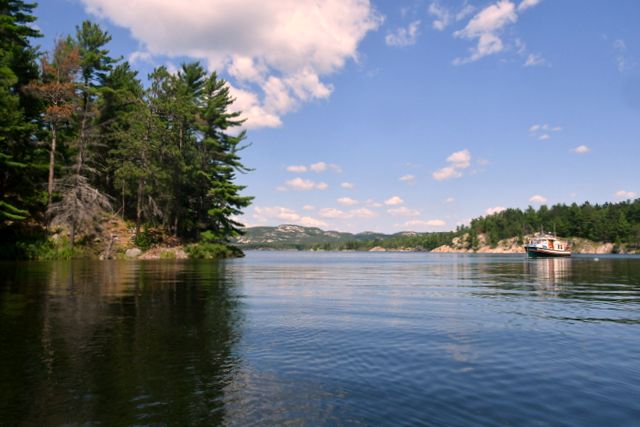 Breem Bay
With 100 feet of anchor rode we could swing from one shoreline to the other without grounding. Jane discovered a small blueberry patch that had not been touched yet this year. We had the first (and best) harvest. We were surprised to find lots of green tiny debris floating in the water, not just in the warm bay but also in the 300-foot deep areas. Like in so many anchorages there is a beaver Lodge. On Sunday morning the beaver swam to the lodge, making lots of little diversions knowing we were an alien object in his territory. He finally slapped his tail and dove home.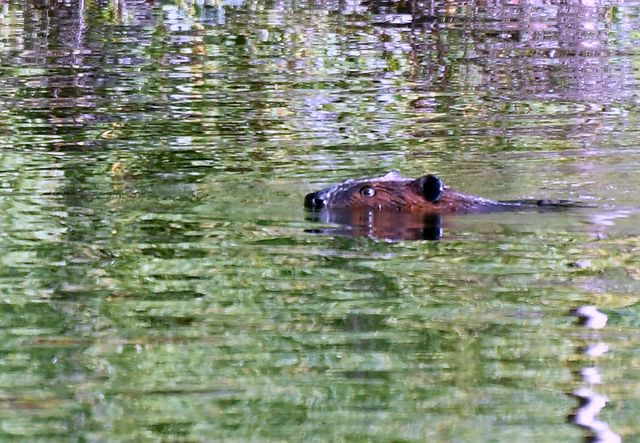 Jane picking a super crop of blueberries and a rather ticked off beaver
We tried drift fishing in 150 - 300 feet of water of Iroquois Bay. There were echoes on the depth sounder / fish finder, but no hits. Whenever Brian has caught deep water fish, we have never seen an echo on the depth sounder. There is a small fjord on the southeast shore, Eye of the Needle. We ventured in and found the 3 Nonsuches we had seen previously (rafted, tied to shore). We also checked out the almost land locked weedy, muddy bay. A very disturbed loon tried its best to divert us back out of the bay. We complied.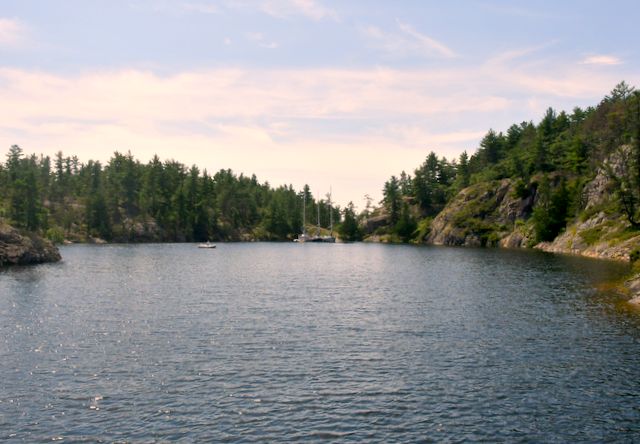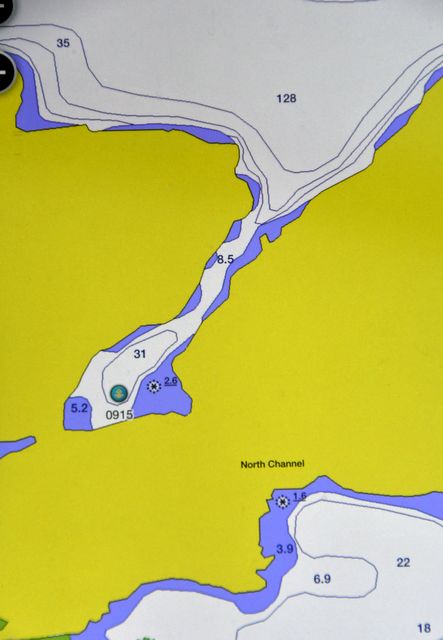 Eye of the Needle interior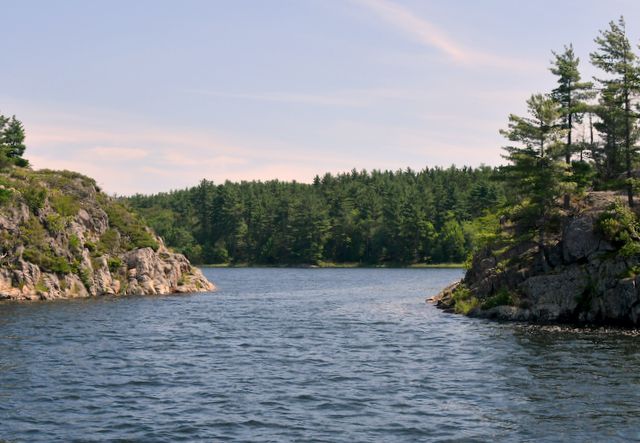 Donut entry
McGregor Bay, North Channel, Western anchorage on north shore, July 30
There are 4 large cottages at the western end of the North Channel and we saw an additional 3 along the way east. There were no other cruising boats. Brian broke his fishing drought (which had lasted a week) and caught a medium-sized pike. In the morning we saw a mink on the island that formed the anchorage.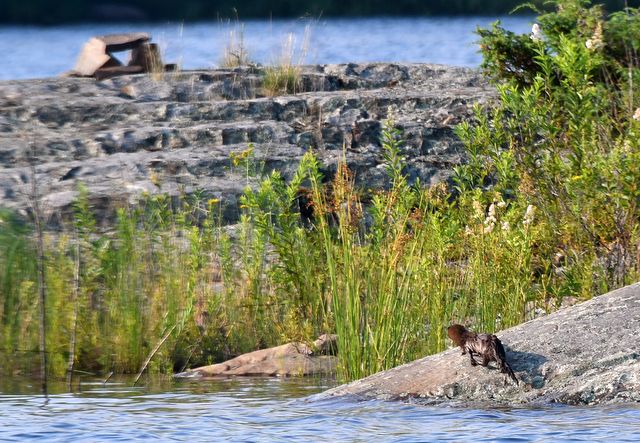 North Channel mink at anchorage A
McGregor Bay, North Channel, Eastern anchorage on the north shore, July 31
The McGregor Bay North Channel is pretty and isolated from other cruisers, but not as spectacular as the "real" North Channel. While preparing to go for a row / fishing trip, Brian baited a hook / red lure with a worm and dropped the lure into the water at the stern of Tuglet. When we tried to put the fishing gear into the dinghy, the baited line seemed to be snagged on something. We tried pulling Tuglet forward on its anchor rode to clear a snag on a bottom weed, but the snag moved with the boat. Eventually we found that a small bass had taken the lure and then swam around the rudder several times causing the "snag" Brian had to dive on the rudder to free the line, releasing the little fish (being eyed by a larger bass hovering under the hull) and retrieving the lure.
McGregor Bay, Usual Reasons Cove, August 1
The southbound torturous trip was less stressful, especially the blasted cut since southbound you can see the pathway more clearly, but it was still easy to get lost with the twists and turns, even with the chart plotter. We anchored in Usual Reasons Cove, just north of the north side ridge of Bay Fine. There were only 2 sailboats were anchored within sight, but a a good distance off. Jane went out in the kayak, so Brian was alone in the dinghy and had a very large pike on the hook. There was a strong wind, and since he was alone Brian was not able to row to avoid the rocks and land the fish at the same time. The fish escaped.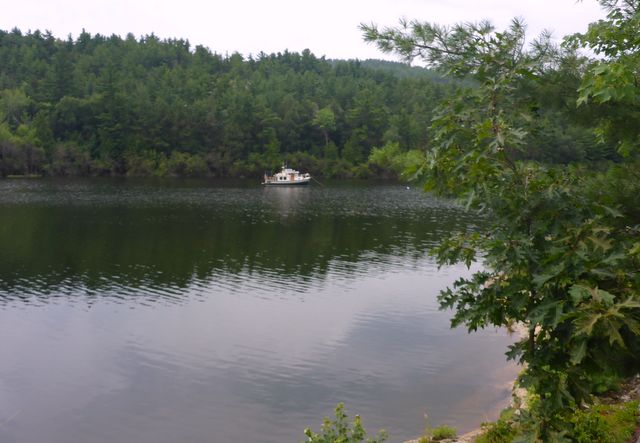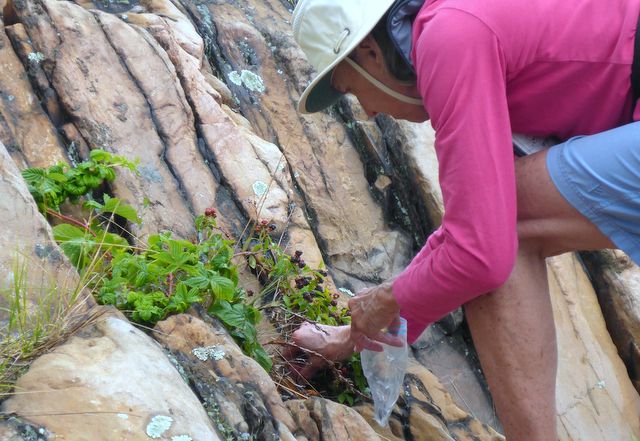 Tuglet in Usual Reasons Cove Jane picking blackberries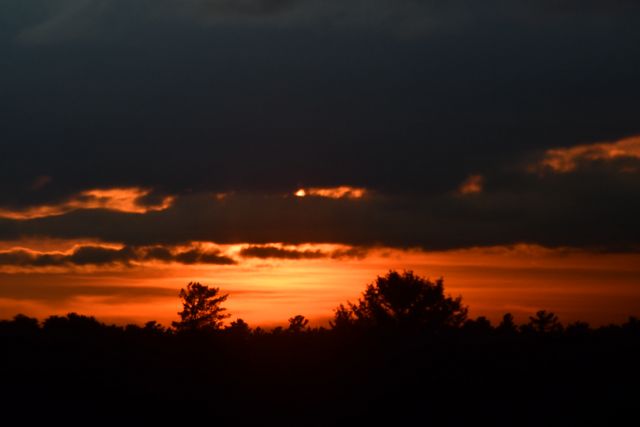 McGregor Bay, Crooked Arc Bay, August 5-7
We decided to cruise up the North South Channel to check out all of the east / west bays along the way. There were about 10 cruisers tucked into different bays and coves, but none seemed crowded and we were anchored alone in the spacious Crooked Arc Bay for 2 of our 3 nights. We saw one deer on south shore and a snapping turtle checked us out several times. There were also several good-sized pike that found Brian's lure.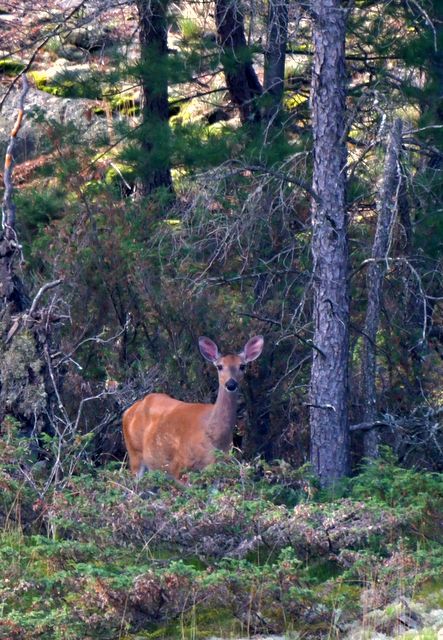 Baie Fine, August 8
This lovely fjord is as popular as ever. There was a moderate west wind which would have provided sailboats with a pleasant run down the bay, but we observed at least 3 sailboats motoring downwind in Baie Fine. The main change at Baie Fine was the power line that used to stretch about 100 feet above the water has been submerged.
Mary Ann Cove seemed a bit crowded with most boats tied to shore, so we decided to move further east and found a cove with some protection from the west wind. We deployed 2 anchors to insure we did not drift over a 1-foot rock ledge especially since there was a severe thunderstorm watch in effect. We saw lightning and heard thunder north of us but the storm missed us. The water was the clearest we have had so far, and not too cool. Wednesday morning we cruised down to the pool. 3 boats left as we entered, but there were only 4 boats remaining in the pool. This was surprising, since we saw 6 boats anchored in the narrow channel from the bay to the pool which we thought was an indication that the pool was full. At the pool there were folks on the deck of the Evinrude cottage, so we gave them a toot with our steam whistle.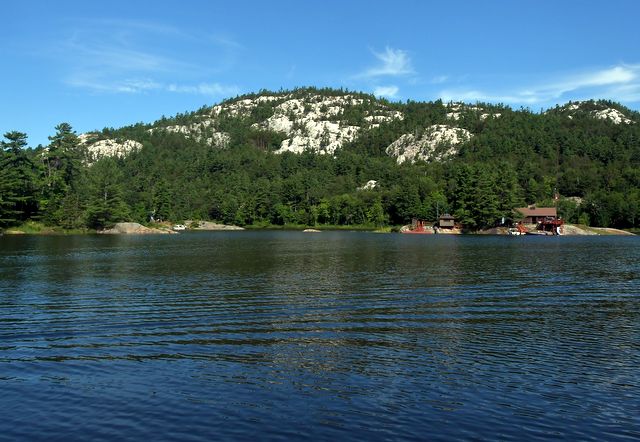 Heywood Island, Shoal Island Anchorage. August 9
Our third and last visit to this delightful anchorage yielded no bear, no eagle, and no fish. We shared the space with 5 other cruisers and many young ducks.