Little Current. August 10 – 11
We stayed 2 nights at Spider Bay Marina to do the usual pump out, laundry and provisioning.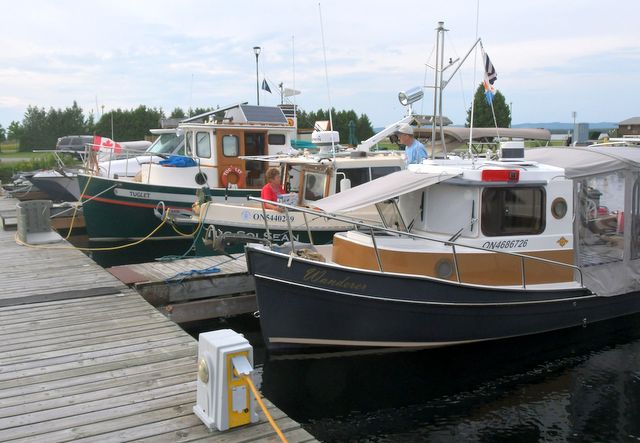 three toy tugs
We have also learned the hard way to apply updates to all our device software while in port with a dependable internet connection. Unfortunately, the Port of Little Current does not provide a fast or dependable internet connection. We also attended the North Channel Cruisers' Net which was videotaped by CTV North. http://northernontario.ctvnews.ca/video?clipId=1186887&binId=1.1142313&playlistPageNum=1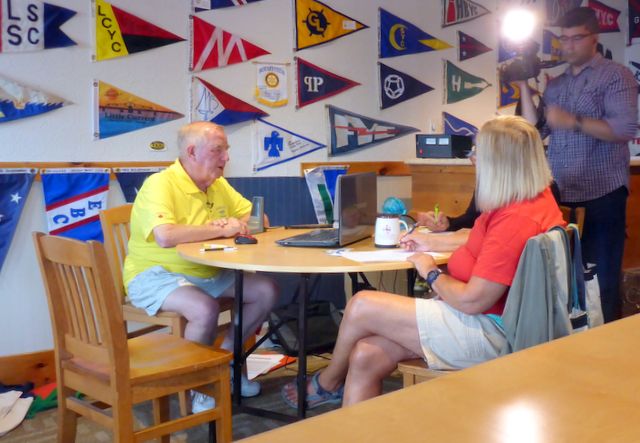 Roy … now a TV star
Louisa Island. August 12.
The new metric chart 2207 published in 2001 finally has reasonable soundings for the Barren Islands along the northeast shore of the North Channel and they have become a popular cruising ground. The previous chart (2286) was first published in 1915 with depths measured in fathoms and extensive areas uncharted. Louisa Island was highly recommended. It has a rare sandy beach that cruisers with dogs find especially appealing. But the sandy beach also fosters lots of poison ivy.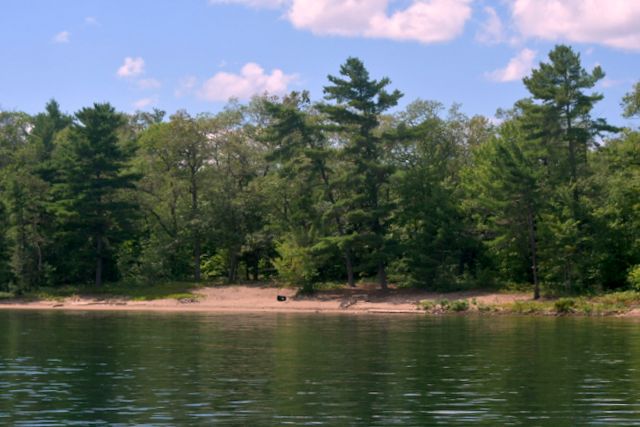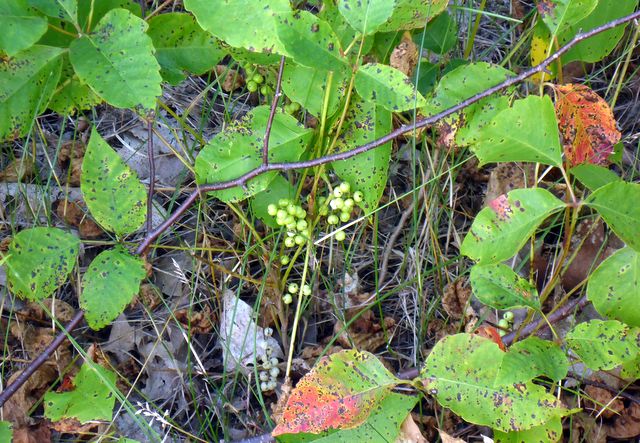 Louisa Island beach a favourite with dogs and surrounded by poison ivy
Bear's Back Island. August 13
Jane wanted to check out this anchorage which is small and shallow. She remembered a previous cruise in a chartered boat when she was spooked by the echo created by the shoreline in dead calm conditions. This visit the wind was stronger than forecast from the W / SW and made staying in this anchorage a poor idea. We did anchor long enough to do a row-around and found no evidence of fish in the very shallow weed bed.
Amedroz Island. east side. August 13
We had great protection from the west / southwest wind in the cove with a tiny sandy beach on the east side of Amedroz Island. Brian caught 2 bass that had taken refuge in the shade of Tuglet. Jane took out kayak and discovered more ash trees and white spruce here than in other anchorages. She found one swamp milkweed growing at the water edge with a monarch butterfly caterpillar.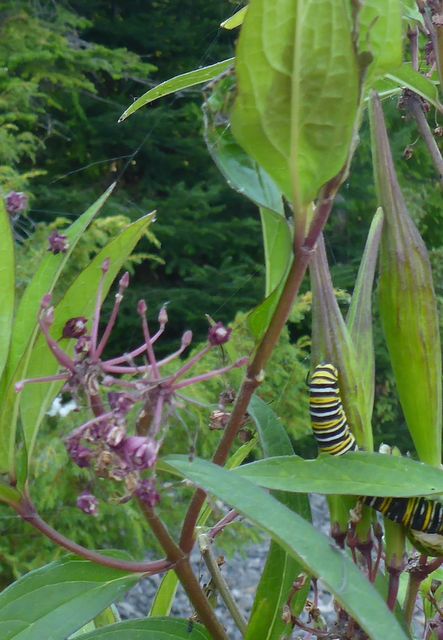 swamp milkweed with a monarch butterfly caterpillar.
Croker Island. August 14-15
As we arrived at Croker, a power boat was just leaving the little cove east of the main anchorage so we waited for them to leave, then settled into their location in 5 feet of water. We deployed a stern anchor since the swing room was confined. Croker is almost as popular as the Benjamin Islands anchorages and there was much stress in the main anchorage since about half of the boats were freewheeling from one anchor and the other half were bow-anchored, stern tied to shore. There is a tiny islet in the east cove where we were anchored that provided a great spot for those who like to have a campfire ashore. As we rowed around the islet we could see the stone circle under water that was used for fires during the low-water years.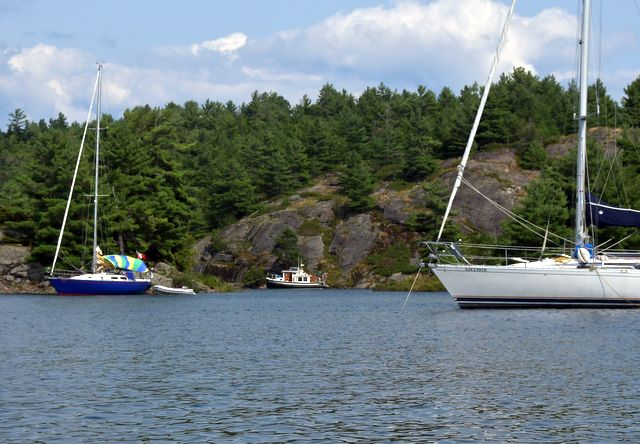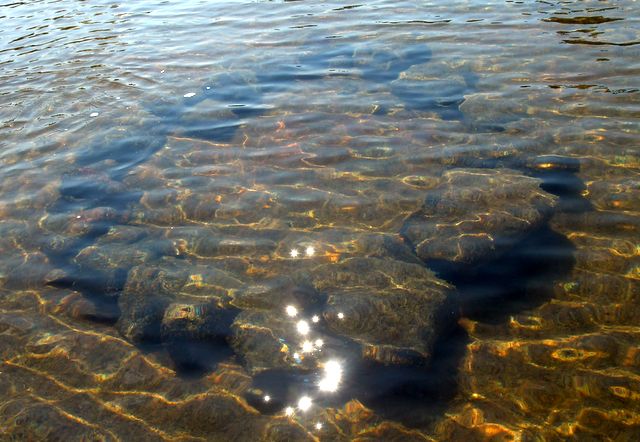 Main anchorage and the islet ... old fire pitcovered by high water

Oak Bay, outside Leroy Cove and West Hotham. August 16-22
With the threat a a major downpour with strong easterly winds, we sought protection at the east end of Oak Bay. In June the West Bay on Hotham Island which forms the southern shore of Oak Bay provided pike, bass and pickerel. Although there were more boats anchored in Oak Bay in August than in June, we did not feel crowded until a Grand Banks 49 bullied her way right in front of us, and then ran her generator 50% of the time.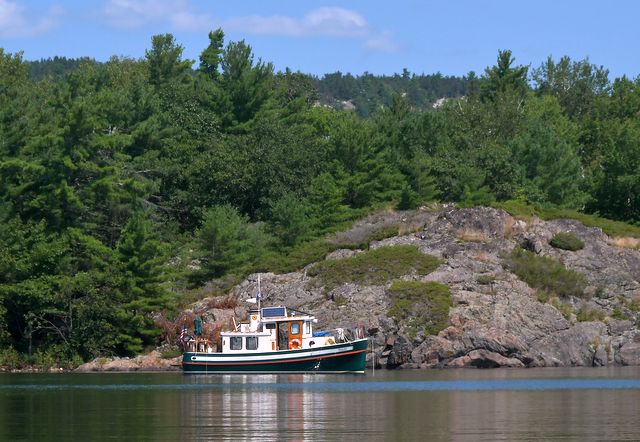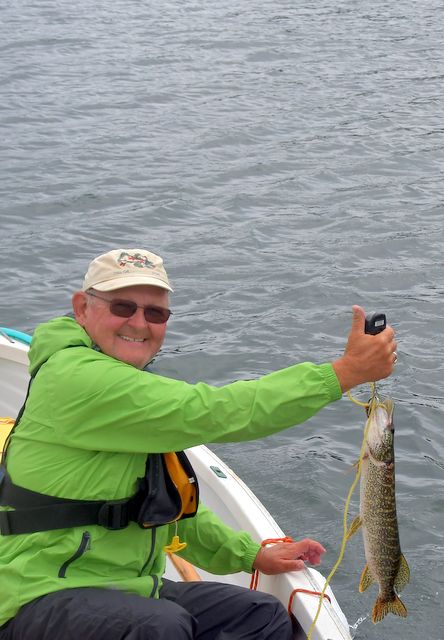 All alone were we and enjoyed the fishing

Our second visit was equally as good as our June visit. An Eagle and Turkey Vultures soared overhead while the Loons serenaded us in the mornings. West Hotham had not been fished out. Perch congregated in the shade of Tuglet and were hungry for Brian's worms. Pike were still in the south cove and bass in the north cove. We had one sorrowful loss. The canvass cover Jane made for her inflatable kayak was left on the bow of Tugulet while she did a paddle-around in strong westerly wind. When she returned to Tuglet and deflated the kayak, the canvass cover was gone. We imagined the surprise the fish and snapping turtle must have experienced as a blue canvass thing sank into their habitat.
Spanish. August 23-24
12 days is the maximum time for us between holding tank pump-outs. Our next port was Spanish, which provided a pump out, laundry facilities, water for the tanks, WIFI for all the software updates to our various devices, and stores for grocery and liquor re-provisioning.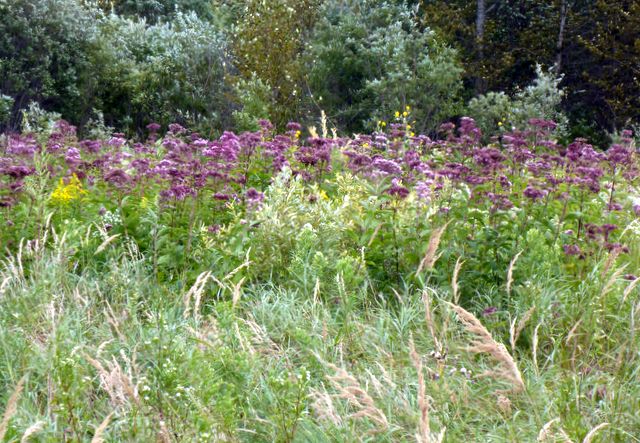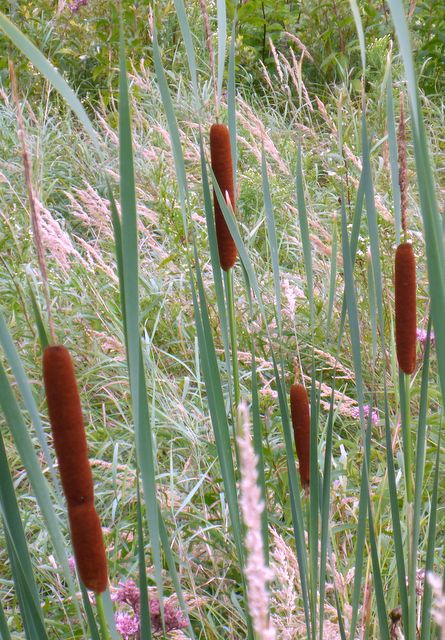 wild flowers and grasses in Spanish

While we were in Spanish there was an emergency situation unfolding. 2 dinghies overloaded with people and supplies capsized near Aikens Island. People were in the water for quite a while trying to get to shore with their young children. The tug Bonnyville out of Spanish, along with some local RIBs went to rescue the people and floating items. 3 paramedic vehicles were at the Marina in case there was major injury. The folks were suffering shock and were cold, but did not need medical attention. The boats and all the gear that floated were recovered.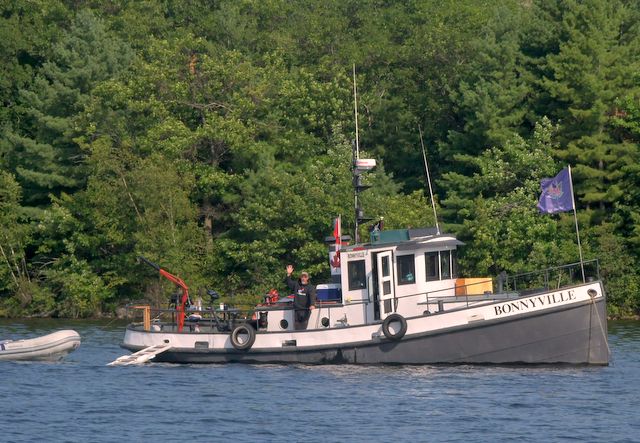 Bonnyville out of Spanish
John Harbour. August 25-26
After our stay at the Spanish Marina we were anxious to be back at anchor and decided to go to John Harbour, a large anchorage between John and Dewdney Islands south of the Whalesback Channel. We had not been here since the early 1990's in a CYC chartered boat. Unfortunately blueberry season was over. Dewdney has perhaps the highest concentration of blueberry bushes in the North Channel. They are thriving, but were bare of any berries so late in the season. Brian was back fishing in the dinghy and found bass who were hungry for worms. We watched a beaver weave back and forth trying to lead us away from the beaver lodge.
Beardrop Harbour. August 27 – 29
We returned to Beardrop, perhaps our favorite harbour in the North Channel to wait out some strong wind and rain. The weather was overcast and cool, which was perfect for fishing: 2 Northern Pike and a Large Mouth Bass! Catching a large fish is exhilarating, but then the fish must be gutted, cleaned and filleted. That is just the start of the fun. Then we had to decide which fish to smoke and which we could consume within 36 hours. The bass gave us 2 meals which meant the pike had to be smoked, and they provided an additional 4 meals. Brian reluctantly retired his fishing gear and we spent the rest of our time with Brian rowing / photographing and Jane collecting / photographing wildflowers to identify.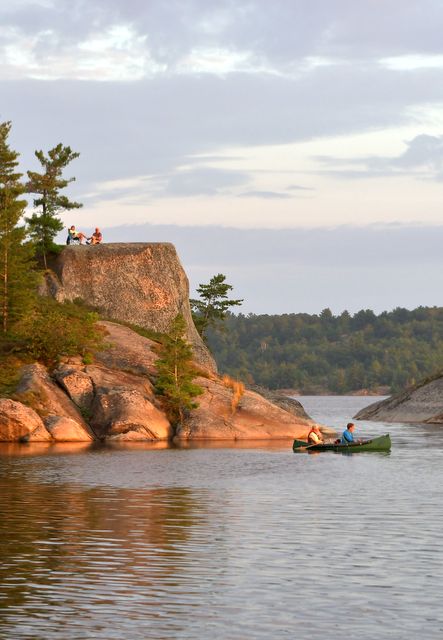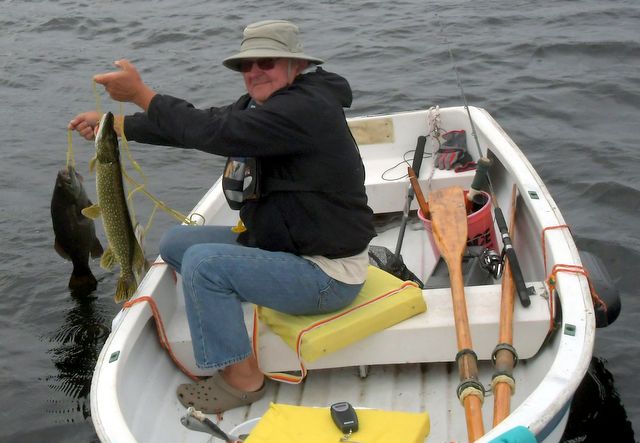 Waiting for sunset on Bear drop Fish for dinner and the smoker

Long Point Cove (August 30 – 31)
We had not visited Long Point Cove since our cruises in Swan Queen in the late 1990's so we decided it was time to check out this protected anchorage next. It used to be difficult identifying Navy Island which is necessary to finding the clear-water channel, but with the chart plotter, it is hard to miss. The main change at Long Point Cove is the statue of a howling wolf erected by family / friends of a long-time cruiser in the area.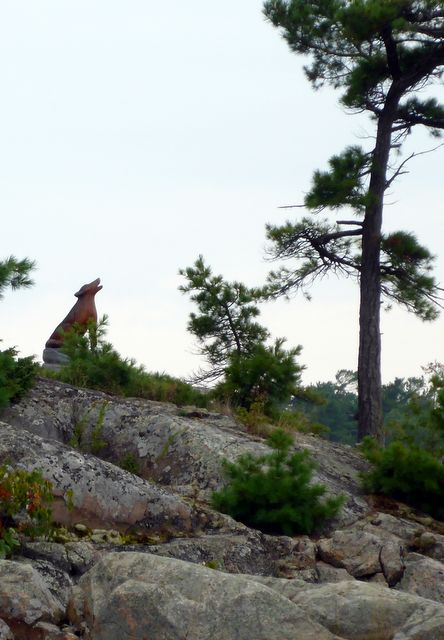 Wolf memorial

The lime processing plant about 1 mile away works through the night keeping a low vibrating din in the harbour. Brian has never been successful fishing at Long Point. This year his efforts were minimal because of our Beardrop bounty, and nothing was caught. We did observe a beaver swimming to his lodge decorated with brilliant pink smartweed. A Great Blue Heron did a great fly-by. We had our first really COLD snap: 55° F in V-berth. 42° outside overnight.
Turnbull Island (Sept 1 – 2)
Because we still had smoked fish in the refrigerator, Brian did not do any fishing. We did extensive row-arounds in the archipelago of rocky islets and saw little evidence of fish. The Eagle's Nest that we saw in the 1990's up to 2005 was not found. We noticed that the water clarity had improved over what it was in June. Perhaps the Spring runoff from the Serpent River had caused the dark colour.
Blind River. (Sept 3-4)
There are several things that force us to a marina. The major reason is that our holding tank needs a pump out. We discovered, almost by accident, that the pump out facility in Thessalon was not working and that the marina would not be staffed after August 31. The logical alternative stopping place was the marina at Blind River. We had never been in this port, and found that the one person on duty on the Labour Day Weekend was knowledgable and that all the facilities at the marina were working. Stores were closed, but we did walk into the town that used to be a bustling centre in the lumbering heyday, but now has as many vacant storefronts as occupied ones. We noticed French influences in some of the house architecture and most of the signage is bilingual. About 18% of the population is Francophone.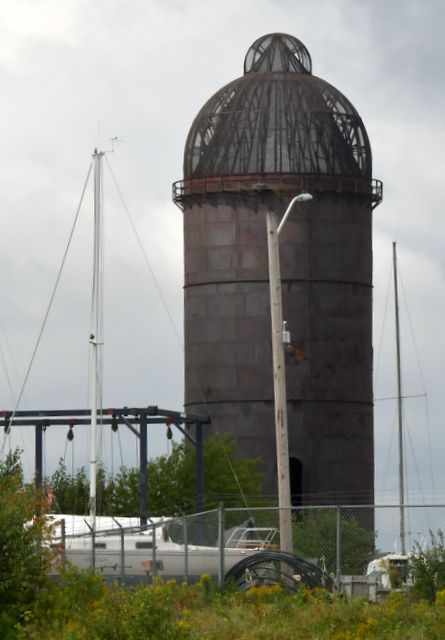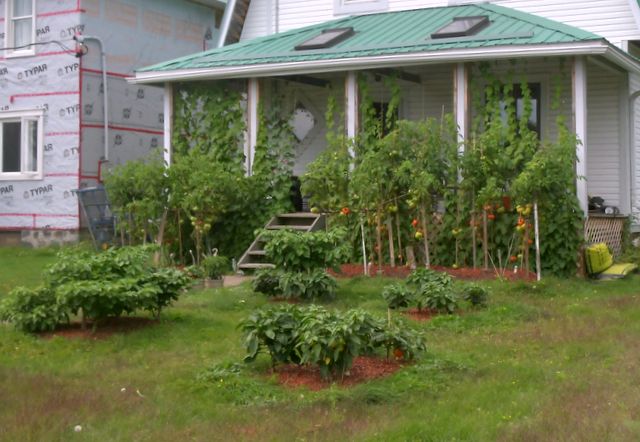 Blind River landmark ... part of the old sawmill used to burn wood scrapes .... local gardener

We met a couple on a trawler who were doing The Loop. This is a route many boaters are taking that goes from the Great Lakes down the Mississippi River to the Gulf of Mexico, then around Florida and up the Intracoastal Waterway to the Chesapeake, up the Hudson River, through Lake Champlain back to the Great Lakes. The couple left their home in Houston in March and were both concerned and relieved that they were not in Houston when Hurricane Harvey devastated their home city even though their house was not flooded. We are weather-watchers especially during "hurricane season" since our winter boat is in the East Caribbean and we have so many friends with boats in those waters. We have been fortunate that Pilgrim has escaped a hurricane hit.
Thessalon. (Sept 5)
A stop was necessary in Thessalon to provision for the last week of our cruise and to pick up a package we had sent to the post office in that city. In June when we were in Thessalon overnight somehow a tree frog managed to stow away on Tuglet. In September no stowaways sought us out. Locals come to the marina in the evening to fish which may explain how the frog came to our boat. There are certainly no trees anywhere close to the docks, but the frog may have escaped the bait bucket.
Portlock Harbour. (Sept 6 – 9)
Portlock is one of our favorites. The fishing is excellent; Brian was forced to retire his fishing gear early as our time on Tuglet was nearing an end and there was insufficient time for us to consume two large northern pike caught on our first day. In addition to fish, we enjoy the birds here: Osprey, Kingfisher, Loon, Great Blue Herron, Sandhill Cranes, and a young Eagle. It was quite cool, with a risk of frost in the forecast. Overnight temperatures were in the mid-40's Fahrenheit and the water temperature dipped to 62° F. Bathing off the swim platform became very speedy.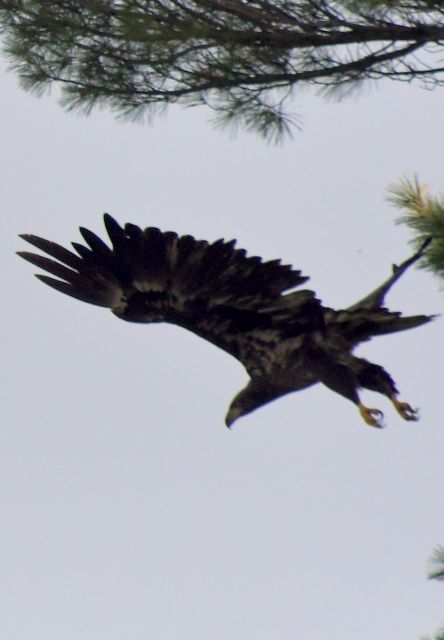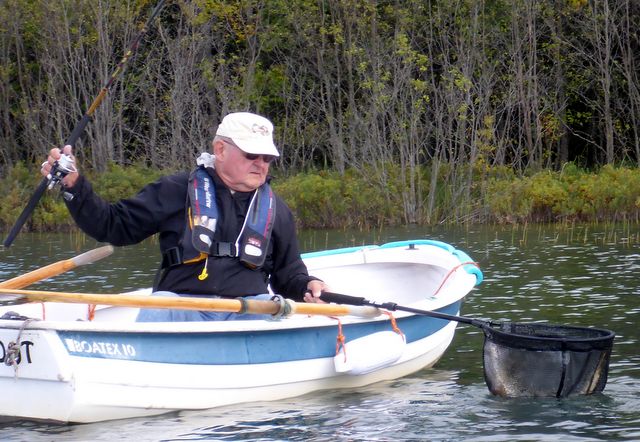 Our guardian eagle Brian catching lunch

Local fisherman with an early morning start

We were in Portlock Harbour in September 2016 and noticed that the water level was up significantly from a year ago. The shorelines all through the North Channel are fringed with Speckled Alders, a fast-growing tree in the birch family, that sprouted during the low water years and are now dying with their roots submerged underwater.
While in Portlock we followed the slow, devastating path of Hurricane Irma. We almost left Pilgrim for the summer in a boatyard on Antigua, but returned to Prickly Bay in Grenada last Spring, and are glad we made that decision. We subscribe to Chris Parker's weather service; his office took a direct hit from Irma as she moved up the west coast of Florida, lost one of his antennas, power, internet, and had to set up temporary offices at Stormy's residence. Stormy is Chris' assistant. As GPS and other technologies make boating less risky, the weather is keeping sailors vigilant and pumps the adrenaline.
Sterling Bay, St. Joseph Island. (Sept 11-12)
Our last anchorage of the summer before haul out, provided us great shelter from southwest winds and a sunny but cool end to our cruise. The red maples are turning purple / red / orange and the birch are becoming golden in the sunset. It is time for our 6-week land exile before heading back south to Pilgrim and Grenada.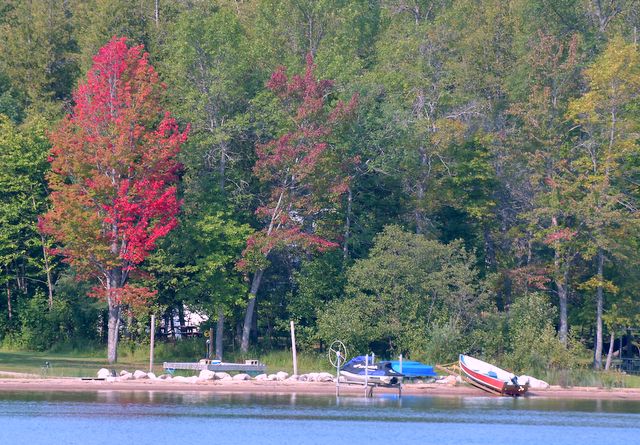 Fall colours in Sterling Bay