June 2017: DeTour Passage to Little Current
The first week of June was devoted to getting Tuglet ready to cruise. In addition to provisioning, filling water and fuel tanks, and checking out systems, Brian installed the bookshelf he designed and built and we started plans to replace our interior cushions. We left DeTour Village (Michigan) and entered Canada in Thessalon on June 9 and proceeded to our first anchorage, Turnbull Island, on June 10 in the rain and choppy seas.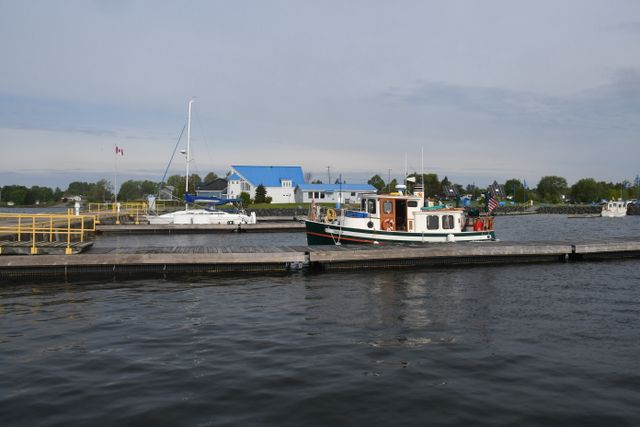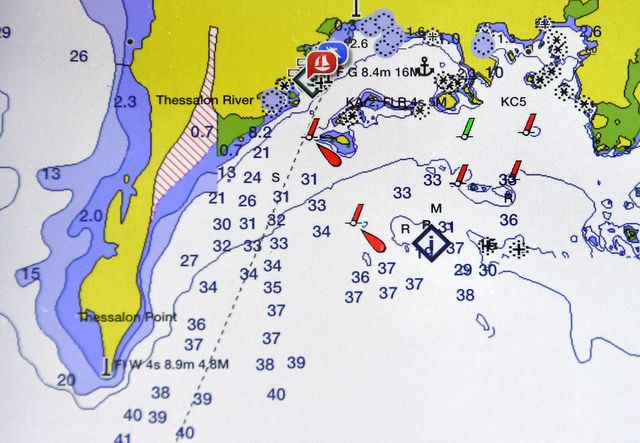 Tuglet checking in at the Thessalon Marina
Turnbull Island, June 10-11
There was little change in the anchorage from our last visit in June 2005 when we were on Pilgrim. We shared the space with 2 loons and an abandoned beaver house. The colour of the water was darker than in 2005 and the bottom not visible, but the anchor held us well during a brief thunderstorm when a front came through with 25 knot winds from the West.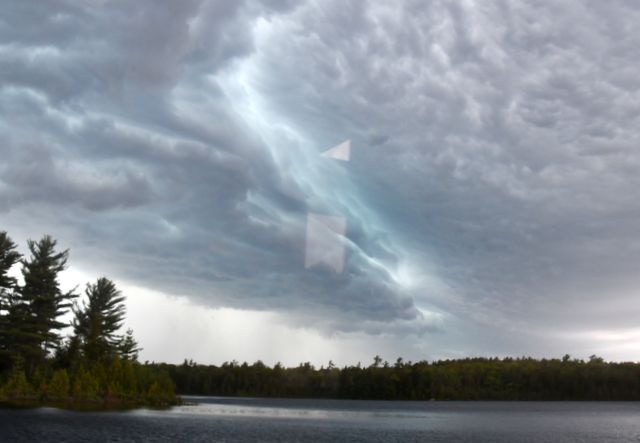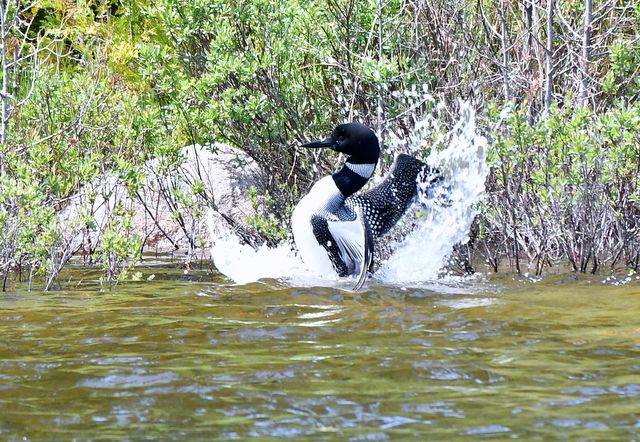 Thunderstorm approach Loon messing about in the water
In the dark hours of Sunday morning we heard croaking that seemed very close. It sounded like a heron. In the morning we heard it again, and this time it was ON the boat. It was not until Monday afternoon that we found a little Gray Tree Frog hiding under the bottom rail of our sliding door on the port side. It moved around to various hiding spots and vocalized often to let us know it had not left. It seemed to find bugs to eat. Our first night on a dock in Spanish it was able to escape and return to the trees. It was probably with us from Thessalon to Spanish, 9 days as our stowaway.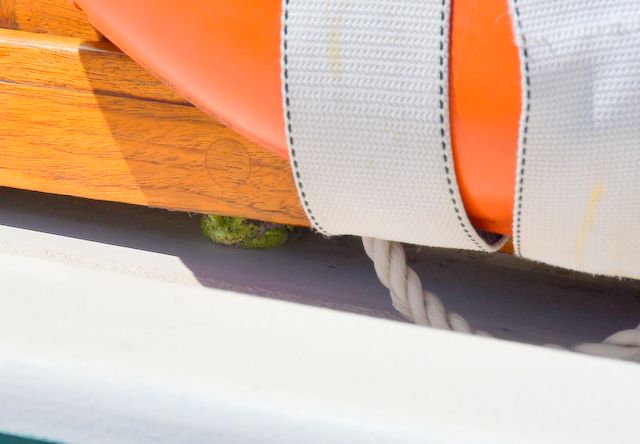 Our little green stowaway
Water temperature 58 - 60 degrees F so we did not go in the water
Beardrop Harbour. June 12 -14
On the trip from Turnbull to Beardrop we pass Whitcher Island. During the 1990s and up until our last passage in 2005 there was one Northern White Pine in the middle of the island that was about 15-20 feet taller than its companions. The tree has not survived, which makes the island much more difficult to identify. Jane's favourite island, Pendergast, is still as beautiful as ever.
As in Turnbull, the water visibility was poorer than we remember. We could not see rocks that bear the marks from keels that scraped bottom when sailboats tried to take the shortcut through the Beardrop Passage in high water years.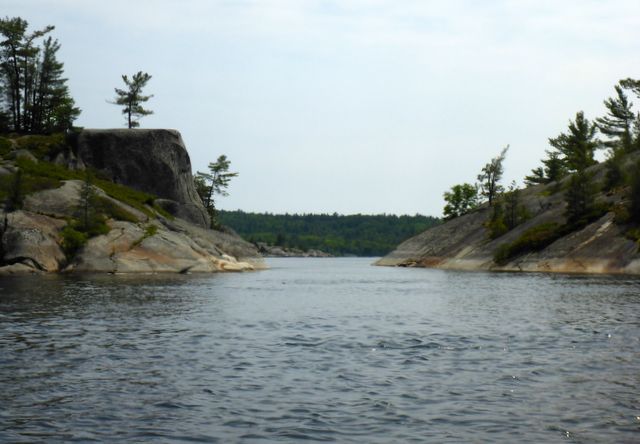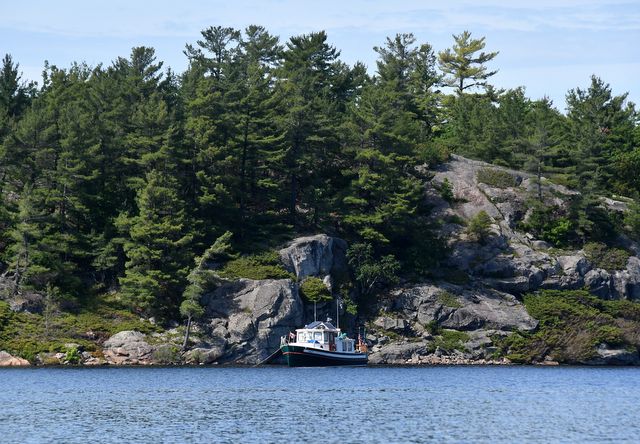 The Bear Drop looking South Tuglet anchored on the North side
We saw 2 eagles, no loons, a few cormorants and several Guardian gulls. There were 4 beaver houses in good condition and two beavers were spotted.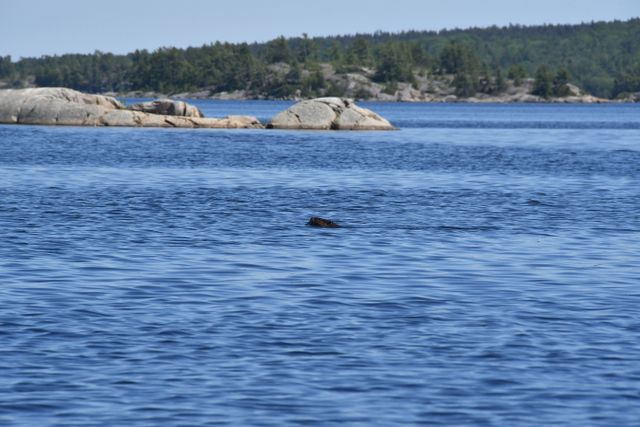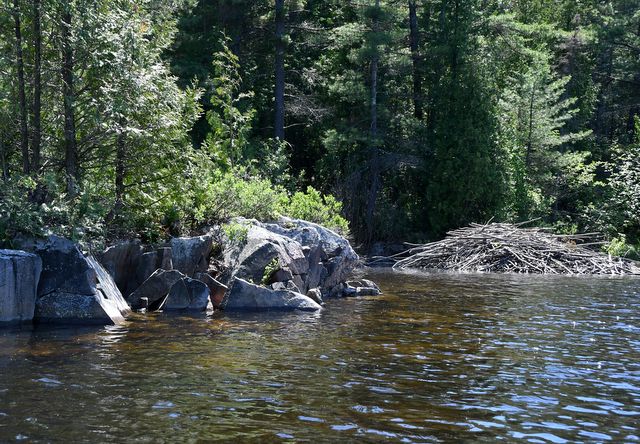 The Beaver and his/her house
Brian had his first success fishing. Pike and pickerel (walleye) were excellent, fresh and smoked. A 10.5 pound catfish found a worm on a hook on Brian's lightest rod and line. It was returned to the bottom; too large to be good and safe eating.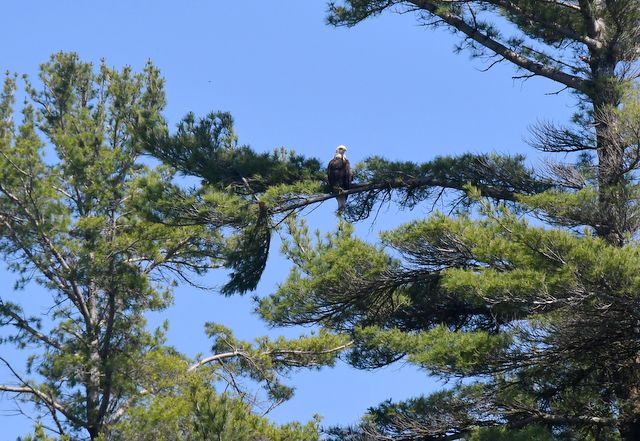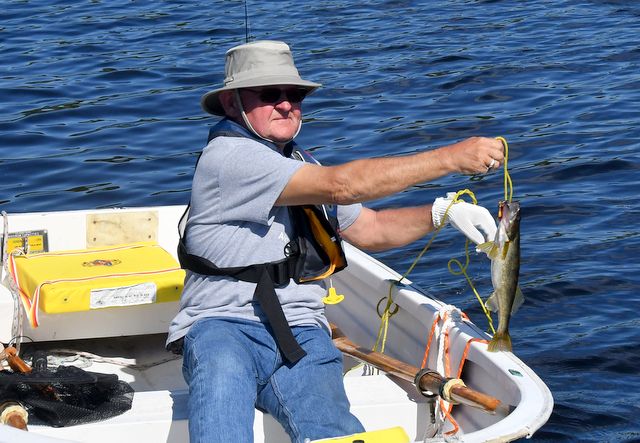 Our guardian Eagle First pickerel/walleye of the year
Over our 3 night stay there were one or two other boats in the anchorage.
The water temperature was warm enough for a very quick first swim.
Wilford-Laurier-Green. June 15-18
On our first visit to this anchorage in the 1990's Brian had success fishing, but the this June the resident fish were not interested in taking a lure or worm. However, in nearby Carosol Bay on the mainland, near Cutler, patient casting yielded 3 pickerel. The water was just barely warm enough for another quick swim.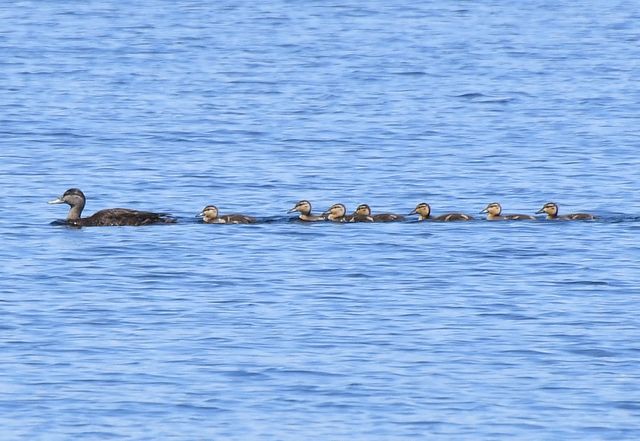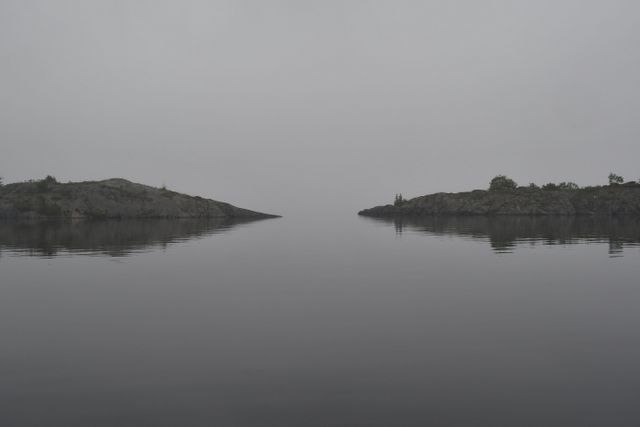 All the ducks in a row Evening quiet
Spanish, June 19-20
We had heard that Tent caterpillars and canker worms were devastating trees in Northern Ontario, but did not see any on the islands in our anchorages. In Spanish they were everywhere. These worms are hard on the deciduous trees, but do not usually kill healthy trees. They go through 6 - 10 year cycles, allowing trees to recover between onslaughts.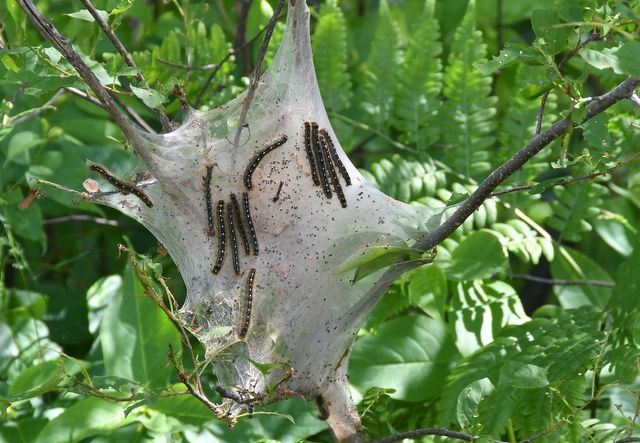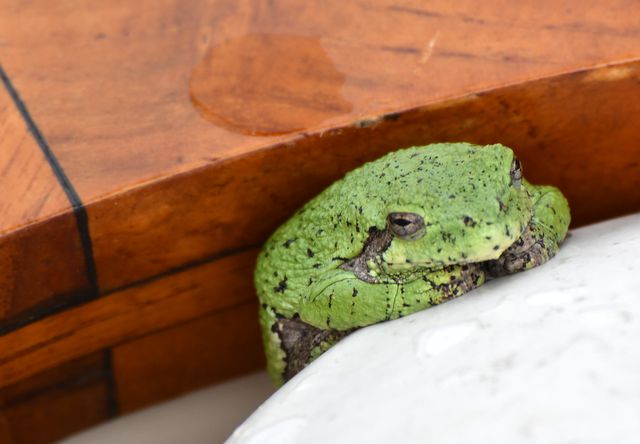 Tent caterpillers Our stowaway that left in Spanish
On our walk to the grocery store, we passed the ruins of the Garnier Residential School for Boys, built in 1904. When mills closed down in early part of 20th century, residential schools provided jobs for the laid-off mill workers but tore First Nations families apart and devastated their culture.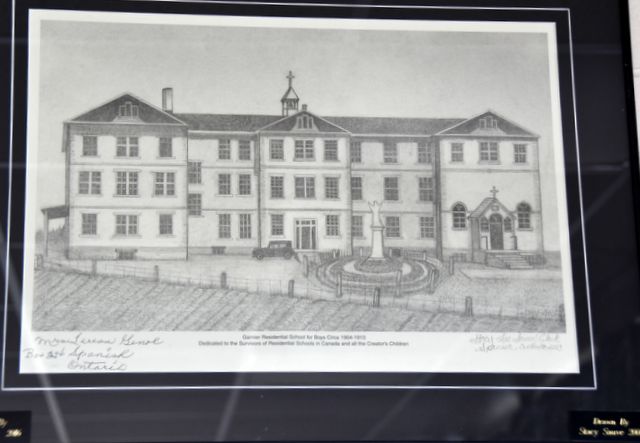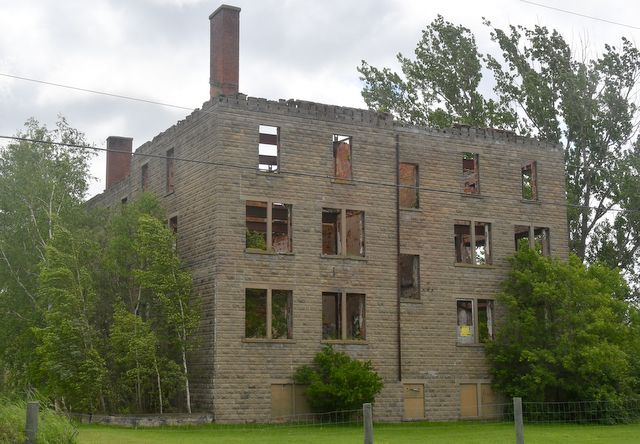 Stacy's drawing and the current condition of the Garnier Residential School for Boys
Stacy Sauve, a local artist, was carving figures on a dead tree trunk near the marina. She saw the images (Protector and Grandmother) on the tree's trunks and has been working on this project several years.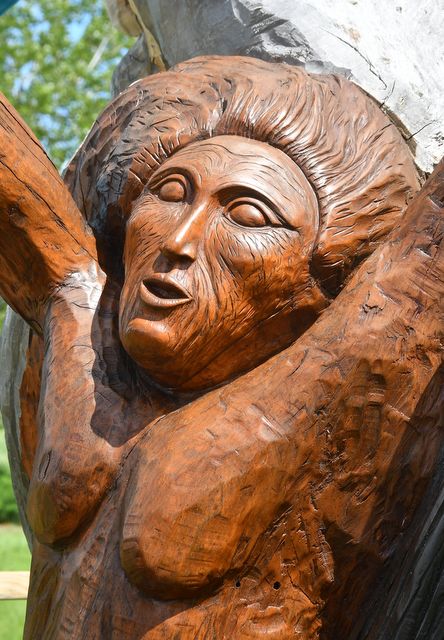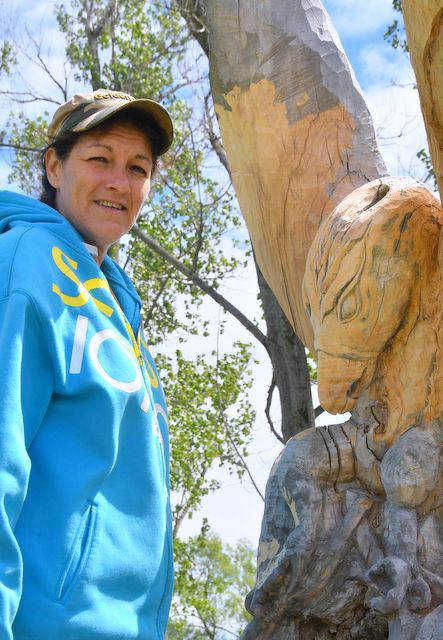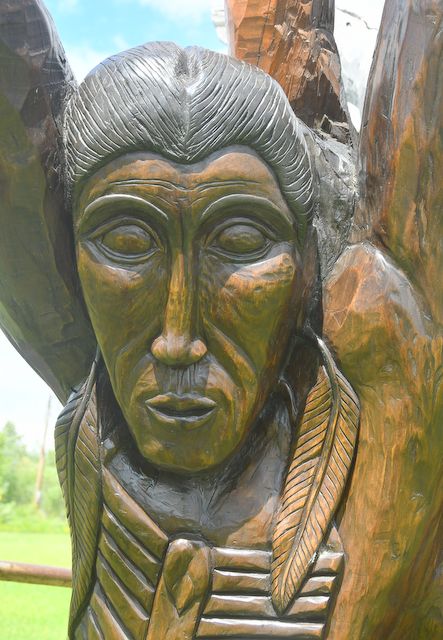 Grandmother Stacy Sauve, a local artist Protector
Eagle Island, June 21
Although we did not see eagles in this anchorage, we did see 2 loons, a great blue heron and 3 mergansers.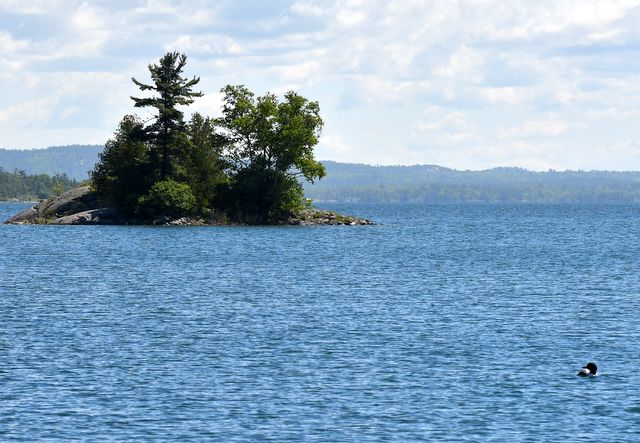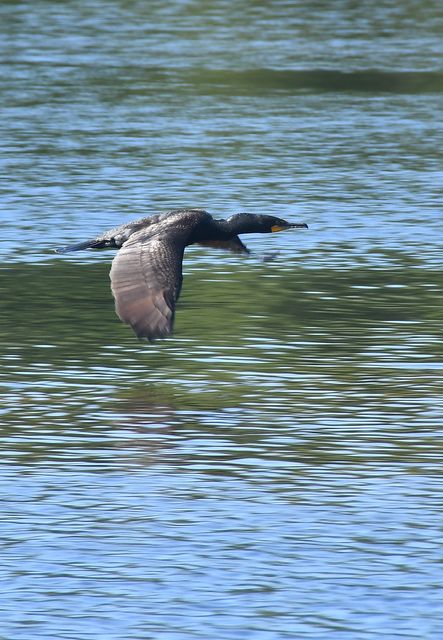 A lone Loon and a Corrmorant
Jane inflated her kayak for its first voyage of the season. Brian did not find any fish.
Hotham Island West, Oak Bay, June 22 -23
Fishing was great yielding pike, perch and bass, but the mosquitoes were also thick. We also saw a snapping turtle, loons, Canada geese and a beaver swimming near a small beaver house.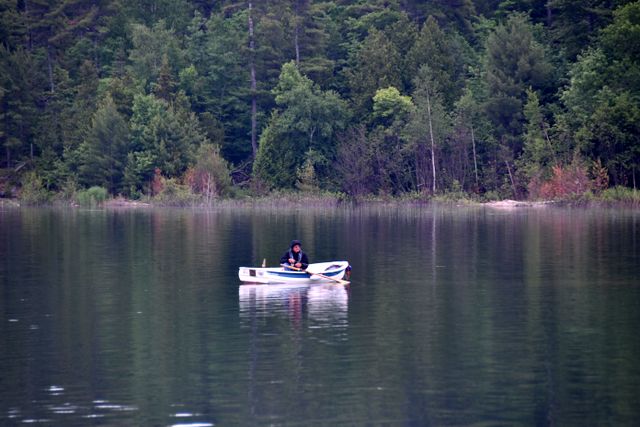 Trying to catch lunch and dinner
We smoked some of the pike and then made Cullen Skink, a Scottish cream-based soup made with smoked haddock and potatoes.
Water temperature 65 degrees F. Quick swim
Hotham Island South, Oak Bay, June 24-25
At dusk we saw mayflies hatching. As each fly rose from the bottom of the bay to the surface, it left a "footprint" as it broke the water surface and flew off. It first looked like a gentle rainfall with well-spaced drops of water.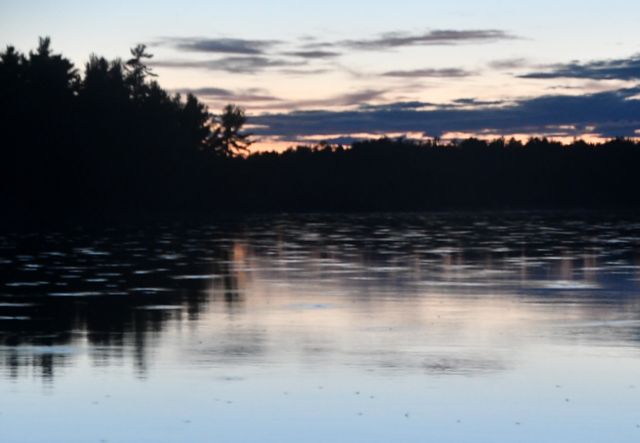 Mayfly hatch
Cottage-owners Norm and Elaine invited us to join them for Happy Hour on their deck. Cottagers and cruisers often are at loggerheads with each over; cruisers invade the privacy of cottagers and cottagers clutter secluded anchorages. Norm and Elaine are former cruisers and current cottagers and bridge the gap.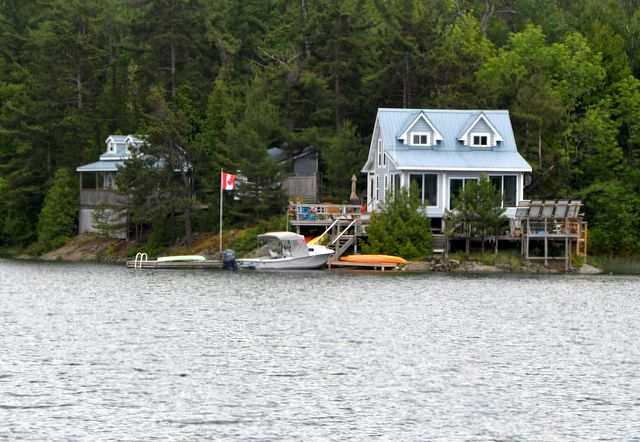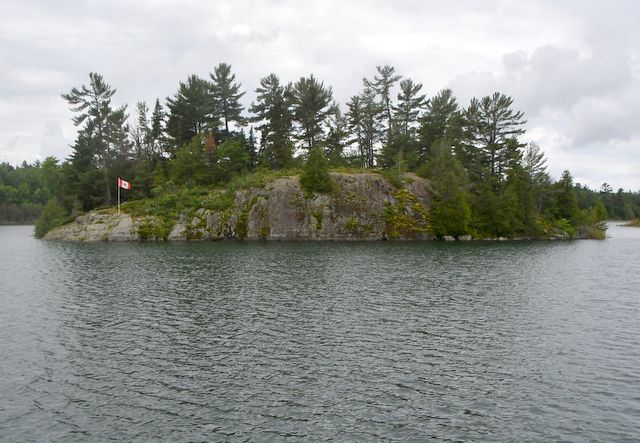 Norm and Elaine cottage and adjacent island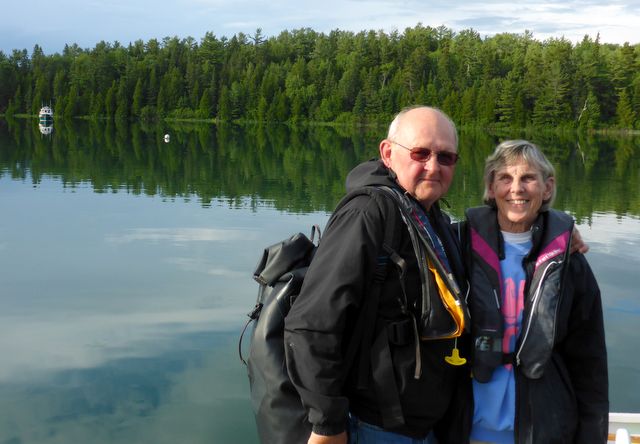 Elaine took this shot of Jane and Brian
Fox Island, June 26 - 27
Although the anchorage is well-protected, it is deep and so the water temperature was too cool for swimming. There were 5 boats in this popular harbour, the most we experienced in June. There is one island that has 25 feet of water right to the steep rock cliff. During July, cruisers with children love to tie to this cliff. The children can climb ashore and jump off the top of the cliff into the water. It is sometimes called the Jumping Rock. All 5 boats were swinging off anchors rather than tied to shore.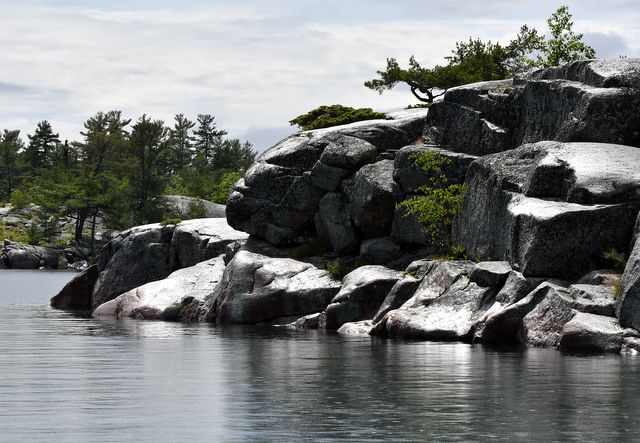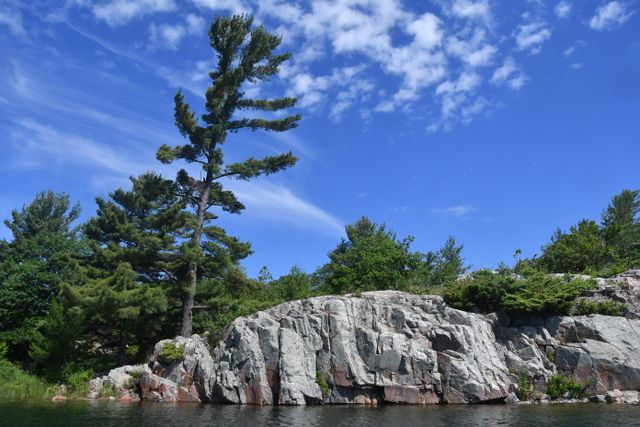 The Jumping Rock after the rain
We did not see the vixen we spotted in 2005; she is probably long gone. The narrow, shallow passage between the main anchorage and the North cove had enough water to float our dinghy. In 2005 even the inflatable kayak touched bottom making this short passage. We were able to do some soundings of the entrance to the north cove to help us have confidence to take Tuglet into this anchorage when the popular harbours are crowded.
Croker Island, June 28
There was only one other boat with us in Croker, but we did see 3 sailboats leaving the equally popular Benjamin Island harbour as we approached Croker. We enjoyed a hike on the steep pink granite rocks. The views from the top of the island is spectacular.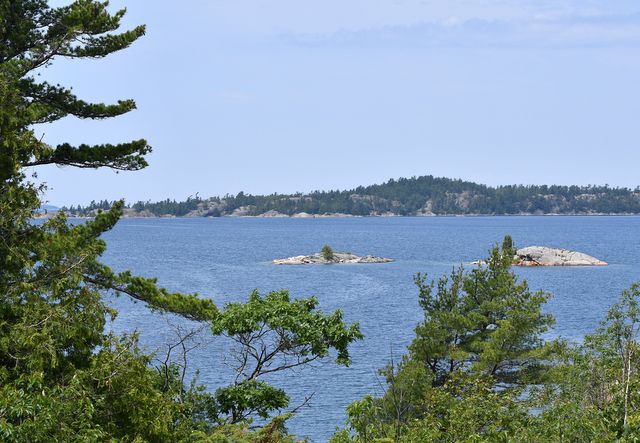 Looking North from Croker to Benjamin Island

The variety of flora challenges Jane's love of identifying trees, wildflowers, ferns and mosses. The blueberry bushes were loaded with berries, but about 2 weeks away from being ripe. The very wet weather in June has kept the bushes healthy, but hopefully July will bring sun to ripen the fruit.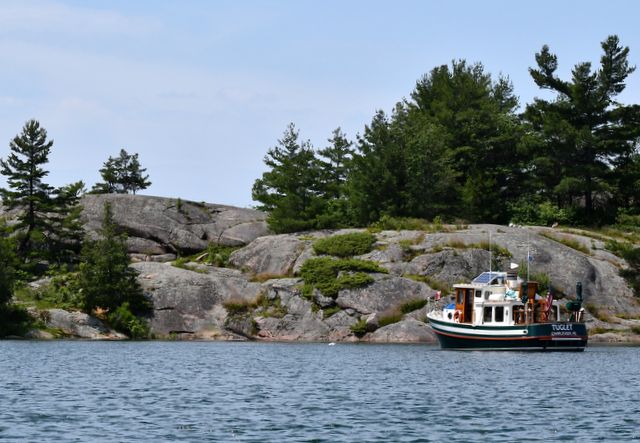 Picking samples
Little Current, June 29 - July 1
3 nights in Spider Bay Marina in Little Current gave us sufficient time to re-provision, fill water tanks, do laundry, renew friendships and communicate with the outside world (internet). Twelve years ago while on our sailboat, Pilgrim, we met Dave in the Benjamins. It was a delight to spend time with him and his family, now resident on Manitoulin Island.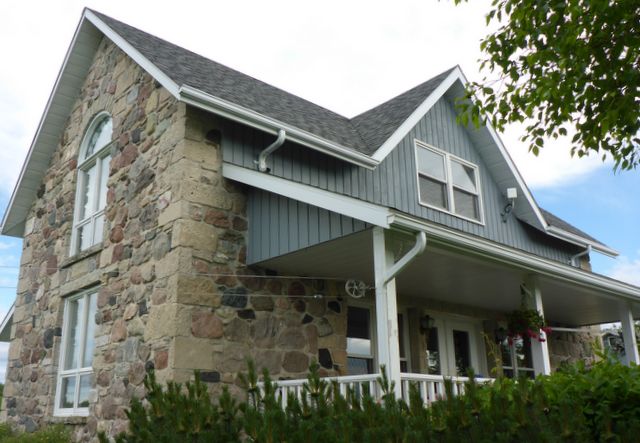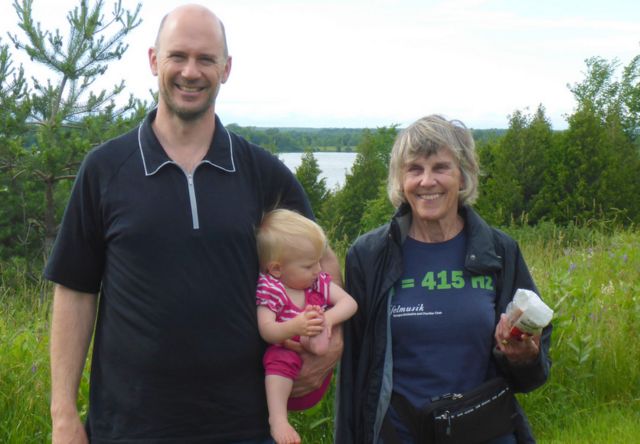 David's House Dave, Rosie and Jane
One of the joys of cruising is keeping in touch with the many people we meet along the way. Hospitality, whether greeting a new acquaintance or re-connecting with a friend from the past, is one of the most important human attributes, and one we treasure in fellow-cruisers.
We were in Little Current for the celebration of Canada's 150th birthday after Confederation. It was quite low-key with a strong emphasis on local merchants of produce, crafts and services rather than political speeches and parades. The weather was threatening rain, so if fireworks were in plan, they were not able to be lit.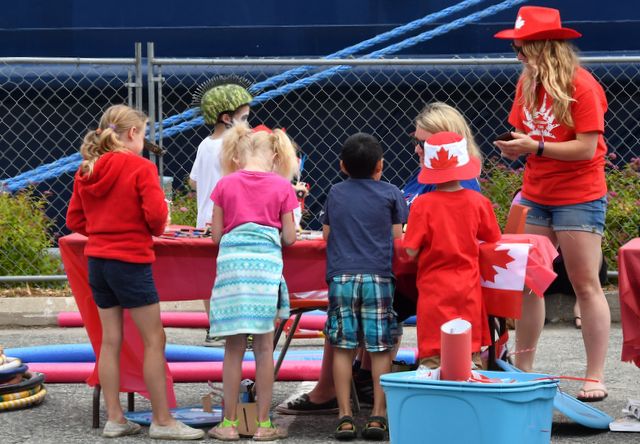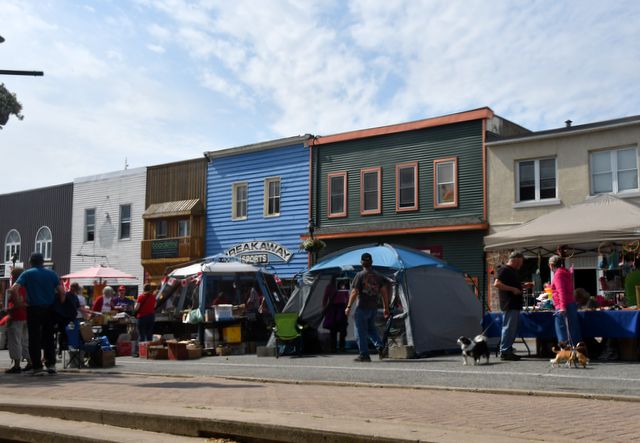 Canada Day celebration In Little Current
After 3 days at the dock, Tuglet was chomping at the bit to move under the swing bridge to explore the waters east: Heywood Island, Frazer Bay and McGregor Bay.