Lunenburg, NS.  July 4.  We pushed off from Gold River Marina just before 11AM, and had a great sail with 8-12 knots of following (NW) wind until early afternoon, when it all died on us.  We were able to untangle reefing lines and re-direct head-sail sheets with ease.  We enjoyed the seals and a few dolphins who indicated we were too slow to be good playmates.
<![if !vml]>
<![endif]>
Testing out our new furling staysail
We arrived in Lunenberg 3PM and were surprised at the lack of activity both in Mahone Bay and in Lunenburg. There were many more boats on moorings and at anchor last September when we were here and the city was bustling with tour bus traffic. 
<![if !vml]>
<![endif]>
Lunenberg
The Bluenose is back on dry dock.  The authorities decided the boat should be certified for tourist traffic, and have hired a US surveyor to do the work.  We THOUGHT the refit over the past several years would have included such a survey, but evidently not!  The weather was uncharacteristically hot and sunny for Nova Scotia.
<![if !vml]>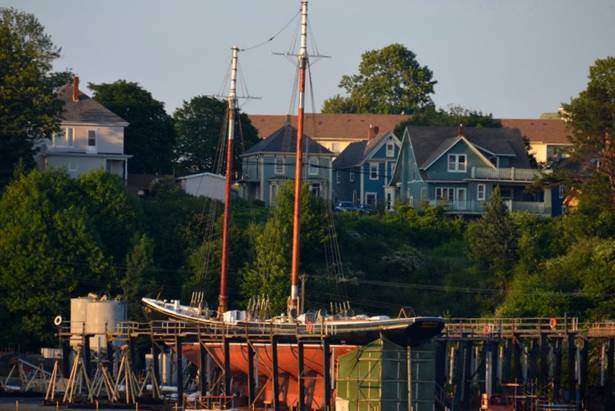 <![endif]>
Bluenose back  in drydock
Our new Rocna anchor (nicknamed Rottweiler) is superb. Brian has also declared the new BBQ a tremendous success and improvement over our former BBQ (half of which went into the water at Gold River Marina when Brian slipped on the deck and caught himself with BBQ)
<![if !vml]>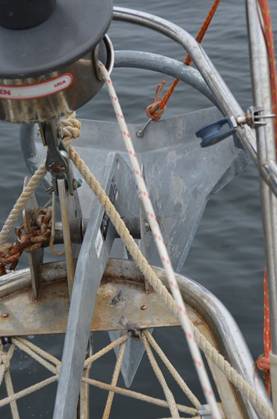 <![endif]><![if !vml]>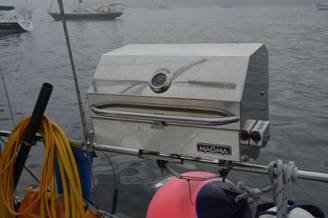 <![endif]>
Rocna anchor and a Magma BBQ both new and both work better than expected
Port Moutron, NS.  July 8.  We motored 45 miles SW in dead calm, accompanied by fog, rain, lightning and thunder.  Port Mouton is a tiny fishing port, no longer with much of a commercial fishing fleet.  We are anchored just east of Spectacle Island that shelters the village, next to a beautiful sand beach.  The port name comes from the fact that a sheep was lost overboard from Captain Champlain's ship in 1604.  We are just south of a barren rock island, Mink Island; it is covered with cormorants and sea gulls.  Perhaps back when the sheep was lost overboard, the island was lush and mink lived on it.
Negro Harbour, NS.  July 9. Our "sail" was in rain and fog, so we saw very little of anything except water.  We had wind, anywhere 5 to 18 knots from the northeast so you may wonder why sail is in quotes.  The wind was almost dead downwind, and with the ocean swells hitting us broadside the wind was knocked right out of the sails by the waves. 
<![if !vml]>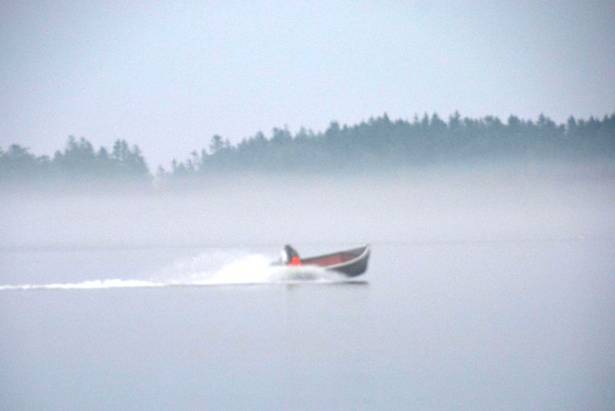 <![endif]>
High speed in low visibility  
We did see one finback (whale) and lots of shearwaters (sea gull-like birds).  Shearwaters were our constant companions when we crossed the Atlantic from Bermuda to the Azores, but are not common in northern Europe.
The bi-annual Marblehead (Massachusetts) to Halifax race began on Sunday, and the fleet was off the east coast of Nova Scotia.  Over 150 boats complete and most of the contenders have AIS transponders, so we saw the icons on our chart plotter for several of the racers and visually saw 2 of the boats.  It was a tough slug for them up the east coast with NE winds.
Nothing can top Newfoundland's choice of names for villages and points of land, but Nova Scotia has its own gems.  We passed near Devastation Shoal, and one spit of land in Negro Harbour is Purgatory Point. 
With the sun well hidden behind cloud cover, the temperature was quite cool. Port Negro was our resting place for 3 nights.  We were enveloped in fog most of this time.  On the second morning, with less than ¼ mile visibility and the inability to see land and increasing southerly winds, we moved Pilgrim to a more secure anchorage 1.5 miles further up the bay.  We relied on our chart plotter with very detailed and accurate charts and radar to maneuver our way into the NW arm and set the anchor.   
<![if !vml]>
<![endif]>
Jane checking details of our next destination
July 12 and 13.  Passage from Nova Scotia to Maine.  We left Nova Scotia in fog and rain. The 27-hour passage was entirely under motor, although we had the headsails out for a few hours and got a bit of a boost from a NE wind until we rounded Cape Sable.  By afternoon the wind completely died, but the seas remained a menace.  We did not see any other sailboats, but then the visibility at the beginning of the trip was so poor.  We encountered only one cargo ship.  There was hardly any radio traffic.
<![if !vml]>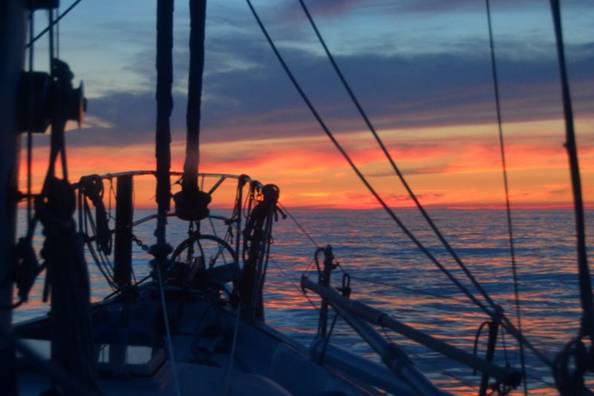 <![endif]>
On the way to Maine
Once we got to Bar Harbor we cleared US customs and arranged to stay at the municipal dock.  We were too tired to move, wanted to get some fresh groceries, top up our water tanks and dump our garbage. 
<![if !vml]>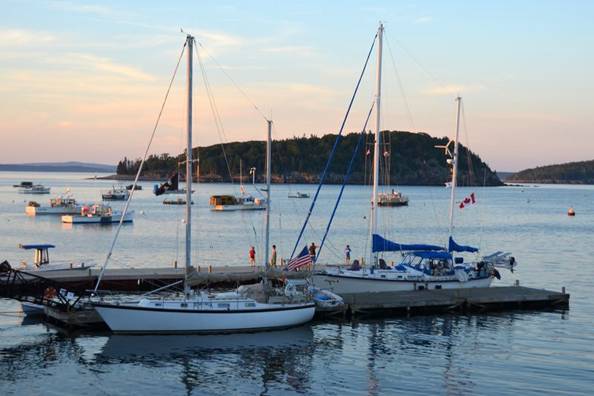 <![endif]>
Docking in Bar Harbour
<![if !vml]>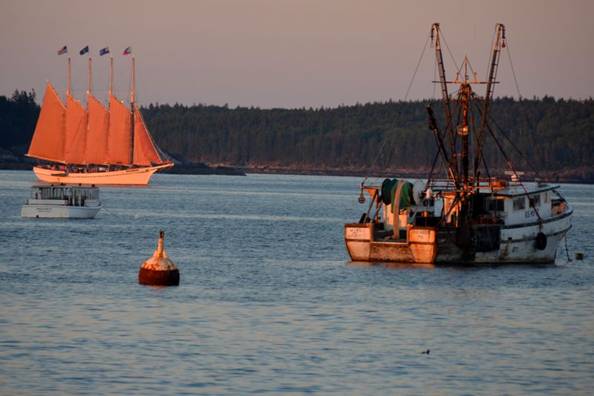 <![endif]>
Tourist cruising
Somes Harbor, Mount Desert Island, ME.  July 14.  The island is almost bisected by a fjord that runs from the middle of the southern shoreline northwards for about 5 miles.  It is a glacial river valley flooded by the sea surrounded by the rounded mountains of Mount Desert Island.  The sail up the fjord was easy under Genoa and a 10-knot southerly breeze. Hall Quarry is on the western shore of the sound.  Now a custom boat builder yard (John M. Williams), the quarry provided granite for the Franklin Mint in Philadelphia.  The quarry was reopened in the 1950's when an exact match of stone was needed by the mint. 
<![if !vml]>
<![endif]>
Large mooring field but no obvious guest spots
Somesville, the village at the head of the fjord, was founded in 1761, the first permanent settlement on Mount Desert Island.  It had 7 mills, 5 shipyards, and 4 blacksmith shops.  Today there is a library (open twice a week), bank, post office, Masonic temple (home of a small theatre troop), gas station, art gallery, and the United Meeting House (United Church of Christ), an affirming congregation that was having a bean supper that week. 
<![if !vml]>
<![endif]><![if !vml]>
<![endif]>
A Church … Union Meeting House … almost seems like a United Church of Canada
<![if !vml]>
<![endif]>
It was a wonderful wedding moment until the mosquitoes arrived … then the arm waving began
We could not locate any of the guest moorings in Valley Cove at the southern entrance to the fjord.  The depths in this cove (100 feet) are a bit too deep for safe anchoring, and without a secure mooring, we did not risk stopping to climb Flying Mountain with its marvelous views.  Pity.
<![if !vml]>
<![endif]>
The only fjord in Maine …  too deep to anchor
Buckle Harbor, Swan's Island, ME.  July 16, 17.  Swan's Island has a year-round population of 350 (triple that in the summer) and relies on lobstering.  The main village is Atlantic, where the ferry lands, which is in Mackerel Cove on the north shore.  Buckle Harbor is between Buckle and Swan's Islands and is uninhabited except by visiting cruisers.  On our first night there were 14 other boats at anchor, along with a dozen or so lobster floats.
<![if !vml]>
<![endif]>
Doggie run
The black guillemot is at home in this harbor.  It is a small (puffin-sized) black diving bird with distinct white marking and very red feet.
<![if !vml]>
<![endif]>
black guillemot
Buck's Harbor.  July 18, 19.  No wind meant a motoring trip down the Eggemoggin Reach.  Benjamin River looked like an interesting anchorage in our cruising guide, but the depths that were appropriate for anchoring were filled with mooring buoys, so we moved further down the reach to Buck's Harbor, passing the WoodenBoat School and the home of WoodenBoat magazine.  Sailing in Maine takes one back to the early part of the 20th century when wooden sailing yawls were popular and are still being sailed more than catamarans, trimarans and high-tech boats.  The favorite colour for topsides seems to be black, dark blue or dark green, and masts and booms, if made of aluminum, are painted to look like wood. 
Buck's Harbor is one of the best protected and most attractive harbors on Penobscot Bay.  It is a favorite spot for the old gaff-rigged schooners out of Camden and Rockland to anchor for the night, although there is little anchoring room amongst the moorings and outside the channel.  Buck's Harbor is the setting for many of Robert McCloskey's famous children's books, including Blueberries for Sal (a favorite of our grandchildren).
<![if !vml]>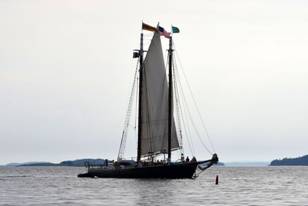 <![endif]><![if !vml]>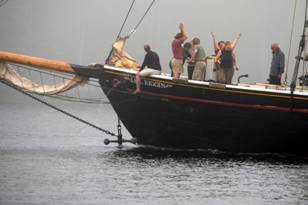 <![endif]>
Tourist cruises sailing out of Camden overnight in Buck's Harbour
Ilesburo Island / Sabbathday Harbor.  July 20.  Ilesburo Island is a long narrow island running north / south for 10 miles at the north end of Penobscot Bay and a long-time location for well-heeled families to spend vacations.  Bostonian Jeffrey Brackett began the exclusive community of Dark Harbor in 1899.  The mansion-cottages, yacht clubs, tennis clubs and golf clubs remain today for the 5th and 6th generations of families.  A restored steam cruiser and magnificent yawl were moored just north of Sabbathday Harbor, a testament to the wealth of the summer residents.  However, the SW wind and sea swell made this harbor uncomfortable, so we moved further north on the mainland.
Holbrook Island.  July 20.Holbrook and Nautilus Island form a beautiful harbour cradled in the northern tip of Cape Rosier just south of Castine.  From the anchorage you can see the Camden Hills, Islesboro Island, Castine and the Dice Head Light.  Most of its shores are preserved as part of the Holbrook Island Sanctuary. The 12 foot tidal range meant that the seals perched on the rocks at low and then let the water come up around them until they floated off the rocks. 
<![if !vml]>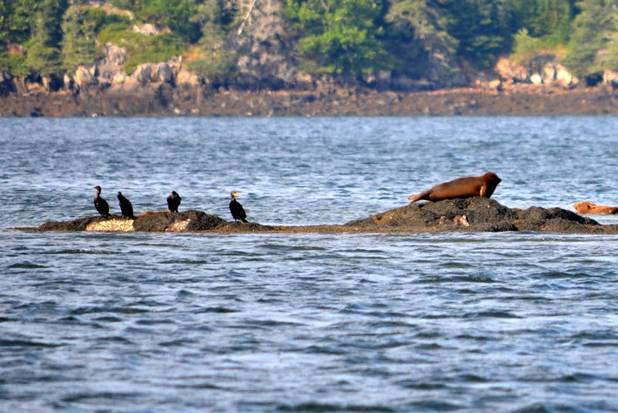 <![endif]>
The seals love sunning themselves on the rock
During the night we had a thunder squall that ended the heat wave.  Wind from the south at 12 knots suddenly became gusty wind at 20 knots from the NW and pelting raindrops washed the decks.  AND the anchor held. 
Castine.  July 21.  We are convinced that God throws us a challenge at the least convenient time to let us know who is boss.  On Sunday morning we succumbed to a submerged lobster float.  The line wrapped itself around our prop shaft.  We immediately put the engine in neutral and discovered the worst:  we were stranded in 75 feet of water without an engine, and just feet from the start line of the weekly Sunday morning race of the Castine Yacht Club. 
<![if !vml]>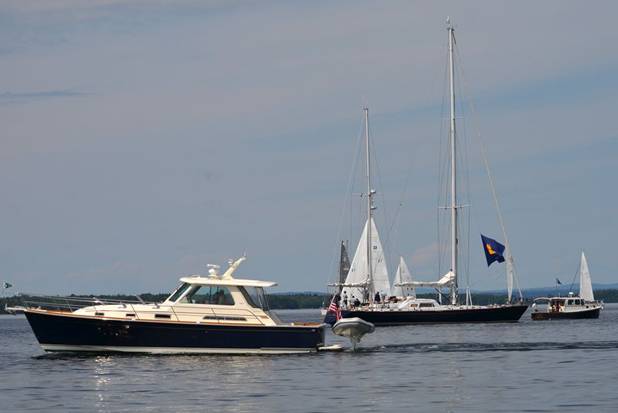 <![endif]>
Race committee wondering what the heck we were up to
Brian donned wet suit, and we hauled out the Sea Breath unit (feeds air to a diver without the use of tanks).  We deployed the anchor, and with absolutely no wind, we seemed to be stationery.  We lowered the dinghy so that Brian could go over the side down the stern ladder.  By the time he was ready to dive, the ebb tidal current was in full motion:  2 knots.  There was no way he could dive, and the visibility with the noon sun was nil. 
A runabout pulled up close and asked if he could help.  He identified himself as the President of the Maine Marine Academy located in Castine.  He offered to find the local diver, but we said we would try to fend for ourselves.  Brian tried diving again.  No luck. 
We called the president (he had given us his mobile and home numbers) and said we needed help.  He got back to us to let us know the diver was out of town for the day, but he would see what other help there was.  He said many of his students were divers, but they were not at school. 
A workboat appeared from Castine, and Ken Eaton from Eaton's Boatyard hailed us and offered a tow.  We were wary (salvage companies are cutthroat), but we did not have many options other than accept the tow.  We couldn't just stay barely anchored in the middle of the thoroughfare to Castine.  We could not have asked for a better turn of events than having Ken come to our rescue. 
<![if !vml]>
<![endif]>
Ken Eaton's Boatyard … a super guy
He towed us against the 2 knot current to his mooring #5 and helped get us settled.  He said he would get back to us, and that the diver would be back in Castine before the end of the day.  We breathed, and then started to tidy up the boat, put the dinghy on davits again and WAIT. 
It was almost 6:00 when the diver and Ken showed up.  They tied to our stern and the diver went over and unwrapped about 20 feet of line from our prop shaft.  He ensured that the feathering prop still worked and that there were no other problems with the bottom of our boat.  He said she looked great ... like she was just launched yesterday.  He charged $150.  Brian tried to make a joke of not getting the pot with the lobsters ... just the line ... and Ken said, "I'll be back with a couple of lobsters for you."  And he did!  Ken's charge was $50 for the tow and $35 for the mooring for 1 night.  A happy ending to a harrowing day.
Camden.  July 22 – August 14.  We left Pilgrim on a mooring with Wayfarer Marine in Camden for 3 weeks while we drove and flew (via Darien CT) to Charlevoix, Michigan. 
<![if !vml]>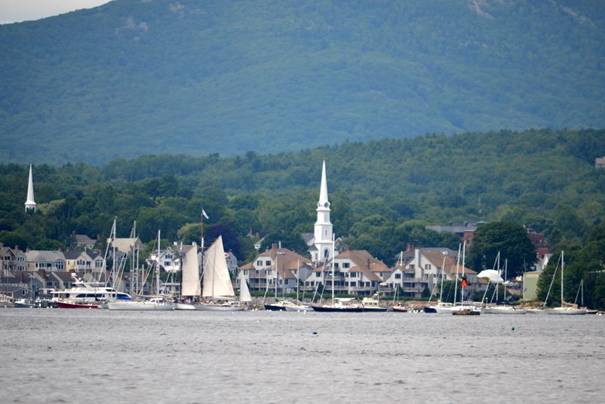 <![endif]>
Camden … home of the Wayfarer Marine … highly recommended for short or long term visits
Jane's family has had a cottage on the Belvedere Club for over 100 years, and we had not been there in over 12 years.  It was a great setting to spend time with daughter, Erica, and her two children, 4 and 1½ years old.  Gavin learned how to catch fish and Olivia loved the challenge of the stairs and scaling the terraces.  Jane and Brian sailed and managed to dump a dinghy on the start line of a race.
On our return to Camden we discovered the shaft key was mangled and the stuffing box had to be replaced, which delayed our departure for our continuing cruise in Maine and down the New Hampshire and Massachusetts coasts. We will report on this leg of our cruise in September.