Deshaies, Guadeloupe, February 1 - 5, 2017
It was a lovely sail from Les Saintes to the SW tip of Guadeloupe, but halfway up the west side of the island the wind was blanketed by the high hills. The harbour at Deshaies provided a safe haven for a few days while we waited for a weather window for the 40 mile passage NE to Antigua. Note that the prevailing wind is from the northeast, but we were blessed with a day of calm easterly breeze that made the passage easy. The variety of boats in Deshaies was off-the charts.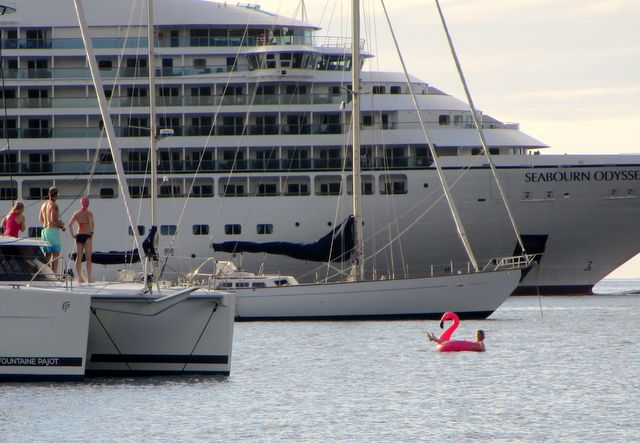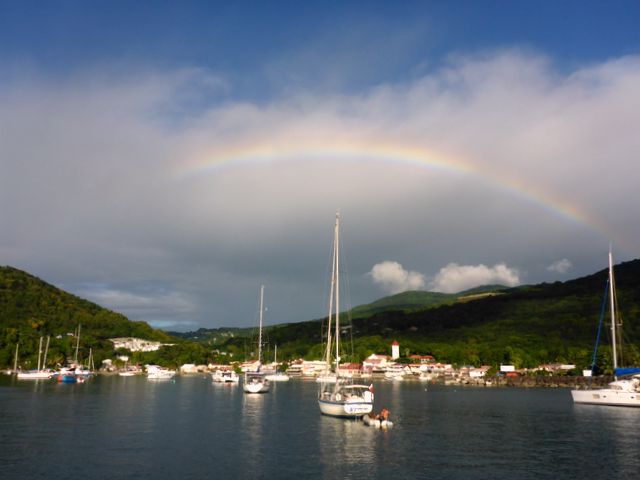 Antigua, February 6 - 14, 2017
We bypassed Antigua in 2016. Except for Barbados, it is the easternmost of the Leeward / WIndward Islands which makes the passage to it difficult in strong easterly blows. The cruising guides indicated that Jolly Harbour halfway up the west coast of the island is the best place to check in (Immigration / Customs), so that was our first stop. Jolly Harbour is a man-made lagoon with a marina, holiday homes and services for vacationers. We picked up a marina mooring, checked in, and did some re-provisioning at the relatively well-stocked, large grocery store adjacent to the marina. We enjoyed two nights with no surge and rocking from side to side. We also enjoyed our first warm shower since the end of November. However it was a bit dicey picking up a mooring that was situated right on the start line of an impromptu sailing race of local cruising boats that tacked around us jockeying for a good start.
We discovered it took two different buses to get to English Harbour on the south coast and the home of Nelson's Dockyard. There are no bus schedules, so we put off going to Nelson's Dockyard until the end of our stay. But there are many stories of inflated customs/ immigration charges and park fees if you enter or leave Antigua via Falmouth and anchor or moor in Falmouth. This discouraged us from taking Pilgrim to Falmouth so we never did get to the Dockyard on this trip. Maybe next year. We enjoyed our visit to Portsmouth Historic Dockyard in England in 2007, home of HMS Victory (Nelson's flagship), the Mary Rose (Henry VIII's favorite ship) and HMS Warrior 1860 (Iron-hulled armoured warship), and were looking forward to seeing Nelson's Caribbean Safe Haven.
We anchored in Deep Bay on the NW tip of Antigua and in Davis Bay on Long Island on the NE coast. We were amazed at how silty the water is and how much smoke was in the air mainly from burning rubbish. Ash fell on our decks and Jane self-diagnosed a lung infection that we were able to treat with antibiotics we carry on board. Antigua and Barbuda (the island north of Antigua and part of the same country) are surrounded by coral reefs which means they have excellent diving / snorkeling waters. However with the silt, there were almost no divers on the easily accessible wreck in Deep Bay. The surge in these two anchorages was evident, but manageable. Internet access was minimal. There is a luxury resort on Long Island that let us sponge off its signal for the guests who pay $2000 USD / day for an all-inclusive holiday.
We were a bit disappointed with Antigua and hope that on our voyage north next season the weather will permit another visit to (expensive) Falmouth so that we can visit English Harbour and Nelson's Dockyard, the Caribbean home of British exploits in these waters.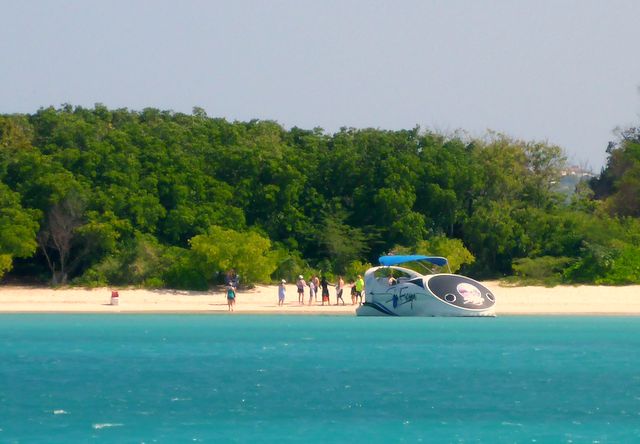 Marie Gallant, Guadeloupe, February 15 - 17, 2017
One week after we arrived in Antigua we had a unique weather window of calm wind and sea that allowed us to motor down the east side to Guadeloupe to Marie Gallant, an island just east of Les Saintes south of Guadeloupe. Marie Gallant was highly recommended to us by other cruisers, so when we found weather for an easy overnight passage, we took it. Leaving mid-morning, we arrived at the SE corner of Guadeloupe at midnight and then ghosted along the south shore with a light east wind. We anchored by moonlight at 3AM off Saint Louis, the 2nd largest village. After sunrise, we motored to the SW tip of Marie Gallant to Grand Bourg, the capital where we needed to check in to customs and immigration. We had anchored Pilgrim outside the harbour in turbulent waves that curled around the south coast, struggled into the bounding dinghy, and found a dock where we could secure the dinghy and search for the customs office. Our limited French was met with locals with no English, making finding the office difficult. The office was supposed to be open on Wednesday mornings until noon, but when we finally found the office at 11AM it was locked, and did not have afternoon hours. We were told to return on Thursday.
We returned to Pilgrim, found our anchor had wedged between two rocks, but thankfully were able to extract it without any damage (except possibly to the rocks). We sailed halfway up the west coast until we had calmer water and anchored off a rum distillery. Thursday morning we took the 2-mile dinghy ride from the calmer anchorage, went to the customs office after 9AM and found it was locked. At 10:00 2 officers arrived and completed the paperwork to admit us back into Guadeloupe. We found the farmers' market and bought some fresh vegetables, baguettes and cheese.
Back on Pilgrim we decided to move further north and anchor off Saint Louis along with about 50 other cruisers. We took the dinghy ashore and discovered none of the stores / restaurants / businesses accepted credit cards and there were no Cirrus ATMs to obtain Euros. The grocery stores were small and had little fresh produce. There was one bakery. Car / scooter rental required more Euros than we had in our wallets. For all the promise of a great cruising stop, we were stumped at the attraction and disappointed. The next day we sailed the 20 miles west with following wind to Les Saintes, to get laundry done and wait for a weather window to sail south the Dominica.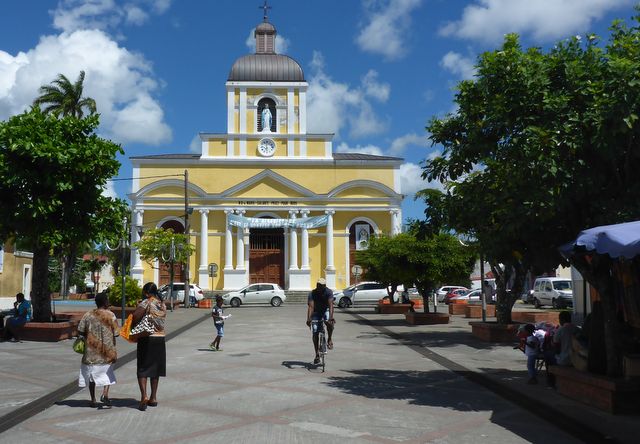 Les Saintes, Guadeloupe, February 18 - , 25, 2017
Arriving at Les Saintes on a Saturday afternoon during the peak of the cruising season meant there were no moorings available and tight anchoring space. Fortunately, on Sunday morning we were able to move to a mooring and get our laundry ashore. Monday afternoon the wind made a unique about face and became westerly. It just a moderate 12-15 knots, but that was enough to play havoc with moorings that are not protected from the west. We bounced and tugged at our mooring from this strange direction. The 100+ masts in the harbour resembled old, manual metronomes each beating a slightly different time. By Tuesday late morning the west wind lessened and was forecast to return to easterlies within the next 12 hours, so we sailed 20 miles south to Dominica. Since we had taken several land tours in 2016 in Dominica, our stop here was to wait for a weather window to move south. Our first thought was to make several day hops, but as weather forecasts heralded strong wind for the last week of February, we opted to make one big hop from Dominica to Bequia, over 100 miles.
Our long passage was good. We had to motor (and make water) while in the lee of Dominica, but in the channel between Dominica and Martinique we had a very good sail. Brian had a line out and caught a Mahi Mahi, but was unable to land it because our boat speed was too fast to reel it in without loosing it.
We were far enough off shore of Martinique and St. Lucia to maintain good wind and boat speed without our motor. The wind, wave and current effects in the passages were lessened because of our distance from land. We were just 5 miles from the north end of St. Vincent when the rain squall hit us with 35 knot winds and a downpour that lasted about 5 minutes. We weathered that short storm, and were soon in the lee of St. Vincent and motoring our last 2 hours into Bequia.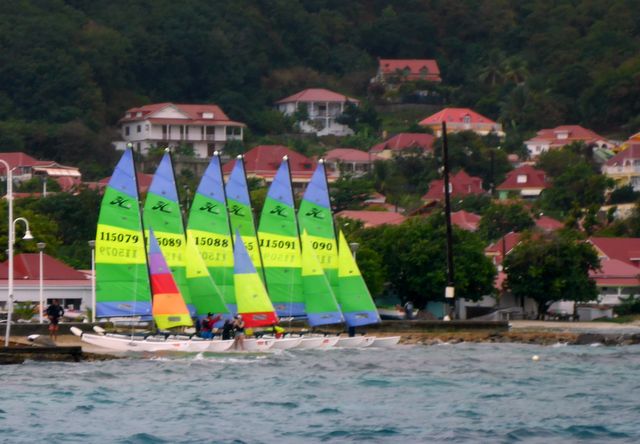 Bequia, the Grenadines, February 26 - March 3
We anchored in our favorite spot on the north side of Port Elizabeth in a great sandy patch. The wind built over the next 2 days, but we were able to go ashore for fresh vegetables, a walk along the Princess Margaret Beach, noticing the broken boardwalk around a rock outcropping, perhaps during the Fall storms that hit the islands. We also got to eat out, gorging ourselves on lobster pizza and a lobster dinner at Auberge du Grenadines, a favorite restaurant in the Windward / Leeward Islands.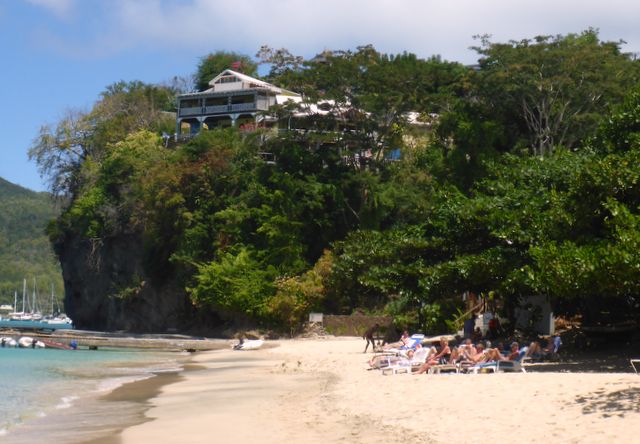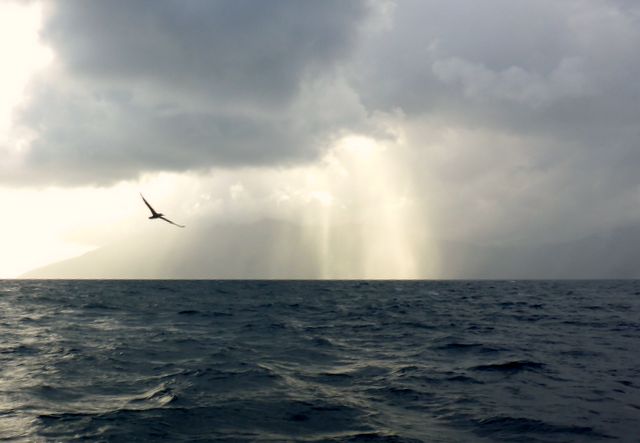 Carriacou, Grenada, March 4-5, 2017
The passage from Bequia to Carriacou is only 40 miles and much of the water is protected by outlying islands. Our plan was to stay in Carriacou for a week going various chores to get Pilgrim ready for haul out. However, another rapid change in the forecast called for heavy winds for the first 2 weeks of March, so after we checked in (customs / immigration) we made a sudden departure for the south coast of Grenada and had a romp of a sail with strong NE winds until we were in the lee of the big island.
Prickly Bay, Grenada, March 6-20, 2017
We picked up a mooring in Prickly Bay for our last two weeks in the water. The weather during the last two weeks in the water was windy, kicking up quite a surge in the bay and it threatened rain showers every day. We were glad to be on a mooring, but were unsettled when another boat in the same mooring field had a mooring failure and went adrift. Fortunately the owner was on board and other boaters were able to help him pick up another mooring. Never become complacent. Our days were filled with cleaning and repair chores. We carefully planned out our last days' meals on Pilgrim and, after haul out, in a nearby apartment, so that we had little to give or throw away. We flew back to Toronto on March 26 in time to get tax documents sorted.
This sailing season we put the fewest number of miles under our keel and seemed to be boat bound and wind fatigued more than ever before. Security issues have become a larger concern. The intensity and heat from the sun's rays were more difficult. We feel it is time to move further north and west next winter to more moderate sailing conditions. In the meantime, we will enjoy a full summer of cruising on Tuglet in the North Channel in northern Lake Huron.