Guadeloupe:
Guadeloupe is a French overseas department rather than an independent country. From the air, Guadeloupe resembles a butterfly. The east wing, Grande Terre, is the lower, agricultural
part of the island. Basse Terre on the west has steep hills and mountains, but few secure harbours. We stopped in Deshaies on the NW tip of Basse Terre for several days. When we arrived on Sunday just after noon, there were over 40 boats on moorings provided by the village or anchored. The water was 30 - 50 feet deep except where moorings had been laid, so finding a spot to drop the hook was difficult. We were fortunate to pick up a mooring on Monday morning, and when we left on Wednesday morning, before we had even dropped our lines, another boat was queuing up to pick it up.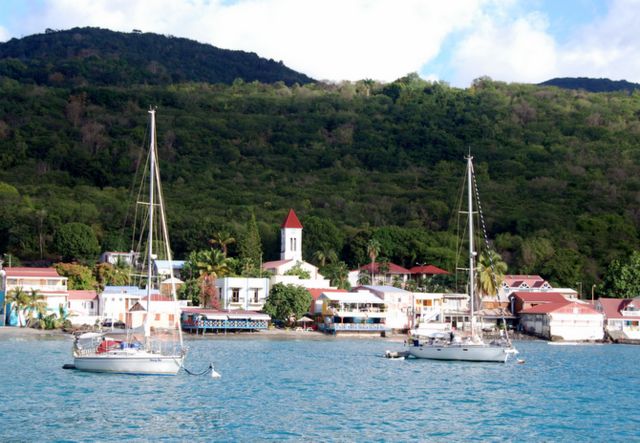 Dehaies mooring area
Dehaies is a very small fishing village that probably gets more revenue from tourism than fishing these days. There are fish floats marking traps or nets throughout the harbour and out into the approach to the bay, but there was little evidence they were being monitored by the local fishermen. The village is too small to attract even small cruise ships, but there were more tourists in town than visiting yachts brought in. More than half of the buildings on the main street were gift / souvenir shops. There was one very excellent boulangerie (bakery), a medium-sized grocery store and several small "supermarkets." The working language is French with hardly any English spoken except in the tourist information office.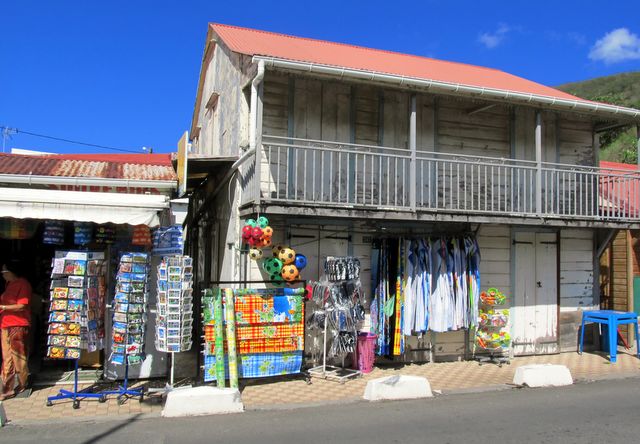 Shopping had its challenges since the majority of goods were made in China
We spent one day at the Jardin Botanique de Deshaies, a dramatic display of plants and birds. The five hectare site belonged to the comic, Coluche. A local gardener / landscaper, Michel Gaillard, started developing the garden during Coluche's lifetime, but continued developing the garden after Coluche's death. The garden was open to the public in 2001. There is a manmade 50-foot waterfall with ponds and streams running throughout the garden.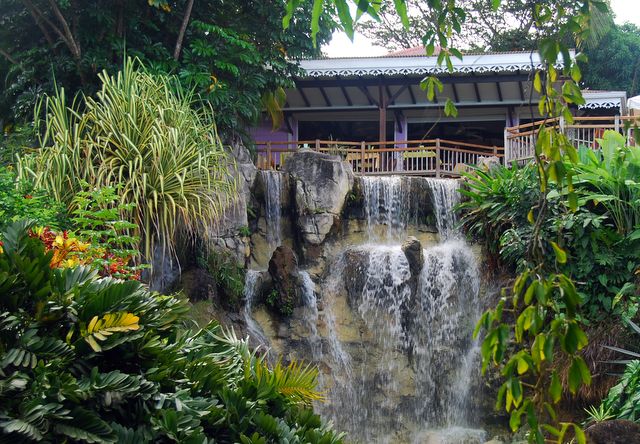 Jardin Botanique de Deshaies … 50 foot man-made waterfall
There is an entry fee of 15.50 euros per person ($25. CAD) so we were a little disappointed that all the signage and documentation was only in French.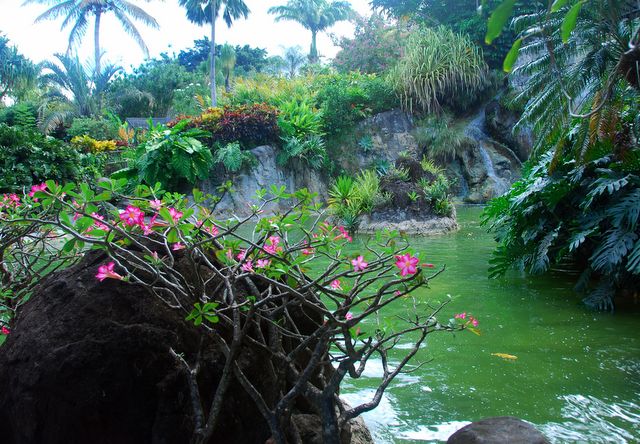 Jardin Botanique de Deshaies Adenium (Rose of the desert) and Ceiba tree (Silk Cotton)
The groupings of plants and the pathways were good, taking you through various regions and plant types. A walk-in aviary full of relatively tame parakeets, a pond with flamingoes and cages with blue and yellow macaws were added features to the gardens.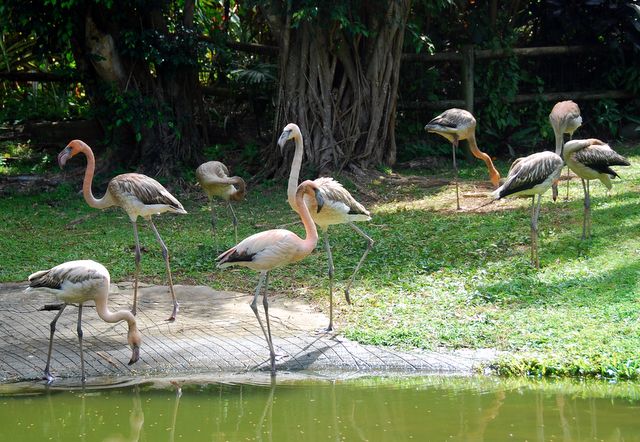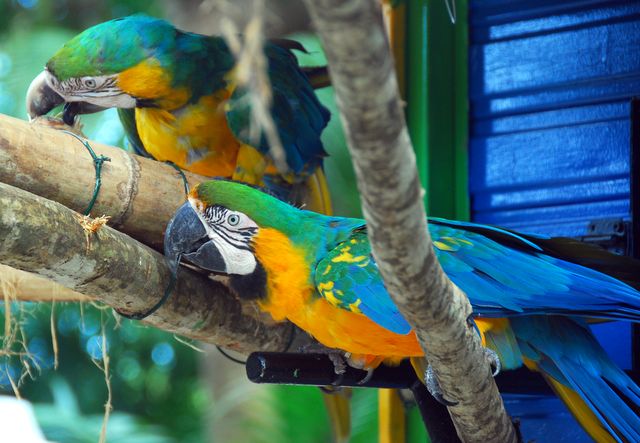 Jardin Botanique de Deshaies … flamingoes and macaws
Perhaps the most dramatic plant is the traveler's tree (from Madagascar originally). Banana trees in bloom and fruit and coconut palms were well-represented, but other agricultural crops that were/are important to Guadeloupe, such as sugar cane, breadfruit, mangos and yams, were hardly represented. A few tamarind trees were present but not even labeled.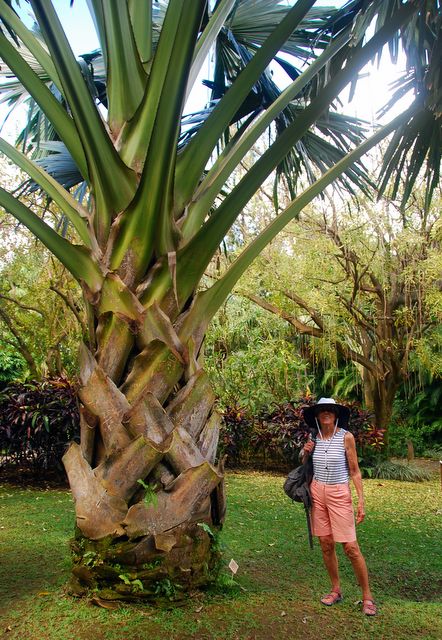 Jardin Botanique de Deshaies … Traveler's tree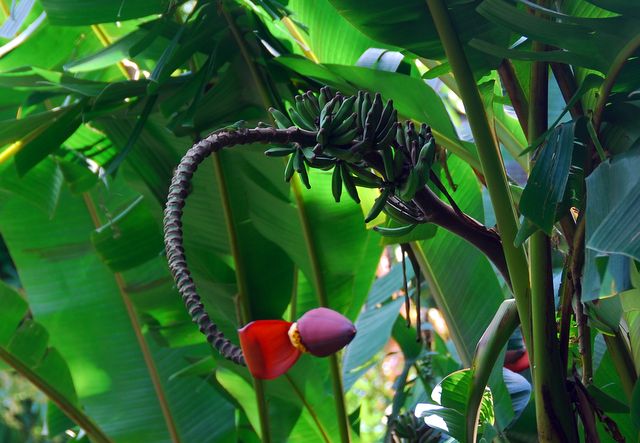 Jardin Botanique de Deshaies … banana tree
The gardens has a restaurant where we had lunch. Chickens casually walked among the tables, perhaps not realizing that they could be tomorrow's lunch for someone. Bananaquits perched on the rails near our table, then boldly perched on a neighboring table's sugar-rimmed glasses and had a feast with us.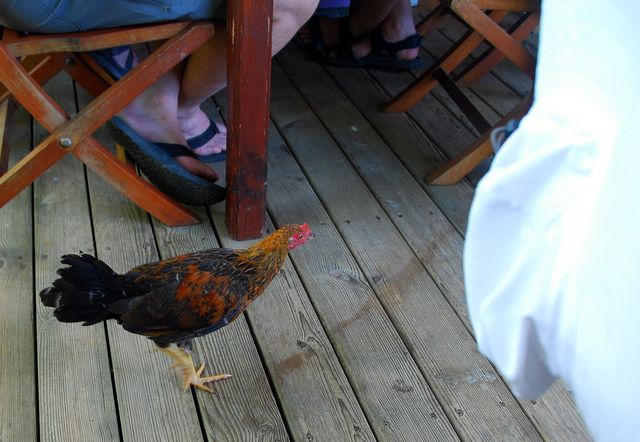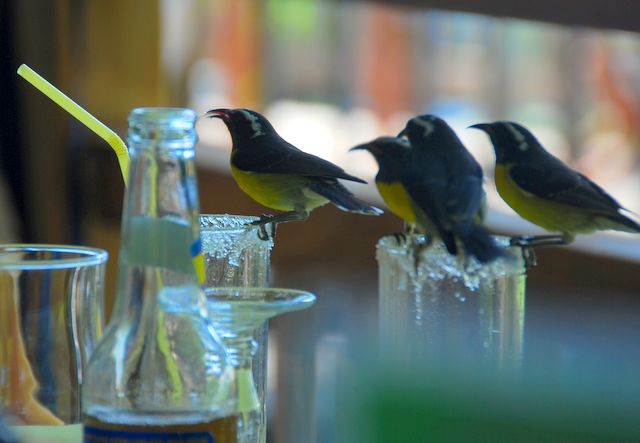 Jardin Botanique de Deshaies … pre-roasted chickens and drink samplers
Les Saintes:
This archipelago of 2 major islands, 3 smaller ones and numerous islets lies just south of the SW tip of Guadeloupe and is only 15 square kilometers in area. The islands provide a somewhat protected harbour where about 80 moorings have been installed in 4 different areas. Outside of the mooring areas the water is 30 - 60 feet deep, so anchoring is a bit difficult and discouraged.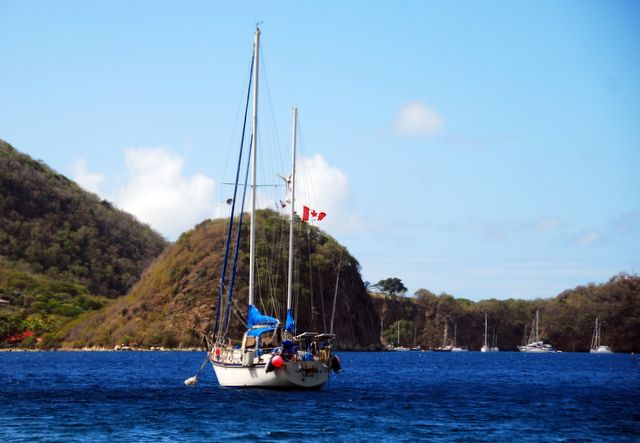 Ilet à Cabrit mooring area … a 12 minute ride on a fast dinghy to town
We arrived on a Wednesday in the early afternoon and searched for a mooring near the Bourg (town) but none was available. Then we poked into the anchorage area, finding 37 feet as the least deep spot. Finally we back-tracked to the mooring field just east of Ilet à Cabrit, an uninhabited island about 3 miles from the dinghy dock in town and picked up a mooring. 60 euros for a week ($95. CAD). This was an ideal spot since the dinghy ride to town took no more than 15 minutes and we were in less traffic and swell, except from passing ferries. During the day the wind whipped around the south end of the island which helped generate power for our hungry refrigeration systems. In addition we could snorkel right off Pilgrim. The island has the ruins of a fort (Joséphine) on the highest peak with a paved pathway to it. Chickens, goats and a cat live on the island. There is a crumbling dock local fisherman use to dry their nets and clean their catch.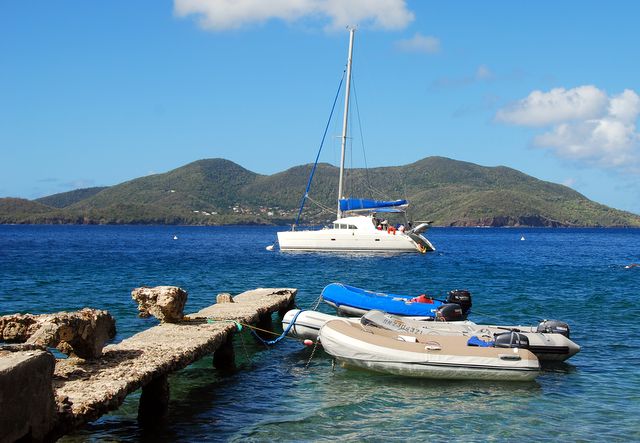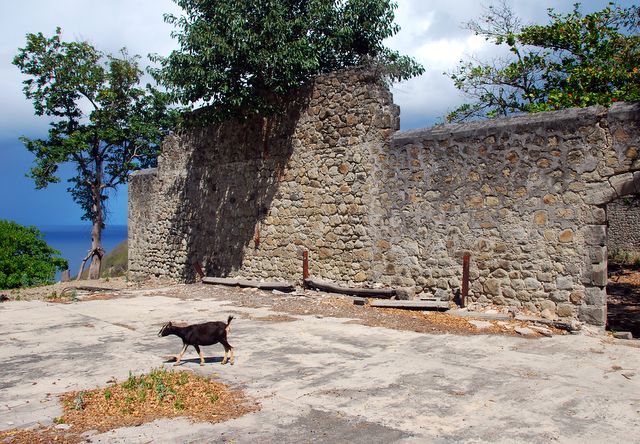 lIet à Cabrit … fishing dock and Fort Josephine ruins
The Bourg caters to tourists. Most of them arrive via ferry from Guadeloupe, but some small cruise ships (no more than 200 passengers) anchor in the harbour and transport their passengers to the cruise tender dock. During our week in Les Saintes, 3 sailing cruise ships and one 3-deck power cruise ship spent less than 24 hours in the area.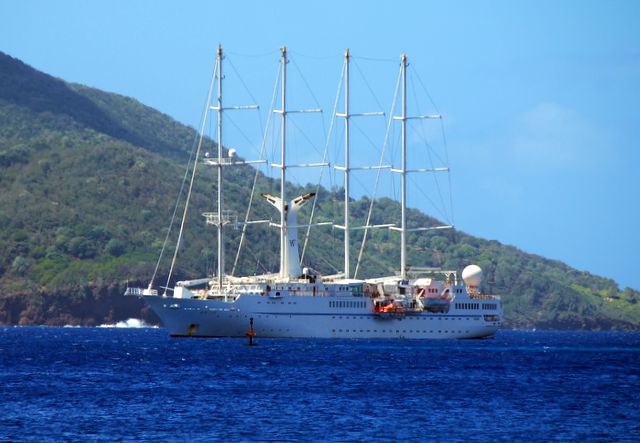 Visiting cruise ship
There are several water sport establishments with kayaks, Hobie cats, wind surfers and kite sailing for vacationers. The islands also have several beaches, some fronting on the Atlantic Ocean with good surf. The scooter is the main transportation vehicle and both tourists and locals buzz around pedestrians on the crowded streets. Except for a few restaurants, the town closes down every day shortly after noon until late in the afternoon, if they open later at all. One of the bakeries has closed, which leaves just one to provide baguettes and pastries to the resi dents and tourists. Most of the restaurants and hotels have WIFI available to their patrons, but they seem to have sucked up all the bandwidth from the Hot Hot Hot Spot internet provider from whom we bought service. Even when we have a strong signal from Hot Hot Hot Spot, we cannot get served an IP address to get emails or browser support. Connectivity requires buying a meal, or at least a drink, in town.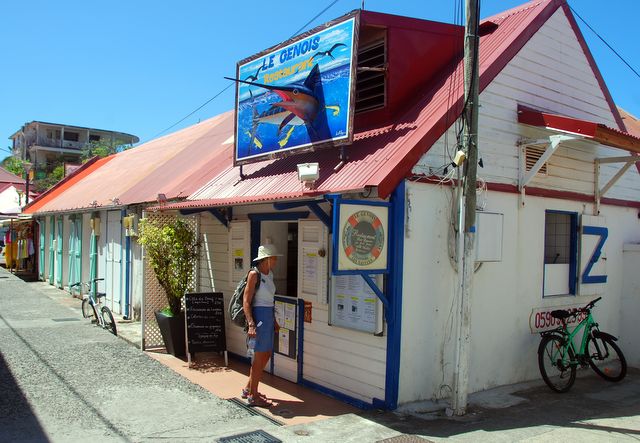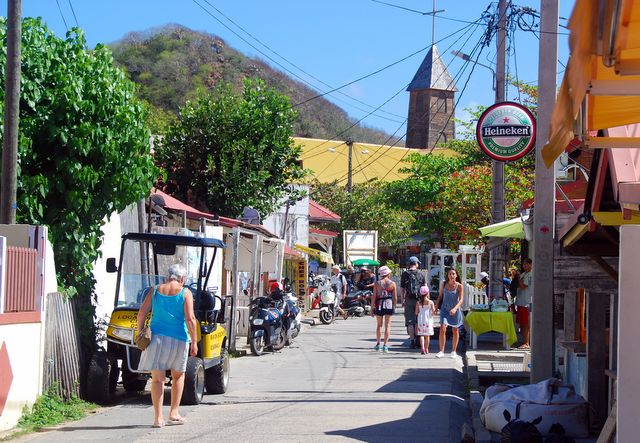 Jane checking out internet availability … the main drag
The town is picturesque. Houses on the hillside overlooking the town are painted white and have red tile roofs. Buildings in the town tend to have corrugated metal roofs, and are colourfully painted.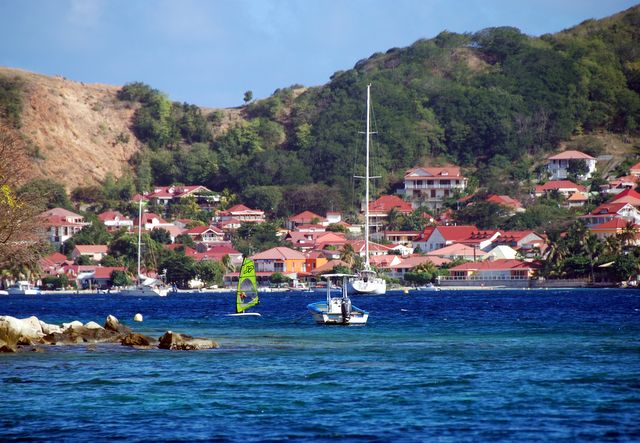 Town houses have a consistent roof colour …
One historic church is in the middle of town with a wooden bell tower that was rebuilt after an earthquake destroyed the old one in 2004. Like in other Antilles islands, the church is an historic building more than a contemporary house of worship.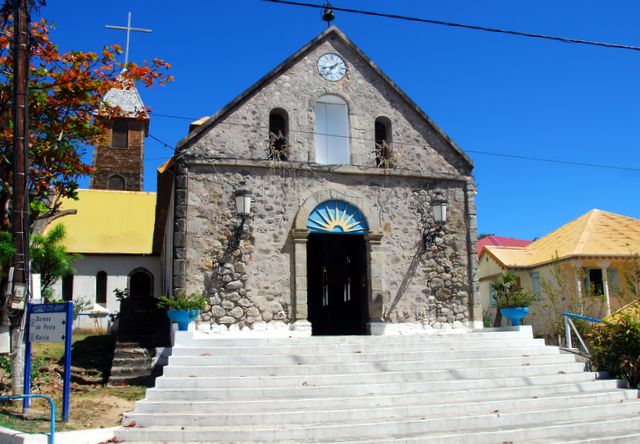 When the cruise ships are in there is usually no space to sit on the steps
There is an open air vegetable market open most mornings. We could not find the fish market, but perhaps when there are fish to sell it occupies part of the vegetable market. Perhaps the oddest building is known as the Boat House. It was built on the edge of the harbour in 1942 to resemble the bow of a ship on the water's edge.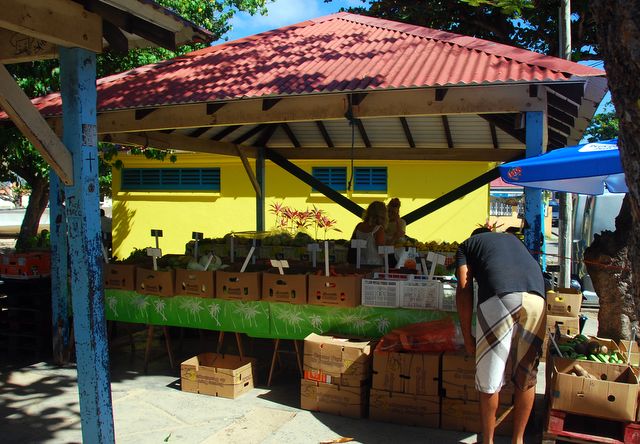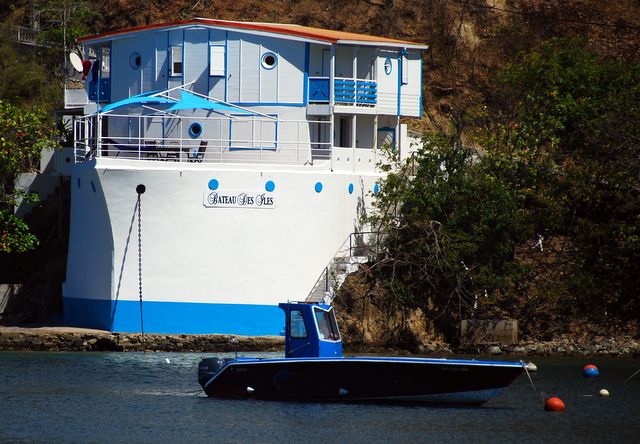 Open air market with some of the best produce available … the Boat House
Les Saintes provided a non-rolly, secure harbour for a week's lazy visit. As in St. Barths and Guadeloupe at least 2/3 of the cruisers are charters. Most of these are bare-boat, but some a captained and crewed. We watched the 4 crew on a 70-foot catamaran out of Pointe a Pitre on Guadeloupe set the aft-deck table for dinner for 10 guests with more silverware than we have on Pilgrim. Most charters prominently advertise the charter company so these boats are usually easy to spot. If a boat stays on a mooring more than 1 day, it probably is a privately-owned boat.