Dominica:
Dominica is the most southern island in the Leeward Island chain. It is dramatic with green lushness, soaring peaks shrouded in mist, the most intense rainbows, shear cliffs, and sparkling clear water. There is agricultural land at the base of the mountains that gets a daily shower of rain and plenty of sunshine, producing the sweetest pineapples we have tasted. The leeward (west) coast from Portsmouth on the north to the capital Roseau on the south is steep cliffs plunging into the sea. These cliffs are much drier than the rest of the island and home to a variety of cacti. Dominica's major drawback for sailors is the lack of harbours. Portsmouth on Prince Rupert Bay on the NW tip of the island is the best, but the holding is not great and when there is a large ocean swell from the north or northeast, the waves curl around Prince Rupert Bluff Point and can cause boats to roll from side to side. Moorings have been put out in the NE area of the bay, which is also least susceptible to uncomfortable swells. We picked up a mooring and felt comfortable leaving the boat for a full day of touring the island.
Prince Rupert Bay with the unfinished tourist facility (orange roofs)
There is an abundance of fresh fruit and vegetables on Dominica. Most of Dominica's GDP is derived from agriculture. Some, like bananas and pineapples, are harvested year-round. Every day except Sunday there are stalls selling fresh produce on the street. On Saturday, market day, vendors are in the covered market as well as the street. In addition to pineapples and bananas, there are plantains, dessert figs (little bananas, about 3 inches long), tomatoes, cucumbers, peppers (hot and sweet), carrots, christophene, cabbage, green beans, pumpkin squash, limes, lemons, grapefruit, and even lettuce. Cherries are also grown, but were not in season in March. Jane had some cherry juice at a snack bar and was shown a bag of frozen cherries used to make the juice. They looked like pie cherries, but were sweet enough on their own without added sugar. Coconuts are plentiful. Green coconuts are slashed open with machetes and the coconut water is either collected into bottles or drunk right out of the shell. Chickens run through the streets and along with fish are the most common menu item in restaurants. We saw goats and cows and understand there are also sheep and pigs raised on Dominica. Chicken, goat and fish are served in a flavourful curry sauce that is relatively mild.
Saturday market
In Dominica we had our first encounter with "boat boys." These are men, not boys, who provide services to cruisers. In Portsmouth they are organized in an association, Portsmouth Association of Yacht Security (PAYS), and they maintain moorings, provide water taxi service, arrange for laundry service, arrange for land tours, lead snorkeling and river tours, and generally keep a watchful eye on the harbour to reduce the incidents of theft. Erick Christopher "Spaghetti" approached us as we entered Prince Rupert Bay. We recognized that he was part of PAYS and he became our "boat boy." Each PAYS member has a unique name (Lawrence of Arabia, Cobra, Providence, etc.) and once you have made contact, the others do not pester you for business.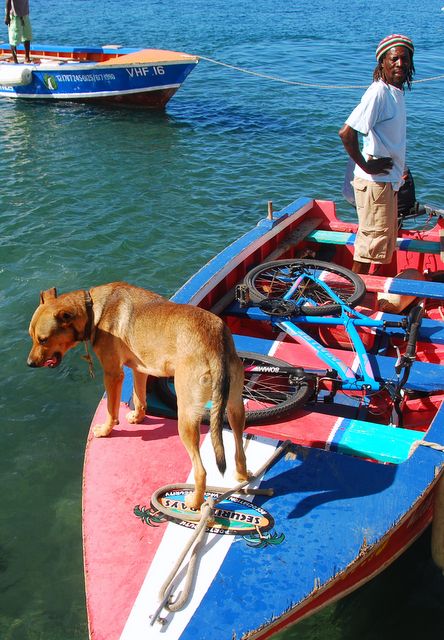 Erick Christopher "Spaghetti" member of PAYS and gives a great river tour
We were moored at the north end of Prince Rupert Bay near the dinghy docks. When we went ashore we walked south on Bay Street to the heart of Portsmouth. The standard of living varied greatly; there were a few large houses with obvious security on the windows and doors, but most buildings were not in a good state of repair and there were several that were abandoned and crumbling. A deep system of gutters and grates lined the street to provide runoff during tropical storms. The gutters were dry since there had not been any recent storms and provided a cool resting place for the stray cats and dogs. There were many small shops selling odd assortments of small inventory. A new fishing boat jetty is near the middle of town which is the home of the fish and produce markets.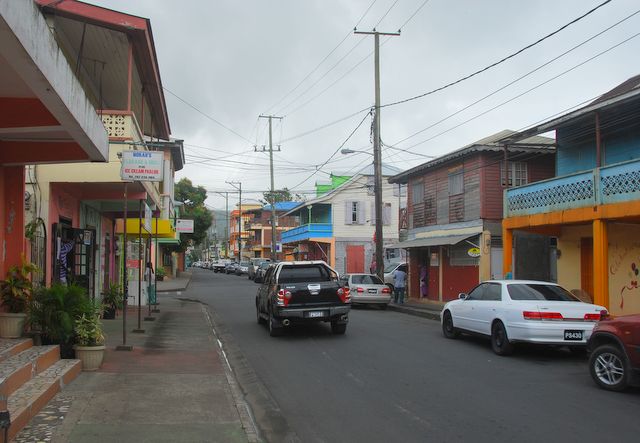 main street with multiple small shops … the local street water supply
The city sprawls along the shore of the 2-mile long bay. The heat of the midday sun was intense and we did not explore the south end of town. We believe the south side is more prosperous since the large IGA supermarket, Ross University and the one resort hotel, the Portsmouth Beach Hotel, are located there.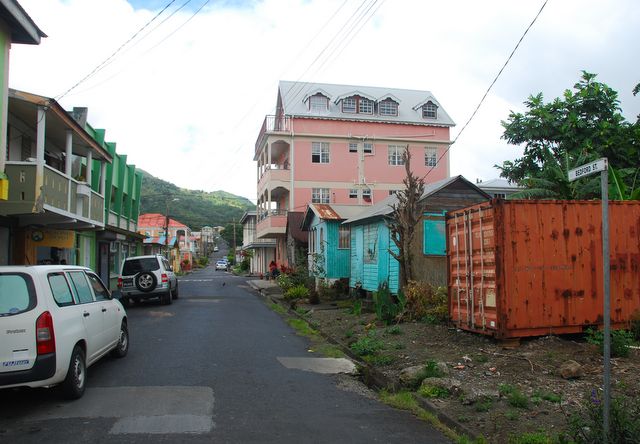 a variety of housing styles from cargo containers to three story hotels
Our boat boy, Erik, took us on the Indian River tour. This river is one of 365 rivers on Dominica and is part of the extensive National Parks System. The river is shallow (12 feet or less) and muddy from the rich soil that lines the banks. Bloodwood trees line the banks with their buttress-like roots along with palms, ferns and glory cedars whose pink flowers attract humming birds. Tour guides must row their boats up the 1/2 mile of navigable river. Several different species of land crabs scurried along the banks and a green heron was camouflaged in one of the palm trees. We also saw a yellow-crowned night heron and coot hens that looked just like the hens we saw in Holland in 2008.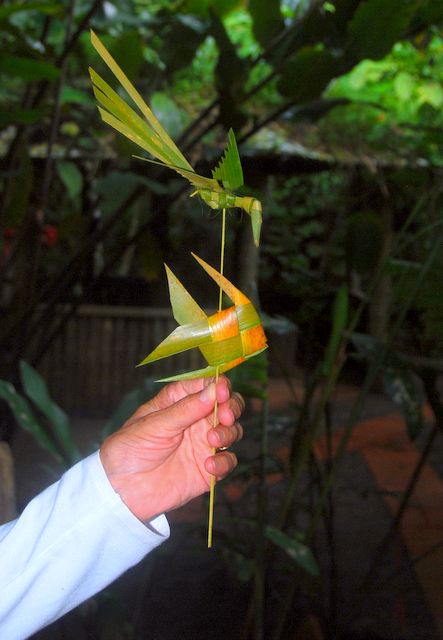 Erik our river tour guide and his fancy art work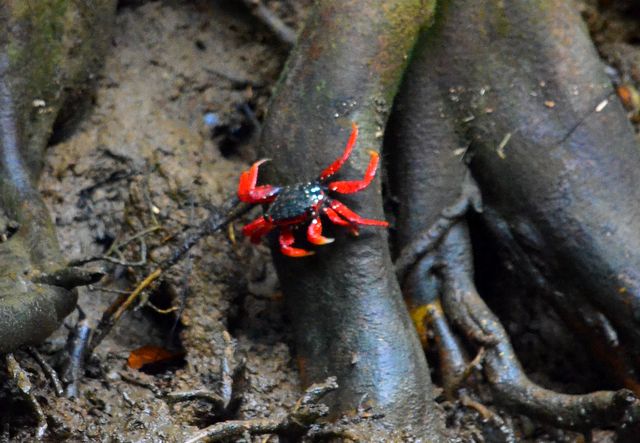 yellow-crowned night heron and a red legged land crab
Some scenes from Pirates of the Caribbean were shot on the Indian River. Jack Sparrow's house remains on the bank and one of the tour guides, Cobra, maintains the Jungle Bar that the movie company constructed for cast and crew parties during the shoot. We indulged in a "dynamite," the house specialty drink, a potent combination of rum and local fruit juices. Erik presented us with a beautiful origami sculpture of a fish and humming bird made from palm fronds.
Pirates of the Caribbean … Jack Sparrows house
The Cabrits National Park is on the north shoreline of Prince Rupert Bay. West Cabrit (623 feet high) and East Cabrit (458 feet high) have a commanding view of the bay and is the site of the British Fort Shirley, built in the 18th century. Some of the buildings have been restored and provide a beautiful setting for special events, like the wedding that was happening the day we visited.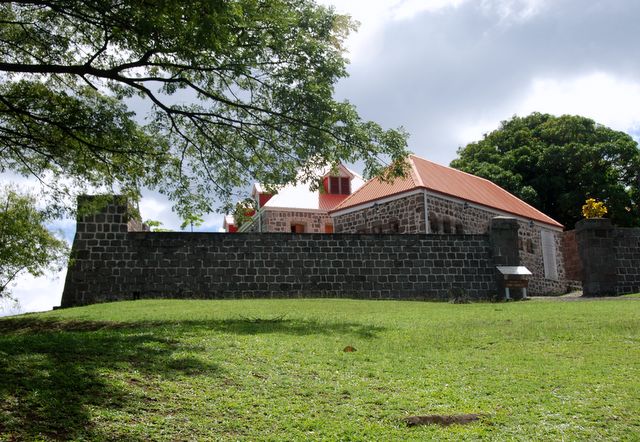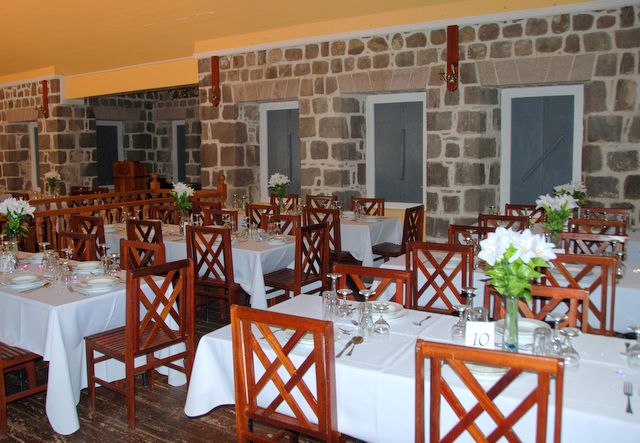 Restored British Fort Shirley set up for a wedding reception
We took a full day taxi tour of the northern part of Dominica. The young guide was an exceptional driver, handling the extreme switchback roads with skill. He was less impressive a a tour guide, following scripted descriptions and stops and unable or unwilling to answer our questions. Some of the highlights:
Near the village of Borne we stopped to get samples of coffee beans growing on roadside tree. Coffee is being developed now as an export market.
Near Paix Bouche in the hills where it is lush and green we stopped to pick fresh lemon grass. On drier St. Lucia the large stands of lemon grass were dried and a fire hazard.
At Hampstead on the NE coast we stopped at a lookout spot and could see the Guadeloupe island Marie Galante, 15 miles NE of Dominica. We also cut a sample of lemon bay leaves, an export crop. There are 3 different varieties of bay that grow on Dominica.
Red Rocks, near Baptiste Bay, is a standard tourist attraction. The hard-packed red soil is the result of old volcanoes and dramatically plunges into the sea with little vegetation.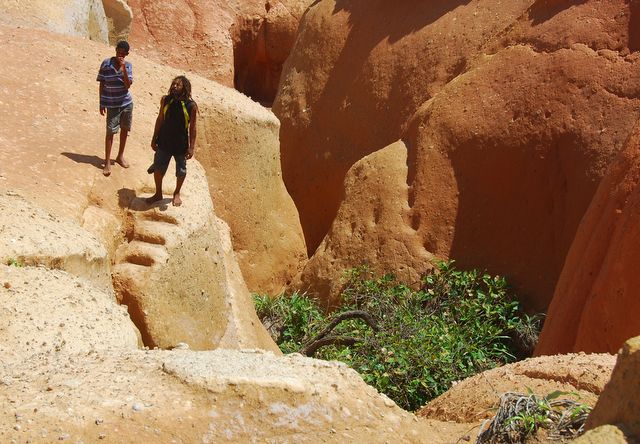 The Red Rocks with guide and guide-in-training
Cocoa is one of the export crops grown on Dominica. The Pointe Baptiste Estate is
a small operation being developed to process the cocoa bean into chocolate bars.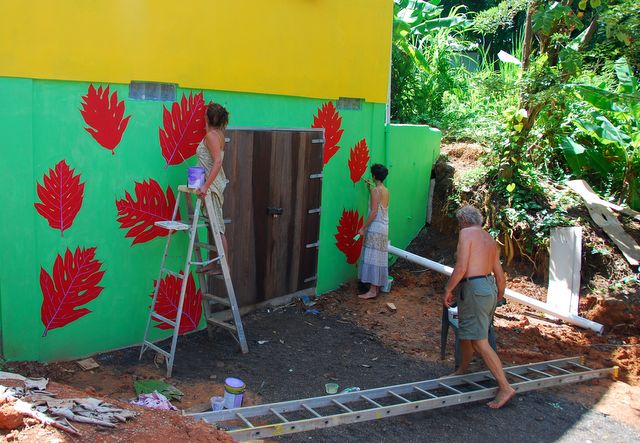 Pointe Baptiste Estate construction crew (they own the place)
We passed the main airport, Melville Hall Airport, which was our first glimpse at the destruction caused for tropical storm Erika last August (2015). The road around the east end of the runway was washed out. As we drove along the west coast of Dominica later in the day from Canefield north to Méro many of the bridges crossing the rivers had been washed out. Rough detours were in place and bridge reconstruction was underway. We were reminded of a comment made in Marathon, Florida, a few years ago: hurricanes are great for the construction business.
washout … damage from Erika
We drove through the Kalinago Territory, a reservation for the indigenous people of Dominica, mainly of Caribe origin. At a souvenir stand we bought a calabash bowl to hang in Pilgrim's galley to hold delicate bananas during passages when the ripe fruit is easily mangled into a soft pulp.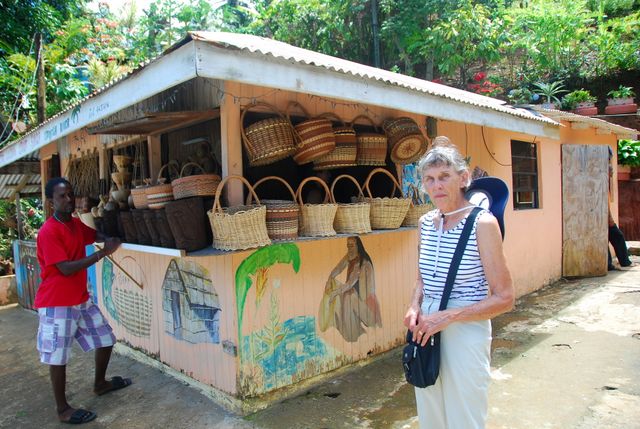 Our tour guide never bothered to explain all the extra charges we should expect on his tour
At another short stop we were given strips of bark from a cinnamon tree, another export crop. Our stop at the Emerald Pool in Morne Trois Pitons National Park was most memorable. The 3/4 mile trail trail was paved, crossing streams with rapids in the forest. The mature trees have massive prop roots (Palmist, Mang Glan and Karapit trees), buttress trunks (Chatannyé tree) and pillar-like trunks of the Gammier. These trees provide a high canopy and allow relatively few shrubs and small plants to grow. The tree ferns were impressive in their size. The filtered sunlight encourages a large number of epiphytes that grow on other plants but do not take nutrition from the host plant. These include the giant tank bromeliad Glomeropitcairnia penduliflora, a relative of the pineapple, wild anthuriums, ferns, mosses and orchids. The trail ends at the waterfall and pool in which you are allowed to swim.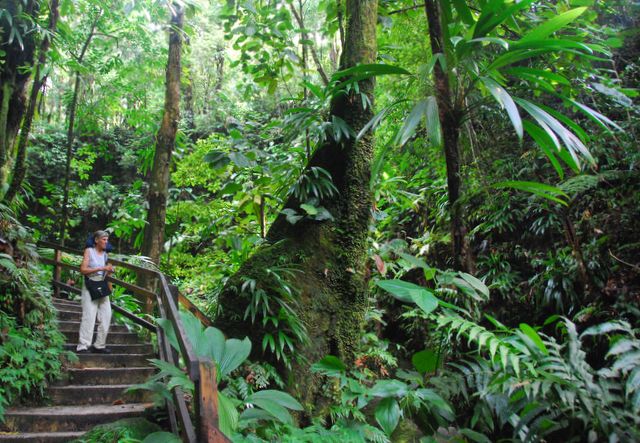 Jane being dwarfed by the trees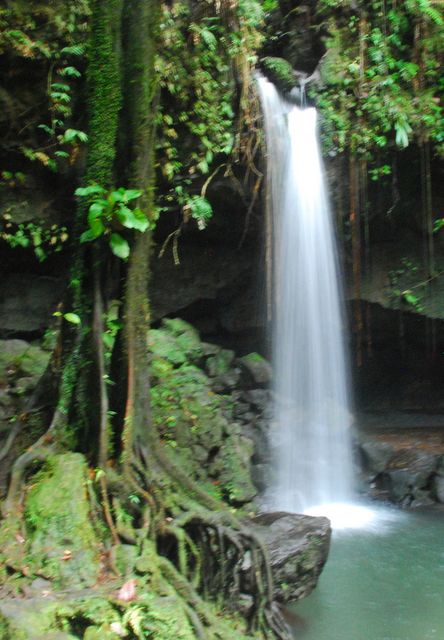 epiphytes … looks like the tree is sticking its tongue out … and the falls
We stopped for lunch at Castle Bruce and saw a fishing village in a protected shallow bay that has been funded by the Japanese government. The International Federation of Animal Welfare and Greenpeace have claimed that many of the small, independent Caribbean nations have received much needed development funding from Japan and in return the Caribbean states have supported Japan's pro-whaling position. We wondered if the Japanese funding of this harbour was at the expense of the whales. We were delighted to discover that Dominica has changed its position and now votes against whaling. The prime minister has said he does not expect assistance from Japan to be reduced as a result of the new position "because there is mutual respect" between the two countries. This is great news.
Fishing port funded by Japan … buying UN votes perhaps?
Also, in Portsmouth near the Cabrits National Park, construction appears to have stopped on a hotel/ convention centre. Billboards indicate the project has significant funding from Morocco, and a press release in January 2016 said that the project has not been abandoned. It is not clear what is holding up the hotel development, but Morocco donated fertilizer to Dominica after tropical storm Erika hit last year. We hope international development aid is based on need, not political support.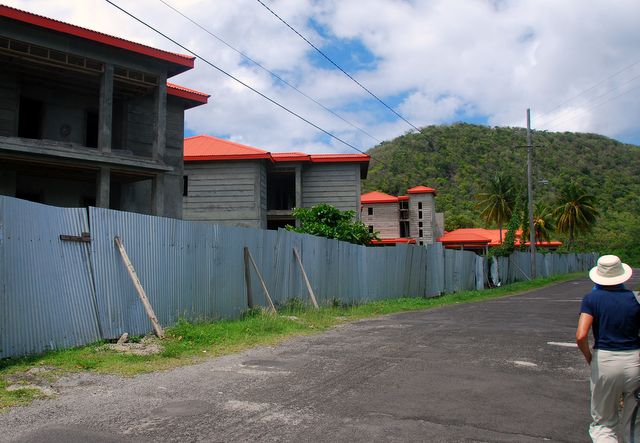 Project halted for lack of funding (political?)
It is refreshing to find a Caribbean island with such stunning natural beauty focus on eco-tourism rather than selling prime land and resources to resort/spa developers. The Ministry of Tourism needs to develop better information sources for tourists, especially those sailing to Dominica on their own boats. Neither of the two tourist information offices we visited in Portsmouth could give us any information regarding hotel or rental accommodation for family members who would like to visit with us, but would prefer to sleep on shore rather than in the cramped quarters on our boat.
We cut our stay in Dominica a bit short. Usually cold fronts off the US East Coast do not penetrate much beyond the Dominican Republic, but on March 8 it hit the Virgin Islands and continued its track all the way to Trinidad. The front brought with it a northerly ocean swell up to 10 feet, and Prince Rupert Bay would have become quite uncomfortable with that swell. We did an overnight sail past Martinique (we will stop there next year on our way north) to Rodney Bay on the NW tip of St. Lucia. As we passed Fort de France on Martinique the Coast Guard put out a call that a cruising catamaran had broken free of its mooring and floated out to sea while the occupants were on shore. We did not see it, even on radar, but what a surprise to return to your moored boat and find it gone.