The Bahamas and Florida.

 

March – May, 2014
The Beach, Long Cay and Clarence Town, Long Island.   March 8 – 11. Our passage to the southern Bahamas lasted 2 nights at sea and 266 miles.   The forecast wind did not materialize, so we motored for 40 hours.  Finally at 2AM our third morning out, the wind built from the SW and we sailed until 6AM when the wind veered quickly to the W, the NW and N, causing us to motor-tack into 20 knots of wind for our final 2 hours.  Fortunately we had identified an anchorage with good protection from NW to NE winds with an easy entrance with no reefs.  Other than a couple of rain showers and moments of squally wind that accompanied them, the trip was boring.  It was another motor-tacking day to get further north to Long Island.
 <![if !vml]>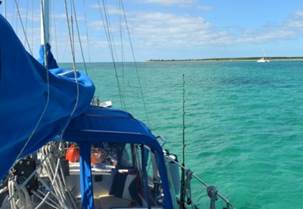 <![endif]> <![if !vml]>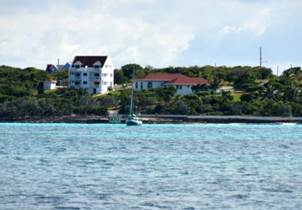 <![endif]>
Long Cay, anchored a long way from shore                Clarence Town
George Town.  March 12 - 21.  We had a glorious sail from Clarence Town, Long Island to George Town, Great Exuma Island in an overnight sail.  We left just before sundown with a moderate following breeze and a 3/4 moon for most of the night.  We arrived in George Town just after 9AM and found a spot to drop the anchor along with over 100 other boats.  The harbour is so large there is no feeling of crowding, as there was in Marsh Harbour in the Abacos in 2007.   We took the dinghy ashore, found a bank to get some Bahamian money, cleared customs and immigration, and then found a SIM card for our mobile phone.  A few days of squally weather gave us the opportunity of catching up with emails (we had virtually none for the previous 6 week) and banking (how did travellers cope before online banking?) and composing thoughts about cruising in the Caribbean for the website.  We welcomed the slow pace and warm weather without the stifling heat we experienced further south. 
<![if !vml]>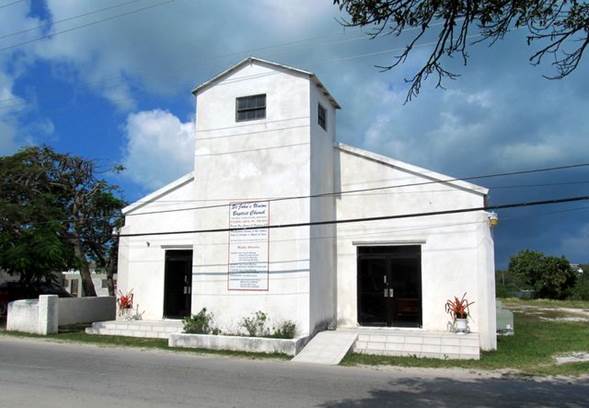 <![endif]>
St John's Union Baptist Church, George Town, Exuma, Bahamas
We stayed in George Town for 10 days.  The weather was great.  We had one day of down pouring rain, which did a good job of washing salt off the boat (and almost drowning our clean laundry on the way home from the Laundromat.)  
The local grocery store maintains a dinghy dock with a water spigot of Reverse Osmosis potable water for cruisers to use.  We managed to put 70 gallons of water into our starboard tank using jerry cans and 5 liter water jugs transported via dinghy (5 trips).  There was a stiff breeze creating 1.5-foot chop in the harbour.  We almost swamped our dinghy with groceries, 2 people, and about 15 gallons of water weighting down our little boat. 
<![if !vml]>
<![endif]>
The famous Exuma Market dinghy dock in George Town ... free fresh water
There was a mini-rendezvous of Whitby 42's.  7 Whitby's and 2 Brewer's were present.  Most of the folks bought their Whitby's more recently than us (2002).  One couple out of the Chesapeake were at the Chesapeake rendezvous in 2006 rafted off Pilgrim. 
<![if !vml]>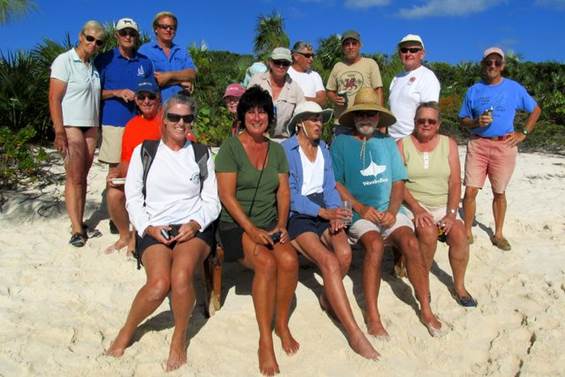 <![endif]>
2014 George Town Whitby and Brewer boat owners rendezvous
We thoroughly enjoyed our stay in George Town.  There are real Bahamians who live here.  English is the native language, and the people are very friendly and welcoming.  Even the morning cruisers' net on VHF radio is succinct, to the point, informative, and brief.  There are always a few smart-alec  cruisers, but all in all the cruisers here have been a joy to be with. 
<![if !vml]>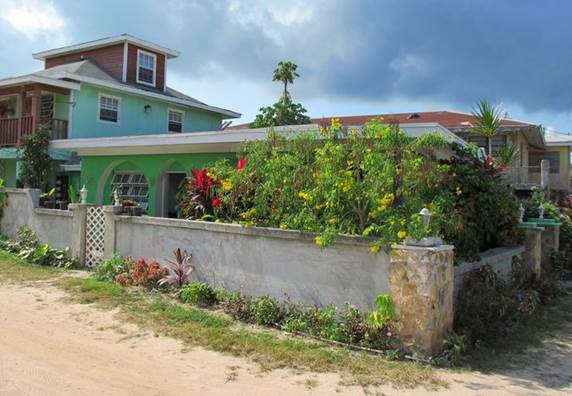 <![endif]>
George Town garden gone wild
Stocking Lee Cay.  March 22.  We had a great sail, a reach with 15 - 17 knots of east wind and 4 foot swells and put 30 miles under the keel, passing two other sailboats.  Unfortunately we did not catch a fish.  However, had Brian caught a fish, he may not have been able to land it as we surfed along at 7 knots. 
<![if !vml]>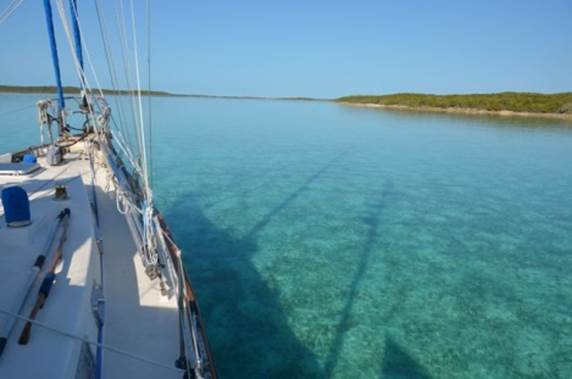 <![endif]>
Lee Stocking Island anchorage
We anchored behind Lee Stocking Island.  There is an abandoned marine research centre on the island.  It was founded by a US philanthropist who owned the island.  When the American died, his heirs were not interested in maintaining the research centre and it collapsed.  It is a lovely anchorage we are sharing with about 15 other boats.  Not too crowded, but there is more thin water than "thick" water to float Pilgrim at low tide. 
Black Point Settlement.   March 23.  The wind died overnight and never did recover today.  We motored another 30 miles NW along the Exuma Sound (ocean side rather than shallow bank side of the island chain) with a line out the entire time, but caught nothing.  The trip back inside from the sound to the western side of the islands was a bit difficult, since we had a 3.5 knot current against us. Slow, and tough steering, but the cut was wide and deep enough to give us no concerns. 
<![if !vml]>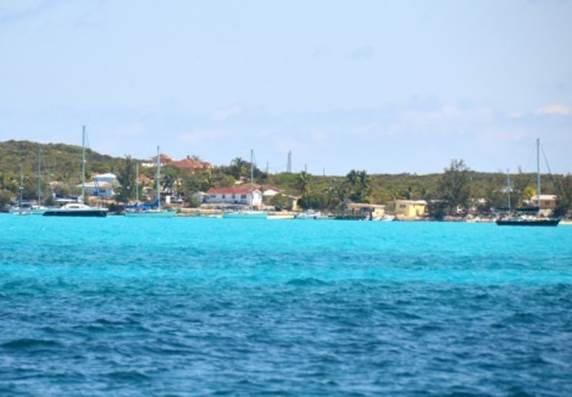 <![endif]>
Black Point Settlement before the big storm
We had hardly finished anchoring when a dinghy pulled up to us with a young couple who were on a newly acquired Whitby 42 along with 2 large dogs.  Unfortunately, there were problems with their engine exhaust, and they seemed unable to either get the parts they needed or repair the parts they had.  They had been at anchor here for at least a week.  Another Whitby 42 was at anchor and while we were talking to the young couple, a fourth Whitby came into the harbour.
Bell Island.  March24 - 26.   Overnight the wind increased from the west, building an uncomfortable chop in the harbour, so we made an early departure and moved about 16 miles north to Bell Island with west and north protection.  This is a fairly large space and there were only 4 other boats sharing it with us.  There were about 20 boats just a bit south, mainly on moorings, but some at anchor.  They had no better protection and were more closely packed, so we felt we had made the right decision to anchor at Bell Island.  At 6PM we observed two water spouts to the south, and later on the radio we heard a report of 2 boats in an anchorage being hit by the spouts.  The waterspout that hit the boats was higher than their masts, and spun the boats around 720 degrees.  We were glad we were not in that anchorage.  There was one later report of a waterspout on the sound (deep water) side of the island, again further south. 
<![if !vml]>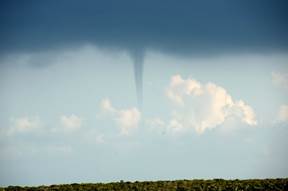 <![endif]> <![if !vml]>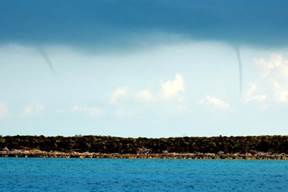 <![endif]>
Water spout south of Bell Island and double water spout in the same location
When the bad weather broke, there was much lightning, thunder and rain but little wind, as soon as the rain became a drizzle, the wind picked up from the SW, then veered to the West, and then veered to the North overnight.  Only one boat arrived the second afternoon, a single-hander in a 35-foot boat.  The main was reefed down to less than half its full size.  The boat sailed into the bay, dropped the hook and let the wind set the anchor while the skipper lowered the sail
Black Point Settlement.  March 27- 29.  When  the wind veered to the north it made the anchorage at Bell Island very uncomfortable.  It is protected from the north, but there is a cut from the deep-water sound to the east into the island chain at Bells Island and the tidal current is strong (3 knots).  This means that during a rising tide, the current is running from east to west, but the wind from north to south.  The current was winning, which made the wind waves hit Pilgrim broadside.  Midway to high tide (3PM), when the current had begun to die, we hauled anchor and made our way to the bank (shallow) side of the island chain, west of the islands where we were more sheltered from wind and seas, but still had 20 knots of wind on a reach.  We flew the 16 miles down the bank with just the Genoa, at 7-8 knots.  We arrived at Black Point at 6PM and were happy to find the anchorage a bit choppy, but much more comfortable than Bell Island
<![if !vml]>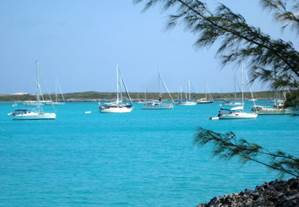 <![endif]> <![if !vml]>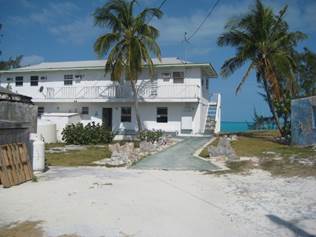 <![endif]>
Black Point Settlement anchorage and laundry
<![if !vml]>
<![endif]> <![if !vml]>
<![endif]>
Blackpoint Baptist Church sign with an interesting message    …  Quiescence from the NYC in Toronto
The wind stayed a steady 20 knots and veered from NE to East.  Our wind generator kept our batteries topped up.  Despite the wind, we went ashore to do laundry and deposit our trash.  Brian wanted to make one last attempt at Bahamian-prepared Conch fritters.  We both think they are over-rated, and only as good as the sauce you dip them in.  Our taste test did not change our opinion; we will leave conch for those who enjoy it. 
Big Major Spot.  March 30.  We moved a couple of miles north to Staniel Cay. Our friends on Wind Song picked us up in their dinghy to take us to the beach where the feral pigs live.  Several huge sows and their little piglets swam out to the dinghy and gobbled up celery we took with us.  We were careful to keep our distance.  These were very large animals (400 lbs) and had their babies in tow.   We did not go ashore and did not get to the Thunder ball Grotto (the site of the Thunderball Cave where scenes from the James Bond film of the same name were shot.  Evidently it is spectacular).  They will wait for our passage in 2015.
<![if !vml]>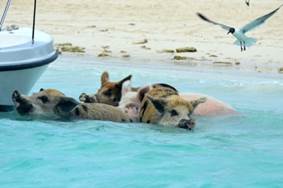 <![endif]> <![if !vml]>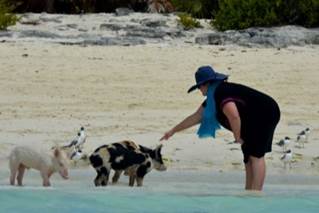 <![endif]>
Big Major Spot   Swimming pigs
Highborne Cay.  March 31.  We sailed from 8:15 until 3:30 on our passage from Big Major to Highborne, and then had to motor against a dying wind.  We have sailed more in the Bahamas over the past month than the 7 previous months from Maine to Florida.  We were amazed to find 3 more Whitby 42's at this anchorage
West Bay, New Providence Island.  April 1.  This anchorage is on the western tip of the island where the Bahamian capital, Nassau, is situated.  It provided good protection for the light SE wind, and we had a good rest on our last night in the Bahamas. 
<![if !vml]>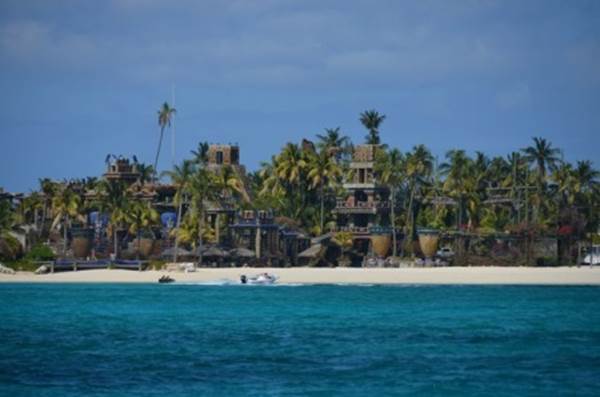 <![endif]>
West Bay sillyness
Lake Worth, FL.  April 3- 15
We crossed the Gulf Stream in the wee hours of the morning and anchored south of the Lake Worth Inlet, just feet from where we were anchored in December and January.  The crossing was easy.  The first 30 miles were across the Tongue of the Ocean in water so deep the depth sounder could not find the bottom.  Then we entered the Bahamas Bank through a slightly intricate passage.  Brian had a line out, and as we crossed the drop off, something took the bait.  Just as he got it along side of the boat, it managed to slip off the hook.  Brian thinks it may have been a dolphin /mahi mahi, but since he has never caught one, he is not sure.  It is still a free fish being.  A couple of hours later on the bank, Brian got another hit, and this time landed a small Albacore tuna, enough for a substantial dinner .  Just before dusk a third hit brought a barracuda to the boat and Brian released it back to the bank. 
<![if !vml]>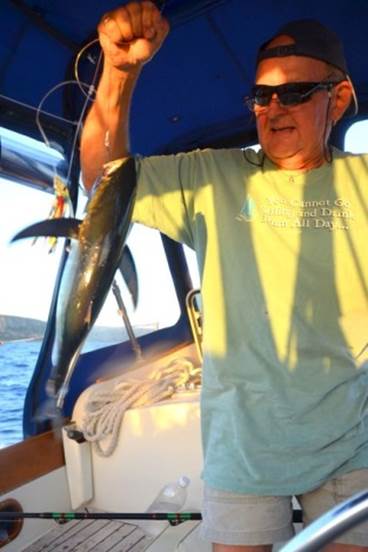 <![endif]>
sushi
We sailed for about an hour in the late morning and then again from 8PM until 2AM with light wind on a broad reach / run.  When our speed dropped to below 5 knots, we turned on the engine and motored.  The waves in the Gulf Stream were their usual chaotic nature, giving us a washing machine ride.  We anchored south of the inlet in Lake Worth at 11AM, a 170-mile run in 28 hours. 
Now we were back in affluent Palm Beach after being in the Bahamas and the Florida Keys.  Sailing in such different communities in such a short time makes us wonder which of these worlds is the best and right for our children and grandchildren.  In Palm Beach, we are like paupers with our 42-foot sailboat next to 100+ foot megayachts, while in the Caribbean we were king of the castle having a boat with a motor and having no need to fish daily for food.  We are not certain which of these worlds, if any, can provide salvation for our planet.
<![if !vml]>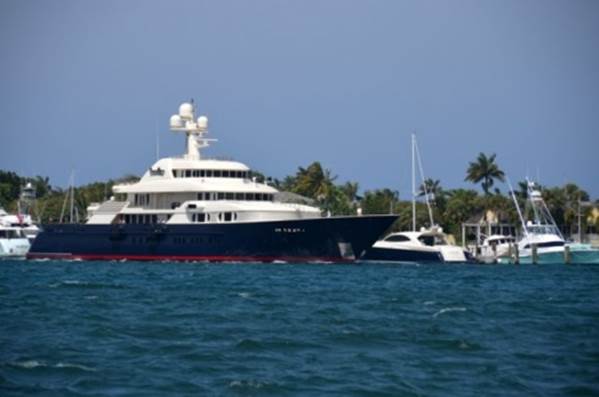 <![endif]>
Lake Worth ... home to all shapes and sizes
We took the dinghy to the US Border Security Office to check in and get a new cruising permit issued.  Common sense gave way to petty bureaucracy.  The officials needed to see our registration certificate.  It was renewed in January, and our condo-sitter had taken a photo of the certificate and emailed it to us.  We had all of the other original certificates on board.  The copy of our current certificate was not good enough for the officials, so we had to arrange to have the January certificate couriered to us in Florida.  We were told we could not move our boat until our paperwork was in order.  This was at the beginning of a weekend.  Fortunately the certificate arrived on Monday and we were issued a new US Cruising Permit.  This enabled us to haul anchor and move to a marina to wait out a cold front with thunderstorms.  The marina offered us our first land-showers since February 6. 
After the bad weather passed we moved to a delightful anchorage with a large dinghy dock right off downtown West Palm Beach.  It was an easy walk to Worth Avenue with its trendy shops and restaurants in Palm Beach.  West Palm Beach had a lively Farmer's Market on Saturday mornings with a variety of food, plants and gift items.   
<![if !vml]>
<![endif]>
Saks Fifth Avenue living wall
We were delayed leaving Lake Worth due to blustery wind that had not clocked from NE to E. The north wind was in the forecast for almost a week.  We decided that we should move up the ICW rather than wait for good weather to make the 2-day passage to northern Florida on the outside.  There are a number of inlets from the Atlantic Ocean to the ICW, but only 6 "Class A" inlets that cargo and cruise ships use. The other inlets are prone to silting and dangerous, especially with east winds and we will not willingly use them.  Between the Lake Worth inlet on the south and St. Johns River inlet near the Florida / Georgia border, there are just two class A inlets:  Ft. Pierce (30 miles north of Lake Worth) and Cape Canaveral (100 miles north of Lake Worth, about half way to St. Johns.  We calculated it would take us 5 days (25-30 miles / day) to get to Cape Canaveral via the ICW (vs. a 24 hour overnight passage via the Atlantic).  We are not fans of the ICW with its bridges, many on scheduled openings, and anxious cruisers, but we decided taking the ICW up to Cape Canaveral was prudent.  The weather was not great (15-20 knots of wind from the north), which meant there was little boat traffic that made the trip almost enjoyable.  We anchored in the lee of a causeway just north of Jupiter Inlet.   The first day included 7 opening bridges and the second only one at Ft. Pierce.  Here the tidal current was running 2 knots with us; we slipped by the open bridge sideways.  The wind had veered further east and was still strong, so we motor-sailed with the staysail and made great time. 
Vero Beach, FL.  April 17-19
We picked up a mooring at Vero Beach in a very well-protected mangrove swamp with about 50-60 other boats. The forecast was for threatening weather, so we planned to stay 2 nights on the mooring.  By the second night, the wind dropped and the warmth and humidity rose.  The dreaded no-see-ems hatched and swarmed the boat.  It was an itchy night.
Cocoa and Port Canaveral, FL.  April 20-23.  With poor weather, the traffic on the ICW continued to be light.  We anchored in the lee of a causeway, and then off the little village of Cocoa in the ICW.  We went ashore in Cocoa to browse through the S.F. Travis hardware store and visit a tiny knitting store.  We anchored just inland of the Barge Canal at Port Canaveral and watched with alarm people wading in the water between islands close to where we anchored.  There was plenty of water where we were anchored and virtually no tide, but the shallow water was unnerving. 
<![if !vml]>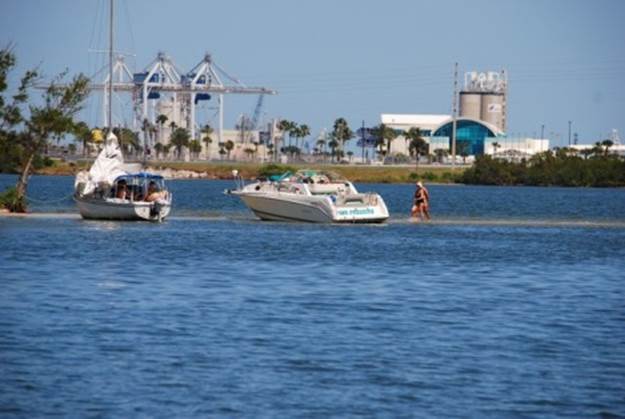 <![endif]>
Port Canaveral Barge Canal
Cumberland Island, GA.  April 25 – 27
Thursday morning we hauled anchor and proceeded through the Canaveral Barge Canal Lock and entered the Atlantic Ocean.  The forecast wind from the east veering south up to 15 knots did not happen.  When the wind finally arrived at 3AM on Friday morning it was out of the west, and we were going NNW, so it did not allow sailing at all. 
We had a wonderful time with a lively pod of dolphins for over 30 minutes.  We also had two little birds that hitchhiked on Pilgrim:  a Palm Warbler and a Redstart.  Both were looking for bugs, and perched on us, went below and all over the decks and rigging.  The Redstart left us after an hour.  Unfortunately the Warbler was on its last legs and died in the aft cabin sometime during the night. 
<![if !vml]>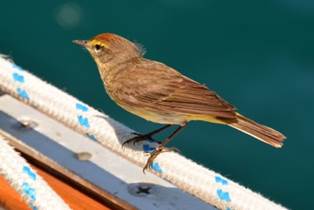 <![endif]> <![if !vml]>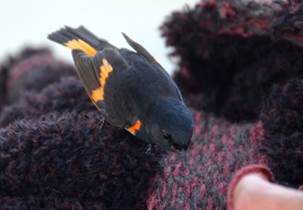 <![endif]>
Palm Warbler  and a Redstart looking for bugs
Brian had a line out much of the day Thursday.  The first hit, got away when the hook parted from the lure, and the second hit severed the line that attached the lure to the line.  It was disappointing.
We arrived at the Cumberland Inlet at 9AM, earlier than anticipated since we had a bit of a current boost.  We knew we were going to fight a strong current, but it actually took us 2.5 hours to go the last 8.5 miles, sometimes slowing down to 1.5 knots against the 2+ knot current.  To add to our stress, the US Navy was bringing an attack submarine into the Cumberland base while we were in the channel.  There were over a dozen escort boats (navy and coast guard) and we were required to leave the channel right before we got to the anchorage turnoff.  It was an impressive display of power.
<![if !vml]>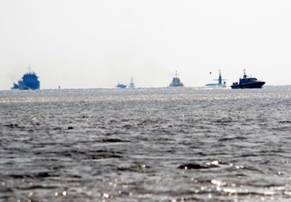 <![endif]> <![if !vml]>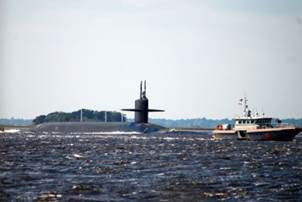 <![endif]>
British attach sub
It was delightful to be on Cumberland Island in the spring.  Although the magnolias had bloomed much earlier, it was great to see different vegetation and animals. 
In the salt marsh on the southern tip of the island we observed thousands of fiddler crabs scurrying on the soft mud during low tide, foraging for dinner.  There were also plenty of clapper rails using their long beaks chasing the crabs down their burrows looking for their dinner.  The salt marsh is home to a few alligators; we did not see one, but the tracks in the mud were evidence of their presence.
<![if !vml]>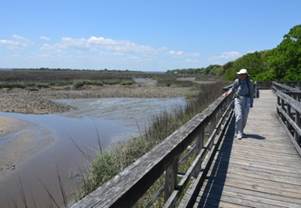 <![endif]> <![if !vml]>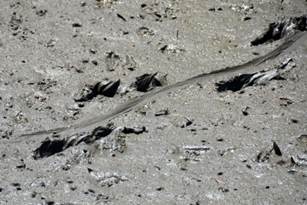 <![endif]>
Boardwalk over the salt marsh with fresh Alligator tracks
We combed the wide beach, made wider still because of the low Spring tide.   We found some great shells including stiff pens, lettered olives, razor clams, lightning whelks, Vanhyning's Cockles, sand dollars, egg cockles, shark's eyes and horseshoe crabs.  We also found several skate egg cases.   The sea birds enjoyed moderate surf and wind.  In addition to the usual seagulls we saw brown pelicans, royal terns, a scooter, and an oystercatcher. 
<![if !vml]>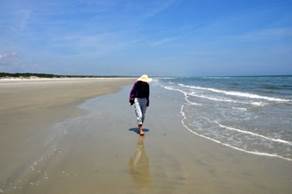 <![endif]> <![if !vml]>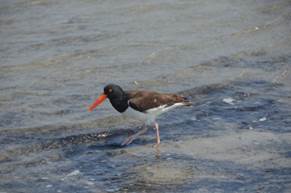 <![endif]>
Looking for interesting stuff …  Oystercatcher
In the maritime forest with its cascades of Spanish moss we found a diamondback terrapin, an armadillo, squirrels and birds.  Perfect weather made our two days of hiking on the island a delight.
We worked out an exit strategy that allowed us to leave Cumberland and arrive at St. Johns at slack current or at least with an advantageous current.  The two inlets are about 20 miles apart, so did not require an overnight passage.  But finding the best time to transit the two inlets with an advantageous current in daylight hours and without fighting adverse wind was a challenge.
St. Johns River anchorages.  April 28 – May 13
We took the ebb current out the Cumberland Inlet and then tarried at the mouth of the St. Johns River for an hour to wait for the flood tide to sweep us up river.  The St. Johns currents are stronger even than the Cumberland ... 3 knots at times, so waiting for a favourable current is essential to getting up the river for haul-out 40 miles upstream. 
The weather in Florida was quite unsettled in May, with thunderstorms and rain most days.  We selected a marina 30 miles from the Florida coast for summer storage.  It is far enough upriver that it should not be devastated by hurricane winds or a sea surge.   However, the thunderstorms seem to breed tornadoes here.  You simply cannot win the weather game.
We took 2 days to travel up the St. Johns River.  Upstream of Jacksonville the river is very broad ... more like a long lake than a river ... and brackish rather than salty.  There is much tannin in the water, so it is like sailing in tea.  If the weather were better, it would be fun to sail these waters, although there is a good tidal current running, even 30 miles upstream from the mouth of the river. 
<![if !vml]>
<![endif]> <![if !vml]>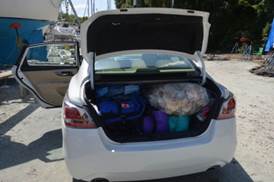 <![endif]>
Reynolds Marina for the offload
On May 13 we hauled Pilgrim out of the water and unstepped the two masts.  We followed the advice of several other sailors who keep their boats up the St. Johns River and rented a climate-controlled storage unit for cushions, the mattress, clothing, linens, books, most lines, sails and some food.  We are having the slop in the rudder repaired over the summer.
<![if !vml]>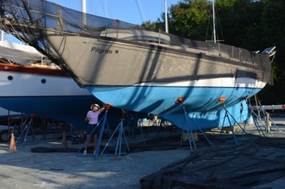 <![endif]> <![if !vml]>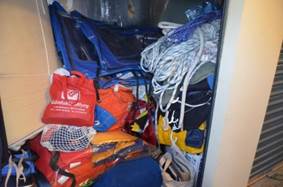 <![endif]>
Pilgrim with sun screen and our full storage locker
Statistics for the cruising year from July 2013 to May 1 2014:  9.14 months, or 278 days.  4,910 nm travelled.  17.66 nm / day (average) 746 engine hours used (90% under engine power).  Our best years for sailing were 2007 and 2011 (Atlantic crossing years) when we used the engine 58% of the time.  The worst year for sailing was 2005 (Lake Superior, North Channel, Lake Huron) when we motored 96% of the time.