Charlevoix, Michigan: No salt, tides and currents: (July 24 – August 9) We left Pilgrim on a mooring in Camden, ME for 2˝ weeks and drove and flew to Jane's family cottage in northern Michigan for time with our daughter and her two children. We sailed, fished, and beached. There were many memorable events: Grandson and Brian fished in the boathouse and from the rowboat and Algonquin, catching a mess of perch and bass. Our grandson enjoyed Tots Gang and our granddaughter loved the freedom to roam around the resort and climb the countless stairs. Jane and Brian managed to tip over at the start line of a dinghy race.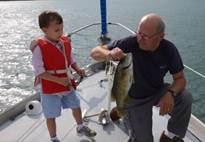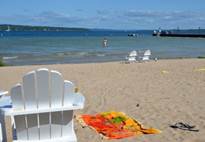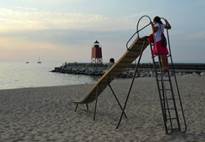 Camdem. August 10 - 14. We had to delay pushing off from Camden when we discovered more damage to the prop coupling from the snared lobster trap (in July) than initially anticipated. We had to order bolts and bronze keystock since what we required was not carried by the marina or any establishment nearby! The generator was running overtime to get the fridge and freezer back online after the grocery shopping was accomplished. Our last shore plug-in was in Bar Harbor on July 13.
While delayed in Camden, the resident Osprey and loons offered wildlife entertainment, and the kids in their Optimists offered human entertainment.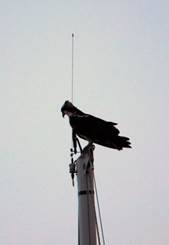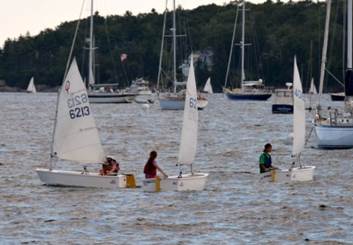 Pulpit Harbor, North Haven Island. August 14 – 16. We left Camden in the fog and before we anchored in Pulpit Harbor 6 miles away it was raining. But then it cleared and we had delightful sun. Then the front came in with 25 knots of wind from the NW (worst direction for this anchorage, but we did just fine). By midnight the wind had died to 12 knots and we slept peacefully. Jane pumped up her kayak and paddled through 3 coves in the anchorage. Late afternoon a gaff-rigged schooner (tour boat with overnight passengers) dropped anchor in the middle of the harbour. There must be over 20 cruisers either at anchor or on moorings. Weather is perfect... quite cool, but sunny during the day with 8-12 knots of wind from the SW. We stayed 3 days in Pulpit Harbor, watching other cruisers come and go. We feel quite small and pedestrian sailing in Maine. There are a few boats smaller than Pilgrim, but there are certainly many larger boats. Consider Blue Too (http://www.superyachttimes.com/yachts/details/2202/) a 111-foot ketch that shared our anchorage last night. Or the gorgeous yawl that looked vintage but was really built in 2007 with furling sails and high-tech gear made to look like it was built in 1930. We enjoyed watching the parade of beautiful boats come and go.
We repaired a minor leak in the dinghy, and then rowed to the public dinghy dock so that we could take a walk. A small shopping bag of garbage accompanied us. I was sure we would find somewhere to dump it, but at the dinghy dock there were signs warning us not to dump garbage, so we just carried it with us. Surely in a state that offered boaters free pump outs there would be reasonable garbage receptacles. We walked the mile or so to the general store, and I inquired about trash disposal. The clerk said I was out of luck. The island transfer station is closed on Fridays, and they charge for every item they take (we left wallets on the boat) so the garbage is still in the dinghy. We did walk past the North Haven airport with its one mowed runway and a flashing light to warn motorists / pedestrians walking close by when a plane is about to land or take off.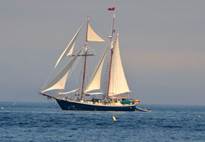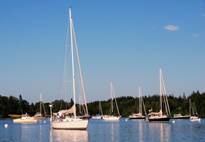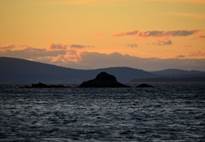 Marsh Cove, North Haven Island. August 17-18.
We made the pilgrimage to Marsh Cove. Pilgrimage, since this is the site of the Thomas J. Watson Jr. Estate summer compound. T. J. Watson Sr. was the founder of IBM, and his son was in the last years of being Chairman of IBM when we first started working for the company. The compound is impressive, with a dozen or so cottages / out buildings, a stunning main cottage on top of Oak Hill overlooking Penobscot Bay, a herd of white-tailed deer, an airstrip, a couple of major docks, a dozen moorings and evidently a collection of Model T Fords. One of the houses had lights on, but the whole area seemed quite deserted. There was one other boat anchored, and the few boats on moorings were small sailing dinghies or runabouts. We rowed out to Hog Island, which provides some of the protection for the cove, and discovered a massive amount of broken mussel, clam, lobster, crab and other shells and a large population of sea urchins that attack the mussels.
It was the weekend for the Penobscot Bay Rendezvous Race, and we saw the fleet rounding the east side of North Haven Island (about 35 boats). They sailed right into a dead air pocket and bobbed for about 20 minutes.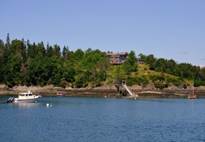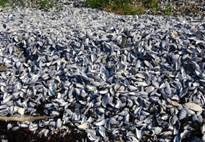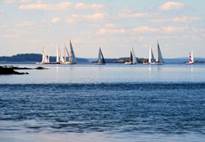 Winter Harbor, Vinalhaven Island. August 18-19. We left Marsh Cove in calm conditions and motored through water covered with lobster floats to Winter Harbor at the mouth of Mill Creek on Vinalhaven Island, the large island south of North Haven Island. It was an experience anchoring in a river with a 12-foot tidal range. We arrived at high tide, and then watched as the shoreline came closer and closer to us. As in Marsh Cove, the exposed mud and stone flats were covered with mussels, many alive, many empty shells. The flats looked like gravel flats, but when we got close we realized they were rock covered with shells. There were warnings about shellfish poisoning, and the water was not crystal clear as it was in Norway when we harvested cockles and mussels. There were only two other sailboats anchored up the river from us, but several went into Seal Bay south off the river. The description of Seal Bay was great, but the potential obstacles (2-foot unmarked rocks) caused us to opt for the safer river. Winter Harbor is hardly a village, and the harbor totally dries at low tide.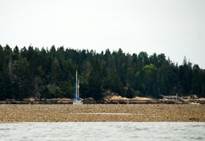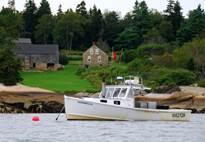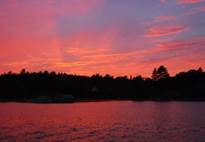 Perry Creek, Vinalhaven Island. August 19-20. With a SW wind on the nose, we motored through the Fox Island Thorofare. It is the well-buoyed channel between North Haven and Vinalhaven Islands, and alive with boats, mainly pleasure craft.
At noon we slipped into Perry Creek, a tiny river on the NW shore of Vinalhaven. We hoped to anchor, but the space was so limited because of private moorings, lobster floats and not very much water at low tide. We were just about to attempt anchoring when we got a call on the radio. A Scottish gentleman on a power boat asked us to please accept a mooring rather than anchor and he would help us find one. We asked him what the cost would be, and he laughed and said, "A McLeod mooring is always free." He manages the mooring field in this creek bed, which is surrounded by wildlife preserves. No charge... just give a night's mooring fee to the trust that manages the nature preserve. He was just leaving his mooring for a cruise of several days, so we did not get to know him any better.
We rowed the dinghy as far up the creek as we could (it was low tide). We met a couple who were harvesting mussels from their dinghy, claiming they were safe to eat. We enjoyed pea soup for dinner instead of mussels. There is a raft anchored in the middle of the creek upstream from the mooring field with a delightful hut on it, complete with many flower urns and an outside shower. A picturesque anchorage at high water, but we were amazed by the water in Perry Creek during the flood current. It was full of seaweed and bits of garbage such as plastic bottles and bags. We felt as if we were swirling in a bathtub full of filthy water. The mouth of a creek is not where we would choose to keep a boat on a mooring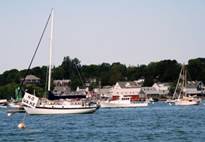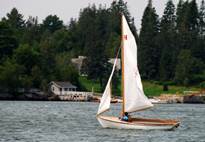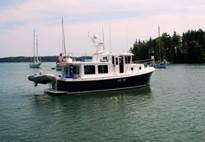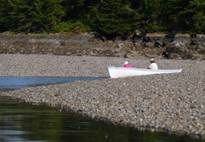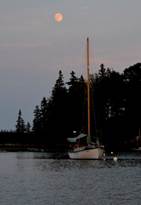 Dix Island, Mussel Ridge Channel. August 20 – 22. We had 10 knots of SW wind when we left the creek, so motored to Dix Island across the west bay of Penobscot. When we made this passage in 2006, we were enveloped in fog and a ferry almost ran us down from behind. We remember how difficult it was to keep a sharp lookout for lobster floats with such poor visibility. Yesterday's passage had good visibility, but it still took vigilance to avoid the floats. It is amazing any lobsters remain in Maine waters. But, we understand that lobster are abundant (the demise of ground fish, such as cod, has removed the biggest predator of lobster fry.) However, we also understand that the lobster harvesters are getting a record low price for their catch ($2./pound) because demand has not kept up with supply. BUT, how come we pay $10 / pound for live lobsters in Maine? There must be many middlemen.
According to our cruising guide, Dix Island is inhabited by a group of folks who live simply without electricity and water/sewage systems. It was not clear if this is a religious group or current-day hippies. However, at 6PM a local resident who runs a little catering business from her boat stopped by to sell as pastries, steamers (clams) and lobster dinners. We already had dinner underway, but could not resist buying a pound of steamers that she dug from her beach. Quite the little business! She did let us know that Dix Island (formerly owned by her boyfriend's grandfather) is currently owned by several summer residents who are far from being hippies.
We were anchored on the direct flight path to the Owl Head Airport. It services "puddle-jumpers" rather than jets, so the noise is tolerable, and the number of flights is less than 2 dozen a day. Quite a contrast to the anchorage at City Island near La Guardia Airport, where every 2 minutes a jet would queue up over us to land up until after midnight.
With a full moon, the tidal range is at its greatest ... 13 feet. Such a large range makes anchorages appear very different as the water rises and falls. At low, there are many little islands that appear, which are dangerous shallow spots at high tide. Most of the islands have sand beaches that are covered with broken shells (clams, mussels, snails, crab), but we did not discover any mussel bed that we could harvest (the water is clear, at least). We took a nice row around the harbour. Last night and tonight the sunset was magnificent, and the full, orange moon has risen and its reflection in the water is breath-taking.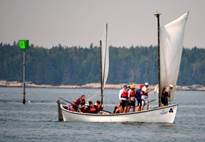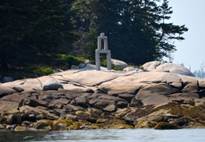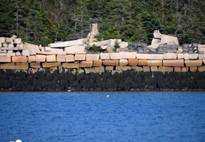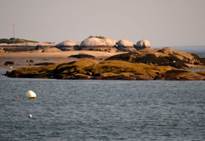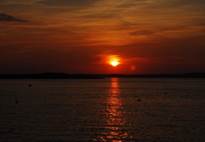 Maple Juice Cove, St. George River. August 22 – 24. We left Dix Island with light wind on the nose, so we motored most of the way to Maple Juice Cove at the mouth of the George River on mainland Maine. We followed a convoluted, buoyed channel through dense lobster areas, and finally had a good shot northwards, so unfurled the Genoa and actually had a pleasant sail for the last hour and a half.
Maple Juice Cove is a centre for inshore lobstering. There are a couple of dozen lobster boats in the vicinity, and a local retailer. Once we were anchored we rowed to the local retailer and after a short wait, someone showed up to service us and two other customers. In August the lobsters have shed their hard shells and are growing a new shell, so the lobsters caught now are "soft shell" lobsters. They do not transport well, so are either sold locally or processed into frozen or canned product. We find the soft shell lobsters sweeter than hard shell, and easier to break the shells. We bought 4 lobsters for $17. and have a feast for 2 nights.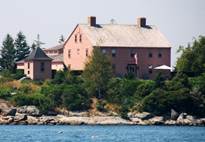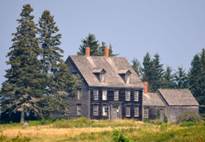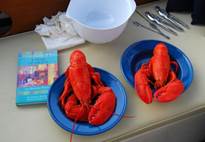 Ebenecook, Sheepscot River. August 24 – 25. We actually sailed with all 4 sails flying. Sometimes we were just ghosting along, but it was delightful to sail. It was quite a different feeling dodging the lobster floats, taking into account leeway and longer response times from the wheel.
There are 3 coves in Ebenecook, and we had planned to anchor in Love Cove, but the outer part of the cove is a cable area, and the inner part had shoals and too many moorings to dodge, so we are in a large bay outside the coves that is well-protected, but not too restrictive.
There was a rendezvous of some sort just outside Love Cove. About 20 boats, mainly power, were anchored or rafted having a Caribbean celebration with Bob Marley songs and steel band music. The party broke up before dinner, probably to give boats time to get through tight channels and back home before sundown, which happens around 7:30 PM.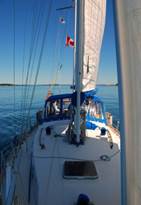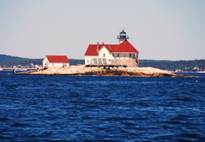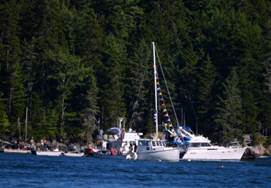 The Basin, New Meadows River, East Casco Bay. August 25 – 27.
This anchorage is completely landlocked and delightful. We took a row in the dinghy at high tide and investigated the half dozen coves and dry creek beds. The woods were loaded with belted kingfishers, a bird we saw on Cape Breton Island last summer, but had not seen since. Also, there were plenty of osprey, seals, black guillemots and eiders. Some of the birch trees are just beginning to turn, and there were birch and oak leaves floating in the water, a sure sign autumn is on the way.
The shore has many large cottages that are discretely hidden in the woods so they are inconspicuous. Almost every cottage had a patio with a good view of the sunset with beach chairs and tables. Lots of flower boxes. Understated opulence. One of our favourite boats so far was the Sorceress. It is 34-feet long, including a very long bow sprit, fibreglass, but looks like wooden planks. Huge gaff main, staysail and a tiny Yankee. No one was onboard, and it did not go out while we were in The Basin. Pictures are in the photo gallery, with 3 of our favourites below.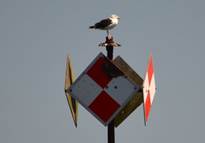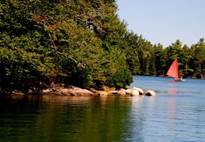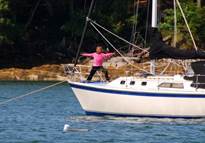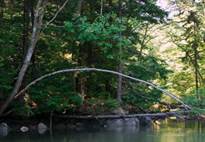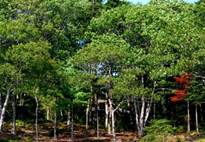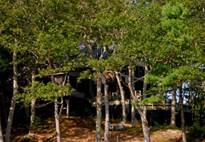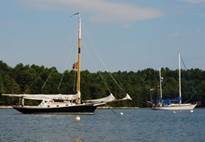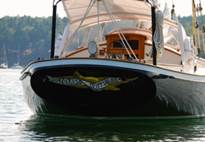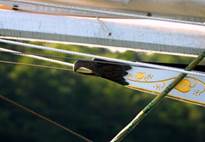 Cliff Island, Casco Bay. August 27 – 28. We arrived at a bight on the north shore of Cliff Island just after low tide. We are glad we saw the drying spit of land before we anchored. It is extensive, and had it "appeared" during low tide a dinner, it would have been startling. We were anchored about 600 feet from it. Cliff Island looked like it had succumbed to devastation. Many of the trees had been uprooted and were dying, either from some blight or from a storm, or both. We also had a significant surge in the anchorage at high tide when the spit of land was underwater and did not provide wave protection from the ocean.
In the morning we woke to fog. It came in, lifted, came in, and lifted. We would hear a fog horn come and go with the fog. We had arranged to stay 2 nights at South Portland Marina. The channel to this marina drops to 4 feet at low tide, so we had to time our arrival for 2 hours before or after low tide. At noon we called the marina to find out the fog conditions in Portland. "Blue sky; clear" was the response. We indicated where we were anchored; we could barely see the drying spit of land 600 feet away. We wanted to know how extensive the fog bank was likely to be. Sometimes an island or headland is fog-bound but the area around is clear. We were told the fog would probably lift at Peaks Island (about half way). We decided to make a run for it. Well... the fog never lifted until we were right in Portland Harbor.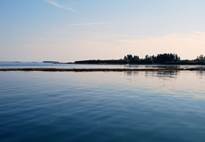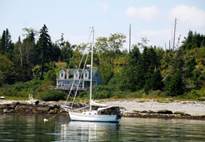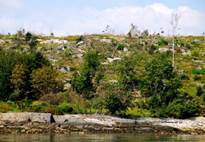 Portland. August 28 – 31. So...we have our chart plotter with charts and AIS signals (showing large commercial boats, for the most part), we have our radar, we have lobster floats and boats to avoid, and we have a horn to sound every 2 minutes. There were strong currents in some of the narrower passages. We could hear fog horns and sound signals from other boats. Just as we were approaching Portland, we heard a very loud sound signal we assumed was from a cargo ship in the shipping channel. How surprised we were when the fog lifted and we saw it was a 150-foot long power cruiser.
We are in the furthest-in marina in the harbour. The popular marinas were filled with huge boats. One sailboat had a mainmast with 5 spreaders. The mizzen had only 4. There were red lights lit on top of each mast at night. It was 184 feet long (Fidelius, details at http://www.perininavi.it/en/fleet/sailing-yachts/fidelis#technical-specifications ). The South Portland Marina was within walking distance of two grocery stores, a hardware store and a NAPA (auto parts) store. What more could you want?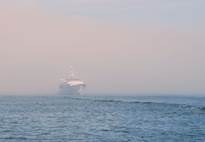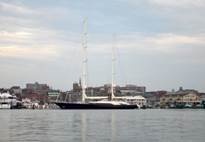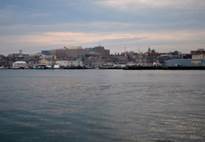 Pepperrel Cove, Kittery, ME. August 31 – September 1.
This harbour is right on the border between Maine and New Hampshire. Technically we were anchored in Maine, but just across the harbour is Portsmouth, NH. We left the South Portland Marina a bit before 7AM and motored first in light winds, then in 10-14 knots from the SW and S. We heard the fog horn, but the visibility was OK. Overcast and murky, with sun glare that was nearly blinding. The last 12 miles we were able to sail, but it was a long day. 55 nautical miles and 9 hours at sea.
At sundown we heard a bugle playing taps and noticed we were anchored under Fort McClary, dating from the early 1800's. Once the boat traffic settled down for the night, the waves also settled. The forecast rain did not happen and it remained warm and humid.
We looked for Bangalore, a 44-foot cutter Jane's Dad owned in the 1960's which is (or was) kept in Portsmouth, and is currently on the market. See http://yachtbangalore.blogspot.com/  for pictures and history.  We could not find her, but then we were in Kittery rather than Portsmouth.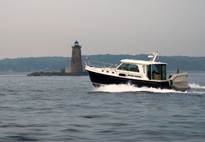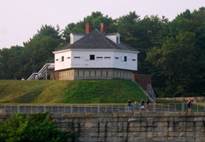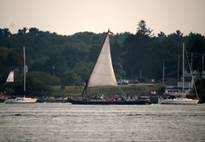 Gloucester, MA. September 1 – 3. We left with an overcast sky and a murky horizon, but the visibility was good and the light wind from the west was encouraging. We left at 8:30 and motor-sailed all the way to Gloucester, getting a good boost from the wind that peaked at 14 knots. There were rain and flood alerts through Massachusetts, and we saw heavy rain falling both on land and off shore. We also heard radio traffic concerning the rain. However, we only had a light sprinkle, and the visibility was good.
We came across a flock of small birds on the water which we could not identify. They were swimming in the water about 8 miles off shore, so we never thought to search for shore birds. They were phalaropes taking a break from the beach.
At 3PM we arrived in Gloucester. In the bay south of Gloucester, north of Marblehead, we noticed a number of large gaff-rigged schooners in the mists. When we anchored we heard race canons, and later learned there was a major schooner regatta on Labour Day weekend.
On Monday morning (Labour Day), we woke to a brief downpour followed by fog. With poor visibility, it was difficult to get the gist of what was going on regarding a race very close to us. There was a race committee boat complete with RC and other racing flags, crew and a race canon. There were 7 boats, all small runabout power boats except for one sailing dinghy with an outboard. Sails remained furled for this race. In one of the boats a man seemed to be giving some kind of signals with an umbrella he opened and closed and held high for all to see. There was a proper start sequence and the boats meandered over the start line without any great speed. After several minutes, someone on the committee boat held a life jacket aloft, and the boats returned to the finish line. They did this twice, all in the fog, and then left.
In the afternoon the fog lifted and we study the shoreline. HUGE cottages lined both the eastern and western shores of the outer harbour. Most of them seemed to be vacated (no lights on). One building looked like a modern medieval castle, and we discovered it was a medieval museum, which had nothing in particular to do with Gloucester. Fishing and lobster boats were constantly on the move, their dry exhausts very noisy and kicking up a pretty large wake. By evening we were hearing thunderstorm warnings again, and the sky was dramatic, but no rain fell, and Tuesday dawned overcast, but with clear visibility.
We called the Gloucester Harbormaster and were given permission to take one of the town moorings in the Inner Harbor, close to the dinghy dock. Since Gloucester and Lunenburg had a lively fishing and sailboat racing competition in the 19th century, we hoped to see some evidence of this, but there was none. In fact, we were surprised the city had not capitalized on the Perfect Storm novel and movie. There was almost no mention of the book / movie. In fact, the city is really a fishing village that has lost most of its business. The city has not tried to foster tourism. The houses are mainly clapboard and in poor condition. The inner harbor is dilapidated; there was diesel oil on the water. And...there was no place to buy fresh fish other than one over-priced outlet selling lobster at $10/ pound (we got it in Maine for $3 / pound) We walked to the Memorial to lost fishermen, and to fishermen's wives and children. To get to it we went across a drawbridge over the Annisquram River / Blynman Canal. The main street could have been charming, but wasn't. The galleries and gift shops were dowdy and lacked interest. In short, it could have been better, and did not have the interest or charm of Lunenburg.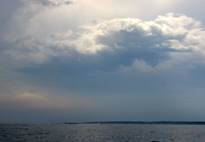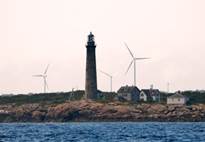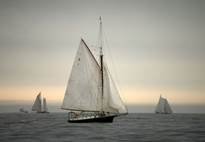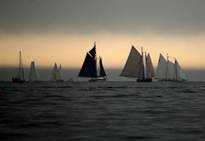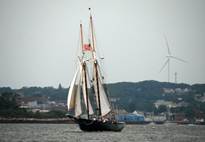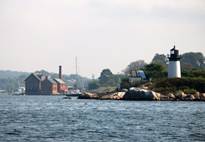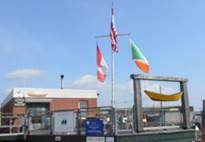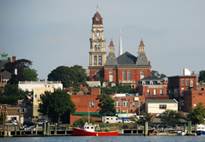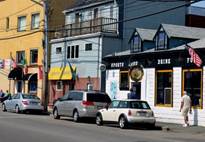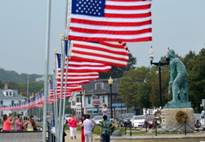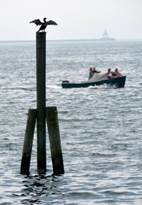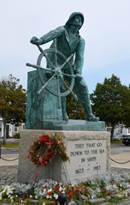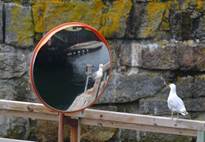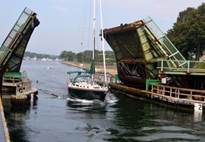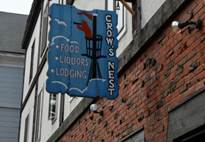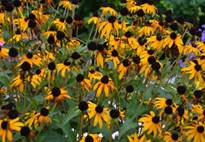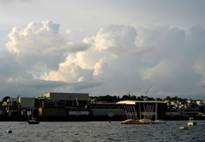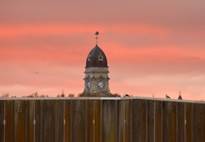 Provincetown, Cape Cod. September 4-5. We had fair winds for sailing from Gloucester to Provincetown on the tip of Cape Cod. The air was still laden with moisture, and the mirage of the Boston skyscrapers rose out of the water, reminding us of Toronto as seen from Niagra-on-the-Lake. The Pilgrim Monument in Provincetown guided us into port. The pilgrims landed on Cape Cod and stayed for 6 weeks before moving across the bay to Plymouth. The monument is not a navigation aid, but is more prominent than any navigation aid in the vicinity.
Brian spent much of the day cleaning the speed log (2nd time in 2 weeks) which had stopped working. A tiny shrimp had lodged in the mechanism. He also checked the wiring to ensure it was still in good condition. Jane tried to make heads / tails out of several conflicting advisories regarding the tidal currents in the Cape Cod Canal. These currents run up to 4 knots. We agreed which advisories to ignore and determined it was best to begin our east-to-west transit of the canal as soon after sunrise as possible. The problem: there are no anchorages close to the entrance of the Canal. The weather forecast was for calm conditions, so anchoring off the Sandwich Beach seemed feasible. However, the moderate northerly winds for 2 days had built waves that would have been slamming us broadside, and Jane decided that would be unbearable. She called the Sandwich Marina at the east end of the canal and made a reservation for Pilgrim. We checked with the marina office to find out the tidal current information we should be using. It turns out, according to the official Corps of Engineers document on the canal our calculations were 6 hours out. The Northern Waterways Cruising Guide was 100% wrong in their advice.
We have now gone the length of Cape Cod Bay twice: once in 2006 and this year. We thought we might see a whale, since the bay is a sanctuary for the nearly extinct Right Whale, and Salt, a humpback, has raised 13 calves in the bay. But no sea mammals were seen, except for a dead seal on the beach in Gloucester.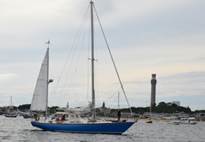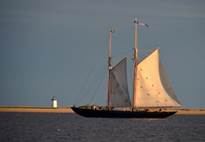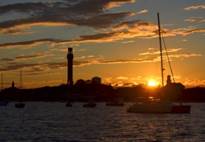 Onset, MA. (September 7) We transited the canal with no problems either with the current or other boats (two large fishing trawlers and one cargo ship passed us, in addition to a dozen or so runabouts.)
Onset is a lovely, secure space adjacent a large mooring field. There were about 8 boats anchored with us. When we were in this anchorage in 2006 it was much more crowded (and about a week later).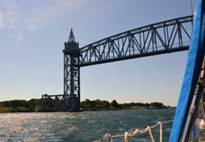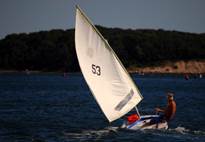 Naushon Island, Hadley Harbor. (September 8) We waited until noon to leave Onset to ensure we had a slack or favorable current going south to Woods Hole on Buzzards Bay. Buzzards Bay runs SW to NE, and with the prevailing south westerlies during the summer, the seas pile up at the Cape Cod Canal end, and when the current is favorable for travel into Buzzard's Bay, the waves hit the current, and become steep chop. We had wind from the NW (favorable), but it was also fickle, dropping as low as 5 knots, then picking up to 18 knots, and veering and backing through 50 degrees. We tried to sail, but the last hour we were so frustrated we motored with the main up. Our destination was just south of Woods Hole. Hadley Harbor has an inner and outer anchorage. All the boats had gone into the Inner Harbor, which had several moorings and constricted space for maneuvering. We anchored in the outer harbour, which was marginally protected in north winds. The winds kept building after sunset from the NNW, and the wind and waves curled around the protecting point of land, giving us a very bumpy night until the wind lessened after 2AM. There was a symbol indicating striped bass fishing. Brian tried his hand, but caught nothing.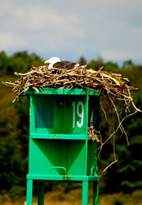 Martha's Vineyard, Edgartown. (September 9) We left Hadley Harbor and entered the Woods Hole Channel to get into Vineyard Sound where the current was running with us at 2.5 knots. There were large ferries in this passage going from Woods Hole to Martha's Vineyard, and steering in such a strong current was challenging. Thank goodness there were no fishing / lobster floats to dodge.
We wanted to anchor, but space was so restricted that we picked up a mooring in Edgartown, the eastern-most town on Martha's Vineyard. There are over 700 moorings in this protected harbour that was a whaling centre in the 19th century. The cost to pick up a mooring for the night is $40, and that does not include any other services. We understand that during the summer every mooring is taken: city revenue: $28,000 per night! We paid a local water taxi service to pick us up and take us back to the boat ($4 each, one way).
Edgartown is a delightful New England village, oozing wealth in charming clapboard or cedar shingle cottages. Some of the houses were built by whaling captains in the mid-19th century. The shops are chic boutiques and overpriced fish outlets. Lots of ice cream parlors and a Murdick's Fudge shop Why is Murdick's Fudge important to mention, you may ask? Murdick's first fudge shop was opened on Mackinac Island at the north end of Lake Michigan in the last 19th century. Sailors in the Chicago to Mackinac Race used to joke, "It's a long way to go for a piece of fudge." In the early 1950's Murdick's opened a shop in Charlevoix, where Jane spent her summers as a child. There was always a slab of Murdick's fudge in the cottage. With a little research we discovered that the Martha's Vineyard shop was opened in 1979 (latecomer on the scene). However, it was still a welcome sight in Edgartown.
The harbour at Edgartown is formed by Martha's Vineyard on the west and Chappaquiddick Island on the east. Chappaquiddick became famous in 1969 when Edward Kennedy drove a car off a bridge and the young woman traveling with him was killed. The bridge is a small wooden structure that goes over a shallow salt pond. Access to Chappaquiddick from Martha's Vineyard is by a ferry that crosses the mouth of the harbour.
The Old Whaling Church was built by whaling captains in 1843 and is now secular. It is considered one of the finest examples of Greek Revival architecture in New England. It is next door to Dr.Daniel Fisher's house with its lovely garden. This is an ideal location for weddings, concerts and other events that include a fancy reception.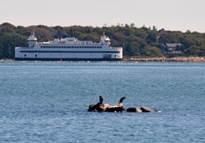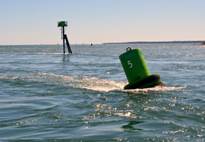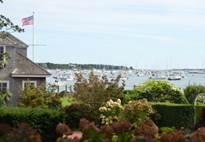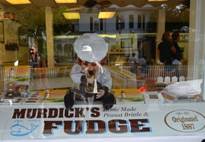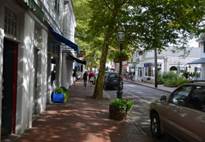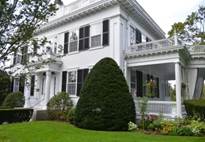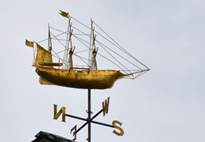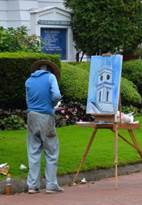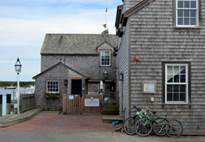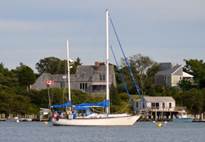 Martha's Vineyard, Vineyard Haven. September 10. It was a short trip with the current in our favour from Edgartown to Vineyard Haven. We tried to pick up a mooring in the Inner Harbor, but the moorings were so close together and filled with boats and the wind was strong that we did not feel comfortable maneuvering Pilgrim in the tight quarters. We anchored about ˝ mile from the inner harbour, and decided to stay on the boat rather than put the motor on the dinghy and put up with a wet ride to the dinghy dock. We are glad we went ashore in Edgartown. It had the charm; the Haven is more commercial with cargo ships, barges and ferries.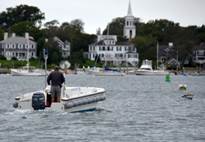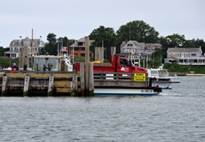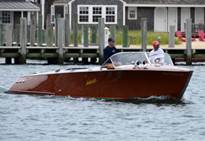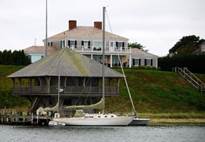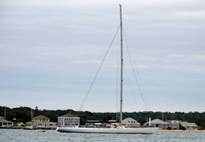 Cuttyhunk Island. September 11. The fog horn was sounding, but the visibility was quite acceptable as we left Vineyard Haven at 7AM. The 3 miles out of the harbour going north with the SW wind was great. Then we got to Vineyard Sound. The current kicked in, mid-tide, so it was full bore at 2.5 knots going NE to SW. The SW wind also freshened from 12 to 17 knots with gusts to 22. We were being swept along by the current, but pounding into standing waves 6 feet in height, which knocked our speed from 8 down to 5.5 or 6 knots. We only had 18 miles to go, and were on a mooring in Cuttyhunk by 10:30, but what a ride.
Cuttyhunk is a strange little island with a year-round population of 86 people. It swells to 400 in the summer and has regular ferry service during July and August. It is a sand dune with some scattered rocks. An adjacent island had some cows on the hillside and one in the water along the shoreline. (It was a very warm day) There is little more than scrub vegetation, and the sandy shoals are constantly changing. There have been a number of notable shipwrecks, the most famous and recent being the cruise ship QE2 which ran aground in 1992, requiring $13M in repairs. There is a coast guard station, but it closed in 1964.
The inner harbour has 50 moorings very closely spaced. When we arrived there were only a couple of boats on moorings, so picking up one was easy. By evening, there were about 20 moorings taken. The cost is $45/ mooring / night. During July and August all the Inner Harbor and most of the Outer Harbor moorings are occupied, providing revenue of $xxx. To the island.
Cuttyhunk Island also is the site of the largest striped bass catches (73 pounds in 1967).
Cuttyhunk was our last port in Massachusetts. Rhode Island and Long Island Sound beckoned.