Mainland, Nova Scotia, August – September, 2012
<![if !vml]>
<![endif]>
Our track down the coast of Nova Scotia
As we entered St. Peter's Inlet after going through the lock at the southern entrance/ exit to the Bras d'Or Lakes, the gentle swells of the Atlantic greeted us.  Even in dead calm conditions, the swells are constant companions on the ocean.  As we neared the Canso Ledges where the depth shallows and the waves reflect off the shoals, the effect is similar to being inside a washing machine, especially in calm conditions.  The entire Eastern Shore from Canso to Halifax is studded with island and reefs well off the mainland; it is common to see snarling white foam far from shore. 
<![if !vml]>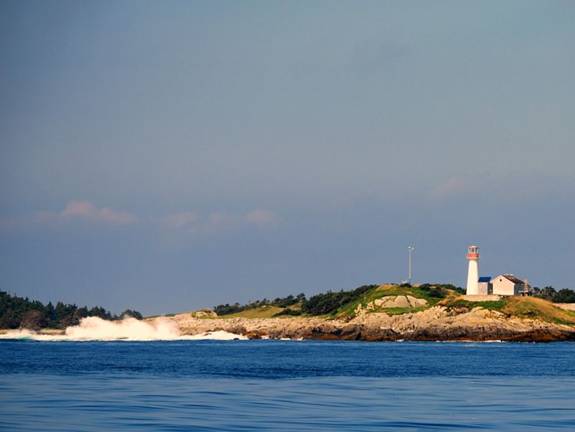 <![endif]>
The sea swells exist even in an apparently flat sea
There used to be an "Inside Passage" marked with navigation aids, but most of these buoys have been removed, making it prudent to take long passages out to the fairway marks before progressing further west towards Halifax.  The major navigation buoys have either a bell or a whistle to help "see" them in poor visibility.  The whistles are bass-baritone foghorn whistles that are powered by the sea swells.  They huff and puff their mournful song and in quiet conditions can be heard for up to a quarter of a mile.
<![if !vml]>
<![endif]>
Whistle and bell buoys provided a musical accompaniment to our passage  
The entire Atlantic shoreline from Labrador to Nova Scotia is commonly ensconced in fog.  In fact, in Newfoundland you can purchase canned Newfoundland fog in tourist shops.  We were fortunate to have clear weather for most of our cruising down the mainland coast, a phenomenon that astonished many local sailors.  We only had one passage that required Radar, electronic navigation equipment, and keen senses. 
In 2006 we were stranded at the marina in Canso for days waiting for Tropical Storm Beryl to pass.  We had a rare deadline to meet:  a daughter's wedding, so we decided to sail overnight from Canso to Halifax.  This time we wanted to see the harbours, even though it meant going "out of our way" by more than 5 miles to get to the harbours.  Five miles may not seem like much, but in a sailboat it would take us an hour to get into the harbour, and then the next day another hour to get back to safe water outside the fairway buoys. 
<![if !vml]>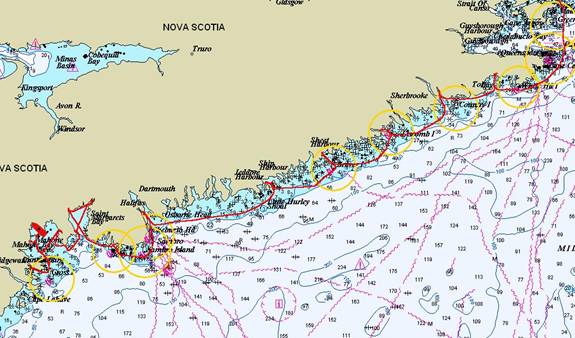 <![endif]>
Each of the harbours we visited are deep into the coast line and take an hour or more to reach
Torbay, Cole Harbour:  This is a remote bay with several houses, some in a complete state of disrepair, and only one dwelling had lights on.  A woman and her dog were on shore in a pop-top camper.  Communication with the outside world could only be done through SSB radio:  no internet, no mobile service, and even the VHF radio signal was intermittent. An old wharf had stacks of cages.  We thought they were lobster traps, but on closer inspection the cages held birds (as in pets).  An eagle soared overhead and mosquitoes swarmed us at dusk.  We also saw a family of scoters, black duck-like diving birds and an Osprey.  Cole Harbour reminded us of the outposts that had been abandoned in Labrador.  The signs of a once thriving community were barely visible.
The sky was laden with humidity, and thunderstorms were forecast.  With the rain came wave after wave of fog banks.  We stayed in Cole Harbour for two nights.  The rain cleared, but the fog still rolled in and out.  We decided the visibility might be better outside of the harbour.  We were wrong.  Radar, the chart plotter and visual lookouts kept us safe as we picked our way through an inside passage from Torbay to County Harbour.  As we anchored in Isaac's Harbour we could not see the shoreline.  Just as the anchor bit, the fog lifted enough to show we had adequate water under any wind conditions.
<![if !vml]>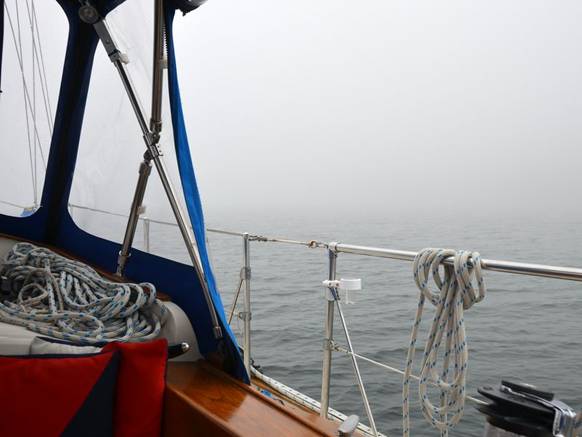 <![endif]>
County Harbour, Isaac's Harbour:  Issac's Harbour is on the east shore and Goldsboro is on the west shore of this anchorage.  Goldsboro has a wharf that was constructed for offshore gas supply ships going to Sable Island.  We were greeted by a harbour seal that swam around the boat all afternoon.  We also saw 3 loons, a gannet, and the usual gulls and cormorants.  There is an Interpretation Centre (museum) on the wharf, probably about the gas industry off Sable Island.  Lots of folks in cars were there during the day, the fisher folk came out in the evening to fish from the wharf. 
<![if !vml]>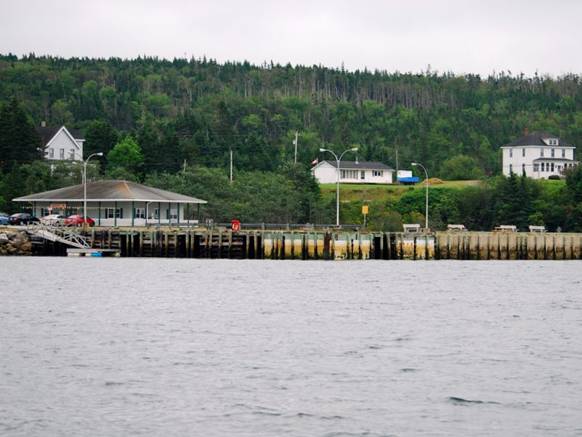 <![endif]>
It was fascinating to leave the harbour with clear air rather than fog.  The natural gas processing plant was quite evident with 3 stacks, one flaring, and a clearing where the pipeline from the Sable Island gas field (about 90 miles east) came ashore.   
<![if !vml]>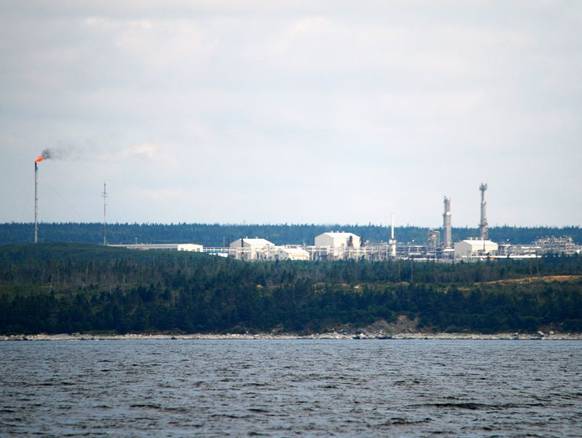 <![endif]>
Liscomb:  Liscomb is a popular stopping place for cruisers traveling between Halifax and Cape Breton Island.  There is a province-run lodge / marina and several good anchorages.  There seem to be more cottages than permanent residents.    We enjoyed watching an eagle, a heron, mergansers and gannets.  One gannet amazed us as it soared right over our boat, then landed at the bow and drifted back, acting more like a begging
gull than a gannet. 
<![if !vml]>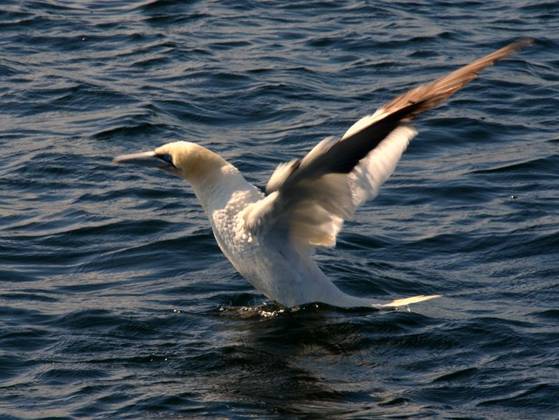 <![endif]>
Beaver Harbour:  This harbour is most attractive with a few modest cottages.  We were spell-bound watching 3 ospreys in a nest fairly close of the boat. We think one is a young one with 2 parents. Local cottagers told us that most evenings a visiting boat was anchored in the harbour, although our Nova Scotia cruising guide did not list this specific anchorage.  It was far enough off the fairway route that the constant Atlantic swell was not noticeable. 
<![if !vml]>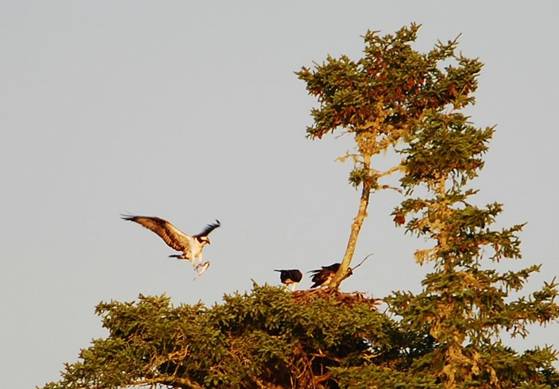 <![endif]>
Dinner is served
Ship Harbour, Deep Cove on Borgles Island:  This last anchorage before Halifax was not all that attractive, but was convenient.  We were anchored halfway between the shoreline and a rock outcropping that seemed innocuous at high tide when we anchored, but became more menacing looking as the water receded and revealed more and more of the shoal.  The cormorants and seals argued with each other for perching rights, especially as the tide came back in.  We thought we were miles from any community; we could see one small cottage was on a tiny island.  When a local tour boat came through the anchorage we were astonished.  The seals were the star attraction, not us.
<![if !vml]>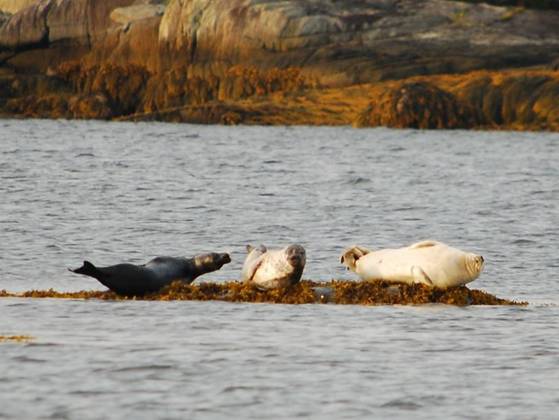 <![endif]>
Tourist bait
Halifax:  During our  6-day sail down the Eastern Shore was predominantly in a west south west direction, and of course the winds were always from the southwest. The harbour of Halifax is 5 miles northwest from the Atlantic, and wouldn't you know it, we finally had northwest winds. This made the trip up the harbour against the wind. We had to dodge a number of sailing dinghies from the Royal Nova Scotia Yacht Squadron (RNSYS) as we made our way into the RNSYS docking area. Fortunately 3 RNSYS staff members were on hand to help us with our lines. There is just a fenders' worth of space between us and the J120 next to us. A Farr 30 shared the dock with us. Two racers next to our comfortable cruising boat.
Another Whitby 42, Shamel, was docked at the RNSYS.  Liberal politician Sheila Copps used to own the boat that is now owned by a couple from Hamilton. Motoring down the Eastern Shore they noticed a terrible shimmy from their prop shaft and were delayed in Halifax since early August getting the shaft replaced.
<![if !vml]>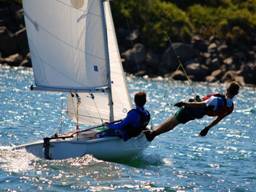 <![endif]> <![if !vml]>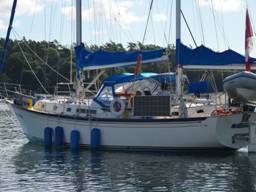 <![endif]>
The major attraction in Halifax was having two grandchildren on board for the first time.  5-year-old Jenny and 1-year-old Alex had fun pushing buttons on the chart plotter and turning the wheel through its 5 revolutions from hard to port to hard to starboard. 
<![if !vml]>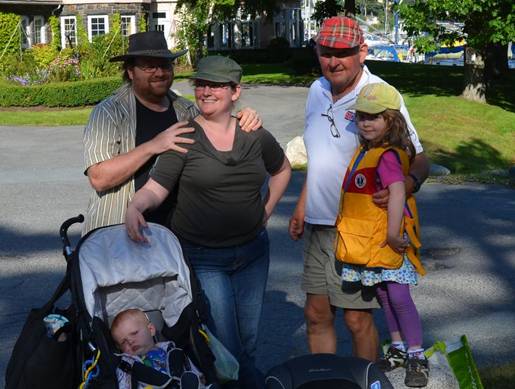 <![endif]>
Rogue's Roost. This is a favorite anchorage for Halifax boats, and folks that have runabouts in the area love to cruise through the anchorage.   Since we were in this harbour on a weekday there was only one other boat at anchor and 4 boats on the 3 mooring buoys in the anchorage (two boats rafted).  We took the dinghy out for a row, and Brian did a few casts before dinner without a bite.  As we ate dinner the local birds put on a great show.  Two eagles, an osprey and a great blue heron had us glued to the binoculars and cameras.  The eagles and osprey tried to catch fish without success. 
<![if !vml]>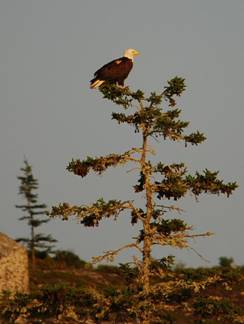 <![endif]>  <![if !vml]>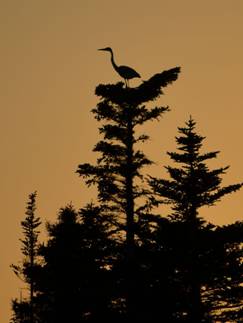 <![endif]>
Watching for the signs of fish from the highest perch
St. Margaret's Bay, Schooner Cove:  The forecast was for thundershowers on the next day. If we stayed at Rougue's Roost, we would be there for 3 nights. We decided to move further along the coast, past Peggy's Cove into St. Margaret's Bay. There are not many anchorages in St. Margaret's, but cruising friends told us their harbour, Hubbard's Cove in the NW corner of the bay, was a hurricane hole. With 10-15 knots of SW wind, we had a great sail up the bay. However, when we entered Hubard's Cove we discovered it was packed with moorings. There was no way we could anchor with reasonable scope and cope with a wind shift, so we moved on to Plan B. Schooner Cove in the NE corner of the bay became our destination. It is a larger cove, with many fewer moorings, and very large cottages / homes. As we left the channel and entered the cove, the wind dropped by 10 knots … a good sign.
The bird life was hum-drum. Instead, the people, cottages and boats had the attention of our binoculars. The cottages have large, manicured lawns, and despite the rain there were lawn mowers humming and hoses sprinkling. A water boarder doggedly practiced in the rain for several hours, using us as a turning point.   
After two nights in Schooner Cove, we woke to a clear sky and NW winds. We had a good sail to the Southwest Cove at the bottom of St. Margaret's Bay. However, the cove was full of moorings, so we went to the Northwest Cove and anchored off an old fishing wharf. Brian caught a couple of mackerel and we had lunch. The wind increased to 20 knots.  We checked the weather forecast and were surprised to hear that the previous forecast for Thursday of light winds had changed to a strong wind warning with S'westerlies gusting to 30 knots.  We decided to haul anchor and despite our 20 knot winds from the NW moved to Mahone Bay.
Mahone Bay, Deep Cove:  We arrived at Deep Cove with 18-20 knots at the entrance but at anchor we had less than 3 knots. A good hurricane hole.  We were in this harbour in 2006. It is much the same, with ugly summer homes on shore at the head of the cove, a goodly number of moorings, and an establishment near the mouth of the cove that was a marina, but has now become condominium apartments. Since we had packages to mail, we discovered a post office a couple of miles away in Blanford.  A welcome 2-mile hike got our packages mailed, and we got to see the Blanford Harbour from a distance, and the small Gates Cove Harbour between Deep Cove and Blanford.
<![if !vml]>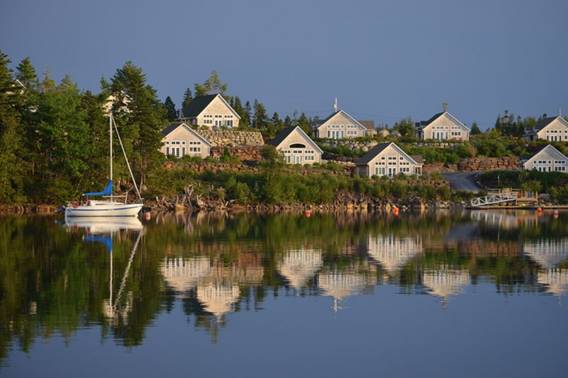 <![endif]>
Ugly condos dominate a once beautiful cove
We stayed 3 nights in Deep Cove with Strong Wind Warnings for our marine district, but we had very light winds in the anchorage. The wind barely got any power from Wendy, our wind generator. Brian spent time fishing from Pilgrim in the dinghy, and Jane had some time in the kayak. Although the cottage development is very ugly, it was quiet. We enjoyed watching the eagles and ospreys.
<![if !vml]>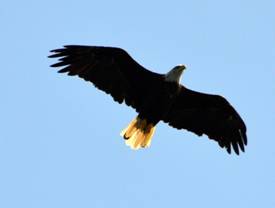 <![endif]> <![if !vml]>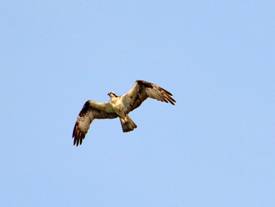 <![endif]> 
Bald Eagle and Osprey
<![if !vml]>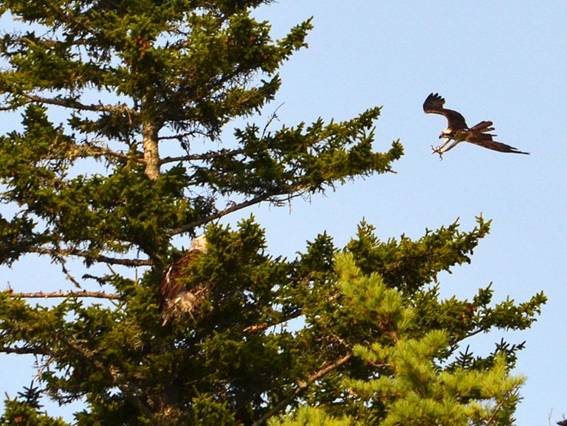 <![endif]>
Osprey attacking a Bald Eagle invading the Osprey nest
The third morning in Deep Cove we woke to NW winds up to 15 knots, which was perfect sailing weather to go to Lunenburg. The wind lightened up mid-way, requiring a brief motor leg, but then picked up again for a great reach to the harbour entrance.
Lunenburg:  We anchored in the mooring field. There were two French cruising sailboats and Columbus, the Sea Sheppard (French) observation boat. The Farley Mowat, a most ugly ship that the Sea Sheppard organization used as its main ship, was also in Lunenburg. Back in 2010 it was taken by the Canadian Coast Guard when it was protesting the seal hunt in the area just south of Newfoundland. It has been docked here ever since, awaiting trial, we think.
<![if !vml]>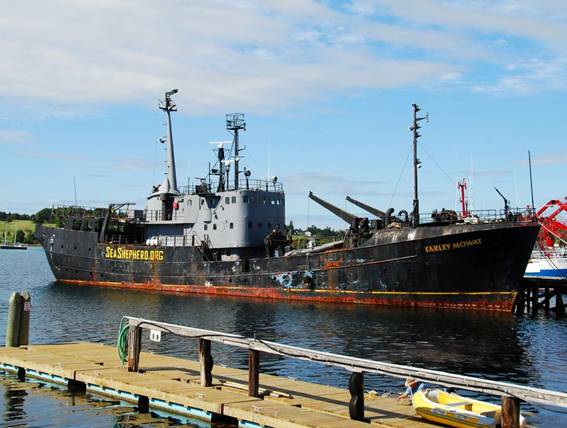 <![endif]>
Lunenburg is a lovely tourist town, and we enjoyed our 3 days there. We visited the site where the Bluenose II is being restored. Bluenose II was built in 1957 after the original Bluenose sank off Haiti in 1946. The original Bluenose never lost a sailboat race, even though she was built as a fishing schooner rather than a racer, and competed in International races, especially with the schooners from Gloucester, MA. The restoration should be completed later this fall and it should be on the water again next year.
<![if !vml]>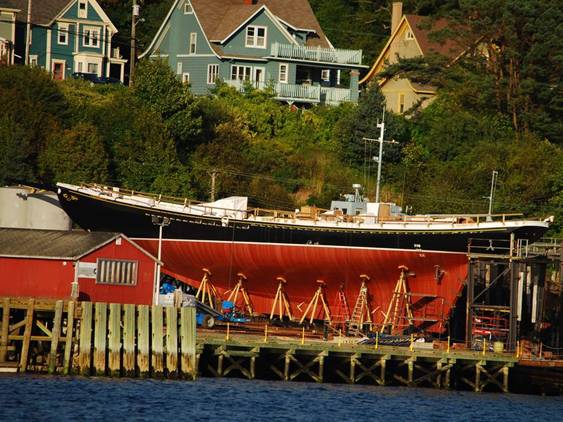 <![endif]>
The town has been beautifully preserved. Most of the houses are wood, and many have a "Lunenburg Bump" which is a dormer above the front door, which is in a bay. There are many chic shops and restaurants, as you would expect in a tourist town, but all is tastefully done.
<![if !vml]>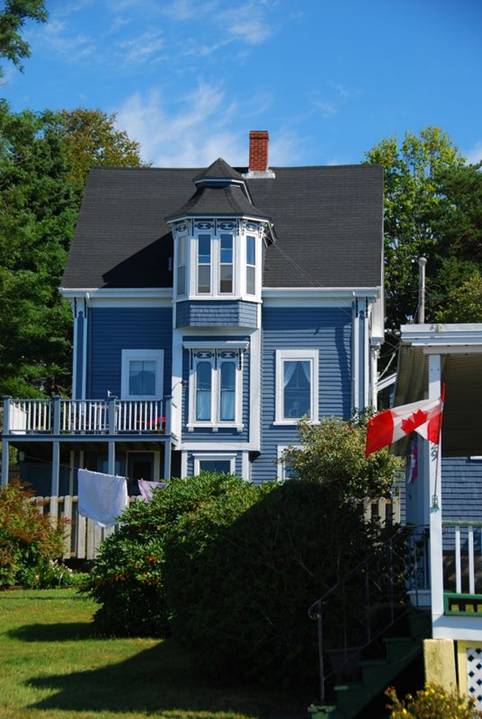 <![endif]>
We spent an entire day at the Fisheries Museum of the Atlantic. The aquarium, touch tank, displays, and boats were well presented. There was an entire room devoted to the Bluenose, and another devoted to the fisher folk from Lunenburg who have lost their lives at sea. There were many examples of different styles of fishing boats and fishing methods. The two large boats were the last sailing schooner that was eventually fitted with a diesel engine, and a steel trawler built in 1962 and retired in 1982.
<![if !vml]>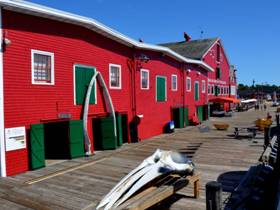 <![endif]> <![if !vml]>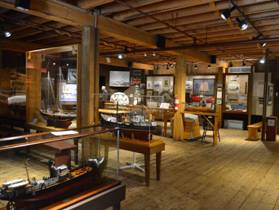 <![endif]>
We talked with a couple of the other cruisers who were anchored, and finally met the owner of Whitby 42 hull number 7 (we are 304), who has our original sails. He keeps his boat in Southwest Cove in St. Margaret's Bay, but had sailed to Lunenburg for the long weekend.
After our stay in Lunenburg we anchored in a couple of anchorages on the western shore of Mahone Bay.  There are numerous islands and coves on the western shore, and some are good anchorages.  All are studded with cottages, both grand and modest, and resorts.  We continued to enjoy the birds:  eagles, osprey, loons, and herons.  We saw cormorants and loons catch flatfish, and then try to eat them.  Although the fish were not large, their shape was awkward for swallowing, but most of the birds were eventually successful in downing their catches. 
<![if !vml]>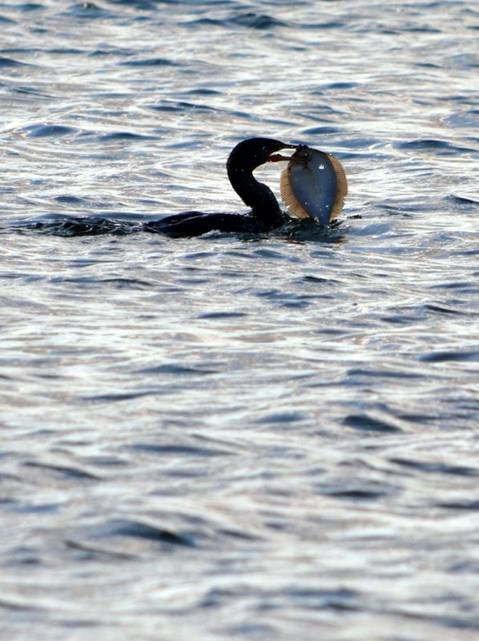 <![endif]>
The fish … she was too big
We took refuge from Hurricane Leslie on a mooring in the Back Harbour in Chester.  Fortunately Leslie did not come too close to Nova Scotia and the wind was from the north.  The Back Harbour provided such good protection that our wind generator did not give us enough power to keep the refrigeration going.  After the Leslie, we decided to stay on the mooring and begin working on our long haul out to-do list.  Larry Pringle of PremiereSEA Ltd helped us find technicians to check out our diesel, refrigeration and exterior wood problems, and arrange for the haul out at a local yard. 
<![if !vml]>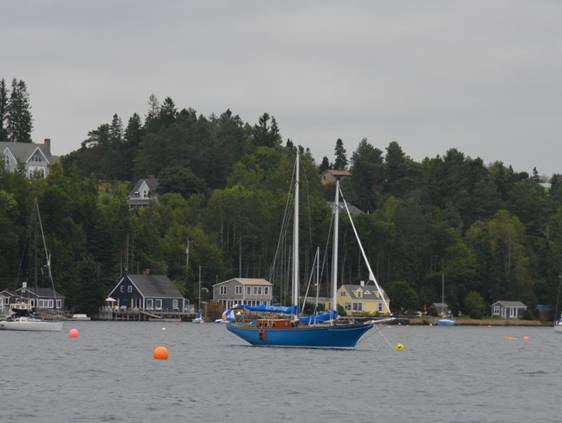 <![endif]>
In 2012 we traveled 1325 nm from June 14 until September 8.  We used the engine for 196 hours.  That is the shortest distance traveled since 2004 and the fewest engine hours as well.  It was a relaxing season.