Iceland to Labrador Passage, Saturday, July 2 – Tuesday July 12, 2011
The good news is that we had an excellent weather window for the passage.  The bad news is the southern tip of Greenland on both the east and west entrances to Prins Christian Sund were iced in and treacherous to attempt.  We believed the ice reports were correct:  the air was cold and smelled icy.  In addition, the land (too distant for us to see even if it were clear ... about 100+ miles away) appeared to be shrouded in fog.  We could have gone about 500 miles up the west coast of Greenland to Nuuk, but that was about the distance from where we were to Labrador.  We choose Labrador.
We were without the company of our UK friends in their boat, Islander.  They were still cruising in NW Iceland when a weather window presented itself to us, so we left at noon on July 2.  We motored until we cleared the Reykjanes Peninsula west of Reykjavik in light SE winds, and then sailed for the next 3 days.  We only turned on our motor at that point to charge our batteries. 
Before we left Reykjavik we filled up our water tanks, moved the CQR anchor below, moved the BBQ below, made space for our fenders and fender bags, and hog-tied just about anything that moves.  We also prepared  several meals for warming, since work in the galley at sea is difficult or even dangerous with potentially sharp knives flying or boiling pots spilling.
When we left Iceland's 200-mile limit, immediately we found 23+ fishing boats with AIS signals.  There is a wedge of sea that is international waters before we got to the Greenland 200-mile limit and it is full of European (mainly Portuguese) fishing boats. We were surprised when we did not encounter any other large fishing vessels between Iceland and Canada.
<![if !vml]>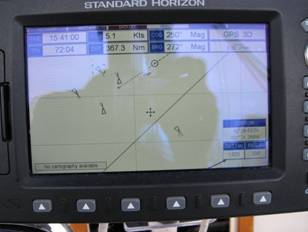 <![endif]><![if !vml]>
<![endif]>
 <![if !vml]>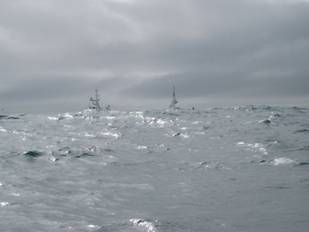 <![endif]> <![if !vml]>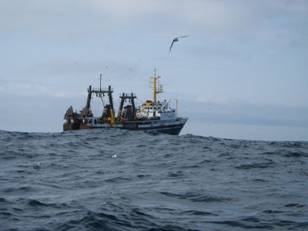 <![endif]>
As we passed the southern tip of Greenland, one current came down the east side of Greenland through Denmark Strait, and the other current came down the west side of Greenland through Davis Strait.  The waves that were created by two merging currents plus opposing wind were uncomfortable.
<![if !vml]>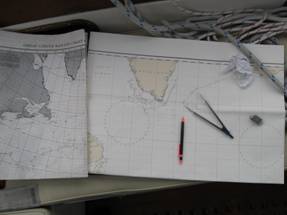 <![endif]> <![if !vml]>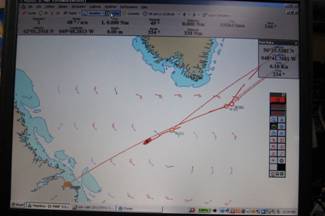 <![endif]>
 It was overcast with intermittent rain from when we left Reykjavik until the day after we landed in Labrador.  When we left Reykjavik the sun was setting at midnight and rising at 3AM.  As we approached North America the sun set at 11 rose at 5AM, although that is theoretical since we did not see the sun during the passage. We know why battleships are camouflaged with grey paint.  All we saw were various shades of grey in the sky and the water. The sky was overcast with rain, sometimes heavy, and fog.  Light, white grey in the fog, light grey clouds, darker grey for the rain, and many shades of blue gray for the water.
<![if !vml]>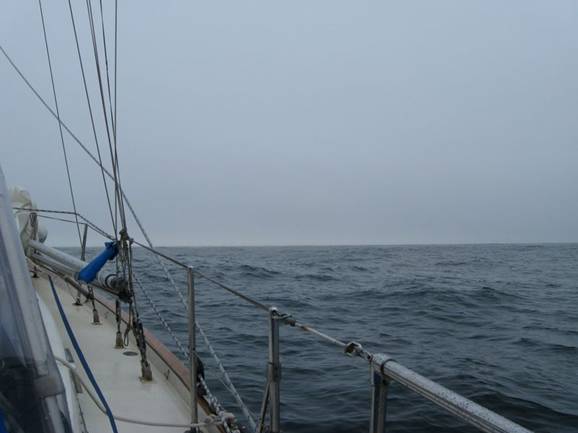 <![endif]>
  The passage was cold.  We wore a minimum of 3 layers of clothes with at least one layer being wool and one layer a windbreak.  As we approached the Labrador coast the temperature fell to 7 degrees C. At least with our full cockpit enclosure we did not need to factor in wind chill. Our sandwich sprouts (in a sprouter) went into hibernation due to the cold.
<![if !vml]>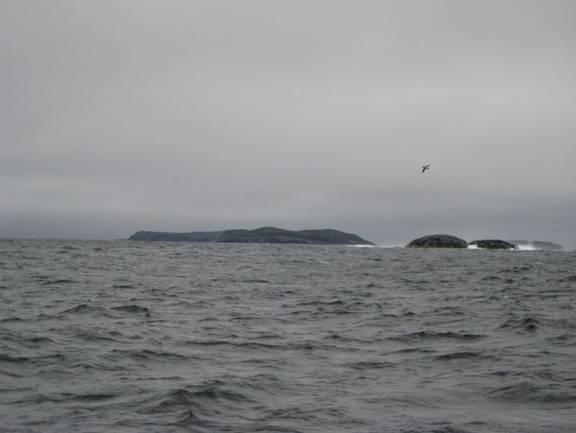 <![endif]>
Landfall in Labrador Canada
 We had to time our landfall to take advantage of strong tidal currents in the 30 miles of coastal waters leading into Cartwright. But our last night out we had to heave to for about 3 hours when Brian saw that there was ice and limited visibility to get around it.
Newly Discovered Equipment Failures.
<![if !supportLists]>· <![endif]>Our first reef line on the mainsail is almost chaffed completely through at the aft turning block.
<![if !supportLists]>· <![endif]>The main hatch is leaking. 
<![if !supportLists]>· <![endif]>The camcleats we bought (replacing jam cleats) for the mizzen.  We hog-tied the mizzen boom to contain it with the ocean waves.
<![if !supportLists]>· <![endif]>The bracket for the windvane on top of our main mast (Windex) broke off and fell into the ocean
<![if !supportLists]>· <![endif]>Chain swivel on the Danforth anchor lost its retaining bolt and we almost lost the anchor during our passage from Scotland to the Faroes
<![if !supportLists]>· <![endif]>Canadian ensign (new in May) is frayed on the trailing edge and will not last many more strong winds
<![if !supportLists]>· <![endif]>The most expensive failure has been the Nikon zoom lens Brian uses to take high quality photographs. It simply stopped focusing either in automatic or manual mode. He is now using a very old 5mp "point and shoot" for photos. Colour him VERY unhappy with Nikon equipment.