Newfoundland, Monday August 1– Thursday August 18, 2011
Griquet
We departed at 6AM with a gentle NW wind and no fog.   We had the main up, and tried to sail for about 45 minutes (glorious without the engine noise, but not fast enough to get us across the Belle Isle Straits.  We encountered about 8-10 floating icebergs as well as a dozen or more that were grounded.  Dolphins accompanied us for a while, and we saw several whales spouting
<![if !vml]>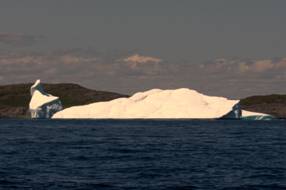 <![endif]> <![if !vml]>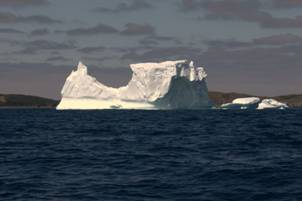 <![endif]>
<![if !vml]>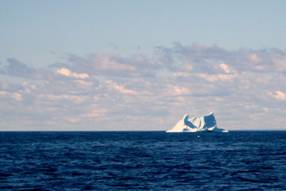 <![endif]> <![if !vml]>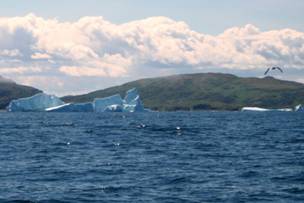 <![endif]>
<![if !vml]>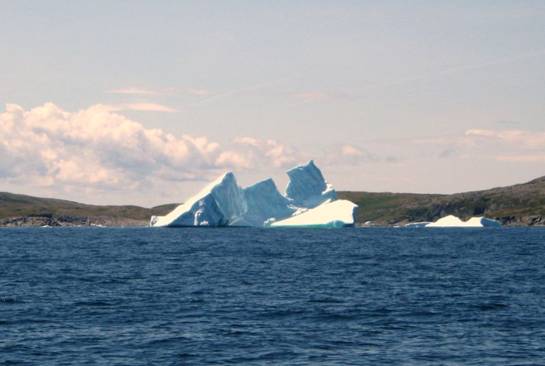 <![endif]>
Just as we were passing the SW tip of Belle Isle, the fog set up right on top of the island.
<![if !vml]>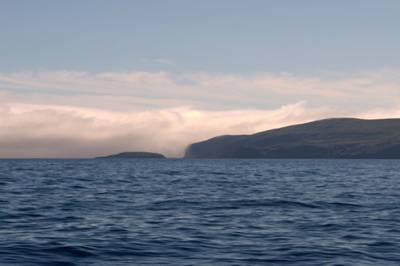 <![endif]>
We were concerned the fog would envelop us, but our route was clear of fog, but after we anchored, we were enveloped in it.
<![if !vml]>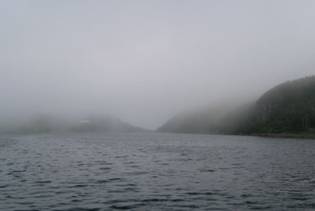 <![endif]> <![if !vml]>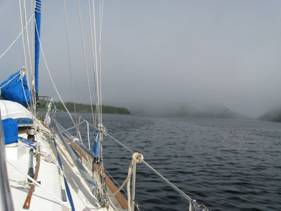 <![endif]>
We were planning on tying up at the wharf in Griquet, but there was no space.  A fishing boat or some other large boat had sunk at the wharf and there were flotation units around it and many men working to salvage the boat. 
<![if !vml]>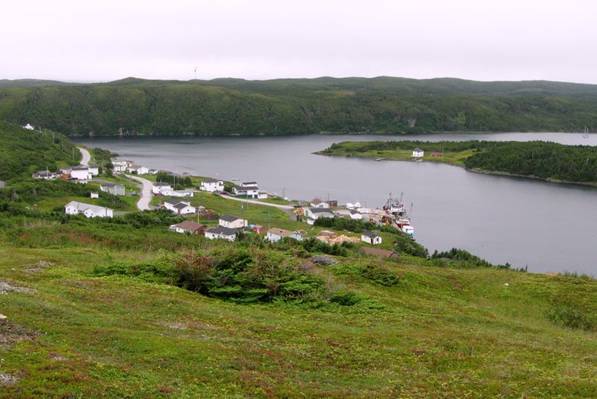 <![endif]>
Fog is the mariner's biggest problem.  It disorients and hides obstacles.  It kept us in Griquet for 3 days.  We took our dinghy in to the wharf and hiked up the camel's hump (the hill in the middle of Camel Island that forms the harbour at Griquet).  The view was stunning and showed us a new array of icebergs outside the harbour and grounded in the harbour.
<![if !vml]>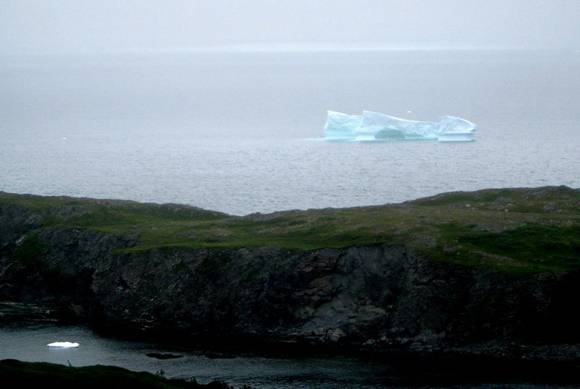 <![endif]>
<![if !vml]>
<![endif]> <![if !vml]>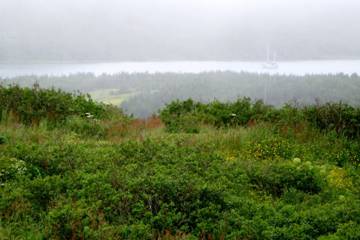 <![endif]>
 We also found a market that had items not found in Labrador, such as butter and yoghurt.  The lilacs (Brian is highly allergic to them) are finally in full bloom in Newfoundland and the tulips are just now shedding their petals.  Normally we see tulips and lilacs blooming in Toronto late April or early May. 
On our third morning in Griquet we heard the fog as it condensed on our shrouds and fell on our deck.  We thought we could be marooned in Griquet for weeks.  However, by 10AM the fog had dispersed and the weather observation report indicated St. Anthony had visibility of 9 miles, so we set out for St Anthony
 St Anthony
 Once we cleared the Griquet  harbour we saw a wall of icebergs about 2 miles off the coast and other bergs grounded along the coast.  The bergs offshore may have been grounded on shoals that are about 200 feet deep.  We did not need to alter course for any bergy bits, but were vigilant during the entire run down the coast (about 10 miles).  The ice was continuous, but has become less frightening as we understand how the ice, both bergs and bits, flow.  It is still awesome to see the towering bergs that look like buildings, or ships, or grain silos and the islands with little black dots … (seals and/or birds). 
<![if !vml]>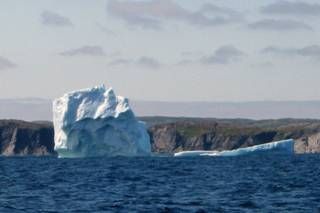 <![endif]> <![if !vml]>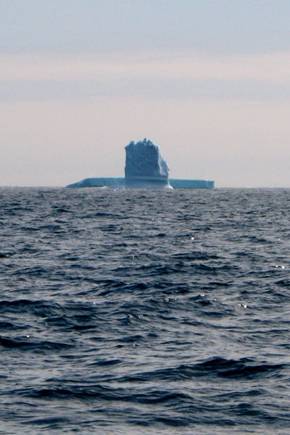 <![endif]>
<![if !vml]>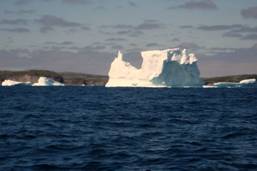 <![endif]> <![if !vml]>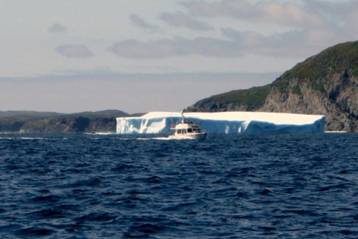 <![endif]>
As we approached St. Anthony we saw 3 humpbacks about a mile from the boat.  They were curious and came over to inspect us, passing about 3 boat-lengths away from us in slow undulating dives.  One of them started following us as we turned into the harbour!  It soon lost interest.  We were just happy to get into the harbour and tied to the wharf with good visibility.  Two hours after we docked the fog and drizzle set in. 
<![if !vml]>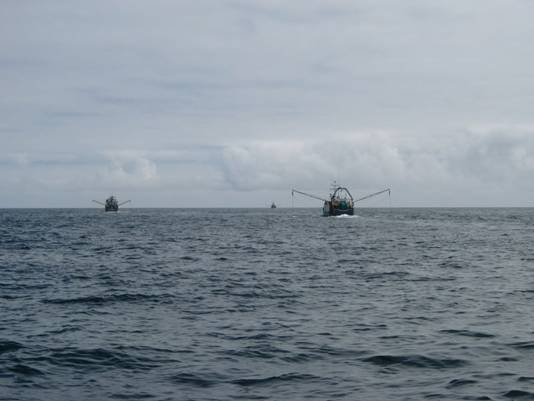 <![endif]>
St. Anthony is the northern-most Canadian Coast Guard station on the Atlantic coast (government cutbacks!)  It is a reasonable-sized town with three wharfs for fishing, cargo and pleasure craft.  We were squeezed between two fishing trawlers on the public (southern) wharf with an electrical hook-up and fresh water.  The wharf was busy with shrimp boats coming and going, delivering their catch to waiting trucks.  It is a good season for shrimp and crab. 
The manager of the wharf kindly lent us one of her spare SUV's so we could drive the 45 km to L'anse aux Meadows, a National Park, but also the site of a Viking settlement 1000 years ago.  It is thought that Lief Erikson landed here and had a settlement for a short period (10-25 years).  In 1960 a Norwegian historian and his archaeologist wife uncovered undisputable evidence that this is the site of the first European settlement in North America.  The ruins have been investigated and re-buried for safe keeping.  Several of the buildings have been reconstructed and are fascinating.  The walls had a gravel/sand core with peat "bricks" on the inside and outside, creating walls about 6 feet thick.  Evidence is that the Vikings sailed to the site in one season, wintered over, and then sailed back to Greenland or Iceland the next season, taking treasures of furs and wood with them.  The overwhelming evidence that it was a European site is the smelting of bog iron ore; Aboriginal North Americans were using stone implements, not iron. 
<![if !vml]>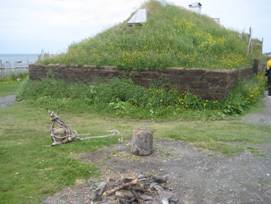 <![endif]> <![if !vml]>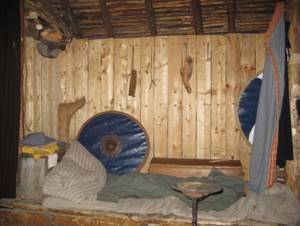 <![endif]> <![if !vml]>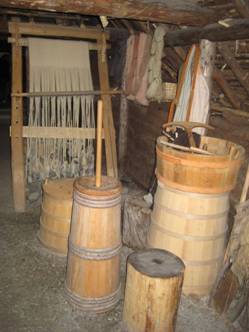 <![endif]> <![if !vml]>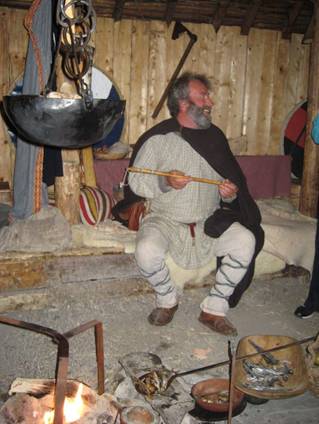 <![endif]>
On our way to L'anse aux Meadows we passed our anchorage at Griquet.  The Dark Tickle area that we walked along last Wednesday after taking the dinghy ashore was filled with bergy bits that were not there a few days ago.  We went back to Camel Island to the "Camel Hump" and sure enough, the Ice Island was right in front of us between Griquet and St. Anthony, calving bergs.  The area outside the St. Anthony harbour is loaded with ice.  
<![if !vml]>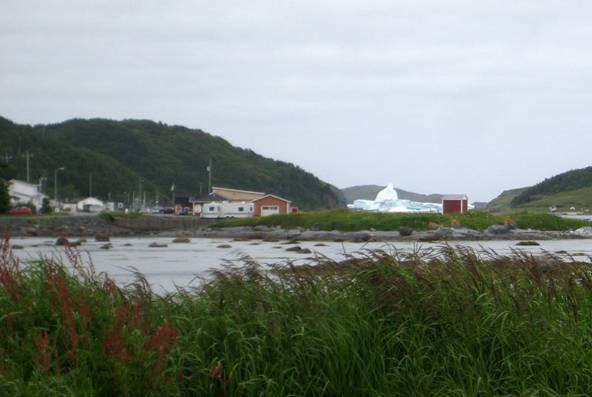 <![endif]> <![if !vml]>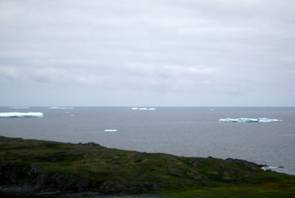 <![endif]> <![if !vml]>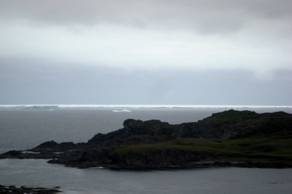 <![endif]>
In St. Anthony we met several interesting visitors.  A historian/writer/photographer who is researching the original Brendan Voyage is on a motorcycle that has broken down, but he is also a sailor.  A sailor / writer on a ketch from Owen Sound is here; in his past he has camped with head-hunters in Brazil and traveled extensively in Thailand.  The librarian pointed out the many people with Pilgrim as a last name that live in St. Anthony, and so far we have met two of them.   The hospitality here is overwhelming and genuine.   
<![if !vml]>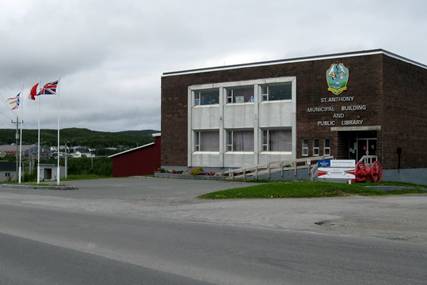 <![endif]>
Sunday we went to church at the St. Anthony United Church (small congregation, minister on vacation, lay leadership) where we received a warm welcome.  After church we went to the Wilfred Grenfeld Interpretative Centre and the Grenfeld house.  Grenfeld, a British doctor, joined a Christian medical mission to Newfoundland and Labrador.  Eventually he established several hospitals and clinics, provided health education, founded orphanages, and work camps that employed fishermen who could no longer fish.  He did most of his work in the late 19 century and 20 century. 
<![if !vml]>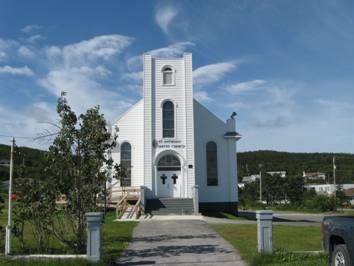 <![endif]>  <![if !vml]>
<![endif]>
We got back to the boat in the late afternoon and prepared some fresh local mussels for dinner.  While we were eating them the harbour master came by and told us we may have to move to make room for a Coast Guard boat that had unexpectedly decided to stop at St. Anthony.  45 minutes later we were told to move.  There was lots of space for the 100+ foot boat on the north wharf, but neither they (nor we) were allowed to dock there.  We ended up rafting off a long-liner (fishing boat), which was not happy having us along side and told us they were leaving at 7AM the next morning.  The fog horn was sounding as we fell asleep, but was quiet by 3AM.  At 6 we got up and left at 7.  As we were leaving, the fisherman said, "We are not leaving until 9."  But there was no reason for us to stay any longer.
<![if !vml]>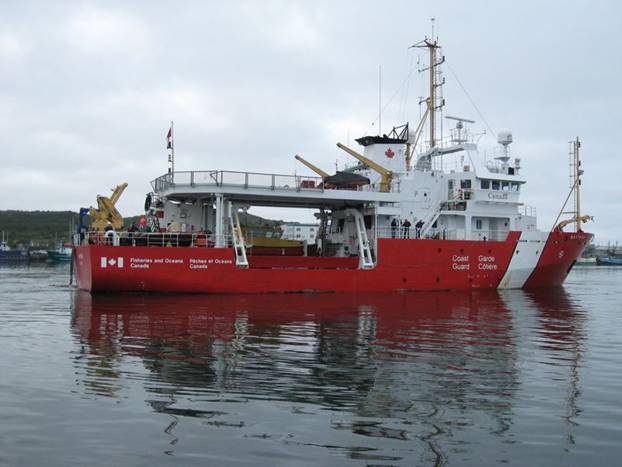 <![endif]>
Conche
We motored, with a little extra help from the Genoa for half the time, in 7-10 knots of wind from the SE (we were traveling mainly south and SW).  It was overcast and cool.  The Ice Island was no longer grounded, and had floated just a few miles north of St. Anthony (cause of the fog).  There were bergs all along the way, but not as many as we encountered on our trip into St. Anthony last Thursday.
We anchored near a small fishing village.  There is a new wharf, but all the spots are taken by local boats.  There was an uncomfortable swell entering the anchorage, even though we were well up the main bay and around the corner from the open sea.  We took the dinghy to shore and walked the town.  On our row back from town, we went to see close hand a bergy bit that shared the anchorage with us.  It was still floating and moved closer to shore with the incoming tide.  We picked up a few chunks to melt down and to lighten a taste of rye whiskey (gift from the store owner in Cartwright). 
<![if !vml]>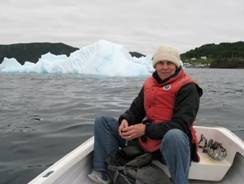 <![endif]> <![if !vml]>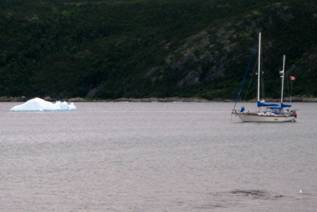 <![endif]>
Fourche Harbour, Williamsport
It was drizzling or raining most of our trip from Conche to Fourche.  The visibility was OK since we were  out of the extreme concentration of ice.  Dolphins came to swim with us, and we saw a few beached icebergs, but mostly we encountered grey … grey rain, grey seas and grey skies. 
<![if !vml]>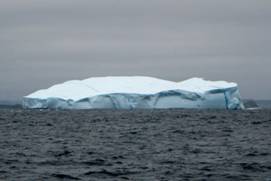 <![endif]> <![if !vml]>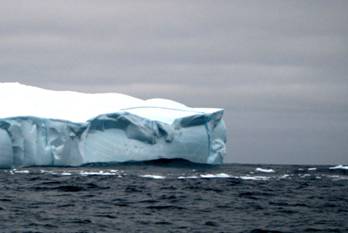 <![endif]>
The NE coast of Newfoundland was once dominated by the French.  Thus there are many French names for bays and villages.  The outpost in Fourche Harbour was Williamsport and it was abandoned recently.  Some of the houses are still in reasonable repair and appear to be habitable.  The extreme end of the Northern Arm (location of Williamsport) of the Fourche Harbour is strewn with rocks in what is called "the rock garden"... Since we are not really into rock gardening we are anchored just off the main Fourche Harbour with a bit of swell keeping our boat gently rocking. 
<![if !vml]>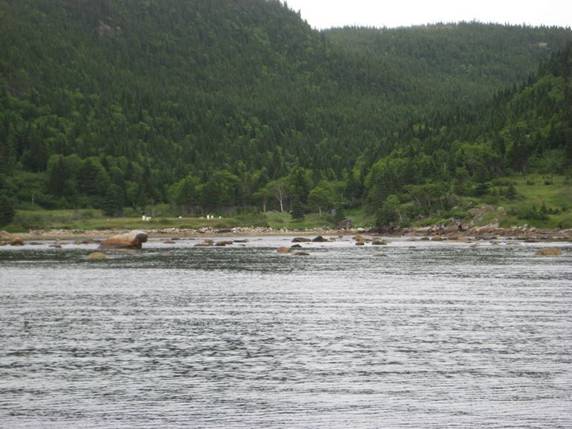 <![endif]>
 There is a whaling station around the bend in Fourche Harbour that was abandoned twice:  once in 1959, reopened in 1967, and then closed for good in 1972.  The outport of Williamsport housed the workers at the whaling factory.  The cliffs on either side of the harbour and northern arm are 800 feet high, so when the wind picked up, we were dealing with katabactic (10 knots outside 30 knots inside) winds, or "blow me downs" in local terminology.
Although this anchorage is picturesque, it was uncomfortable and unsafe.  We anchored initially in 35 feet, but when we streamed toward the rock garden, we felt a bit vulnerable.  To get to a more comfortable position, we had to anchor in 50 feet over rock and kelp with a good dose of white plastic bags used by a fish processing plant.  During our 3-night stay, we re-anchored 3 times, each time unearthing more white plastic bags.  Even though we were 2 miles down the fjord, the swell came down the fjord and bounced into the anchorage jolting us so much that we had to hold on to glasses and plates on the table, otherwise they would tip over.  On our second fog-bound day in the anchorage the wind picked up to 20 knots from the east, but it was augmented and "re=arranged" by the cliffs to be a katabatic  (down-draft) wind from the SW, W or NW.  With the increased winds, the dangers of our anchorage heightened.  Brian stayed in the cockpit most of Wednesday and Thursday nights on anchor watch.  Fortunately we did not need to re-anchor in the middle of the night.  We were so keen to leave Fourche that we left the third morning even though there was fog/ low hanging clouds
<![if !vml]>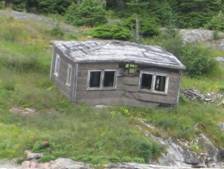 <![endif]> <![if !vml]>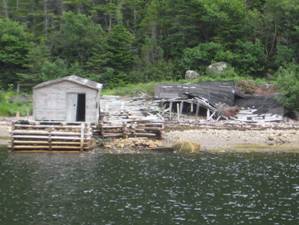 <![endif]> <![if !vml]>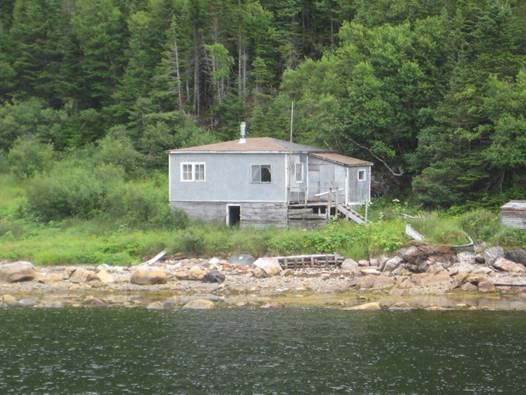 <![endif]>
Pacquet Harbour, Woodside
The wind had dropped to nothing, but the waves/swell were still jolting.  We motored to Pacquet Harbour.  We were accompanied by a couple of pods of White sided Atlantic dolphins and 2 whales (at a distance… probably Humpbacks), a rain shower, but no ice bergs.  This is a delightful anchorage with NO SWELL, a small summertime community, with a solid mud bottom for our anchor. 
Dense fog kept us in Pacquet an extra day.  The billows of fog kept rolling in the harbour all day.
Little Bay Island
After 2 days in Pacquet there was sun, no fog or rain, but also no wind.  We motored around Cape St. John, a headland that can be treacherous in strong southerly winds, but gave us no problem.  However, a nagging issue with diesel coolant was bothering Brian, and when the engine temperature approached 180, he said we had to sail. (The problem is white smoke from the exhaust, bubbles in the coolant expansion tank and a slow but steady loss of coolant … head gasket failure comes to mind). Fortunately the wind materialized, and we were able to make 3 knots under main and Genoa hard on the wind.  When we were 1 mile off this harbour, we furled the Genoa and managed to get the engine on long enough to come into the harbour and dock at the public wharf (coolant lasts 20 minutes before it needs a refill … means the motor needs to be cool enough to pop the rad cap to refill the coolant).  The good news is that there are showers here, and electrical power, and a secure harbour from all winds.
We believe that we have just entered Newfoundland's equivalent of the North Channel.  Notre Dame Bay is a maze of bays and islands with many anchorages.  It seems to be the destination for many New Englanders. 
<![if !vml]>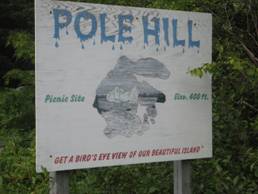 <![endif]> <![if !vml]>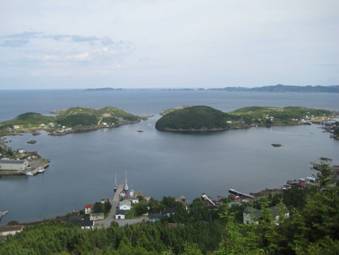 <![endif]>
<![if !vml]>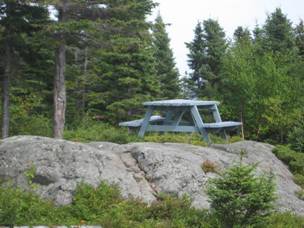 <![endif]> <![if !vml]>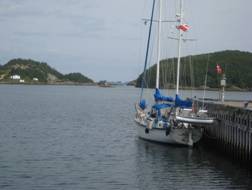 <![endif]>
<![if !vml]>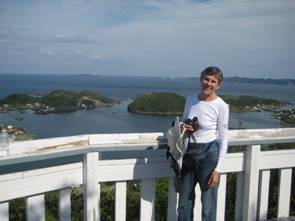 <![endif]> <![if !vml]>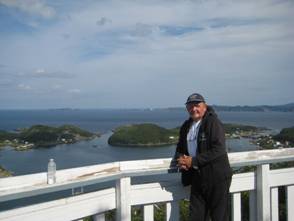 <![endif]> <![if !vml]>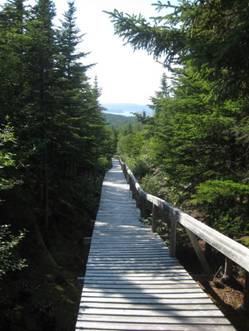 <![endif]>  <![if !vml]>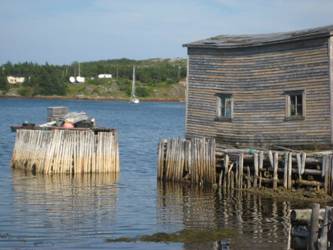 <![endif]> <![if !vml]>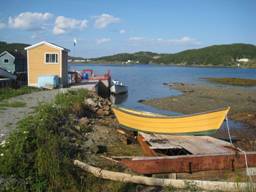 <![endif]> <![if !vml]>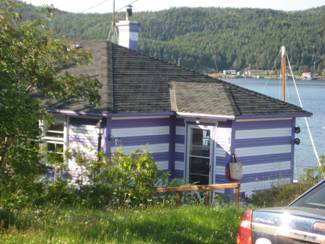 <![endif]> <![if !vml]>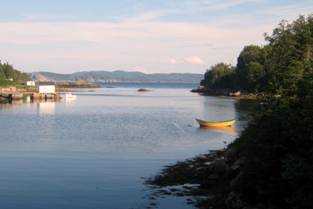 <![endif]> <![if !vml]>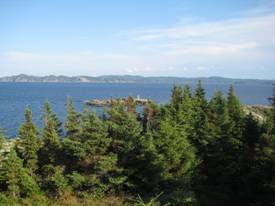 <![endif]>
Little Bay Island was one of Newfoundland's Outports, a small fishing community with only boat / ferry access to the main island centres.  It has two harbours; we were in the main (south) harbour, which is completely landlocked with a tiny channel to the outside bay.  It is incredible to imagine how sailing fishing schooners managed to get in and out of this harbour without engines (we are about to find out).  Thanks to misguided provincial government spending cuts many of Newfoundland's outport communities have been moved or the communities simply abandoned and the building left to fall down.  Williamsport (in Fourche) was an abandoned outport, and Bateau, Hawke and Occasional Harbours in Labrador were all outports in which there are no year-round residents.  Little Bay Island had 600 inhabitants in 2004, but now have only 200 year-round residents.  Many of the houses have been bought as summer residences, mainly by US citizens.  For some reason, this little community has received government money to keep services up.  There is a diesel generator for electricity.  Water is from ponds (the folks are resisting attempts to introduce chlorine), and we learned there is a boil water advisory, but none is posted near the hose on the wharf (shame!).  The main road is even paved.  (None of the roads we encountered in Labrador's Cartwright and St. Lewis were paved; they were pot-hole-riddled gravel.)  The public wharf on which we are tied is new, with electricity, non-potable water, showers and laundry facilities.  There are no stores on the island since a regular ferry service takes residents to the main island for supplies.  There is a B&B that serves dinners and we went to it for a Jigg's dinner (Boiled salt beef and vegetables), a traditional Newfoundland meal.  We hiked to two outlooks on the island over lovely board walks (over the bogs) for a beautiful view of the harbour and the islands to the east of us.  In short, this is a lovely harbour and just what we needed as our last stop before our haul-out port.  
Our second morning at Little Bay Island, a little after 7 AM there was a rushing of water around our boat, and then a huge racket of seagulls.  Brian was out of the bunk in a flash and found gulls literally diving under our boat.  On close examination he discovered thousands of fingerlings (newly hatched fish) in the water being scooped up as fast as the gulls could manage.  On the wharf side of the boat there were adult fish feasting on the fingerlings.  It reminded us of the mayflies that hatched on Isle Royale one summer's night in July 2005.  The gulls picked them off the water just as they flew off.  While Brian was marveling at the fish and gulls, a local resident we met yesterday on our walk stopped by to drop off some smoked cod.  We had seen him outside his smokehouse the previous day and stopped to talk about fish, types of wood he used for smoking, length of time smoking, etc..  We gave him a couple of bags of wood chips that we could not use.   We feasted on smoked cod and scrambled eggs this morning.
Since we had a major problem with our diesel engine, we had to plan to sail the 50 miles from Little Bay Island to Lewisporte without the engine.  We waited for a forecast of moderate westerly winds, which would allow us to sail from Little Bay Island all the way to Lewisporte.  We arranged a tow out of Little Bay Harbour past Black Rock Sunker (such descriptive place names) and unfurled the Genoa and hoisted the staysail. 
<![if !vml]>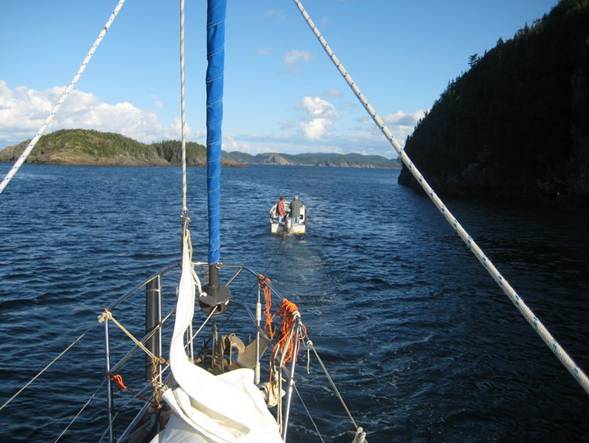 <![endif]>
We could not risk using the main or mizzen since we must be in the wind to raise and lower them, and in strong wind, that requires an engine.  We left Little Bay Island at 6PM to allow an overnight sail in the open part of Notre Dame Bay.  The moon was full and rose at 9PM, giving us some visibility for ice.   We planned to be at the main ships channel to Lewisporte at daybreak when the current would be favorable.  The wind was strong enough to keep our speed over 5 knots, even with just head sails.  Therefore we did some zig-zagging to kill time. 
As we entered the shipping channel, the wind began to back southwest, which meant we had to tack down the channel, which is quite wide and did not challenge us.  However, by the time we were about 5 miles from Lewisiporte, the wind had strengthened to 20 knots from the south / southwest, and was right on the nose for the more restricted channel into Lewisporte.  We could not raise anyone in Lewisporte on the VHF radio, multiple channels tried.  Our mobile phone would not work with the Newfound network.  Eventually we heard a cargo ship and the Lewisporte Pilot conversing on the radio.  When their conversation was completed, we quickly called the pilot and asked for assistance with communicating with the Lewisporte Marina.  Eventually a boat was dispatched to tow us in and get us tied up to an unused wharf for the night.  The next day, with lighter winds, we were towed into the marina, the first we had seen since Tobermory, Scotland, with floating docks, power, water, showers, and laundry. 
Lewisporte and Notre Dame Bay
<![if !vml]>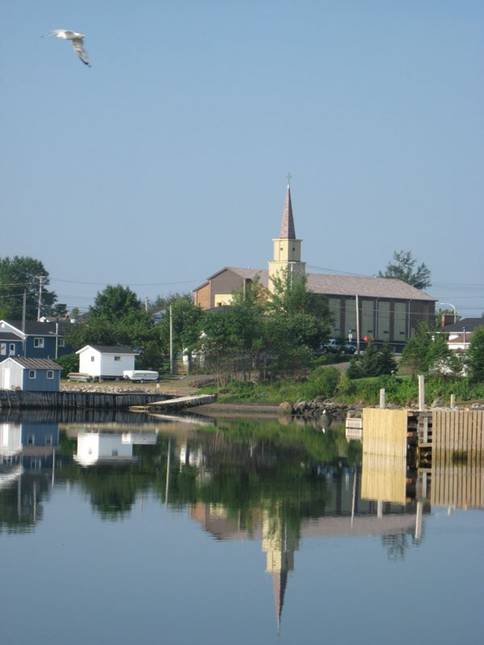 <![endif]>
This section will be completed in 2012
Please see the Headgasket saga on the web site for a description of our major mechanical failure of 2011.