The
Faroes

, Thursday, June 2 – Friday June 10, 2011.

We left Stornoway on June 3 at 4:30AM with a forecast of diminishing winds and seas.  HA HA. 

<![if !vml]>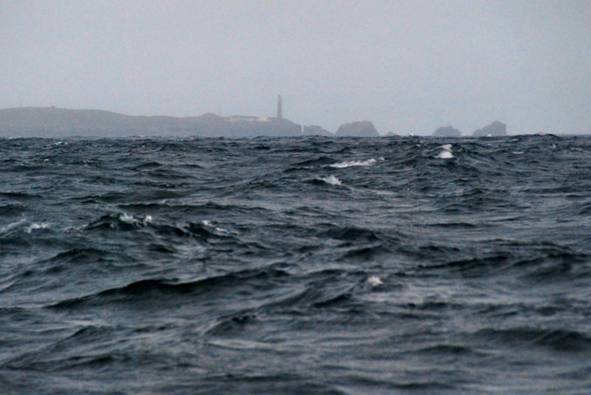 <![endif]>
We left with promises of lighter winds … they became much stronger with higher waves
During the 36 hour passage, the wind was constantly 20 – 33 knots, thankfully from the SW.  Most of our passage was due north, so the wind direction was excellent.  Although it was overcast, it did not rain until we docked the afternoon of June 3.  The wind, although strong, was manageable.  We averaged 6.3 knots for the 225 miles, flying the mizzen and staysail.  The waves were a different story. Big swells came in from the west over the miles of North Atlantic without a break.  On top of the rollers were the wind waves from the SW gale that we had on Wednesday.  The combination was awesome, literally.  When we looked over the windward side, we looked UP to see the waves breaking.  Four or five times a roller met a wave and crested right on our windward quarter, sending spray over the cockpit enclosure and water through the zippers.  Everything was drenched.  The largest waves were easily 15-18 feet, and tossed Pilgrim's 17 tons as though we were a matchstick.  We decided to take hour-long watches on helm and then catnap in the cockpit.  The work was mentally and physically exhausting.  We certainly would not have ventured forth had we realized the veracity of the waves and wind.  It was good to have Les and Ali in Islander with us, although they beat us in by several hours.
As we approached land around 2PM June 3, we heard the fog horn, but could not see land.  The Faroes are famous for fog, and greeted us appropriately. 
We tied up to a fixed quay with rubber tires in a small harbour shared with fishing boats on the southern-most island, Suðuroy, at Tvøroyri.   Immigrations / Customs were quickly at the boat and their job was efficiently done.  Then we ate and slept.
<![if !vml]>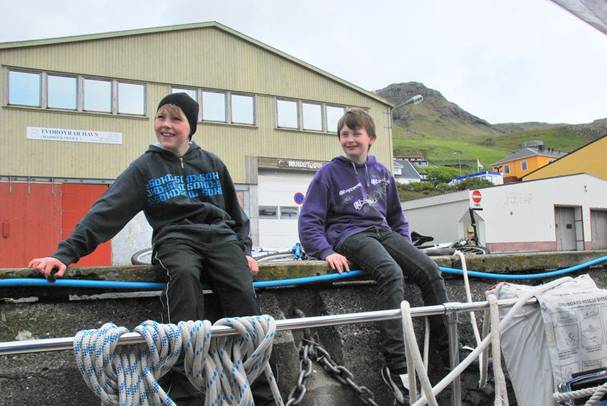 <![endif]>
Couple of local boys greeted us upon arrival and let us know they had powerful PWCs and liked to go fast.
The harbour did not charge any fee, provided toilets, a shower and laundry at no charge.  The town was small, and it was difficult to tell what the economy was based on.  Many people did "drive-bys" studying the Canadian and the UK visiting yachts.  Since it was the weekend, the bars were busy into the early hours of the morning, and a major sport seemed to drag race and do power turns ala James Bond along the fishing quay. 
<![if !vml]>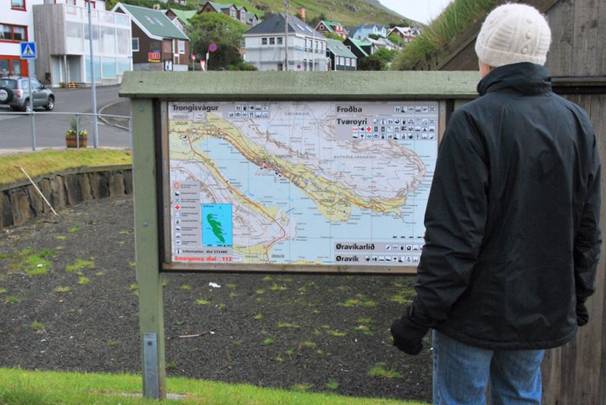 <![endif]>
Tvøroyri. A small fishing town built around a bay with one main road
There are 18 islands, 17 of which are inhabited, in the Faroes.  There are also numerous holms and stacks.  They are part of the Kingdom of Denmark, using Danish kroner, but issuing their own paper bills.  There are about 48,000 people, most of who live in the capital Tórshavn.  The islands were created by a series of volcanic eruptions, resulting in layers of basalt separated by volcanic ash, tuff, clay and sandstone.  The islands thus have steep cliffs rising out of the sea topped by green plateaus devoid of any trees.  There are deep sounds between the islands resulting in forceful tidal streams with rips and races offshore.  The language spoken is Føroyskt (Faroese), derived from Old Norse and using characters mainly seen only in Icelandic and Faroese.    Most people speak Danish and English as well as Faroese.
<![if !vml]>
<![endif]>
Skúvoy  Island on the left and Sandoy Island on the right
We had a delightful sail from Tvøroyri to Tórshavn, but found the available docks for visiting yachts were full, except for two we could not maneuver into; the fingers were poorly laid out, each one accommodating only one boat and you needed a bow thruster to get in if the boat was over 36 feet long.  We ended up at the end of one dock but because it blocked access to a tourist fishing boat Pilgrim was moved into a visitor space that had been taken over by a local … much to his displeasure. Because the weather continued to be windy and rainy (an extension of the Scottish weather) we decided to keep the boat in Tórshavn and rent a car with our sailing friends for a day to see the northeast islands.
<![if !vml]>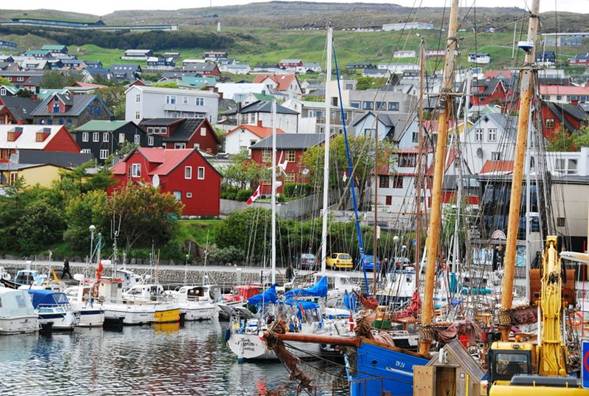 <![endif]>
The marina is just being completed but they need to rip it apart and start over … poor planning and no apparent management has created chaos where a great facility should be possible
The first thing we noticed once we started our motor trip was that the roads are in excellent condition.  There are two islands connected by an underwater tunnel (for which there is a charge) and many tunnels under the high hills / mountains.  Since distances are generally short, and the hills steep, there is not enough "real estate" to build switchbacks so tunnels under the hills have been constructed.  Most of the tunnels were built in the late 20th century when money was available for infrastructure projects.  Some of the tunnels are single lane affairs with built-in side pockets that provide a way of getting out of the way of oncoming traffic.  It is quite daunting to enter a tunnel and see headlights coming your way, especially when the oncoming vehicle has right of way.  The two most populated islands, Streymoy (on which the capital Tórshavn is located) and Eysturoy and linked by a bridge "over the Atlantic Ocean," or the narrow channel bordering on the ocean, to be more precise.  Many of the islands have deeply cut fjords that are not bridged, so driving across Eysturoy, for example, took twice the mileage than the breadth of the island would suggest.
<![if !vml]>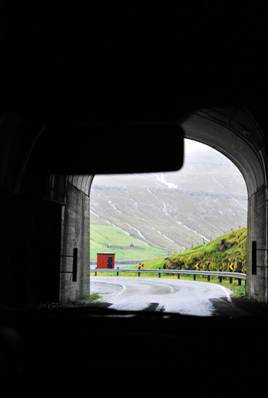 <![endif]> <![if !vml]>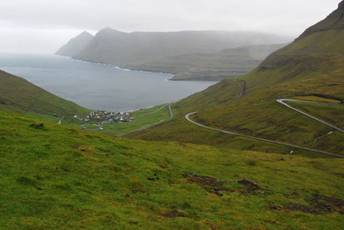 <![endif]>
One lane tunnels and extensive switch backs made the driving an adventure
We first drove to the furthest NE island, Viðoy connected by road.  Two islands further NE, Fugloy and Svinoy, are only accessed by ferry.  The end of the road on Viðoy was the small village of Viðareiði.  The forecast Force 7 NE winds could be felt here even though it was relatively calm in Tórshavn.  There was also a heavy mist / drizzle that discouraged us from spending much time outside the car.  We did walk to the locked church, but while still in the garden a parishioner arrived and let us in.  The original church had been constructed in 1892, and this was a reproduction build in the 1990's.  We even got to hear the organ played.  The sheep in the pasture next door were in ecstasy.   
<![if !vml]>
<![endif]>
Viðareiði and the extensively renovated church
Speaking of sheep, Farose means Sheep Islands, and there are certainly lots of sheep.   We noticed that most of the adult sheep had not been sheared for some time, and were looking quite straggly.  We could understand why the sheep still had on winter coats.  It was cold.  During our motor trip it rained or drizzled constantly, at the higher elevations the rain was mixed with ice pellets or snow.  Our sailing companions said, "Maybe we should come back in the winter when it's warmer."
Every village has a church, and each is different in appearance.  One, in Hvalvík, is painted black, and another, in Haldarsvík is octagonal.  The Harbour Church (Havnarkirkja) on Tinganes (the old town) is beautiful overlooking the guest pontoons.
<![if !vml]>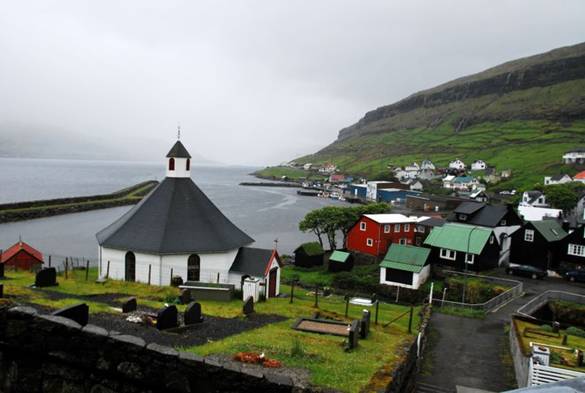 <![endif]>
Haldarsvík's octagonal church … nowhere for Satan to hide
Waterfalls abound.  However they are not large enough, nor is the population dense enough, to harness the water power to produce electricity. 
<![if !vml]>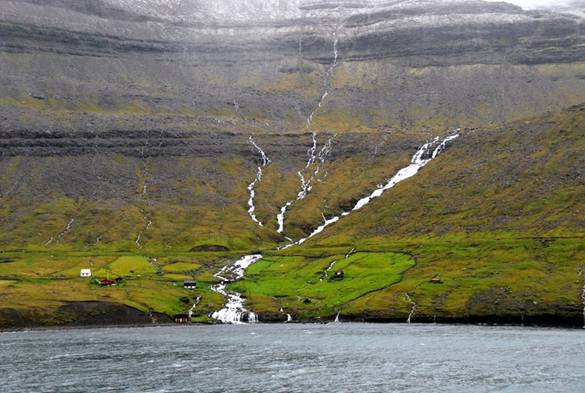 <![endif]>
Waterfalls everywhere but most are not large enough to generate power
Gjógv on the NE side of Eysturoy was buzzing with construction of new holiday homes.  In the wind and chill it was hard to imagine anyone investing in a summer abode at this location.  There is a very narrow harbour/fjord with railway up the cliff to lift small boats up the hill.
<![if !vml]>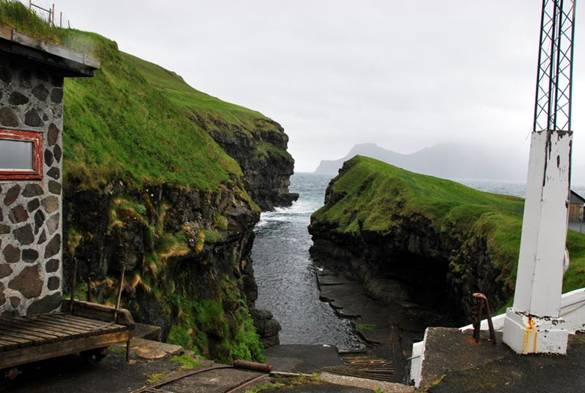 <![endif]>
Natural harbour at Gjógv … just try coming in during a North East gale
The highest point on the Faroes is Slættaratindur (882m) at the north end of Eysturoy.  Snow flecked the peak, and also mingled with the rain as we drove near the top. 
<![if !vml]>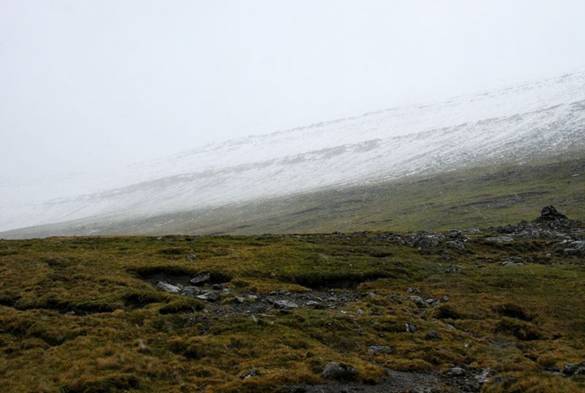 <![endif]>
Slættaratindur and yes that is snow and yes we ended up in a snow storm
Risin and Kellingin are two stacks off the north cliff face of Eysturoy.   The legend is that the Giant and the Hag were arguing and trying to tow the islands to Iceland when the rising sun caught them at it and petrified them.
<![if !vml]>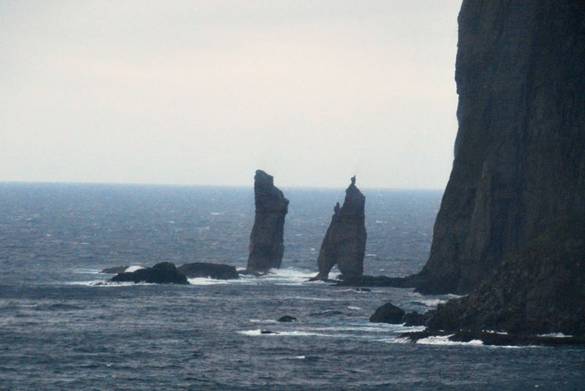 <![endif]>
Risin and Kellingin attempting to tow the Faroes to Iceland by laying a rope around Eidiskollur but ended up quarrelling so long that the sun caught  them and transformed them into stone.
Most of the fjords had extensive fish farms, mainly for salmon.  Sundini Sound between Streymoy and Eysturoy had the largest operations. 
 Tjørnuvík on the NE side of Streymoy is the harbour into which Brendan was towed when the current swept her out to sea after sailing through Mykinesfjørður.
<![if !vml]>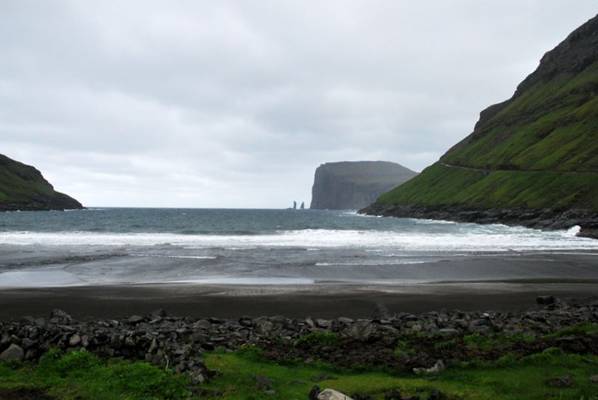 <![endif]>
Tjørnuvík on the NE side of Streymoy with a great view of Risin and Kellingin
Tingagnes is the old town of Tórshavn.  Many of the buildings have sod-roofs.  The Parliament building and the Prime Minister's office are here.  It was refreshing to see no security around the unassuming doorway to the head of state's office. 
<![if !vml]>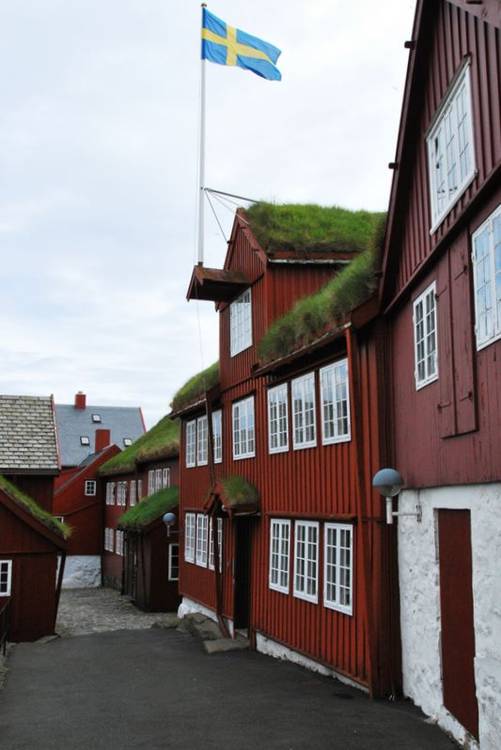 <![endif]>
Prime Minister's office in Tingagnes  the old town of Tórshavn. Swedish flag flying for some unknown state reason.
Tórshavn has a mall with an amazing supermarket.  We found frozen Canada goose and wild boar from Texas as well as Faroese-style air-dried lamb, but no puffins and little fresh fish.  It is the tradition in the Faroes that you do not go out to purchase food for dinner; you go out and catch it.  Therefore, it is difficult to find traditional Faroese food in the market.
The Guest Marina has been recently refurbished.  The good news is that there were electrical outlets.  The bad news is that you had to purchase a card for DKK50 deposit and then purchase how much power you needed. There was a promise of a refund when you turned in the card, but no one could tell us how to obtain the refund.  There was a shower, toilet, laundry machine and dryer all compactly laid out in a large closet.  The dryer did not work.  The dryer in the campgrounds (to which we were thankfully driven, since it was pouring rain) also did not work.  It is hard drying wet clothes onboard in the rain.  There was no Internet access point accessible from the boat.  The one in the library blocked transmission of email (both Outlook and Airmail).  All in all, it is a harbour of unfulfilled promise. 
T<![if !vml]>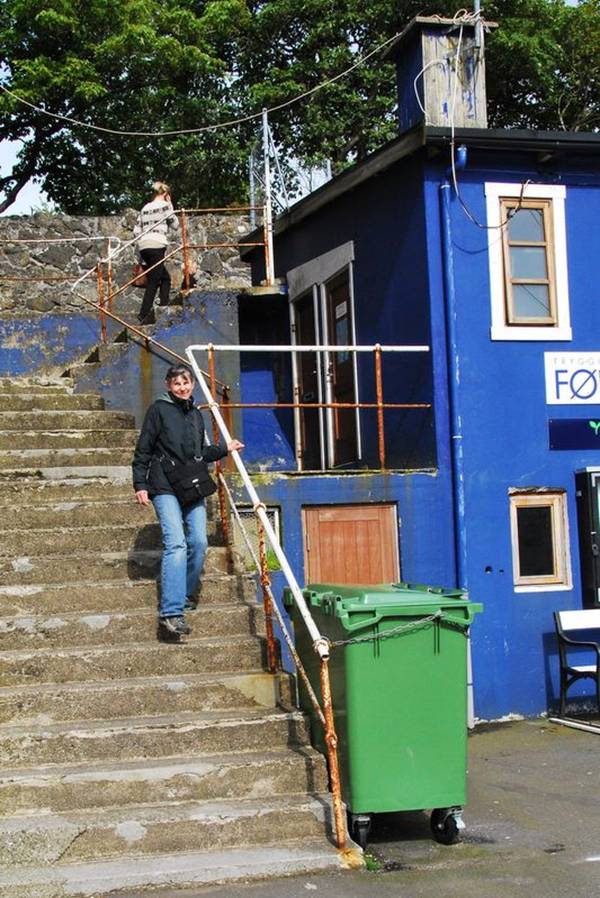 <![endif]>
Tórshavn marina office NOT OPEN FOR BUSINESS was a complete bust … minimal internet, no working dryers, no refunds on deposits paid, indifferent Harbour officials. The only person interested in helping us was John a guide and tourist Information specialist. Even he could not get through the bureaucracy.
When we left Tórshavn, we tarried for a bit of jigging for cod before sailing around the southern tip of Streymoy and up the Hestsfjørður towards Vágar.   There was a 3-knot current against us as we tried to pass Hestur and Kóltur on our way to Miðvágur on Vágar.  Were greeted there by Hans Hansen, whom we met last summer in the Shetland Islands, and treated by Hans and his wife to a wonderful freshly-caught cod dinner.  They ended our meal with heart-shaped waffles and we were sent pack to Pilgrim with a large bag of them for our trip to Iceland.
<![if !vml]>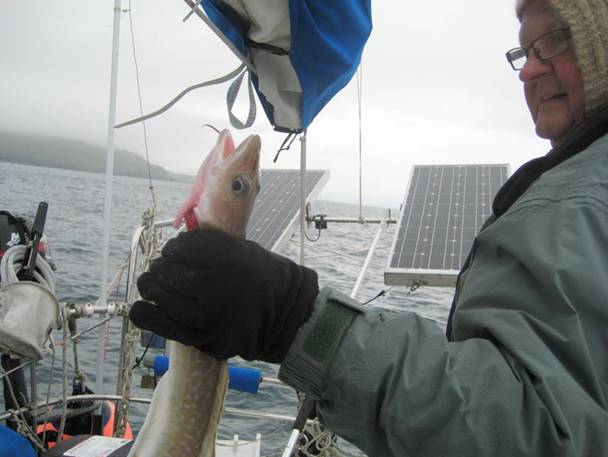 <![endif]>
Ling a cod relative was a great catch and made for a super dinner
Our time in the Faroes was very short.  We missed seeing the bird cliffs on the west coast of Streymoy and the famous bird island Mykines.  Sailors must take advantage of weather windows when they occur, and we were given one a bit sooner than expected.  It was only as we departed the Faroes that the sun finally shone and started drying our still-damp laundry. 
<![if !vml]>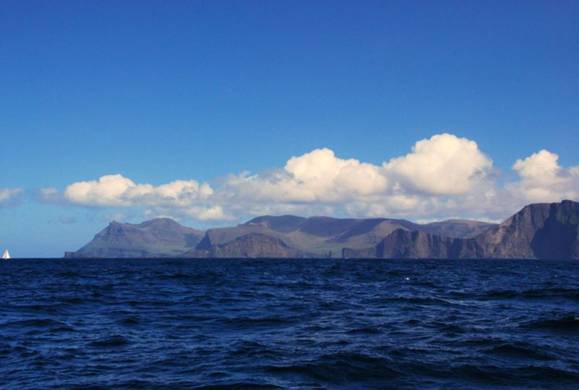 <![endif]>
Our last view of the Faroes
The passage to Iceland (almost 400 miles, mainly west and a bit north) was good.  For our first 24 hours we had a lively broadreach.  For our second 24 hours, with wind from the east, we lowered our mainsail and poled out our two headsails wing on wing.  The last 30 hours we motored in very light winds and landed in Vestmannaeyjar Harbour, Iceland.