Denmark & Sweden.

 

April 22 – May 24, 2010
Our flight from Toronto to Frankfurt, Germany was canceled due to the volcano in Iceland that closed virtually all of Northern Europe's airspace.  Fortunately we were able to get on a flight 2 days later (April 21), but we lost our launch date with Marina Baltica.  The marina could not re-schedule our launch for another 6 days.  The result was a longer-than-anticipated hotel stay and provisioning the boat with food and drink while it was still on its cradle in the shed.  Every can, bottle, bag and box was hoisted up the 10 feet from the shed floor to Pilgrim's deck, and all the gear we store below during the winter had to be shifted to allow us access to our storage bins.  April 29 we launched, stepped two masts, put on the booms, tuned the rig, and bent on 4 sails.  We left Traveműnde 4 days later, on May 2, with absolutely no wind.
<![if !vml]>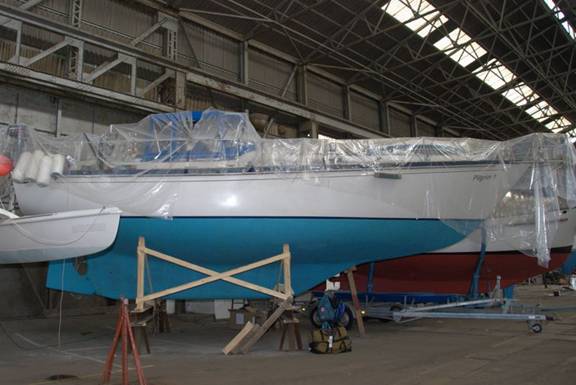 <![endif]>
Pilgrim in storage
<![if !vml]>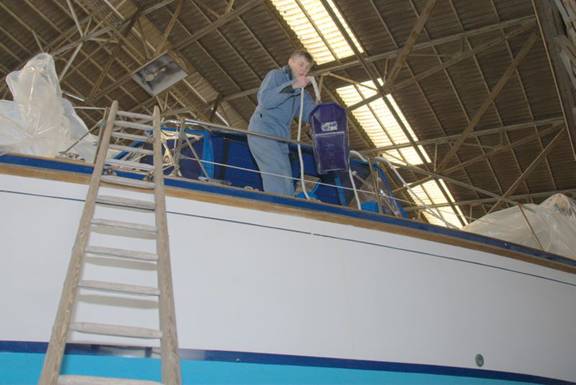 <![endif]>
The long haul … over 500 lbs of provisions had to be hauled up hand over hand
<![if !vml]>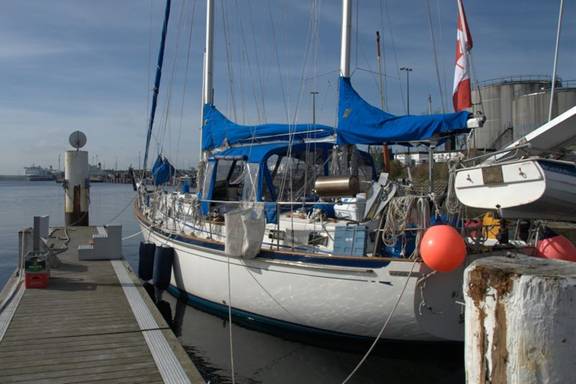 <![endif]>
In the water and ready to sail and motor on
We motored north to Fehmarn Island, and filled Pilgrim's fuel tanks.  Our first anchorage was off the fishing village of Orth on the southwest side of Fehmarn Island.   
<![if !vml]>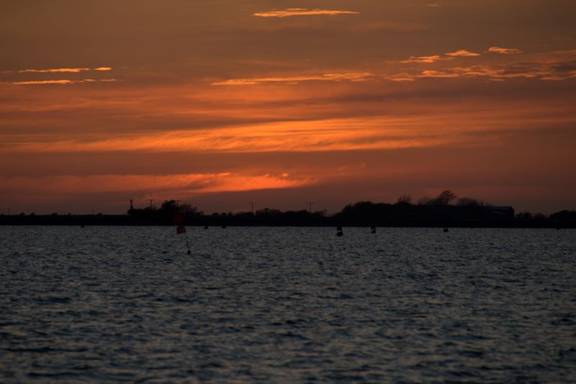 <![endif]>
Fish net markers set against a wonderful sunset on the water
A moderate east wind gave us a good sail northwest into Denmark's Lille Bælt.  The sky was overcast and the wind was chilly, but we were sailing.  The country consists of about 400 islands and the peninsula north of Germany (Jutland), so it is not unusual to see many ferries in Danish waters.  Some are small island-hopping ferries, and some are large catamarans that travel at 37 knots and can sneak up on you very quickly.
<![if !vml]>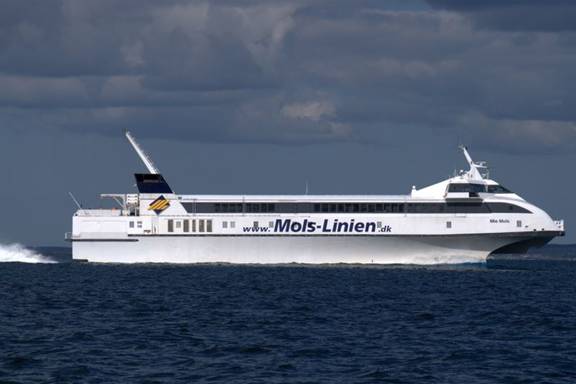 <![endif]>
These boats can travel at 37 knots and they insist that you stand clear
We anchored north of Ærø near the charming town of Ærøskøbing and waited out 25 knot winds at anchor.  Ærøskøbing  reminded us of Rønne on Borhnolm, Denmark's eastern-most island with its cobbled streets and half-timbered houses.  
<![if !vml]>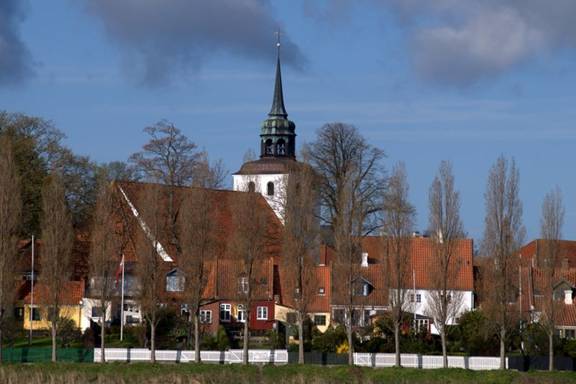 <![endif]>
Ærøskøbing
The western islands of  Ærø and Fyn remind us of Ireland:  a green patchwork quilt of fields with the occasional wooded stand of trees.  What we could not figure out was where the cows and sheep were.  For a country famous for its Danish Blue Cheese, there was little evidence of livestock.  The shorelines were a mixture of sandy beaches with colourful bath houses and steep orange-brown sand cliffs.  Because the land is sandy, there are large sand spits which are ideal for establishing wind farms.  Denmark seemed to have the most wind farms based in the sea, the largest being one south of Gesdner (about 5 miles long).
<![if !vml]>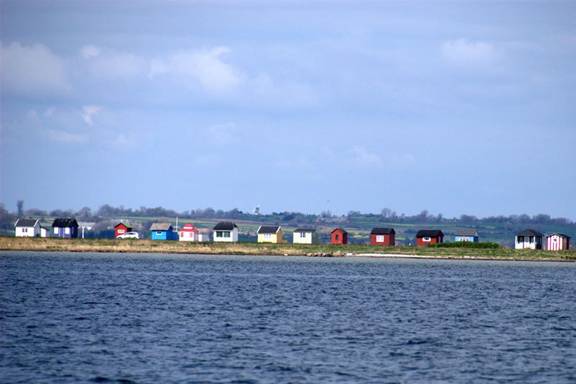 <![endif]>
Bath houses near Ærøskøbing
We had one day of no wind, during which we motored to Helnaes Bugt on the southwest shore of Fyn, where we waited out another 2-day NE gale.  After the gale we had another day without wind, so we motored further north along the west coast of Fyn to an anchorage in Gamborg Fjord, near Middelfart.
<![if !vml]>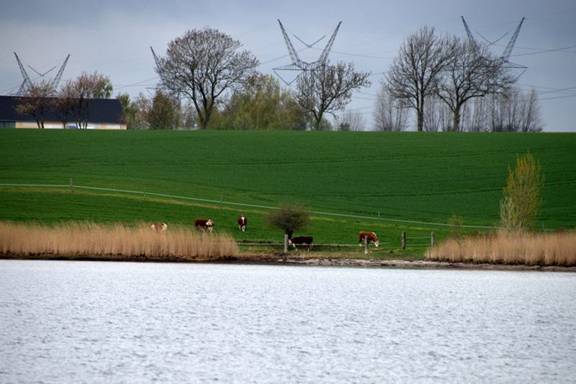 <![endif]>
 The following two days were windless and so we motored.  We anchored in As Vig near the local church, and the following day anchored in Ebeltoft north of Århus Bugt. 
<![if !vml]>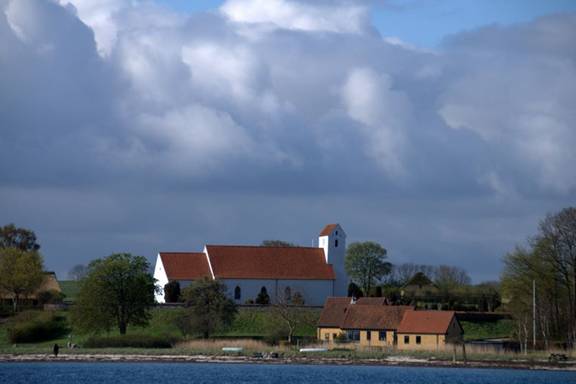 <![endif]>
Church at As Vig … the anchorage was along a sandy beach beside the local boat club
Our last port in Denmark was on the island Anholt in the middle of the Kattegat, 20 miles offshore.  It is a popular cruising destination based on the aerial pictures in our cruising guide.  Since it was early in the season, there were only 12-15 boats at the marina.  We waited out yet another NE gale in this port.  There is a small community on the island; a grocery store, a post office a few pubs and restaurants, but no bank.  We saw sheep, and one house had an egg stand, but no eggs for sale.  Most of the community is probably resident only in the summer and are artists and craftspeople. 
<![if !vml]>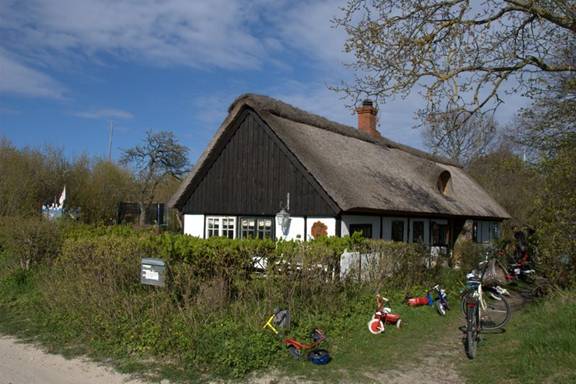 <![endif]>
Local nursery/day care centre
<![if !vml]>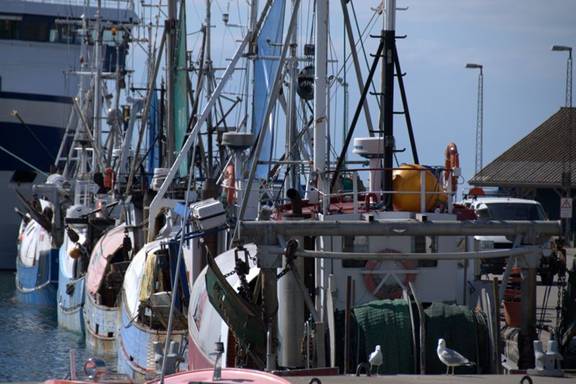 <![endif]>
Anholt  fishing fleet in port waiting for the gale
<![if !vml]>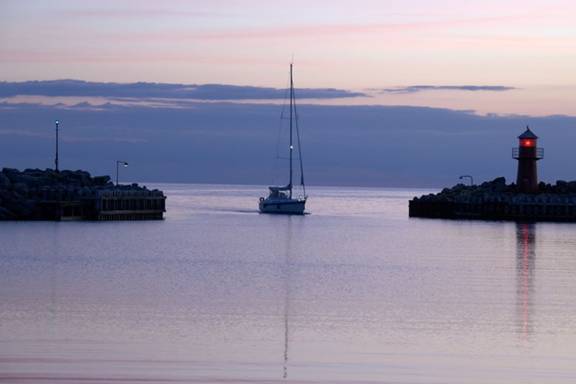 <![endif]>
Last sunset in Denmark
The day after the gale we motored to Varberg, Sweden.  It was hard to believe the wind had completely died, leaving no ripples on the water that was still lumpy with waves from the gale.  We gave one poor ragged bird a hitch from the middle of the shipping channel to Varberg.
<![if !vml]>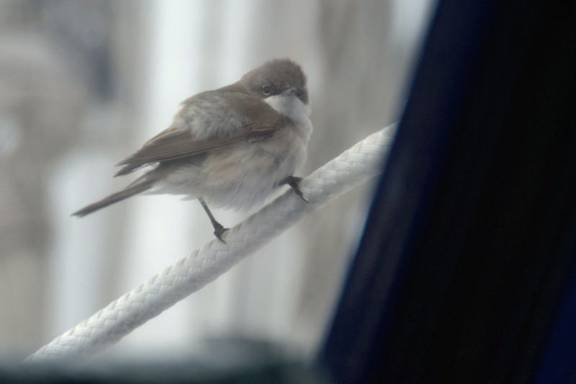 <![endif]>
Our Denmark to Sweden hitchhiker
Cruising in Denmark was not a great pleasure for us for several reasons; we love to be at anchor, and except in the Lille Bælt there are few anchorages.  Even in Lille Bælt, the anchorages are often the lee side of an island or the mainland, and do not offer good protection for all winds.  While we were in the Lille Bælt the weather was either windless or a gale, with lots of cloud and cold air.  If it had been sunny and we could have sailed, we may have appreciated the area more.  We enjoyed our time most on Bornholm, despite the lack of anchorages. 
Our time in Sweden was short and repetitive of 2009 (in reverse).  It was strange feeling quite at home so far away from home.  We anchored in three new harbours, and at Utkäften just SW of Tjőrn we saw our first seal. 
Seals in North America and Europe seem to share a trait. If there are seals in a quiet harbour  and hear an anchor deployed , they surface to take a look and usually watch the anchoring process.  We half expect them to give us a rating on our anchoring ability. 
<![if !vml]>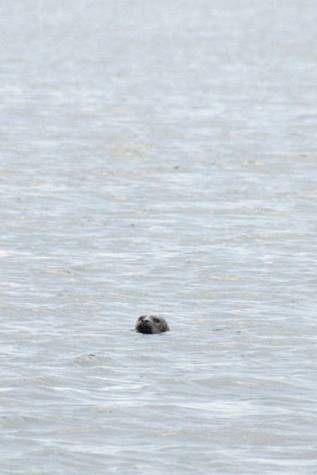 <![endif]>
Anchor set judge
We returned to Wallhamn Marina, where we left Pilgrim over the winter of 2008/09 to pick up some supplies, then worked our way north to Strömstad and over to Norway.  The weather in May 2009 was delightful; the weather this May has been poor.  We would rather be sailing than on land, but some good weather would make the journey better.
<![if !vml]>
<![endif]>
Pilgrim back at Wallhamn Marina
<![if !vml]>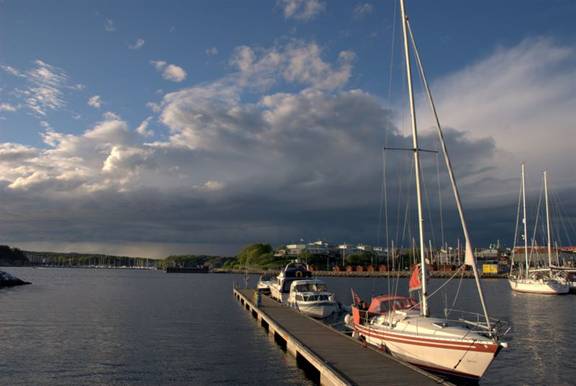 <![endif]>
Strömstad waiting for yet another gale to pass