Germany, Baltic Coast.

 

September 11 – October 23, 2009

Our first port was Sassnitz, on the east coast of Rügen Island, Germany's eastern-most island in the Baltic.   The harbour is large.  It is mainly for fishing boats and has an unused ferry terminal.  

<![if !vml]>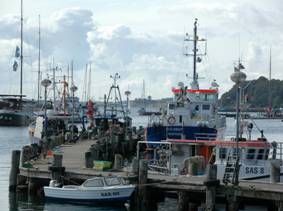 <![endif]> <![if !vml]>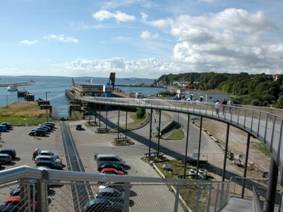 <![endif]>
Local fishing fleet and fish market                        Unused ferry terminal and footbridge from harbor to city
The main ferry terminal has moved southwest of Sassnitz. The facilities for pleasure craft are very old and decrepit, especially for boats that need to lie alongside rather than between posts with bow to the quay.
<![if !vml]>
<![endif]> <![if !vml]>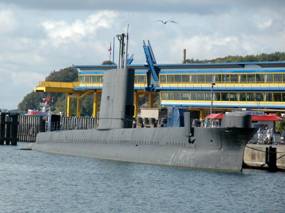 <![endif]>
Pilgrim at a rusty falling apart commercial dock         1963 British Oberon Class sub H.M.S OTUS
 No Internet, pay to wash and have a dump (use the onshore head). There were two interesting boats in the harbour:  a square-rigger from Holland and a 35-40 meter ketch from Southampton, Steinlager 2.
<![if !vml]>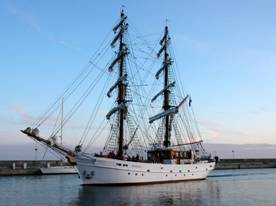 <![endif]> <![if !vml]>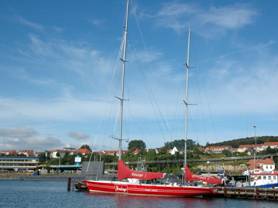 <![endif]>
Square-rigger cruise liner from Holland, totally automated         Steinlager 2, a charter badly neglected
 We were fascinated watching German sailboats dock.  They seem to take the most difficult spot in which to moor, and also insure that they moor so that any other boat that is already docked cannot get out before them. 
Sassnitz and most of Rügen Island are for vacationers, which means there were lots of souvenir shops and gift boutiques. 
<![if !vml]>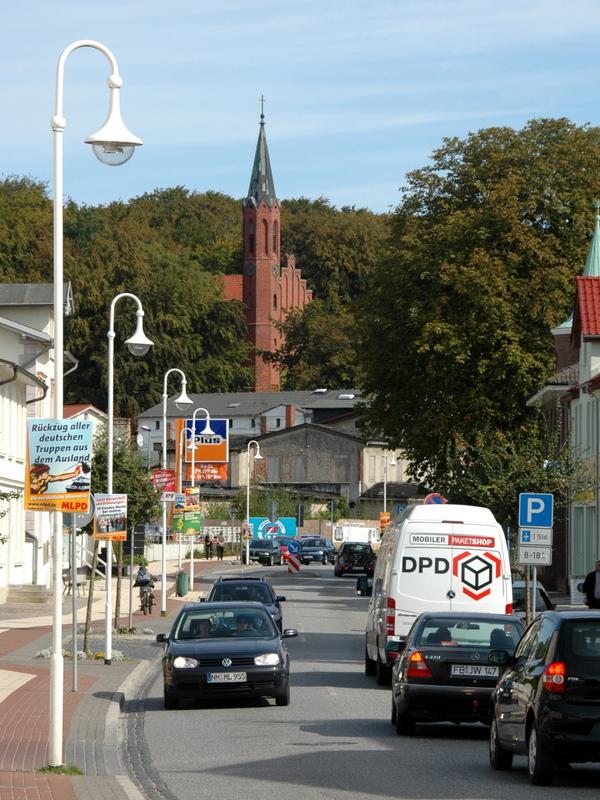 <![endif]>
Traffic clogged roadways  in a resort setting with only the church to add a sense of history
The Tourist Information brochure, in German and English, is entertainment in itself.  They must have run the German text through a freeware German translation program.  We understand the intent of most of the description, but some of the word choices were comical. 
For example, "At Bahnhofstrasse 19a the motivated team of TouristService Sassnitz welcomes the visitors with information about beautiful domiciles, interesting excursions and individual arrangements." 
Our second night in Sassnitz we were visited by a Customs official who could not speak English.  We filled out a form (in German only) with his help, and he stamped it and gave us a copy.  One of these days we will get the form translated so that we can see what we signed. When we were in German ports in 2008 (Borkum, Helgoland, Brunsbuttle and Rendsburg) there were no official visits, so we assume the former East Germans have maintained some of the Soviet officiousness. 
The local chalk cliffs hardly compete with Dover, but there is a chalk quarry and the chalk is used for therapeutic purposes.  The town is a tourist spot for Germans dating back to Victorian times.
<![if !vml]>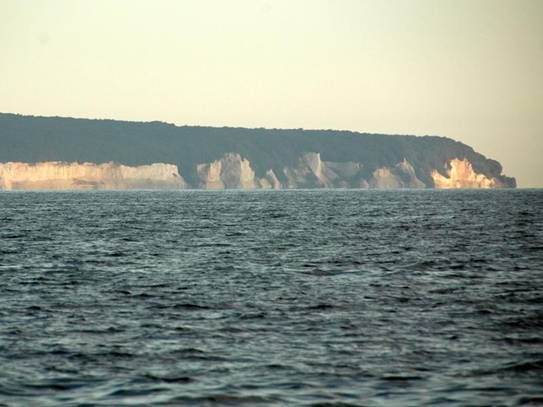 <![endif]>
They grind the chalk and I'll leave it to your imagination as to what they therapeutically do with it
Our next port was Stralsund, about 45 nm away.  Since the route was somewhat circuitous and we had to go through a bascule (opening) bridge and were uncertain about when the bridge opened, we left at dawn to give ourselves plenty of time for the passage. 
<![if !vml]>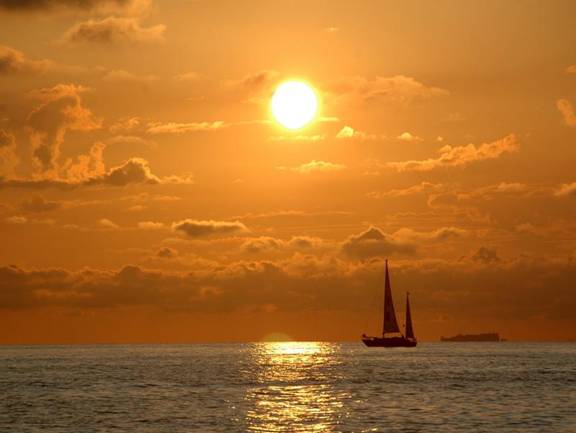 <![endif]>
We left before sunrise and caught another early riser on the move heading the other way
There was no wind until about 2:00 PM, and by then it was on the nose.  As a result we spent the entire day motoring, our first since sometime in late July.  There were low-lying clouds on the hills of Rügen Island as we left port, and we suspected we might run into some visibility problems.  The fog hit us when we were in one of the buoyed channels going into Greifswalder Bodden, an inland lake south of Rügan Island.  Between the chart plotter, radar, and AIS (tracking system for commercial yachts), we managed to pass through the fog that gave us visibility of less than a boat length.  Hooray for technology!
<![if !vml]>
<![endif]> <![if !vml]>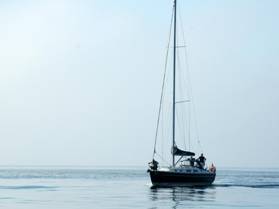 <![endif]>
The fog bank is just ahead, no wind, flat seas and a boat coming towards us shaking their heads
<![if !vml]>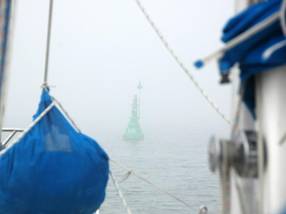 <![endif]> <![if !vml]>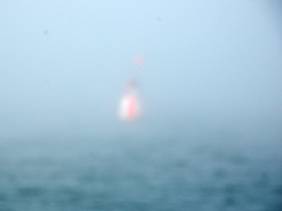 <![endif]>
Visibility of 40-feet makes navigation aids and boats hard to see …   This nav aid was 30 feet off the bow                           
Once the fog lifted, we had a delightful motor trip up the Strelausund … beautiful countryside and dramatic cloud and sun.
<![if !vml]>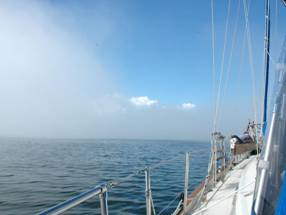 <![endif]> <![if !vml]>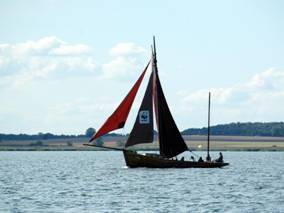 <![endif]>
The fog layer finally cleared and we had a great motor trip up the Strelausund
  We arrived at the bascule bridge at 2:30 PM.  There were no signs on the bridge concerning opening times.   All we had was a German language guide to ports, and we were not sure if the bridge opening time (1720) was local, standard, or UTC.  We decided to anchor in 8 feet of water just outside the channel.  The windless battery had given up her ghost … even the spare battery proved useless, even though we thought she was being faithfully charged.  We decided to try the Danforth anchor, which could be deployed without the windless, and retrieved with (or without) the windless, but we could not get a good hold and gave up the anchoring idea.  As we circled, other boats joined us.  Some tied to the wall; "VERBOTEN" read the sign, so we did not tie to the wall.
Jane was briefly entertained when she observed a grown swan and a cygnet.  The cygnet still had grey feathers and was fuzzy, so not fully grown.  However, with migration season at hand, the parent swan was trying to help the little one learn to fly.  It was the first time she ever observed a cygnet learning to fly.
<![if !vml]>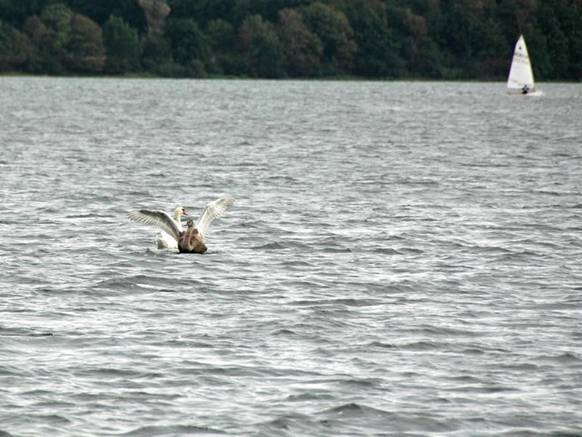 <![endif]>
Grown swan and a cygnet engaged in flying lessons
By the time 5:20 rolled around, there were about 20 boats waiting to go through the bridge, including 3 Hobbie Cats that were towed by an inflatable. 
<![if !vml]>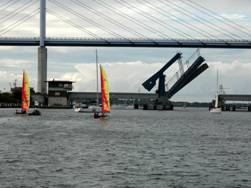 <![endif]> <![if !vml]>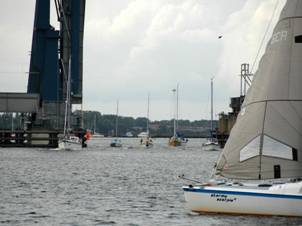 <![endif]>
Boats both sides waiting … then the wall of downstream boats comes charging down with the current
We were serenaded with music of a brass band playing some German march.  (In Rendsburg in 2008 when we passed under the lift bridge without a long wait, we heard our national anthem!)
Stralsund has some heavy industry, such as the Volkswerft (People's shipyard), but seems to rely heavily on tourism.  The old town has both an Alter Markt and Neuer Markt and a pedestrian shopping mall in between with souvenir and clothing shops.  We were amazed to see vacant lots overgrown with weeds in the heart of the town. 
<![if !vml]>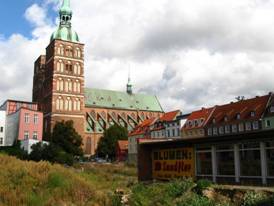 <![endif]> <![if !vml]>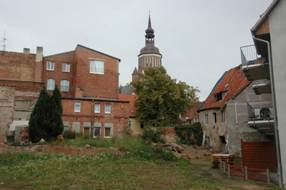 <![endif]>
St. Nicholas' Church 1270-1360                        The effects of WWII bombings are still evident.       
There are over 800 buildings in the town that have survived (some with major renovations) since Hanseatic days.  Some were restored to the 13th century, and some were in a sorry state of disrepair. 
<![if !vml]>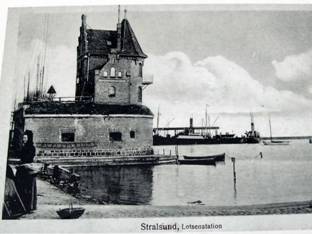 <![endif]> <![if !vml]>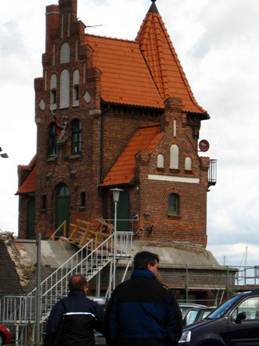 <![endif]>
Lotsenstation (pilot house and harbour administration building) in 19th century and now
We have learned that the East German state (GDR) took over ownership of many buildings after WWII, and after unification in 1990, there are many ownership disputes that must be decided before repairs can be made.  
<![if !vml]>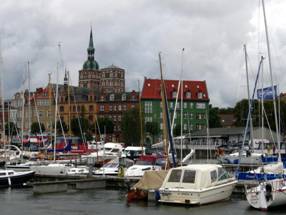 <![endif]> <![if !vml]>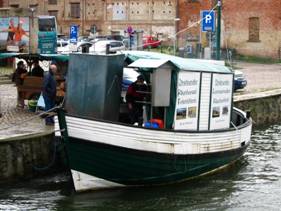 <![endif]> 
Well populated marina with fresh and smoked fish at dockside
<![if !vml]>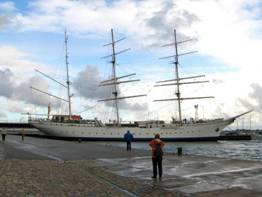 <![endif]> <![if !vml]>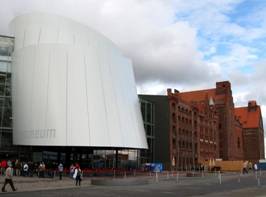 <![endif]> 
Gorch Fock a tall ship of the German Navy    A modern museum front looks out of place
<![if !vml]>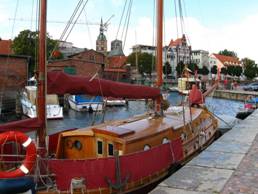 <![endif]> <![if !vml]>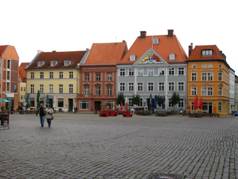 <![endif]>  
Classic house boat that doesn't look lived in        Old Market square
The City Hall dominates the Alter Markt with its brick Gothic style.  The building consists of two long halls with a covered marketplace in between where vendors used to have booths.  In one room there was a display of keyboard instruments, mainly organs, that was quite fascinating. 
<![if !vml]>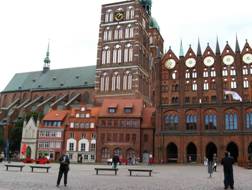 <![endif]> <![if !vml]>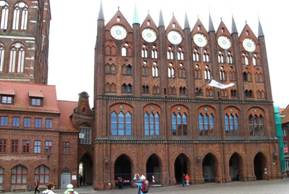 <![endif]> 
4 winged town hall built in 1310-1350 with Nikolaikirche attached and to the left
<![if !vml]>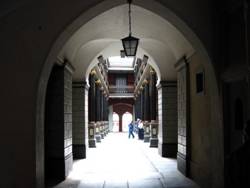 <![endif]>
Narrow inner courtyard situated transversally to the west side of the church
The town hall and the Church of St. Nicholas together constitute one of the most impressive architectural ensembles in any city in North Germany.
<![if !vml]>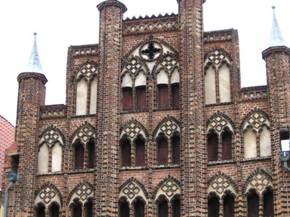 <![endif]>
Wulflamhaus on the market square
Most of the German Hanseatic towns had two or three major brick gothic churches.  In Stralsund St. Nicholas (1276) is on the Alter Markt, St. Mary's (1384) is on the Neuer Markt and St. Jacob's (1400) in between has been secularized.  There was an entrance fee for the museum in St. Jacobs, which we viewed from the outside.  We entered the other two churches and made our customary donation.  Both St. Nicholas and St. Mary's are in the process of restoration and the bright medieval colours decorate the whitewashed vaulted ceilings held up by brick columns.
<![if !vml]>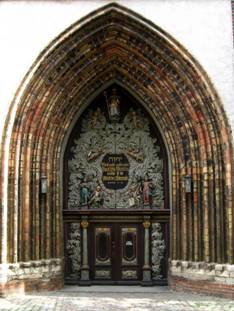 <![endif]> <![if !vml]>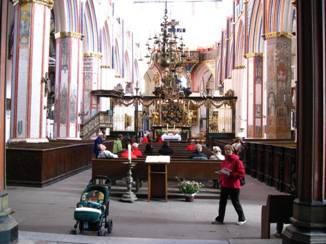 <![endif]>
Church of St. Nicholas  1270-1300. A three-naved Northern French basilica design in red brick
<![if !vml]>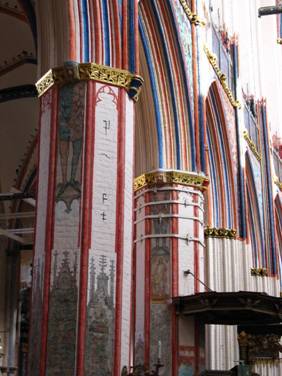 <![endif]> <![if !vml]>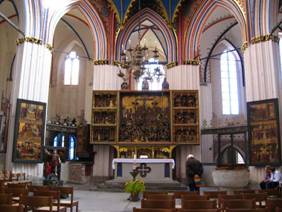 <![endif]> 
The interior is painted plaster over brick
In nearby St. Nicholas Church there was a model of a mechanical organ showing all the working parts, using Plexiglas to see the working parts normally in an ornamented box. 
<![if !vml]>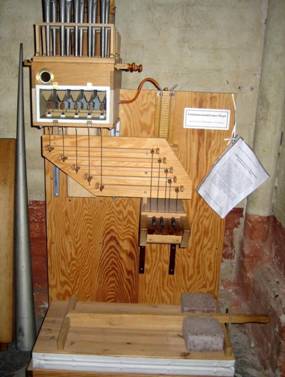 <![endif]>
A working model of part of a bellows driven organ
Major restoration focus is on getting the various Church organs to work. Most suffered damage during WWII but are slowly being rebuilt.
St. Mary's most valuable treasure is the Baroque organ, the last to be built by master organ builder Friedrich Stellwagen of Lübeck in 1659. 
<![if !vml]>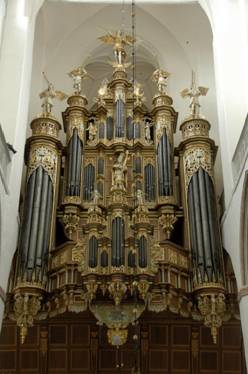 <![endif]> <![if !vml]>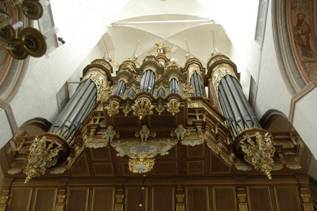 <![endif]>
St. Marien,  Baroque organ built by Friedrich Stellwagen of Lubeck in 1659, and survived WWII bombings
However, a plaque behind the high altar from Coventry Cathedral in England with "Father Forgive" on it and a cross made of nails was the most moving item.  This is the theme that Coventry, destroyed by German bombs in WWII, has been using to embrace churches around the world, many in Germany.  It was so moving to see this after we had been in Coventry in 2008.
<![if !vml]>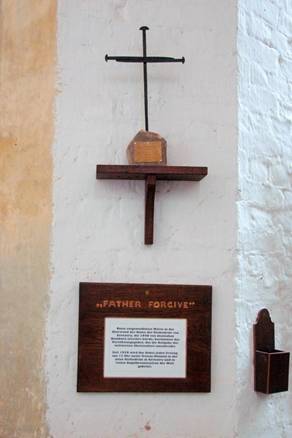 <![endif]> 
Coventry Cathedral's Cross of Nails
The smaller Heilgeistkirche (Holy Spirit Church) had its origins in the Heilgeist Hospital, 1256.  The hospital was dedicated to care of people suffering from leprosy and the plague and was situated outside the city wall.  The hospital also took in travelers and old people who could no longer care for themselves.  The brick church dates from the early 15th century and was rebuilt after the 30-years war (1618-1648). 
<![if !vml]>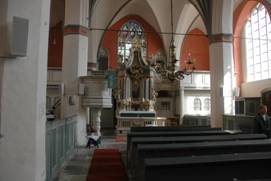 <![endif]> <![if !vml]>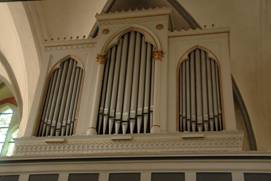 <![endif]> 
Heilgeistkirche (Holy Spirit Church)
There were two other religious structures, the Abbey of Catherine (now an oceanographic museum) and St. John's Monastery (now a cultural history museum).    Near St. John's we saw a memorial to Jews who died in pogroms in the area. 
<![if !vml]>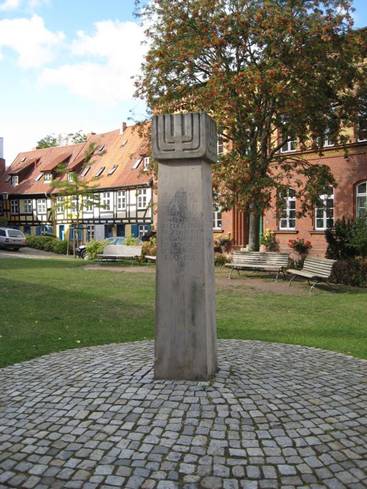 <![endif]>
Jewish memorial in a well tended  Public Park
Many of the medieval buildings in the former walled city have gabled roofs and a combination of glazed and unglazed brick.  Some of the original wall and gates are still standing.   There are modern buildings as well as renovated old building with apartments, but there is only one high-end small grocery store, no fruit markets. We wonder how normal people shop for basic necessities in the old town. 
<![if !vml]>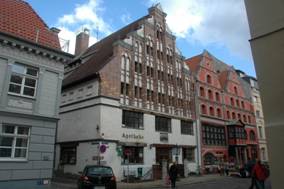 <![endif]> <![if !vml]>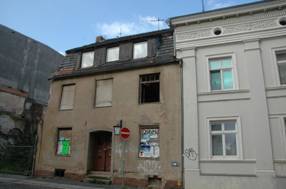 <![endif]>
Drug store and other single purpose shops                   A run down "ownership disputed" building
The Police boarded us our first morning in Stralsund, and the following morning a second time by German customs (this time by 2 rude officers banging on the hull at 8am … at least they didn't come at 4am). I'm not sure if it is the Canadian Flag or they just don't like tourists. Even the Russian officials gave us better treatment.
At daybreak on September 15 we left Stralsund and headed through a torturous channel for Warnemunde. Our original calculations had suggested a 90 plus mile trip (a possible overnighter), further refinement of the course reduced the trip to a mere 50 plus miles. The weather forecast had promised moderate NE winds, a perfect broad reach and reasonable seas. The reality of the situation was somewhat different. While in the protected if somewhat circuitous channel in the Kubitzer Bodden leading up to Hiddenseewe experienced the occasional 20-knot gust but thought nothing of it. Our focus was on the hundreds of swans in the shallows gathering for a migration. The water was white with fine feathers loosened by grooming swans.
<![if !vml]>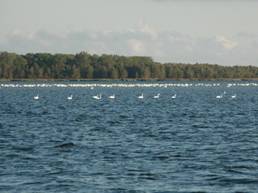 <![endif]> <![if !vml]>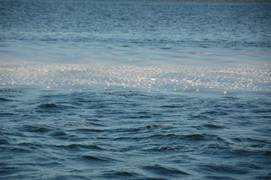 <![endif]>
A gathering of swans                                            and the resulting layer of down from constant grooming
We witnessed several large V formations not of Canada Geese but of white swans. Incredible.  Later in Rostock we again found a large flock of swans and we read reports of other boaters seeing large flocks in July.  Perhaps the German swans have learned to live peacefully side-by-side and be less territorial than they are in other countries.  
Once out of the protected channel we had our first weather alert … NE to E force 5 to 6 gusting to 7 (20-25 knots gusting to 30) diminishing later in the evening. The wind picked up and the waves picked up and we were picked up and dropped down for the next 6 hours.
<![if !vml]>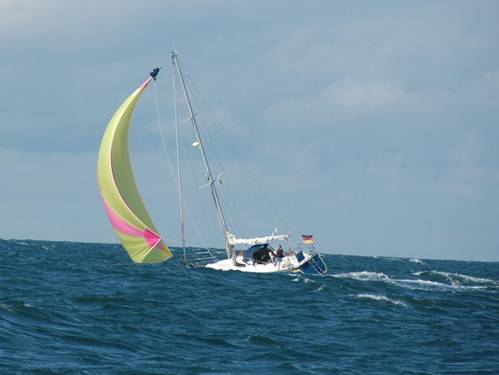 <![endif]> 
On the edge of control
We arrived at the large and somewhat opulent Warnemünde marina exhausted but ready for the challenges of doing a long overdue laundry.
<![if !vml]>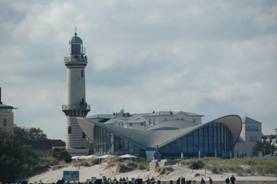 <![endif]> <![if !vml]>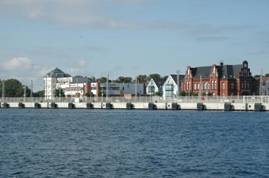 <![endif]>
Modern tourist building on the beach                         a modern well equipped and expensive marina
September 16 we motored south down the Warnow River to Rostock.  The industry including shipyards and terminals for ferries and cargo ships was impressive. 
<![if !vml]>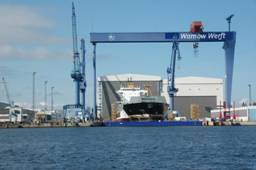 <![endif]> <![if !vml]>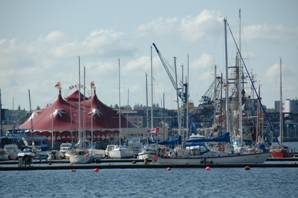 <![endif]>
The ship yard had some repair business               The city marina beside the circus grounds
Rostock was an important Hanseatic city, but continued to thrive into the 20th century.  Therefore it was a prime bombing target in WWII and much of the city was in ruins. 
<![if !vml]>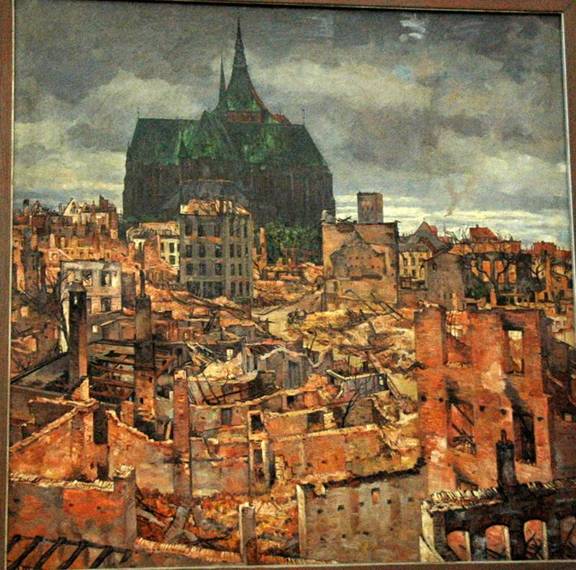 <![endif]>
Rostock After the bombing
This city was in East Germany, and the GDR under Soviet occupation, decided to make Rostock a model of reconstruction.  Unlike Stralsund, the downtown core is modern with very few building in a state of disrepair.  Many of the new buildings are ingenious in that they have used the old gabled designs in modern architecture. 
<![if !vml]>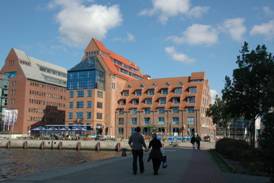 <![endif]> <![if !vml]>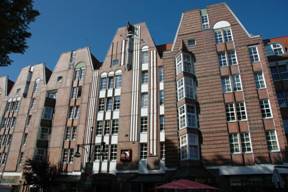 <![endif]>
Modern office buildings at the harbor and apartment building in town based on Hanseatic designs
There are a few really old buildings:  the town hall, St. Mary's Church, and some of the university buildings. 
<![if !vml]>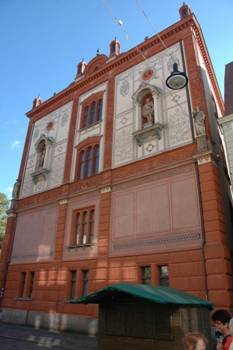 <![endif]> <![if !vml]>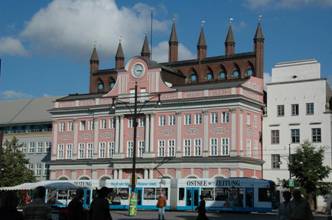 <![endif]>
University building (reconstructed)                  City Hall with its Hanseatic façade and Baroque columns
St. Mary's had the best English language pamphlet for sale that gave us the best description on how to read an astronomical clock. Since Gdańsk, we have seen a number of brick Gothic churches with these enormous clocks.  The one in Rostock has figures of the apostles that stand in niches at the top, with Christ in the middle.  At midday and at midnight, one of the apostle figures walks from right to left past Christ, and the carillon plays as at every other hour.  But a door closes when the last figure, Judas, walks past. 
<![if !vml]>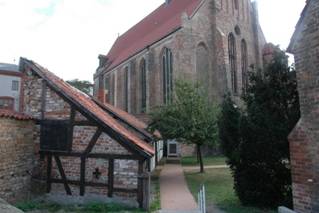 <![endif]> <![if !vml]>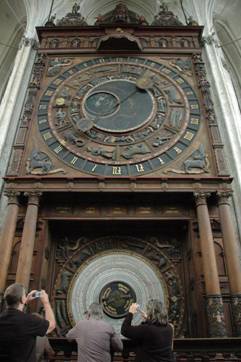 <![endif]>
Kulturhistorisches Museum of Rostock                                          St. Mary's astronomical clock
There are a couple of supermarket chains that are low-end in the city, probably to cater to student needs since the university is in the centre of the city, but there are also open air fruit, vegetable, meat, dairy and bakery stalls in Neuer Markt, the main market square.  There are several modern large sculpture areas incorporating fountains that are most unusual. 
<![if !vml]>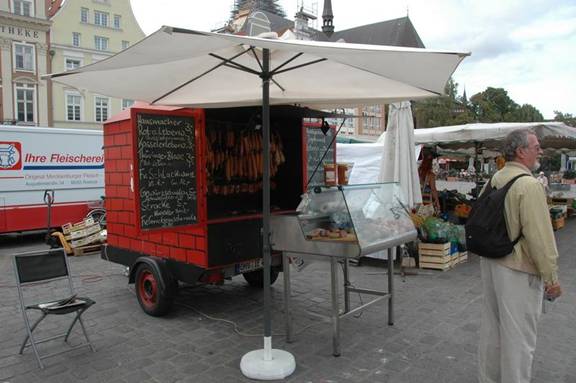 <![endif]>
<![if !vml]>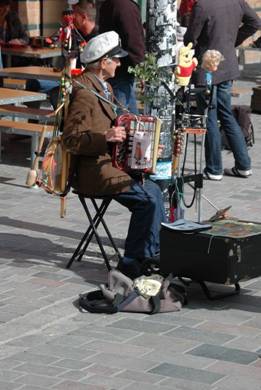 <![endif]> <![if !vml]>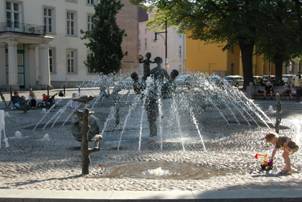 <![endif]>
<![if !vml]>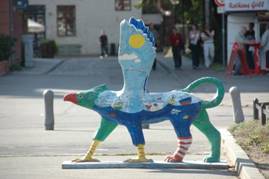 <![endif]> <![if !vml]>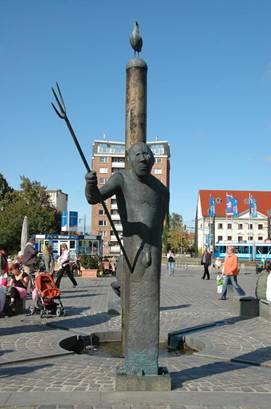 <![endif]>
The marina is almost empty.  We are in the old town area, so the location is perfect and the facilities good.  We enjoyed watching a few Optimists out on the river, some rowing sculls, a dragon boat and an ambitious 29er.  We cannot get over the number of marinas, some huge, like in Warnemünde, and the number of boats.  No wonder we see so many German boats cruising in Scandinavia. 
<![if !vml]>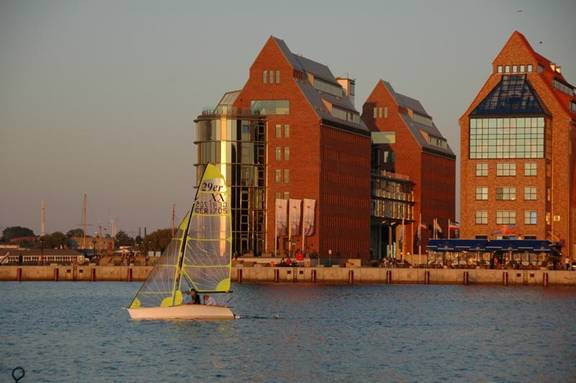 <![endif]>
Practicing for the next Olympics in Rostock
Wismar, our next Hanseatic city.  On September 18 we left Rostock and motored out the Warnow River to the Baltic in calm conditions.  Out in the Baltic there was hardly any wind, so we motored west.  By noon we were passing the marina between Rostock and Wismar where we had planned to stay.  We found another potential harbour further along the SW coast into the Wismar Bucht.  Since our windlass battery is kaput, we chose not to anchor, even though there were several anchorage spots near Timmendorf on Insel Poel, where we found a mooring for the night.  In the early afternoon the wind filled in from the east, and we sailed with just the Genoa for most of the afternoon.  There was a 3-masted schooner with two square sails on the aft masts that was going in the same direction as us.  We beat the pants off her, even when she had two headsails, two mainsails and two square sails up. 
<![if !vml]>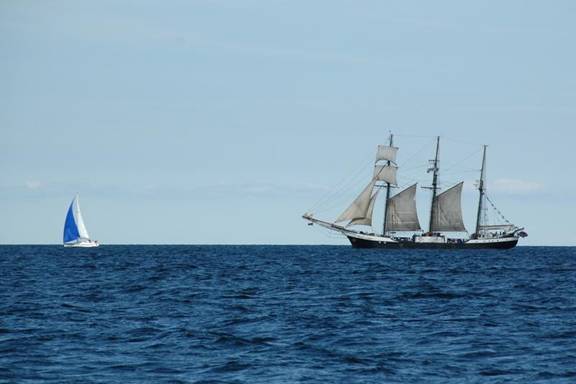 <![endif]>
It was not difficult passing this training ship.  They weren't motivated to hoist enough sails to give us a challenge
Insel Poel (Island Poel) is a holiday spot with some agricultural land just north and east of Wismar.  Timmendorf on Insel Poel seems to be a very popular harbour.  We arrived at 4PM, and by 6PM just about every spot was taken.  We had difficulty with other boaters and the harbourmaster who would not speak English, and perhaps understood little as well.  The pier where we moored was filthy with seagull poop and the accompanying flies.  Electricity plug-in cost extra, and when we put in our 50 cents, we got no power.  No refunds either.   We walked through the "town" and discovered a small collection of rental holiday houses and a large RV park.  The beach was covered with windproof benches that you could rent. 
<![if !vml]>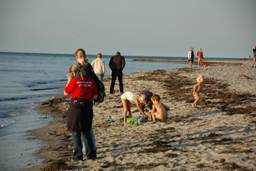 <![endif]> <![if !vml]>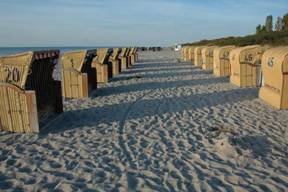 <![endif]>
Cool, but not so cold you need a bathing suit      But cool enough to keep the adult chair-renters away
The sand was not great … certainly not like Bornholm or Poland.  We could not figure out why cruisers flocked to this port.  There were several boats that anchored off, including the square-rigger that arrived 1.5 hours after us. 
<![if !vml]>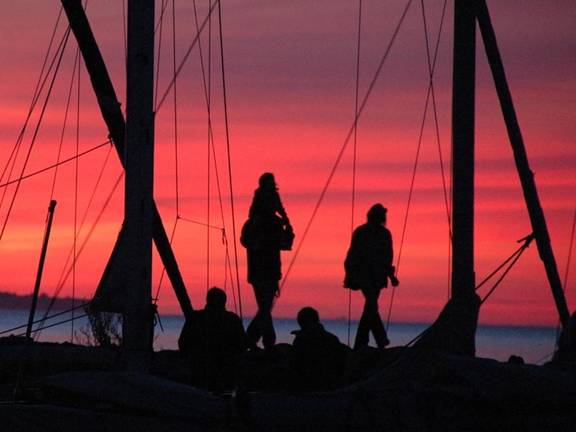 <![endif]>
Despite the lack of ambiance, the sunset was lovely
September 19 we left at 9:00 for the short motor trip down buoyed channels to Wismar, and tied up in the Alte Hafen, the old harbour.
<![if !vml]>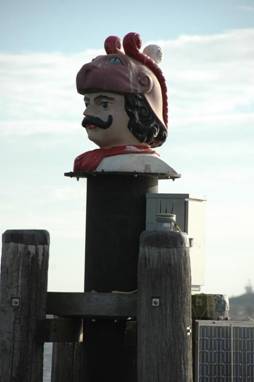 <![endif]> <![if !vml]>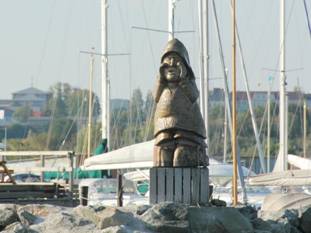 <![endif]>
Swedish guards at the German border? The Swedish heads marked the channel entrance during the Swedish reign.
 There seemed to be some weekend festival going on with stalls and a stage with live music that pounded us until midnight.  We are both annoyed and amused that the local pop artists sing all their songs in English, but no one will speak English to us.   We even heard a Karaoke version of "Oh Susanna." 
<![if !vml]>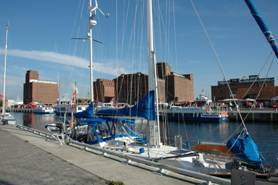 <![endif]> <![if !vml]>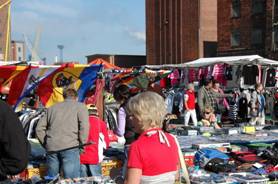 <![endif]>
Pilgrim tied up to the Old Harbour wall                           Stalls across the harbor during the festival weekend
Wismar (50,000) is much smaller than Rostock (200,000), yet was just as important as a Hanseatic city.  After the 30-years War, the Swedes ruled Wismar, so there is a fair bit of Swedish culture in the city.  Of the three large brick Gothic churches, only two remain standing.  St. Mary's tower was restored, but the rest of the church was dynamited after WWII bombings destroyed most of the nave.  St. Nicholas was spared any major destruction in WWII, and St. George's is being restored after much damage.  Wismar also has a Heiligen Geist Kirche (Holy Spirit Church) that began as a hospital, much like in Stralsund. 
<![if !vml]>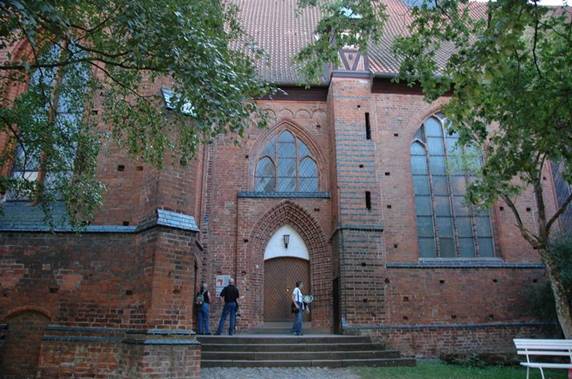 <![endif]>
HeiligenGeist Kirche (Holy Spirit Church) in Wismar
<![if !vml]>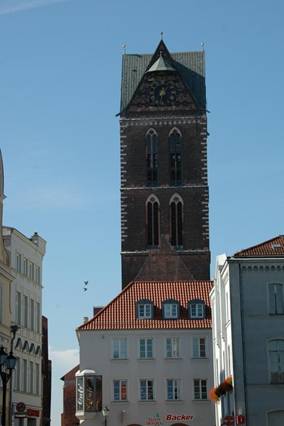 <![endif]> <![if !vml]>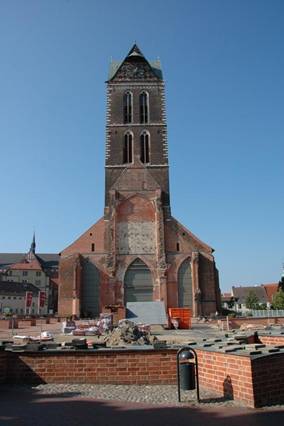 <![endif]>
The tower is all that is still standing on St. Mary's Church in Wismar.  The rest of the church was leveled in 1960 ; it was easier for an atheist régime to blow up the church than rebuild it.
<![if !vml]>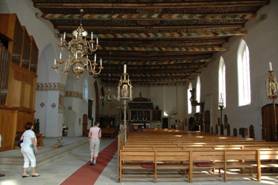 <![endif]> <![if !vml]>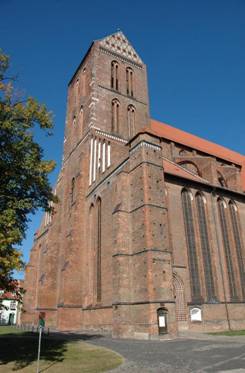 <![endif]> 
Interior of the small Holy Spirit Church      Exterior of St. Nicholas Church
<![if !vml]>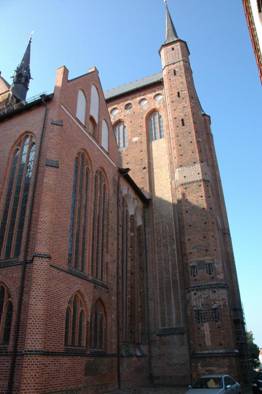 <![endif]> <![if !vml]>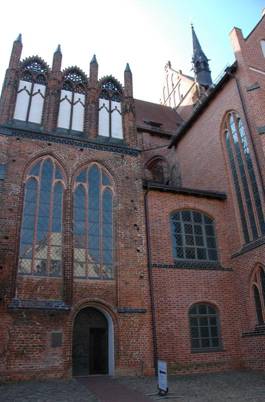 <![endif]>
St. George's in Wismar is still undergoing reconstruction and will be used for meetings and concerts rather than for religious services                                                                     
There is a most interesting sailing ship, Wissemara, that was recovered from its shipwrecked state that takes tour groups out.  It has one single square sail.  We have never seen a ship like it.  There are the usual tour boats and a couple of schooners that also take tourists out from the Alte Hafen.  It is a busy place with somewhat aggressive tour boats with noisy bow thrusters and permanently moored fishing boats selling smoked fish and sandwiches.
<![if !vml]>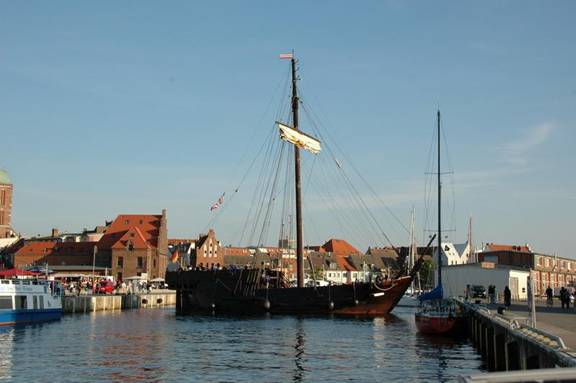 <![endif]>
The Wissemara, turning in tight quarters with no thruster or double screw:  Impressive
The harbour has been rebuilt recently with new concrete walls, a long pipe for securing boats, electrical outlets (included in the modest harbour fee), water (for an extra fee), and a pump-out station.  There has been no attempt to make the harbour look historic.  The land around the harbour has a few modern buildings (mainly offices, one apartment) but lots of open fields with weeds, waiting for development.  There are a couple of brick warehouses for the early 20th century, the oldest buildings in the harbour.  There are cargo ships in the harbour.  One was delivering scrap metal.  One was delivering logs for timber processing.  There is a major shipbuilding yard and a chemical processing plant for a Norwegian firm. 
<![if !vml]>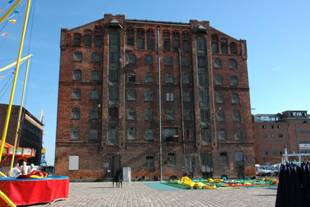 <![endif]> <![if !vml]>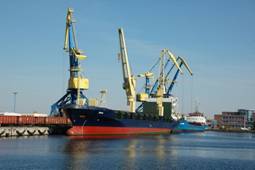 <![endif]>
Brick warehouse from the early 20th century                        Cargo ship unloading in downtown harbour
<![if !vml]>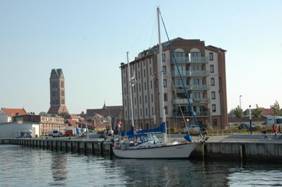 <![endif]> <![if !vml]>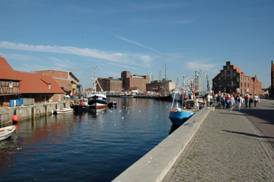 <![endif]>
New apartment building behind Pilgrim in the Alte Hafen     Looking to sea from the end of the Alte Hafen
Wismar has only one market square, where the Waterworks, a pump house constructed between 1580 and 1602, provided water to the city.  The old Gothic city hall was replaced in 1817 with a new classical style.  Several old gabled houses front the market square, including Alter Schwede (the Old Swede) built in 1380.
<![if !vml]>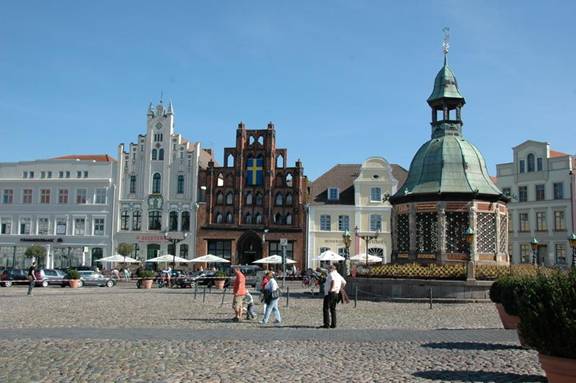 <![endif]>
The market square looking west:  Old Swede (with Swedish flag) and Water Art on the right housing the pumps for the city's water system
As in most medieval towns on the Baltic, it had a manmade waterway, Grube, running through town and providing power to drive mills.  Today the trickle of water is barely enough to float the ducks.
<![if !vml]>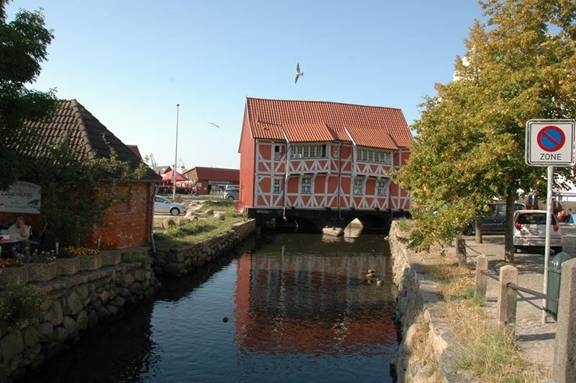 <![endif]>
An old Mill House straddles the Grube waterway that used to drive mills in the city
The Zeughaus, the Arsenal, is a Swedish baroque building.  It replaces an older arsenal that blew up in 1699 when a bad storm set the gunpowder on fire.  Today it houses the city's library.
<![if !vml]>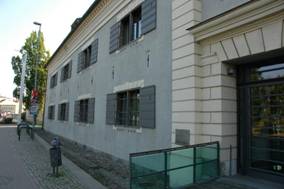 <![endif]> <![if !vml]>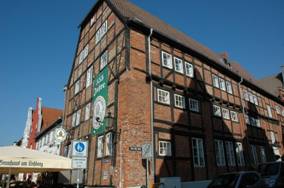 <![endif]>
The Zeughaus now houses the city's library           Brauhaus still serves Wismar's signature brew:  Mumme
We could hardly resist having a half pint of Mumme, the locally brewed beer that was a favorite during the Hanseatic period, in the Brauhaus am Lohberg, dating from 1452.  It was very good, with a strong hop taste. 
The harbourmasters in both Wismar and Rostock were helpful, interested in us and in answering our questions.  Many harbourmasters in the Baltic seem interested only in collecting the harbour fee.  We learned from the Wismar harbourmaster that the shipyard had recently closed down due to a lack of business.  The Russians used this yard as a major supplier / refitter, but with their new yard in St. Petersburg, they moved all their business away from Wismar.
Our last sail of 2009 was to Travemünde, the mouth of the Trave River.  Further downstream is the once powerful Hanseatic city of Lübeck.  The trip of 36 miles was in 15-24 knots of wind from the SW, which meant much of the trip was hard on the wind.  It was a wet, exhilarating sail, and it unclogged our speed log (which often gets little critters living in it, growing up, and then making the twirling mechanism stop).  Both headsails and a reefed main seemed to be a great combination.  After 5 years of sailing 6+ months each year, we think we are just beginning to understand how to make Pilgrim sing at sea.
When we arrived at Marina Baltica, we could clearly identify the marina, but had no idea where to dock the boat.  Every spot seemed taken.  We called on the mobile phone, and were given instructions:  "see the hoist?"  "yes"  "see the power boat beyond it?"  "yes"  "see the two sailboats end to end just your side of the power boat?"  "yes"  "go in between the stern of the powerboat and the sailboats" "You've got to be kidding … there is no room for us."  We followed instructions.  Fortunately the wind was in our favour, we slipped in between the powerboat and sailboats, turned Pilgrim's bow 90 degrees, and let the wind (15 knots) blow us onto the dock that is perpendicular to the sail and powerboats. 
<![if !vml]>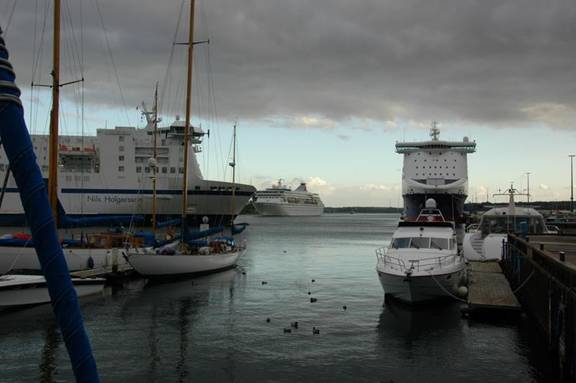 <![endif]>
Our last weeks in Germany were a combination of doing fall maintenance and repairs on Pilgrim and touring Travemünde and Lübeck. 
Lübeck is a strange city.  It is not sure of its identity.  It was the powerful seat of the Hanseatic League in the 13-14th centuries, and continued to thrive as an independent city of great importance into the 19 century.  In 1935 despite resistance from the Social Democrats, clerics and Communists, the Nazis, intent of making Lübeck a "Nuremberg of the north," celebrated the first of their pompous midsummer festivals in front of the Holstentor. 
<![if !vml]>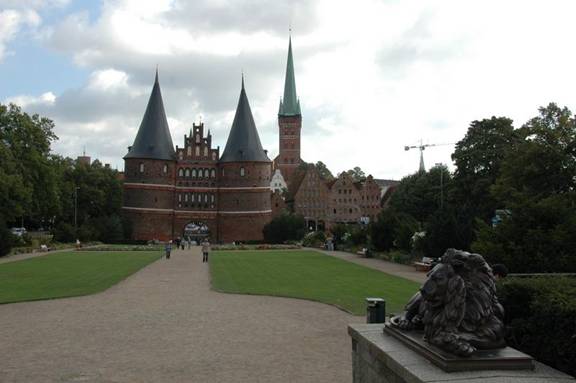 <![endif]>
Lubeck ... Holsten Gate 1464 - 1478, Houses the museum of municipal history
Two years later Lübeck lost its independence and became just another town in Germany.  In March 1942 Lübeck was bombed by the Royal Air Force in retaliation for the German raids on London and Coventry.  It has not recovered its earlier grandeur; it is a mixture of a seedy town, impressive red brick Gothic cathedrals and civic buildings, and a shopping hub with all the North American brand-name stores.  Despite the many marinas and boat clubs on the Trave River, the only chandlery is out of town and not accessible by public transportation.
<![if !vml]>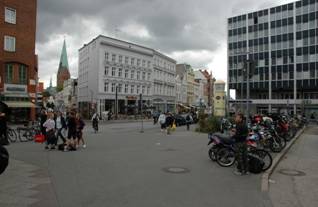 <![endif]> <![if !vml]>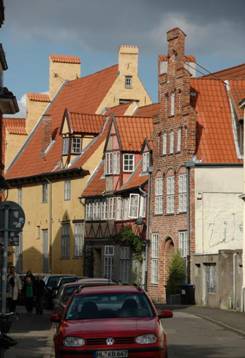 <![endif]>
Shopping area.  St. Petrie spire in background                               Residential street in downtown Lübeck
Neither of us is partial to marzipan, but since this is the marzipan capital of the world, we went to the Niederegger Café, run by the marzipan "factory" for a slice of marzipan nut tart and coffee.  Even this failed to impress us enough to buy any marzipan. 
<![if !vml]>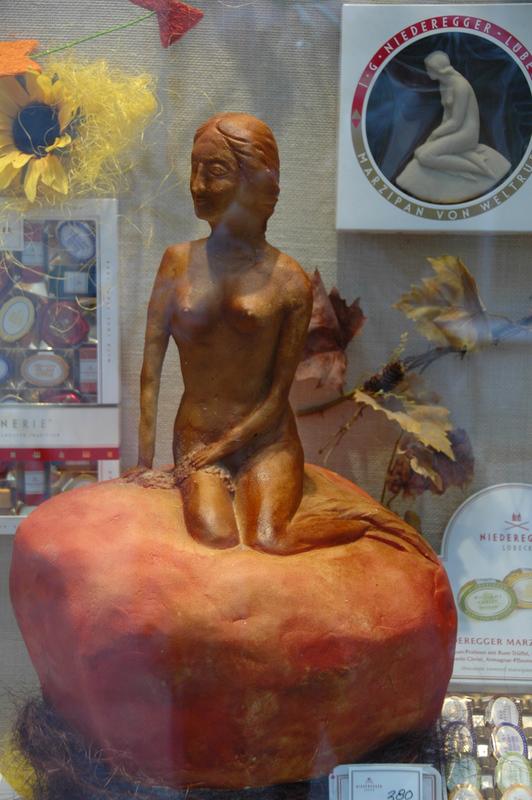 <![endif]>
Marzipan delights on a large scale at Niederegger
There are 5 major cathedrals here.  St. Katherine's and St. Peter's have become secular (museum and concert venue).  The Dom and St. Mary's were severely damaged during WWII bombings and have been rebuilt.  St. Mary's is the cathedral where Dietrich Buxtehude was organist. Both JS Bach and Handel visited him here in Lübeck. 
<![if !vml]>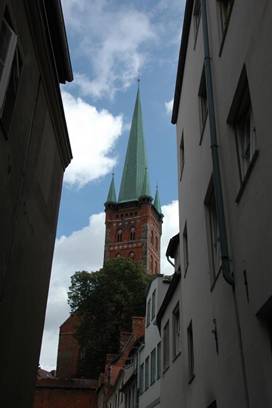 <![endif]> <![if !vml]>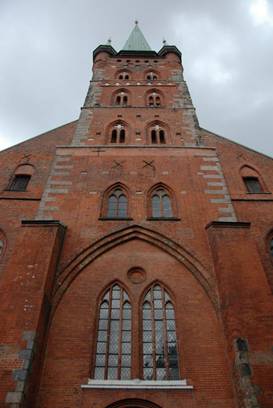 <![endif]>
St. Petri, or St. Peter's, began as a wooden church in 1170, was replaced by a Romanesque stone church in the early 13th Century, and evolved into a largely Gothic church over the next several hundred years.
<![if !vml]>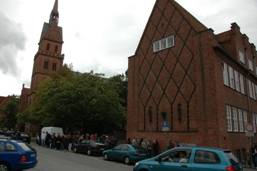 <![endif]> <![if !vml]>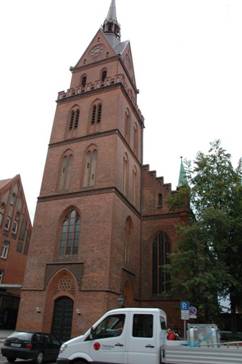 <![endif]> 
The Dom, or Cathedral, is the oldest church in Lübeck. Its cornerstone was laid by Heinrich the Lion in 1173.  Originally Roman Catholic and Romanesque, it became Lutheran with neo-Gothic brick additions after the Reformation.  The interior has been totally reconstructed and designed for a smaller worshipping congregation.
<![if !vml]>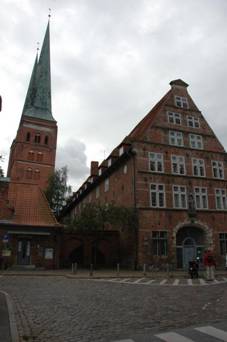 <![endif]>  <![if !vml]>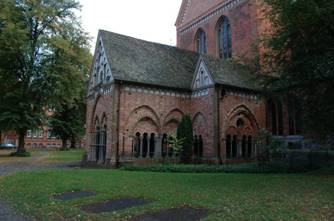 <![endif]> 
<![if !vml]>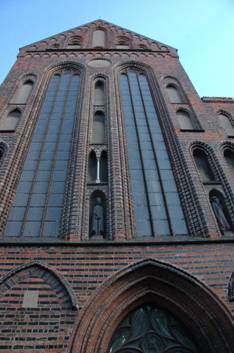 <![endif]>
Catherine's Church 1300-1360.  Originally a Franciscan monastery church, thus there is no spire
<![if !vml]>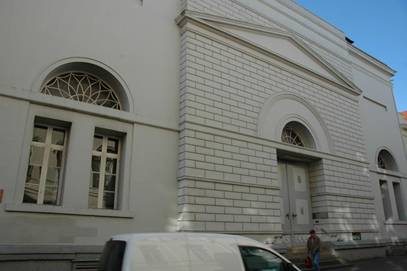 <![endif]>
Presbyterian Church 1824
<![if !vml]>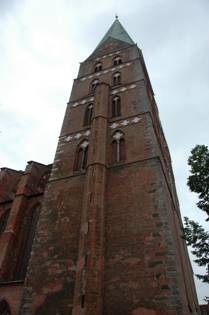 <![endif]><![if !vml]>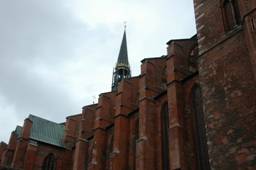 <![endif]>
St Marian
<![if !vml]>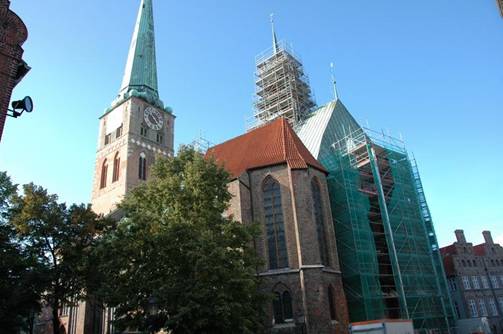 <![endif]>
St. Jakobi 1227. Older late-Romanesque hall church for seafarers, not destroyed in 1942
The fifth cathedral is St. Jacob's, and it was the site of the second International Buxtehude Competition.  We attended the final concert last night, and were impressed with the playing of the finalists.  The competitors were all in their 20's.  The winner is from Germany, and just 20.   A Russian woman won the second place, and a Spanish man and Czech man shared third place.  The acoustics were just right for the organ, and we placed ourselves just ahead of the main pipes.   To add to the ambiance, the chandeliers and sconces had large candles rather than electric lights.  There were spotlights on the sculpture on the high altar and pulpit, and some incandescent lights so we could read the program.
Hauling out Pilgrim at Marina Baltica was a new experience.  The marina used to be a small shipbuilding site, and therefore they had a dock about 150 feet long that lowered about 10 feet into the water.  A boat would motor over the submerged dock, have four steadying posts adjusted so the boat would not tip over as the dock was raised.  Once out of the water, the car with the posts and boat was moved into a shed, and a wooded cradle was constructed on two steel I-beams.  Later the I-beams, cradle and boat were moved to stands in another shed where the boat will be kept over the winter.  The boat is higher off the ground than when in a conventional cradle or tripod stands.  When we painted the hull we had to be on a scaffold to tape and paint the waterline; we could not reach it while standing on the ground! 
<![if !vml]>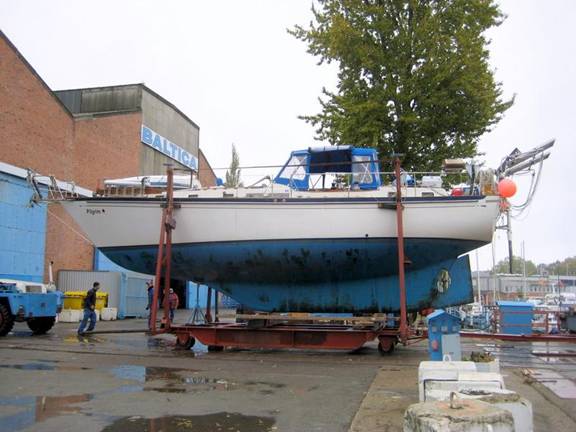 <![endif]>
Our last week in Germany was spent in Leipzig, Dresden and Bayreuth.  We have included captioned pictures in a separate photo gallery.
A few general impressions on our German cruising are in order.  We spent most of our time in the Mecklenberg/Pommeran area, which used to be the Baltic coast of East Germany.  Lübeck is on the west side of the Trave River, thus was just over the border in West Germany.  Perhaps the officious nature of the police and border control personnel harkens back to the era of Soviet occupation and the Statsi (secret police).  We understand that one in seven citizens were working full or part-time for the Stasi when the Iron Curtain fell that had to be given other jobs. 
Folks here "only" speak German; they really have a thing against the English language.  Even when we attempted to speak German, asking if there was any information in English (Haben Si Information en English? I spricht kein Deutsch) they would answer us in German, and usually it was that there was no information in English.  People would see our Canadian flag, and start conversing with us in German as though it was the universal language. We have heard from the German's that the French are even more anal about language. Three major things the EU should focus on with regard to standardization:
Propane containers
SIM cards and cellular networks
Language