June 4, 2005.  Midland, Ontario.  We have finally completed the major projects in our 2005 plan so that we can begin sailing. It is amazing how long it takes to do stuff that didn't even make it to the list/plan.  We plan to leave Midland on June 4 or 5 weather permitting. 
<![if !supportEmptyParas]> <![endif]>
The weather has cooperated for us the past two weeks (time for it to get cranky); except that the wind direction had prevented us from raising the mail and mizzen sails to install reef lines. The 2 reef lines on the main allow us to make it very small in case the winds blow very strong. The reef line on the mizzen allows an additional storm sail plan when combined with the staysail…. the main and headsail would be doused at this point.   
<![if !supportEmptyParas]> <![endif]>
When we took out the old propane lines, we were glad replacing them was on our project list.  The old lines were weak and brittle as a result of water finding its way into the lines from badly filled tanks. The solar panels are installed and with the bright sunlight of the past few days, have been helping charge the batteries. We have been running a test to see if the solar panels and wind generator can provide enough power as we load up our freezer and refrigerator with 4 weeks provisions. The wind of course has not cooperated  so no conclusions have been reached. The flue for the diesel heater has been redesigned so that our boat will not catch on fire when we use the heater on those cold Superior nights.   It has been too warm in Midland for us to do the final test.  Our new dinghy (Passages) is beautiful.  She works well with both oars and the 5 HP motor and sits nicely in her davits under the solar panels.  We have new upholstery in the main cabin (Ultraleather), and the settee is so much more comfortable with new ergonomic contouring.  The boat name and logo (designed by Brian and as seen on the web page) are now on the bow.  The logo shows a Peregrine Falcon (known as the Pilgrim Bird in Europe) soaring in front of the sun.  The boat has been scrubbed, waxed, mopped and dusted.  Gear has been stowed.
<![if !supportEmptyParas]> <![endif]>
<![if !vml]>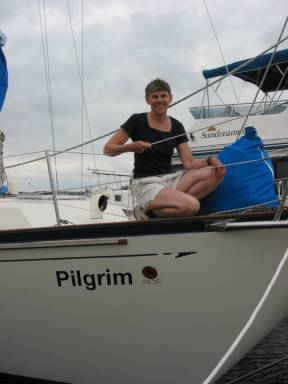 <![endif]><![if !vml]>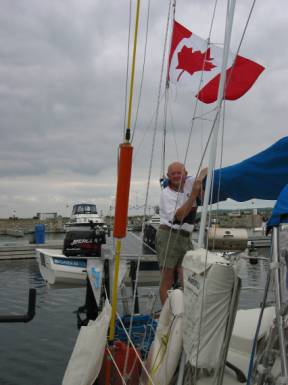 <![endif]>
Landside, we have closed down our condo, gotten 5 months of our prescriptions, seen various doctors and medical folk, paid our bills, and closed the blinds. 
<![if !supportEmptyParas]> <![endif]>
We will do an overnight sail from Midland to the Bustard Islands in northeast Georgian Bay (about a hundred miles).  From there we will work our way west to Killarny, Covered Portage Cove, Snug Harbour, Baie Fine, Little Current, Croaker Island, South Benjamin Island, Fox Island, the Whalesback Channel, Bear Drop, and Turnbull Island and on to the Soo.  Our next log will probably be from Little Current in about two weeks.